I've visited Catalina island several times over the past decade that I've lived here in Southern California but it's been almost exclusively a cruise port as far as my experience in visiting there. I'd known about the Catalina Express for almost that same amount of time but had never had the chance to check it out until they invited me to try it out and spend a few days exploring Catalina Island.
As you know, I'm simply addicted to spending time on the water and I love exploring new places.
Until recently though, Catalina Island was a destination that I had placed into the "been there, done that" category. I think this was mostly because the first time that I visited was extraordinarily busy on a summer weekend and the second time we missed the port entirely due to currents and waves. My experience up until now was limited to quick visits during cruises from Long Beach.
Those weren't all bad though, last March I had a fabulous time on a Bison Expedition Eco Tour and that day wasn't nearly as packed as the summer day that had shaped my memory so many years prior. Since that time, I had been looking for a way to return for a longer stay, one where I could do more than spend just a few hours on land before returning to the ship.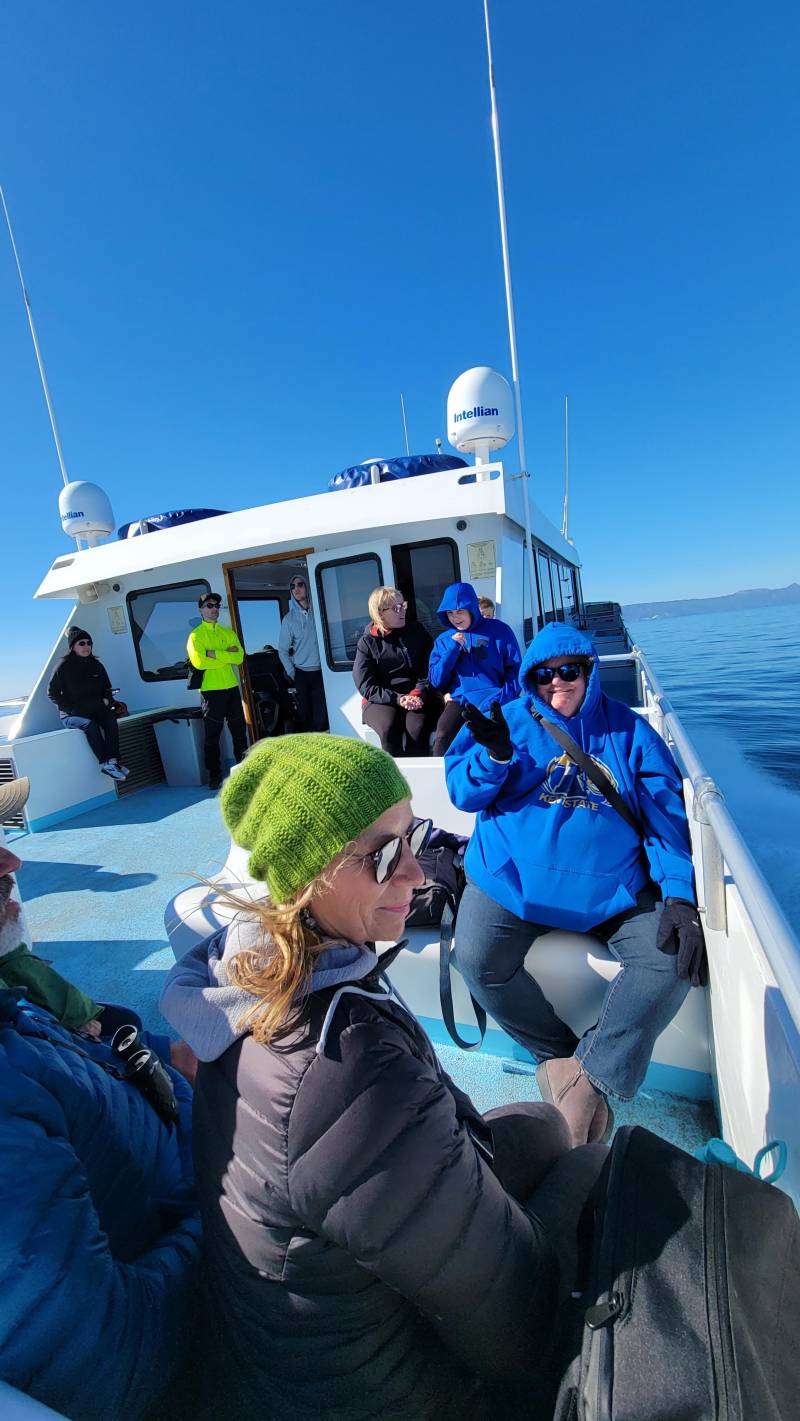 Thankfully, the folks at Catalina Express reached out to me and invited Heather and I to spend a few days experiencing a "winter getaway" on the island. While I wasn't sure what to expect during winter since some of the more iconic things such as the Cyclone boat, Descanso Beach Club, and watersports in general are all but closed during this season as the water is even colder than normal.
Despite this, we jumped at the opportunity to do a romantic getaway trip without having to worry about spending hours in the car or an airplane traveling somewhere. So, we headed off to meet the Catalina Express in Dana Point ... as the song goes, Catalina is Twenty-six miles across the sea ... Santa Catalina is a-waiting for me ... Santa Catalina, the island of romance, romance, romance.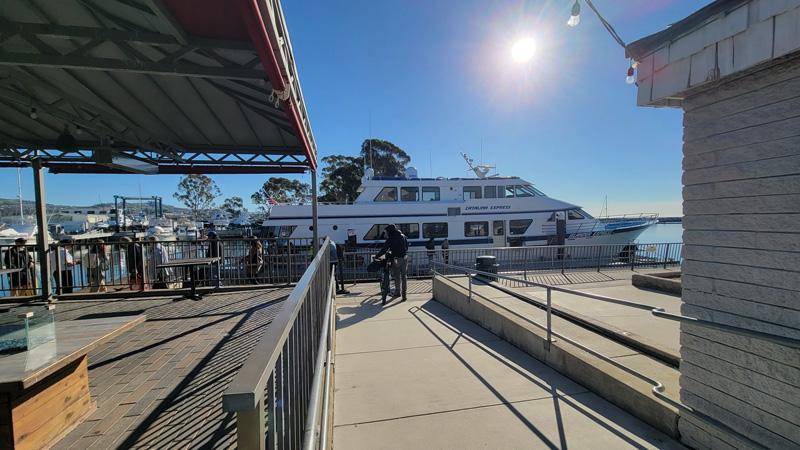 Daily Service From Dana Point, Long Beach, and San Pedro
Catalina Express offers service from Dana Point, Long Beach, and San Pedro. We chose Dana Point since it was closer to San Diego and considering I'm not a morning person, that was the correct choice to avoid traffic going through Orange County.
Upon arrival at the harbor, we checked in at the ticket counter where we got our boarding passes and paid for parking.
One thing that is sorta awkward about this location is that parking is a 10-minute walk from the pier, but it is in a gated lot that felt as secure as you could make it since there was a guard there in the morning (though not at night when we left). Parking is $20 and you should plan to arrive at the ticket counter an hour before your scheduled departure time if you need to park your vehicle.
If you are doing a trip like we were and had bags, they can be checked on the dock and retrieved in Avalon ... it's essentially the same process as when you fly on a commuter plane.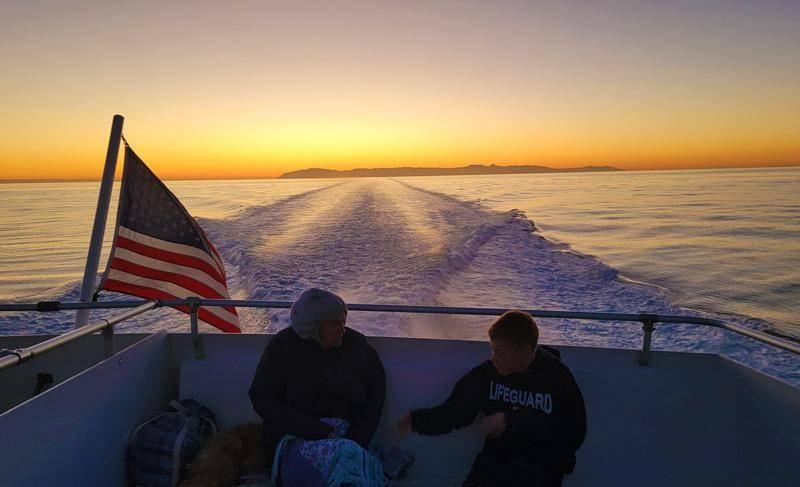 Dana Point To Avalon, Catalina Island In 90 Minutes
I was expecting nothing more than a simple ferry ride but what we had was actually one of the most enjoyable parts of our winter escape to Catalina Island. While there's no guarantee of what you'll see when you book your trip, on both directions we sat on the back deck and saw hundreds of dolphins (including some jumping around in our wake), as well as a handful of whales.
Unlike a whale watching trip though, we didn't stop to observe. This was a high-speed boat on a mission to get people between Catalina and Dana Point as quickly as possible.
On the way back though, the rapid speed made for an incredible sunset as we watched the sun go down behind the rapidly shrinking island and finally disappeared completely just before we got back to the mainland.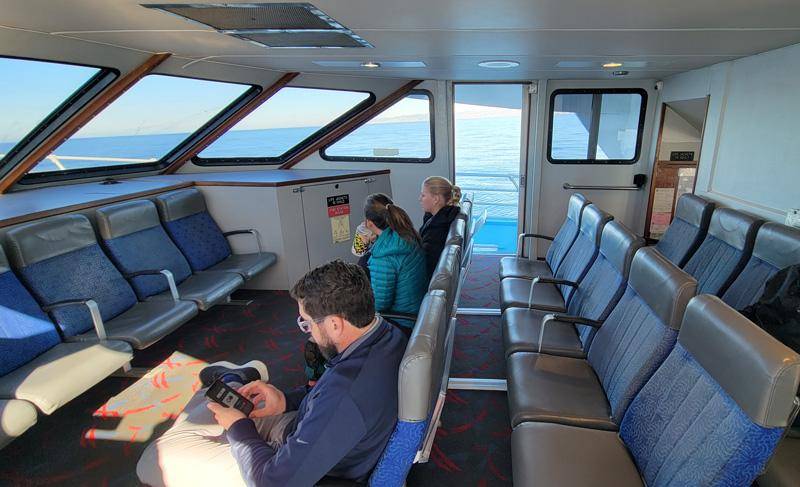 On the boat the accommodations were also far better than I expected. While the boat between Long Beach and Avalon is newer, more stable (catamaran), and faster ... our vessel was spacious and comfortable. This was true even of the bathroom where I found not just a standard-sized toilet but a full-sized accessible restroom.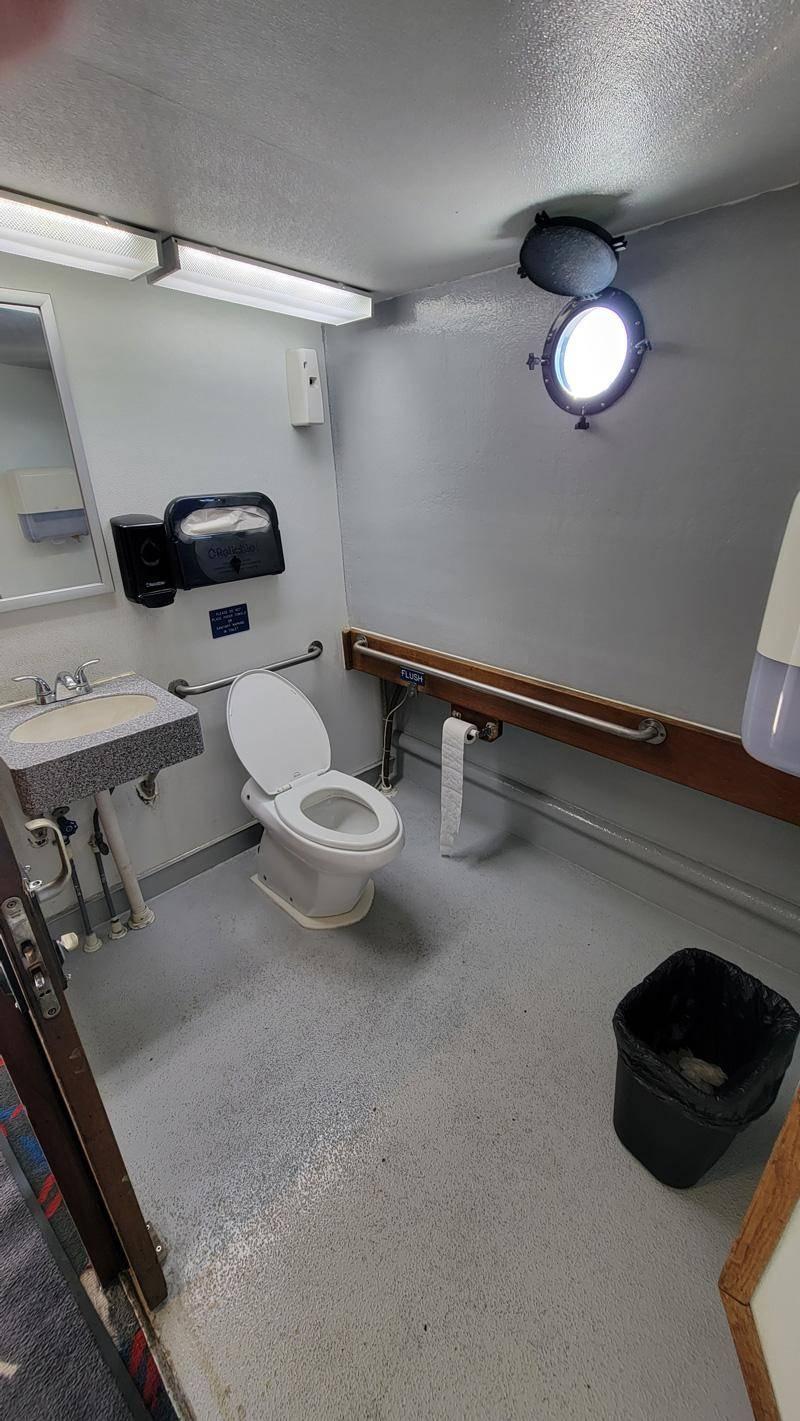 For anyone expecting airplane-like amenities here, don't worry ... it was compatible to what you'd find at any restaurant in terms of size and cleanliness.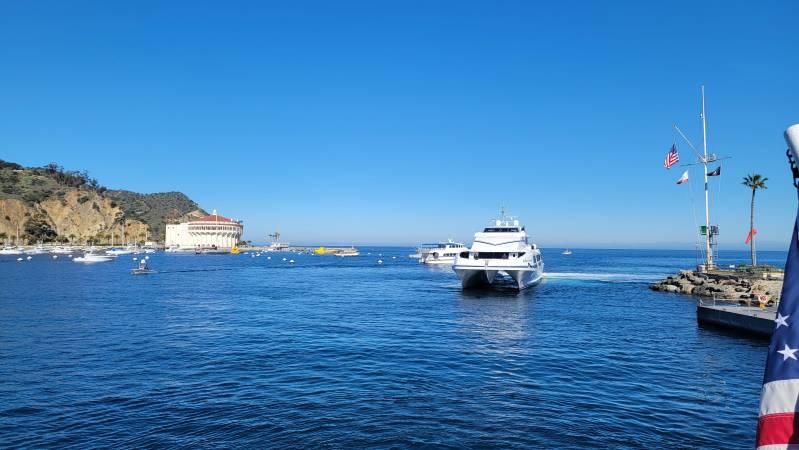 Catalina Express Works Great For Long Weekends Or Day Trips
One of the nice things about Catalina Express is that our two-night getaway was actually a full three-day adventure since our 90-minute ride departed at 9:30 am - arriving at 11 am in Catalina and then on the return we departed Catalina at 5 pm.
When I first saw the prices - $87.50 per person, I was a bit worried since for those prices we can fly to Vegas for almost the same price (sometimes even cheaper when Frontier and South West are offering deals).
However, when you consider how nice the experience was and that the boat ride is part of the experience, I can't wait to do it again.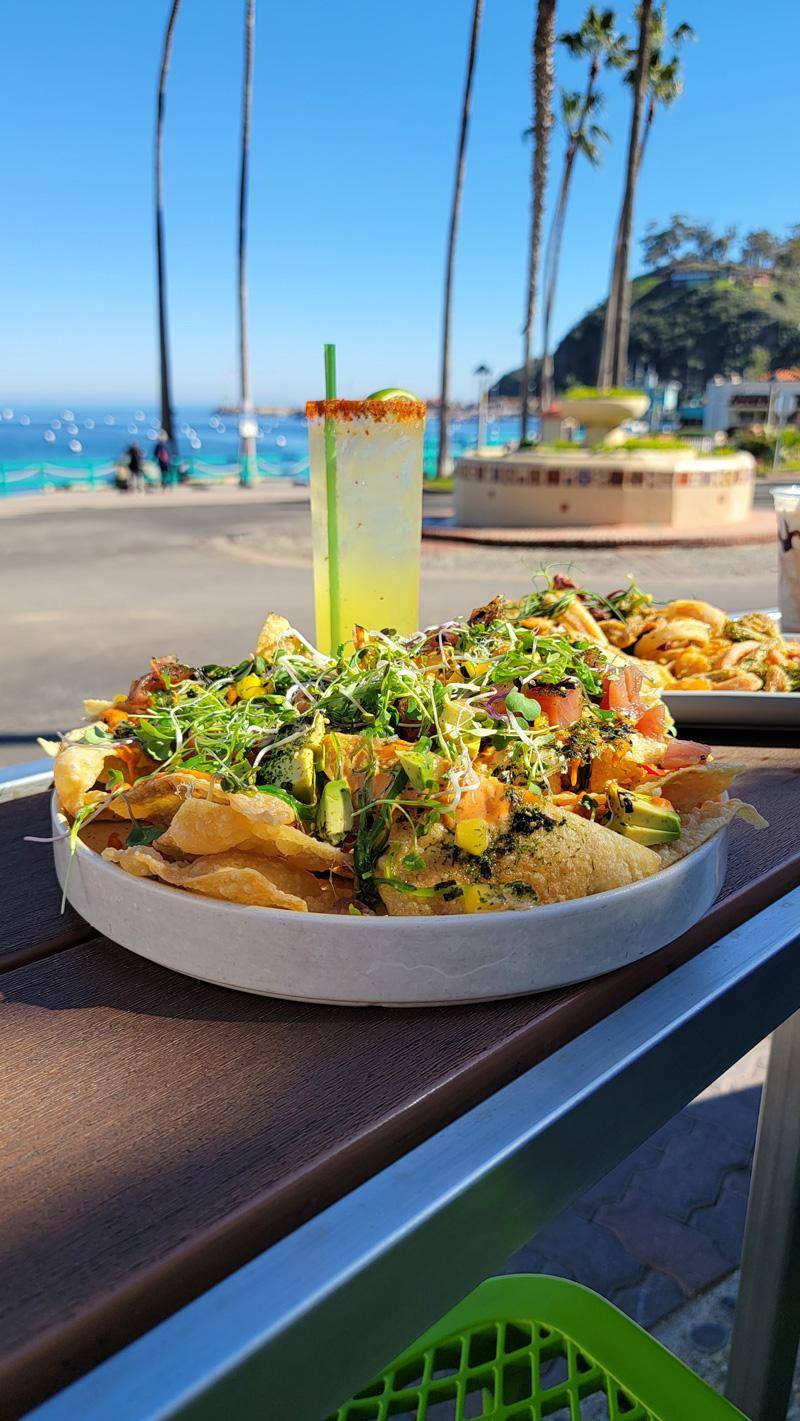 Winter Is A Great Time To Visit Catalina Island!
Despite the weather being a bit chilly, we couldn't believe how nice it was to spend a few days exploring this normally crowded destination. In fact, it totally transformed my impression of the island and I can't wait to go back again soon.
If you want to check it out for yourself, make sure to visit Love Catalina Island for their Best Of Winter packages and hotel deals to properties including where we stayed Hotel Metropole, where we enjoyed beautiful views of the harbor.