There are many great cities today that are a great choice for a beercation, but only Grand Rapids calls themselves "Beer City". It's a great destination that is located a close to Chicago, Detroit, and Indianapolis making it a great place for a weekend getaway. With more a Beer City Ale Trail boasting more than 80 breweries, it is certainly one of the top beer producers in the country. Experience Grand Rapids invited us to visit and see what all the fuss was about. Here's what we found!
This trip was a #MenWhoBlog Blogger Mancation and I was joined by guys from sites including: Guys Gab, Dad of Divas, Bucketlist Publications, and Divine Lifestyle, you can read their stories over on MenWhoBlog.com.
The vibe you'll find here is one of youth and craft that echos "hipster" tones but feels somehow more authentic than you might find in larger urban areas. These guys here aren't TRYING to emulate a post-industrial community, they are actually living it. Around each corner we discovered someone doing something innovative. This included food and beer certainly, but also furniture and fashion. It's a fun and friendly town that welcomes you to explore a passion that is transforming it from a town once dominated by furniture factories into one that is being recognized as a craft beer capital.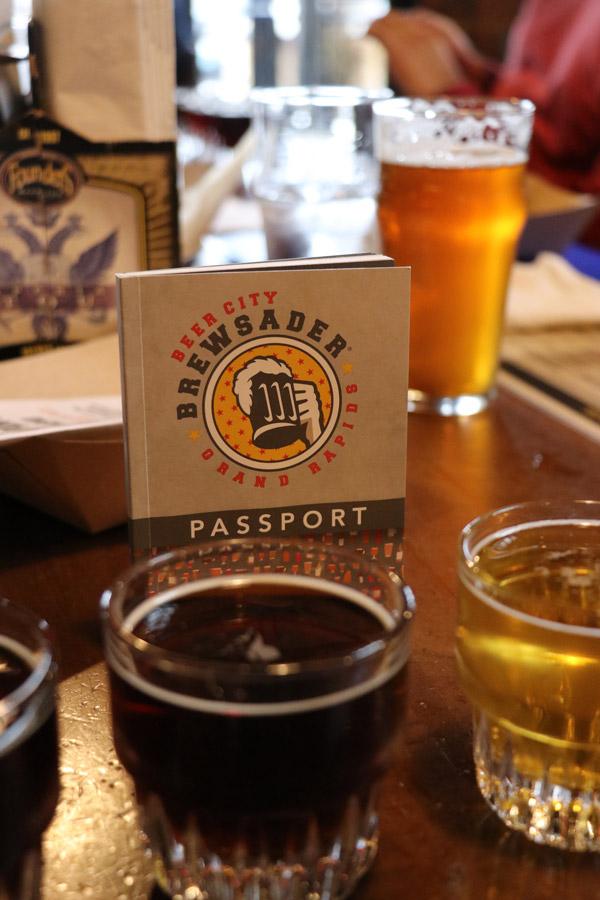 Grab A Beer City Brewsader Passport
Experience Grand Rapids created the Brewsader Passport to help promote the wide variety of breweries in town. The passport is one of the nicest booklets promoting any food/drink trail that I've experienced anywhere. It is shockingly complete with not just pages to get stamped but also social media handles and descriptions for each of the 30+ breweries found in the book. They also have an app version available for both iOS and Android.
You can get the Beer City Brewsader Passport at participating breweries and also get it stamped. When you collect 8 stamps, you'll be given a Brewsader t-shirt (must visit the Grand Rapids Art Museum - or mail your passport in). For the ultimate experience though, you can become an Ultimate Brewsader and get an exclusive wallet card, discount at the GrandRapidsStore.com, and acess to other exclusive perks around town. All you need to do that is visit all of the breweries in the passport, a feat that I wish I had time for. We made a good effort though and visited 11 of them on this visit!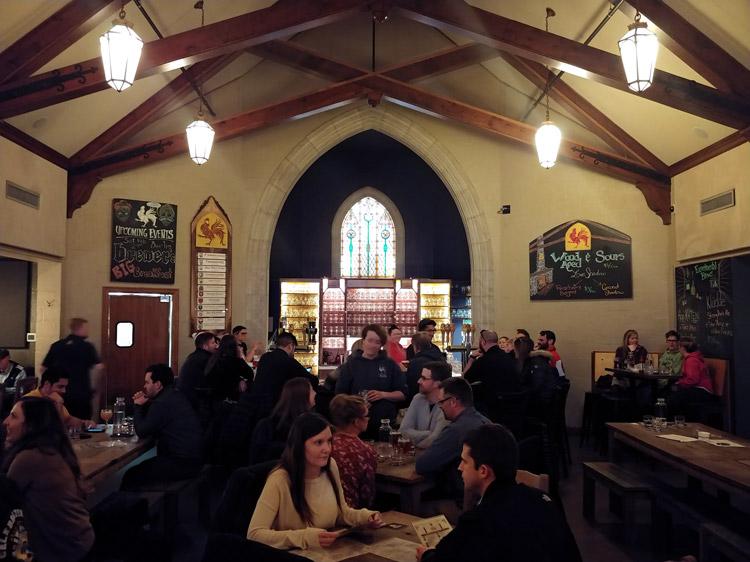 The Beer Industry is Breathing Live into Downtown
Where as in other parts of the country, breweries are springing up in office parks and other new construction, in Grand Rapids several breweries we visited built homes in former manufacturing buildings. Others, such as Grand Rapids Brewing and Founders pay homage to those pre-prohibition breweries that preceded the current renaissance in brewing happening here. And then there are breweries like Brewery Vivant (built in a former funeral home) and Harmony Hall (built in a former Mexican restaurant) where they've incorporated the structure's previous design and spirit into the brewery by retaining decoration and design elements.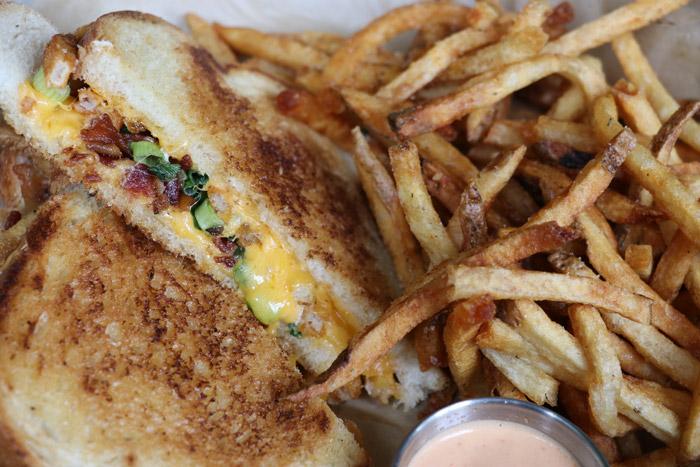 Most Breweries We Visited are Also Restaurants
It's challenging to create great beer and it's a challenge to run a successful restaurant, but it's exponentially more difficult to create great beer and great food at the same time. The breweries here are doing it though.
What we found was that this led to a wide variety of food here compared to what I see in other places. While you certainly see sausages, pretzels, pizza and other pub food. You can find Latin-inspired Puerto Rican influences at City Built Brewing, French at Brewery Vivant, and Bavarian at Cedar Springs.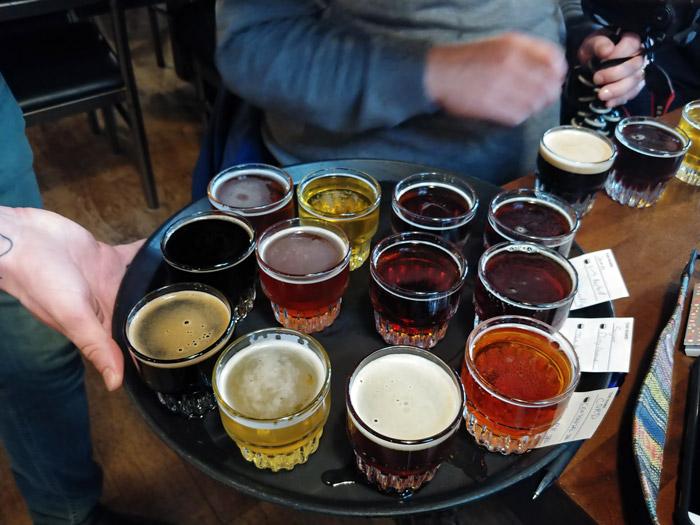 There's No "Grand Rapids" Beer Style But Variety is Plenty
Some beer regions have a specific style that they claim ownership of and that you'll find across nearly all breweries in the area. For example, in Southern California the "West Coast IPA" is dominant and in the Pacific North West, you'll find that beers are generally heavy on the hops. In Grand Rapids, there's no specific style (though we did find a Grand Rapids-style IPA). Instead what I found was a wide variety of different types of beer ranging from IPAs to lagers, stouts, and pilsners as well as everything in between.
Flavor wise, the beers tended to generally skew light on the hops and heavy on the malt but there was something for everyone at each place we visited.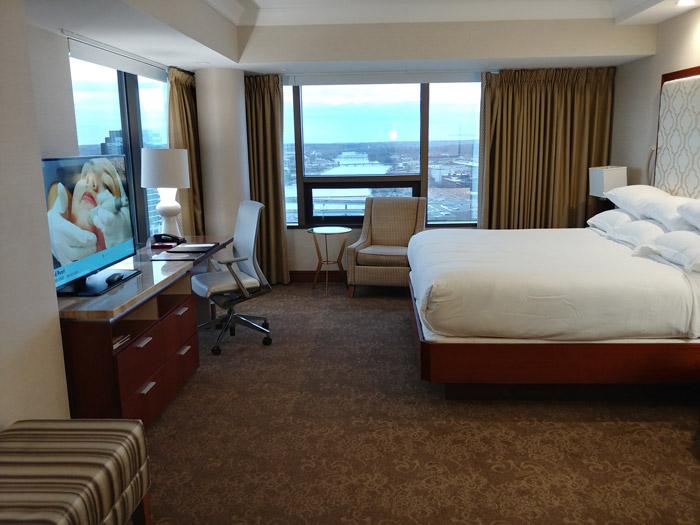 Grand Rapids Hotels Have Embraced Beer Too
It was clear that BEER is in the blood of virtually everyone we met in Grand Rapids. No, it's not from drinking too much - but it's just a way of life. That comes through in the huge number of beercation hotel packages on the Experience Grand Rapids website, but also in other special ways too.
For instance, at the Amway Grand Hotel where we stayed during the trip, they even have a Brew and Renew Package. Yes ... you can get a Pedicure that features a "Beer Footbath" (50 minutes for $89) or a Brew Polish and Massage (80 minutes for $169). The Brew Polish and Massage features a Beer-inspired body scrub and aromatherapy massage inspired by Brewery Vivant and Founders All Day IPA. It also includes a gift card for a free beer!
Even without this awesome addition to their spa that I wish I had known about before checking out, the Amway Grand is a great hotel located right downtown on the river with fabulous views from their tower rooms.