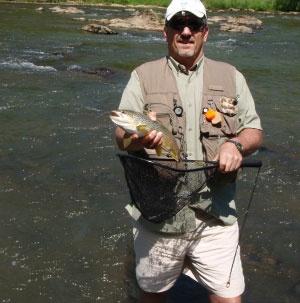 If you have never been, fly fishing is as much an art form as it is a sport. While virtually anyone can stick a lure in the water and drag it behind the boat, fly fishing, IMO, requires even more understanding of your environment and brings you closer to nature - it is just you and the fish right there in the stream together.
There are trails of all sorts in this wonderful country, but North Carolina has created the Western North Carolina Fly Fishing Trail in the gorgeous Blue Ridge Mountains. If you love fishing and you love being out in god's country then you must at some point in your life visit this area.
One of the spots you should visit while in the area is the High Hampton Inn. Located in the heart of the new Western North Carolina Fly Fishing Trail, the High Hampton Inn now features their very own fly fishing school! Being the only trail of its kind in the U.S., fishermen can experience peak fishing in an area with temperatures that are generally 15 degrees cooler than lower-lying regions because of the 3,600-foot elevation.

The High Hampton Inn has teamed up with local guide and fly fishing experts, Alex Bell and Albright Outfitters to offer expert instruction and half and full-day river trips to Western North Carolina's best trout fishing waters, while allowing you to enjoy all the amenities of High Hampton Inn's 1,400-acre estate. They call these fly fishing expeditions "Cool Schools" and four-night, five-day packages start at $320 single occupancy per night and $540 double occupancy per night. There are five sessions available between August and October 2009 (see below for exact dates).

The centerpiece of the schools is two full days of fishing on the Nantahala, Chattooga (where "Deliverance" was filmed), Tuckaseegee or Davidson Rivers for Brown Rainbow and Brook Trout. Building up to the days on the water, each course will begin with an evening reception during which pupils will have the opportunity to meet Bell and their peers. Fly fishing equipment will be provided if needed or attendees can bring their own gear. Part of the first day of instruction will include how to set up a rod, reel and line properly, and students will then learn the art of casting in Jewel Lake.

Alex Bell owns and operates AB's Fly Fishing Guide Service and is one of the creators of the WNC Fly Fishing Trail. Bell is a long time resident of North Carolina with an intimate knowledge of the area's streams and tributaries. For more information on Bell, visit https://www.abfish.org or to learn more about the WNC Fly Fishing Trail, visit https://www.FlyFishingTrail.com.

In addition to this unique fly fishing experience, attendees or guests accompanying a student will be able to enjoy the many activities and amenities on the High Hampton Inn estate. Indulge in the fresh mountain air during a round of golf or a tennis match, or grab a paddle and spend a peaceful evening boating on the lake. For those seeking a day of pampering, the Hampton Health Club & Spa features a variety of total body relaxation and de-stressing treatments.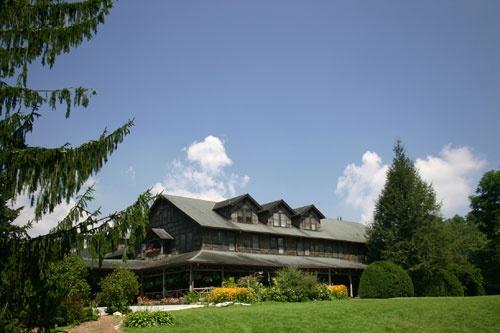 2009 Fly Fishing Cool School Dates:
August 23-27
September 20-24
October 11-15
October 18-22
October 25-29

The historic High Hampton Inn & Country Club, listed on the National Register of Historic Places, is a classically rustic stone-and-wood mountain inn overlooking the spectacular scenery of North Carolina's sliver of the Blue Ridge Mountains. Amenities at this 3,600-foot elevation, 1,400-acre, 117-room resort (with lodge rooms, cottages and cabins, all with private bath) include myriad seasonal events (children's programs, golf and tennis clinics, wildflower workshops), an 18-hole George W. Cobb-designed golf course, a full dining room with three sumptuous buffets daily, six tennis courts and a 35-acre lake for swimming, boating, fishing and other water-related activities. For more detailed information, contact the High Hampton Inn & Country Club at 1525 Highway 107 South, Post Office Box 338, Cashiers, North Carolina 28717.
Reservations for the Cool Schools' fly fishing classes can be made by calling the High Hampton Inn at (828) 743-2411 or toll-free: (800) 334-2551.
You can also visit the High Hampton Inn online at https://www.highhamptoninn.com.