Holland America Line has suddenly become my favorite cruise line and I don't say that lightly. While we enjoyed sailing with them in the past, the new generation of Pinnacle Class ships combined with one of the best leaderships teams in the industry has transformed what was once considered "newly wed and nearly dead" into a vibrant and fun cruise line ... while still maintaining it's heritage as one of the more traditionally styled cruise operators.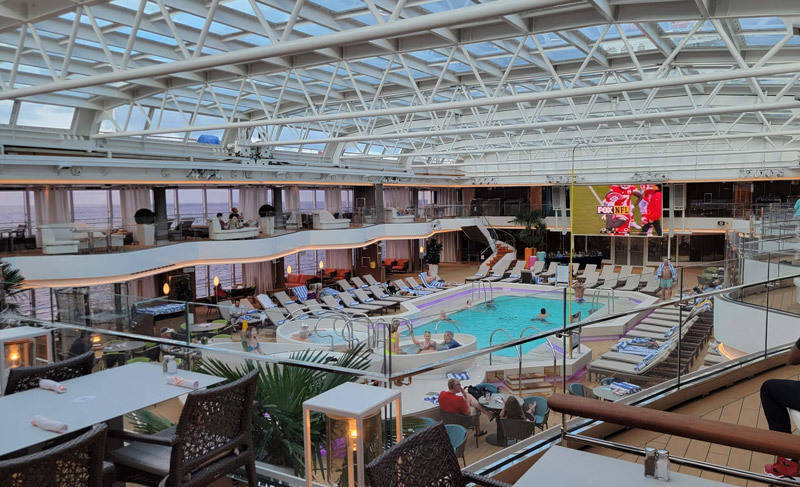 Previously we had sailed on Holland America Line Koningsdam on a California Coastal "wine cruise" and I came back from that completely enamored by the brand and it's mixture of great food, fantastic service, and impressive music program. Then a few weeks ago, Heather and I were invited to join them for the inaugural voyage of Rotterdam - the third in Holland America Line's Pinnacle class ships.
I knew Holland America Line would do well on long voyages to culturally rich places like Alaska or in our case a California Wine Cruise. However, I wasn't sure what to expect based on the fact that this itinerary was more focused on fun in the sun and tropical beaches than sipping wine while exploring vineyards.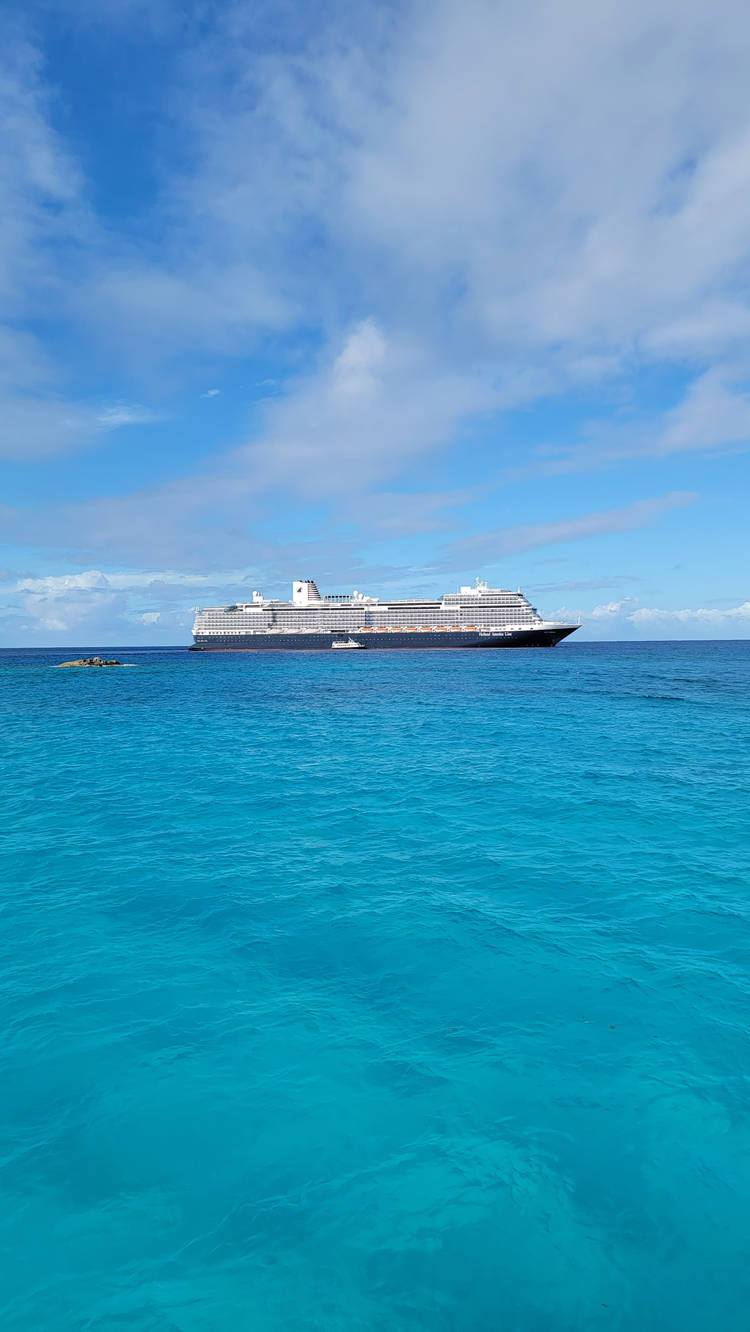 Our voyage this time included stops at Bimini and Half Moon Cay, so it was completely different than what we experienced on the West Coast. However, the things I enjoyed before were even better this time around.
Let's take a look at some of the things that I know you guys will love when sailing on Holland America Line's Rotterdam.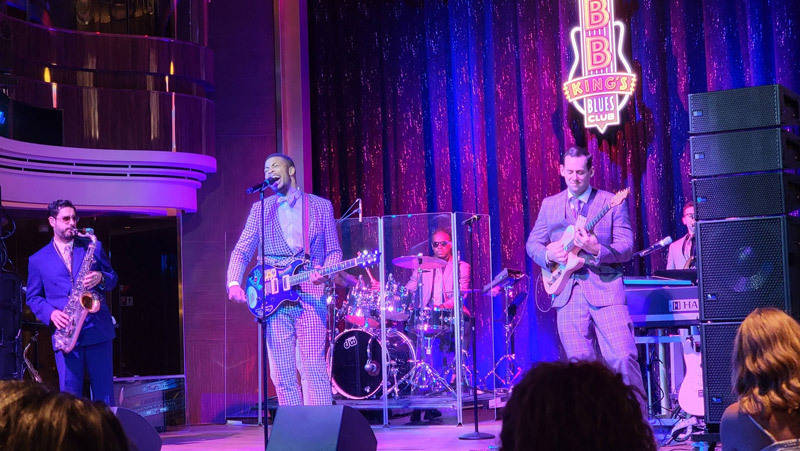 Live Music
Folks that enjoy live music will love Rotterdam just as much as we did on Koningsdam. Music Walk is basically the same here and it features BB King Blues Club, Lincoln Center Stage quartet, Rolling Stone Rock Room, and Billboard Onboard dueling pianos.
Interestingly - and possibly because the audience was a bit younger in the Caribbean vs Koningsdam - there was a much more vibrant atmosphere here in the evenings as well. The dance floor was full and shows ran much later compared to Koningsdam where things were pretty much done by 11pm.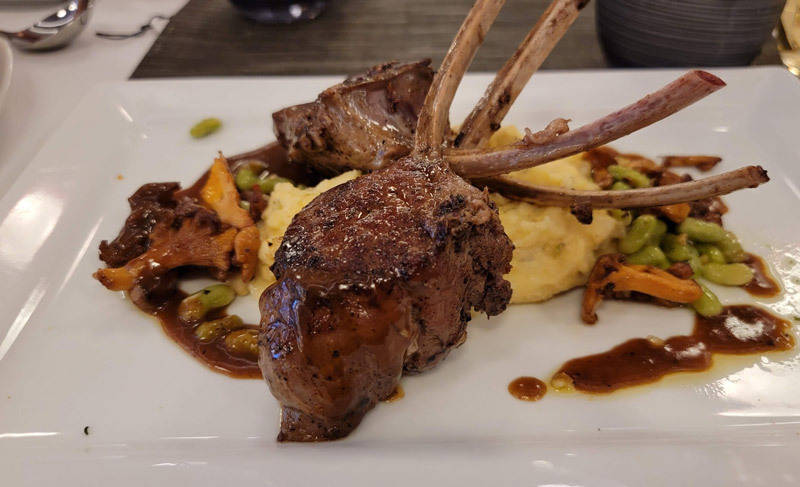 Food
All major cruise ships today have good food and plenty of it. However, Holland America Line keeps coming back to the front of my mind because not only do they have some excellent premium dining ... but the food in the main dining room and free specialty restaurants like Grand Dutch Cafe and Dive In are also excellent.
Premium Dining options on Rotterdam include: Rudi's Sel Del Mer, Tamarind and Nami Sushi, Pinnacle Grill, and Canaletto (which is a hidden gem considering it's low price). Additionally you have Dive-In, Grand Dutch Cafe, and New York Pizza.
The buffet on Rotterdam was also quite good and it is completely served to you now, so it's a bit nicer than what you might think of when considering a cruise ship buffet.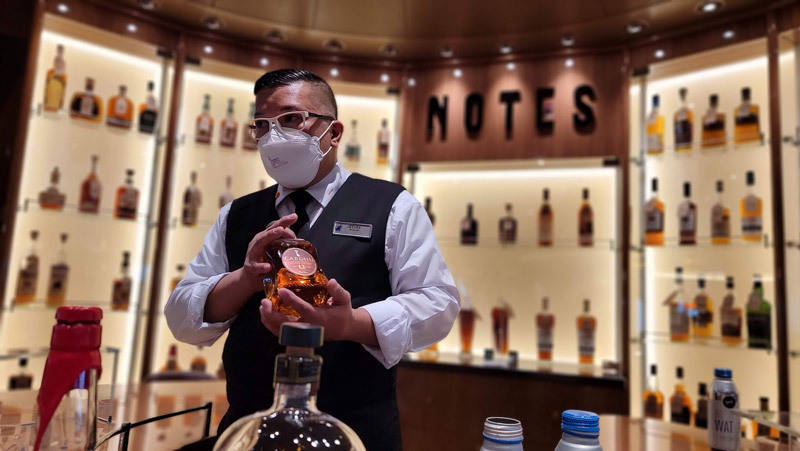 Whiskey Tasting Classes at Notes
While Blend has been replaced by Half Moon Bar on Rotterdam, Notes is still here. This is a fantastic spot to gather around and taste whiskey and learn some new things while making new friends. Notes hosts one of the most comprehensive whiskey collections at sea and the bartenders here between classes are extremely knowledgeable too.
So, if you are mostly a bourbon drinker but want to start exploring Scotch then this is the place to come! Or ... if you simply want to sip some bourbon while enjoying the night's entertainment on Music Walk ... well ... this is the place to go!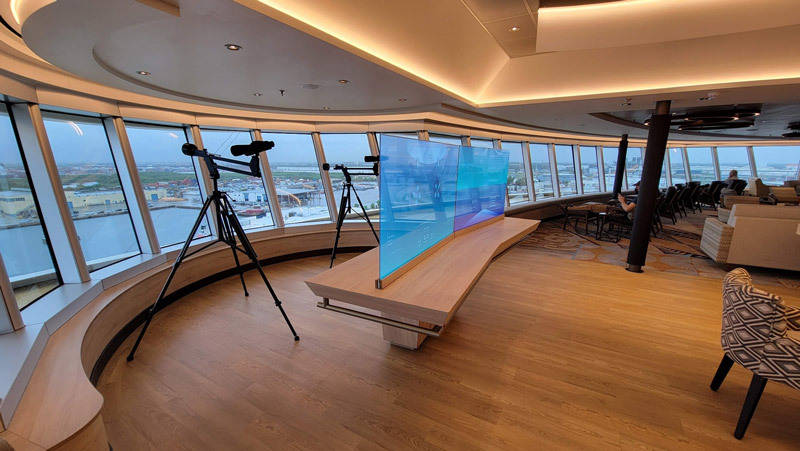 Crow's Nest Observation Lounge
While many newer ships are starting to devote the front of their ships to high-priced suites, Holland America Line features an incredible observation lounge at the front of their ships that is affectionately referred to as the Crows Nest. Here you can chill out and watch the waves as you sail through the Caribbean, while lounging in a comfortable chair sipping a cocktail or use one of the mounted binoculars to look out at passing ships if you want a more active pursuit.
The coffee bar and bar up there are top notch and they also have a game room if you want to spend your sea day playing Monopoly, chess, or one of a dozen other board games available.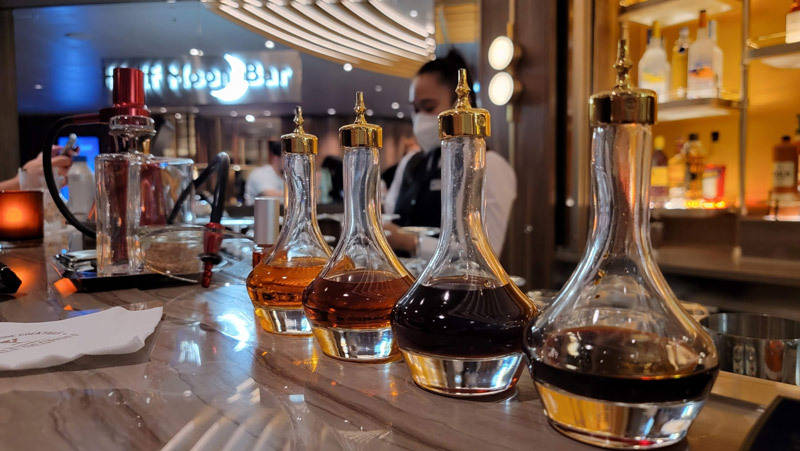 Half Moon Bar
We covered Half Moon Bar more completely in a previous post but it merits inclusion here as well. Half Moon Bar is hands down our favorite cocktail bar at sea because it combines fabulous drinks with an opportunity to explore the history and heritage of the cruise line.
Anyone can make a "James Bond Martini" or a "BBC" but when you belly up to the bar here it becomes an opportunity to be part of something bigger.
Most cruise lines don't talk about their history because they have only been sailing for a few decades and what you experience is manufactured vs evolving over nearly 150 years like it has in the case of Holland America Line.
At Half Moon Bar, you will get a chance to taste your way through some of that with drinks like Three Mile Run - celebrating the cruises that the company offered thirsty New Yorkers during prohibition, as well as the Rotterdam VII - celebrating the ship it's being served on ... the seventh in a line of vessels named after the Dutch city of Rotterdam.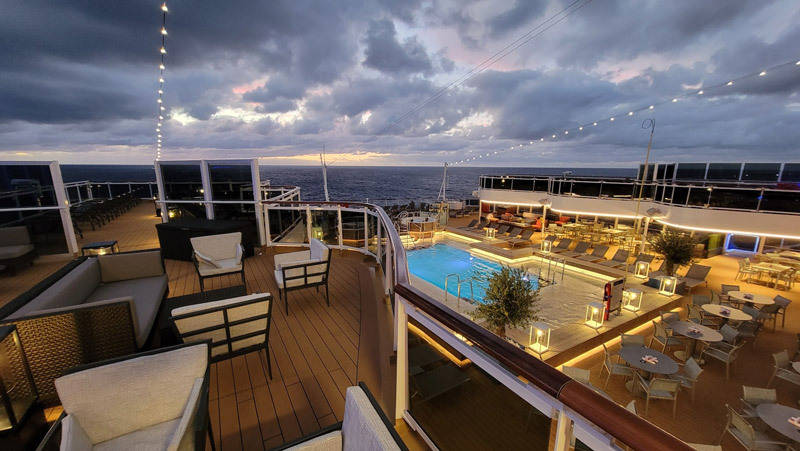 Cigar Smoking By The Aft Pool and Hot Tubs
Ok so to be fair this is pretty divisive and while I've been known to enjoy a cigar occasionally, the aft pool area on Rotterdam can be extremely smoky smelling (though clearly better when she's underway vs at port).
However, when you combine this with a great aft pool area complete with hot tubs and multi-colored ambient lighting, some of the best cocktails at sea as well a great selection of Scotch ... well ... it makes for a pretty awesome option for guys who might enjoy a cigar or two at the end of a great day.
Further Refinement In The Staterooms
Rotterdam is the third in the Pinnacle class ships and there were further tweaks that made the stateroom that much better. In particular, for a bigger guy ... but realistically even for those of you who are simply tall, the toilet angle has been improved. I don't know if it was done with Nieuw Statendam or in Rotterdam but there is a subtle change in the angle that the toilet sticks out from the wall. This makes it just that much more comfortable so your knee doesn't bang into the shower wall as badly as it might on Koningsdam.
Other than that, in the stateroom, Holland America Line's Pinnacle class ships continue to be our favorite for a standard balcony cabin. The shower is downright spacious compared to what you'd find on other lines and the room is very attractively designed with plugs and switches in the places that you'd need them to be.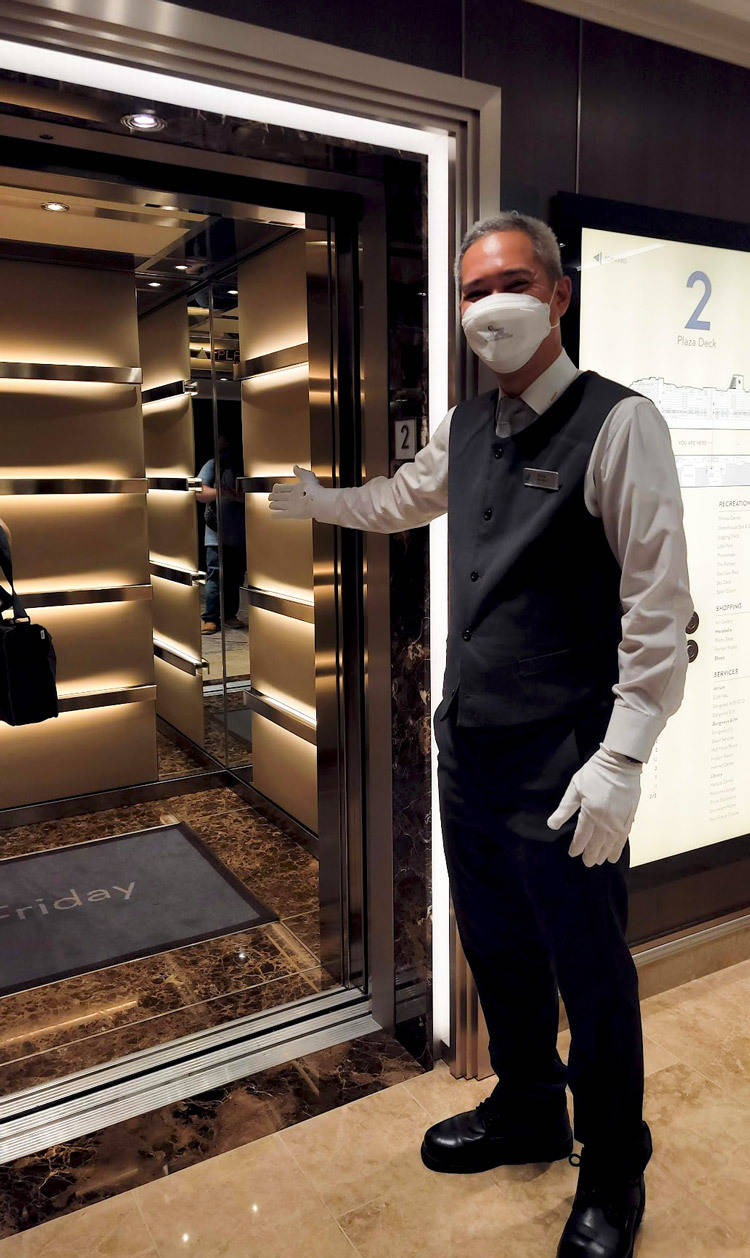 Service and Polish
This one is going to be somewhat subjective and so that's why I am putting it last. Honestly it would be impossible to ignore than the past two years has been a challenge for some organizations and a disaster for others. While some cruise lines focused on simply building more vessels and others focused on minimizing costs, others such as Holland America Line focused on innovation.
One big area was the boarding process which is extremely smooth across both of our experiences and while all of the current generation cruise apps still need a bit more work until they are ready to be fully utilized for use as menus and cruise schedules, Holland America Line's App is far better than two others we used this fall.
Additionally, it is clear that they treat their staff well. While this is a tough time for anyone working on a cruise ship, the attitudes we have observed with Holland America Line crew, compared to those we've met on other lines this fall, speaks volumes to the care and attention that the organization pays to their most valuable assets.
Ultimately it is the crew that makes a vacation special and that deserves to be celebrated as much as any cruise ship amenity or fabulous meal.
Check out our friends' perspectives on the ship as well:
Divine Lifestyle: Holland America Line Rotterdam Is Perfect For Multi Generational Family Cruises
Roaming My Planet: Holland America: Cruising The Rotterdam