There are a lot of places in the United States where you can go fly fishing, but after dropping my fly in the Missouri River a few hundred times last month I'm convinced that Montana is one of the best. It has a unique combination of beautiful vistas, plentiful fish, diversity of waterways, and the infrastructure to support the industry with equipment, guides, and community. While the mountain streams in the west get the most attention for their abundant trout, don't forget about the prairies in the east since from edge to edge, this state is among best in the nation when it comes to opportunities for an incredible fly fishing experience.
Just like the people in the Montana Tourism video above, we had a blast fly fishing in Montana!
While exploring western Montana in June, we spent some time on the Missouri River with Eric from Montana Fly Fishing Guides. In just a few short hours, I had caught three awesome fish and Heather managed to snag four more. While on previous fishing trips we fished from the edge of a creek or used waders to stand in the stream, this time we went fly fishing from a boat and drifted downstream mimicking the flow of bugs that the fish love to eat.
For many of you, Montana's position as a top spot for your flying fishing trip needs no additional justification. However, for most of us, even though Montana comes to mind as a top spot, we don't really understand just how great the state is for the sport. After exploring myself and talking with some experts though, here's what we found out ...
Great Scenery and Variety of Rivers, Streams and Lakes
Montana offers a wide variety of terrain to provide a backdrop for your fishing trip. This includes everything from the snow-capped mountains of Glacier National Park to streams with steam rising from geothermal features in the background closer to Yellowstone. In between, like where we were in Craig Montana, you have the Missouri river where it winds through mountains surrounded by eagles and bears on the banks hoping to get the same thing you are after ... great fish!
Western Montana isn't the only story here though, in the eastern and central parts of the state you are also going to find some great fishing spots too. These include the eastern parts of the Yellowstone and Missouri. Here though, instead of the fast-moving mountain streams they are wider, slower, and warmer as they wind through the prairie. There are even some lakes here where you can go still water fly fishing if you want to switch things up a bit.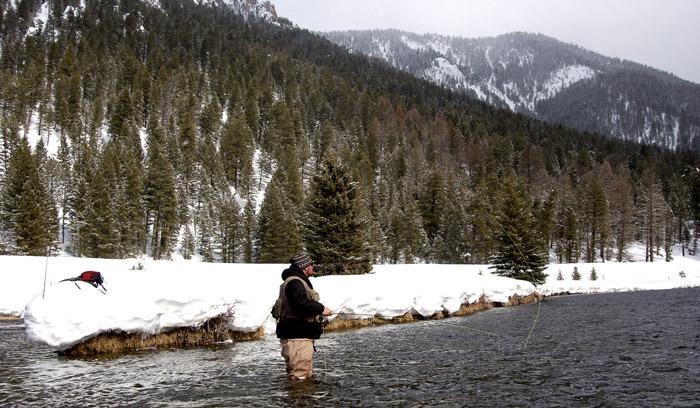 Year-Round Fishing Opportunities
While many may think of fly fishing as a warm-weather pastime, in Montana the fish are biting all year round and spring fishing is one of the best times to stalk trout. Not only will it be stunningly different terrain with flakes falling all around but there are reduced costs, and less crowds at the more popular spots. You'll start to find bugs begin to hatch when the temperature begins to rise above 40º F in late spring and summer, so get your gear ready!
The Bitterroot River and Rock Creek in Glacier Country are two of the best early fishing grounds and you'll also find great winter / spring fly fishing along the Gallatin River just outside Big Sky Resort as well. Just imagine going skiing in the morning and fly fishing in the afternoon for the ultimate spring skiing getaway.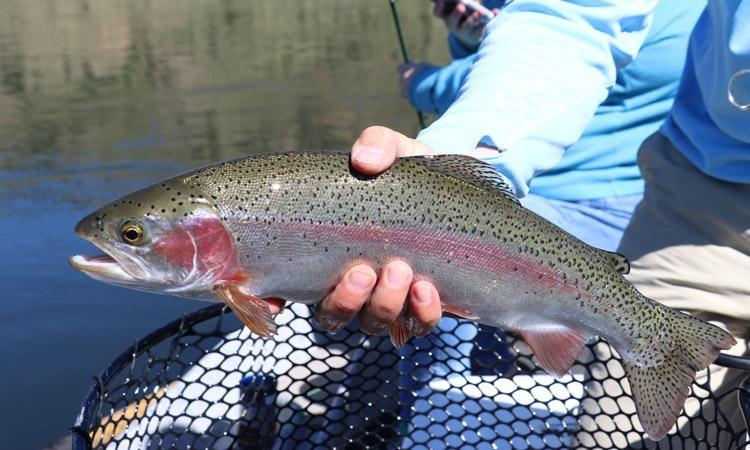 Abundant Fish (and Diverse Varieties)
As I discovered by my car being covered in bugs while driving through the state, insects are incredibly abundant here. While that might not be a great thing for my car, it's great for fish! While most people think of catching rainbow and brown trout, whitefish are also plentiful. You are also going to find the cutthroat trout, which is the Montana state fish and is actually in the salmon family. In the eastern part of the state, you will find fewer trout, but plentiful walleye, catfish, and smallmouth bass swimming in the warmer waters.
Unlike most of its neighbors, Montana manages its rivers for wild trout and hatchery born fish are not introduced here as aggressively as you might find in other states. Don't worry though, as I discovered earlier this summer - there are plenty of fish to be caught! Instead, Montana Fish, Wildlife & Parks along with guides encourage visitors and local fisherman to participate in catch and release.
This results in a stronger fish population.
Support Infrastructure and Montana Fly Fishing Guides
Any search on the internet for "Montana Fly Fishing" reveals an incredible amount of support available to plan your Montana fly fishing experience. There are guides and tours for every budget from the DIY guy just looking for some pointers to the person with some money to spend on a luxury experience. I think that's what might have impressed me the most about my time exploring fly fishing in Montana. While we were paired with one of the top guides and he provided great equipment, training, and expertise at finding fish ... you could very easily do it on your own too with some research and investment. Though having a guide to net the catch and teach us how to improve our casts, remove the hooks etc. is pretty awesome too!
There's a sense of zen about doing something methodical like fly fishing. Whether you are standing in a stream as the ice-cold water goes by or casting your fly from the side of a boat as you drift down the river - this is an experience you must try at least once. Fly fishing in Montana is your opportunity to take a break look around and think about how amazing things.
This is your opportunity to have a #MontanaMoment in one of the most beautiful areas of the country!