Vegas bachelor parties are the stuff of legends and that's why you see them so often in movies like The Hangover and even Last Vegas. Simply put, there is no other place on earth with all the things for a perfect bachelor party like you will find in Las Vegas. Unfortunately, with opportunity comes the chance for danger and too often when you think "Vegas Bachelor Party" the image of topless dancers and dangerous debauchery comes to mind, but there's more to Vegas than that. You can still have a great time and send your buddy out in style without pissing off the bride (too much).
Do Your Research Ahead of Time
The first step is to plan ahead and pick a time that doesn't overlap with a big event or convention. For instance, you can get cheap rooms on the strip for under a $100 but on those days that same room can be more than $300! Likewise, take into consideration the total cost of the stay when comparing options. For example, a $100 room off strip with no resort fee ends up being a LOT cheaper when you add in resort fees, parking fees, more expensive restaurants etc. for a place at one of the large casino resorts.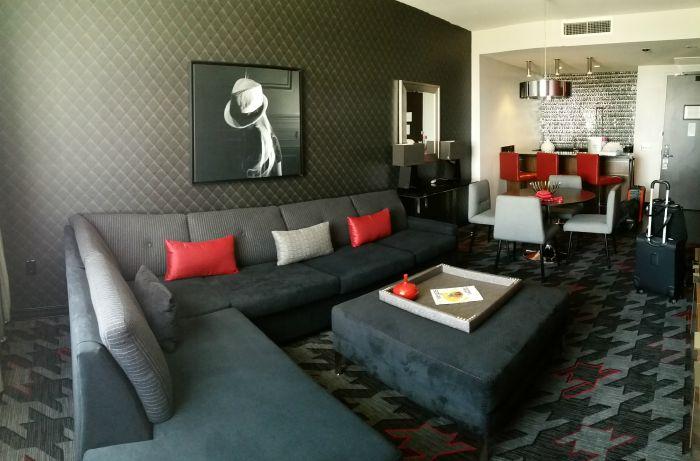 Splurge for a Suite
At the end of the day, this bachelor party is about doing something special to send a guy off into the next phase of his life. There's something awesome about staying in a suite in Vegas and honestly, if you know where to look they aren't that expensive when you compare the costs and benefits. For instance, most suites have a king-sized bed and a sofa bed as well as wet bar with a refrigerator, multiple TV's and plenty of space to hang out together. When you consider that you can get a suite like the one above that we enjoyed at Delano for under $300 on most weekends and a Sky Suite at Aria for $600 (complete with full dining table, living room and limo transfers at the airport), it's really not that expensive. One of our favorite suites in Vegas is the relatively affordable D Suite downtown at The D Hotel.
Plus, because you have a suite, you can organize some of the activities around that space such as bringing a game console to play or a friendly poker game around the dining room table to practice your skills before hitting the poker room.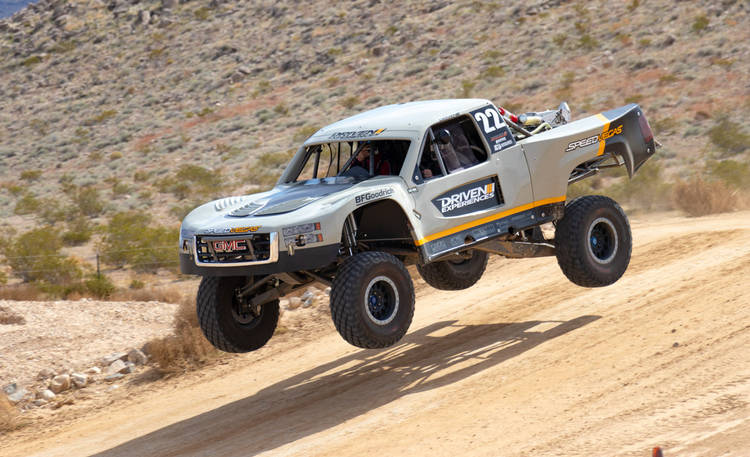 Do Something Awesome That You Can't Do At Home
Vegas is a city full of possibilities. Sometimes you win ... and sometimes you lose, but the journey should always be awesome. Some of our top pics for this category include:
Virtual Reality at Level Up - free roaming virtual reality games with up to eight players (here's our review of the VR Experience at Level Up inside of MGM Grand)
Dig This Las Vegas - operate real heavy construction equipment in a giant sandbox
702 The Range - shoot a variety of machine guns then relax and enjoy a game in your private VIP suite
Speed Vegas - when you are serious about an exotic car experience, this is the place to go and take advantage of their custom-built road track. They've also just added an incredible Baja Trophy Truck experience so if you've ever wanted to catch some air in a truck ... this is your best place to do it!
Decide On Your Vegas Transportation Choices
You could plan an entire Vegas bachelor party around staying at one resort but that's going to miss a lot of the fun activities available throughout the city. We don't recommend relying on a standard rental car since parking fees at most Las Vegas Strip resorts now will cost more than the daily rental fee. The cheapest, easiest, and generally best option is to rely on Lyft and Uber for getting around town, but honestly, that is pretty boring. That leaves two choices for planning the ultimate Vegas bachelor party.
Hire a Limo - This is clearly the iconic Vegas transportation choice and while many hotels can provide this complementary to their suites and villas guests, there are so many limos in Vegas that you can find options for virtually any budget. Check out Limo Find for some options. Even if you just hire it for a few hours to cruise up and down the strip, this is clearly a Vegas bachelor party bucket list opportunity.
Rent a Fantasy Car - While I just recommended against renting a car in Vegas, there's a HUGE difference between a Toyota Corolla and an Aston Martin or Shelby Cobra.
Ultimately, my recommendation would be to do both of these options as part of your complete Vegas bachelor party experience. For instance, hire a limo to drive you from the airport to the hotel and back again, but rent the car and have it delivered to the resort for at least one day.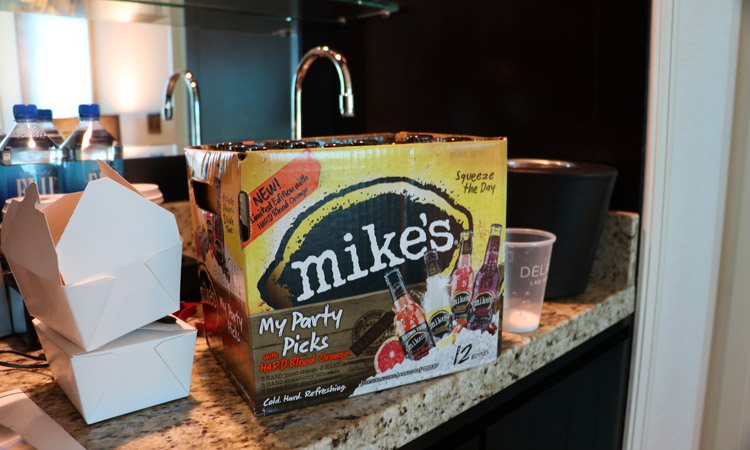 Bring Your Own Supplies
Unless you are gambling heavily, alcohol isn't cheap in Vegas like it once was and comps are a lot stingier than they used to be. So, make sure you bring your own supplies. Since you got that suite, this means that you can set up your own bar too, so grab some Wild Turkey, Captain Morgan, Smirnoff, and Don Julio and get the party started! Make sure to bring plenty of snacks too. Room service is nice to have, but it's almost always a rip-off and Vegas is no different.
Since this is a bachelor party you are planning - this is a great opportunity to get personalized tumblers or water bottles for the guests. Even in the winter when the temperature is cold in Las Vegas, this is still a desert and so you'll want to make sure to drink plenty of water.
Golf in Vegas
Two of our current favorite spots are also among the most convenient. The Taylor Made Experience is set up at the south end of the strip with amazing views from it's driving range and a lighted 9-hold par 3 course and then you have Top Golf located next to MGM Grand. If you are more serious golfers, there is a wealth of amazing courses waiting for you here as well, ranging from the Wynn Golf Club to any number of public courses off the strip.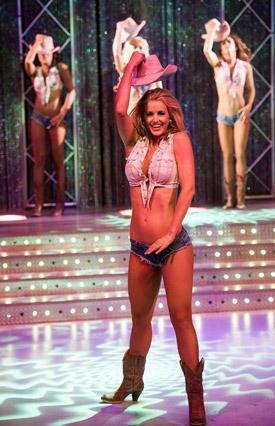 Sexy Shows - Not Strip Clubs
While some brides might be more open than others, virtually every girl I know doesn't want their future husband spending the last few days of "freedom" carousing with naked women. That doesn't mean you can't still have some "sexy" entertainment, but don't push for the group to hit the strip clubs unless you know it's ok with the bride. While several shows have closed recently in Vegas, there are a variety of ones still in full swing including: Fantasy at Excalibur, Zumanity at New York-New York, Absinthe at Caesars Palace. Of course, La Reve at Wynn is also sexy but not topless and then there's Puppetry of the Penis at the Erotic Heritage Museum if that's your sort of thing!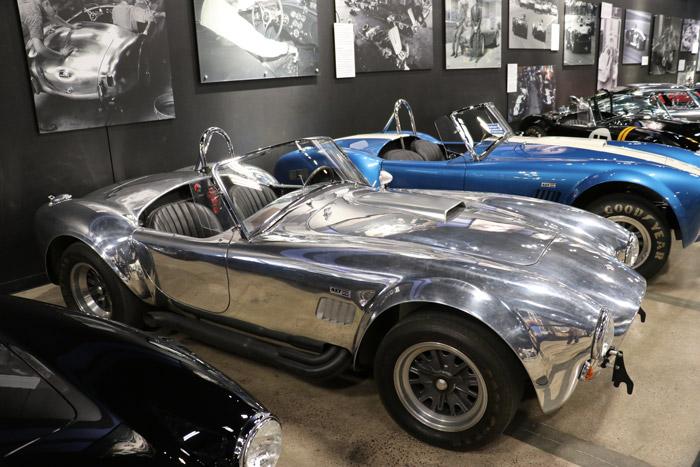 Explore Activities Off-Strip Too
Too many of my friends come to Vegas and only explore things on the strip ... that's a shame! There is so much waiting for guys off the strip too including the Shelby Heritage Museum where you can see some of the fastest cars in America being built, Speed Vegas where you can drive supercars, and then, of course, you have Red Rock Canyon and the desert to explore less than 30 minutes off the strip if you want to go offroading or hiking..
Check Out A Vegas Museum
Vegas is loaded with guy-friendly museums ranging from the Shelby Heritage Museum south of the strip, Mob Museum downtown to the National Atomic Testing Museum and of course, the Pinball Hall of Fame. You might also want to take a stroll through the Neon Museum to see some relics of Vegas's historic signs.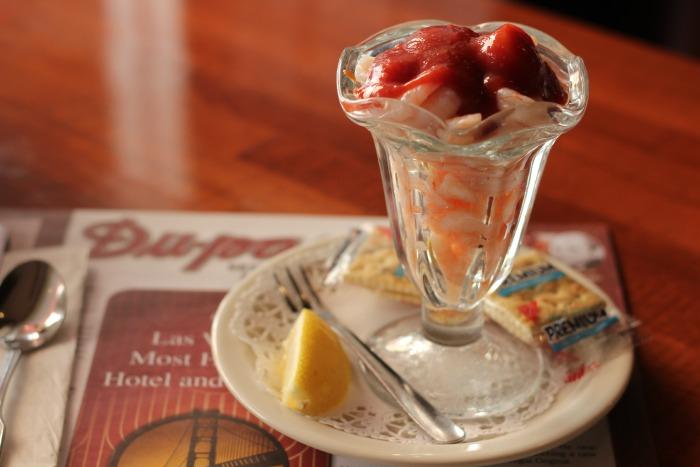 Visit a Legendary Vegas Restaurant
Vegas is a foodie city with an endless number of modern restaurants headed by the world's best celebrity chefs. Nothing, however, can compare with classic Vegas-style and history. This is a bachelor party and the groom should have something special. Sadly, restaurants like Dupars has closed at Golden Gate but there are still some classics left such as The Peppermill, Golden Steer Steakhouse (the oldest steakhouse in the city!).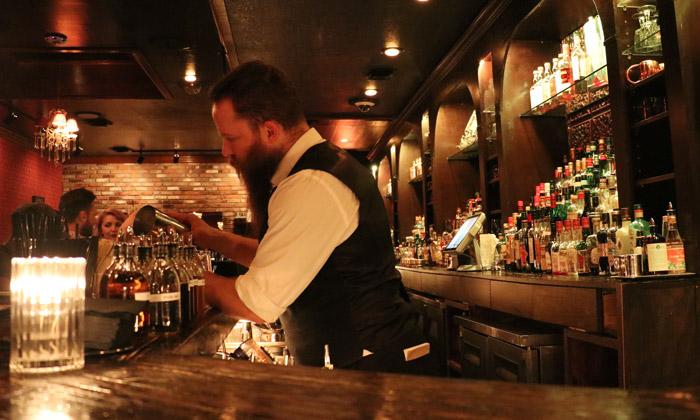 Plan a Cocktail Crawl
At one time, Las Vegas's alcohol was simply cheap well drinks and watered down beer. No longer! Today, Virtually every resort has phenomenal cocktails and this presents the opportunity to do a crawl that will be remembered for years to come. Some of my favorite bars to include are Libertine Social Club at Mandalay Bay, Yard Bird at Venetian, and the Montecristo Cigar Bar but make sure to head off-strip too for a visit to Herbs and Rye!
Visit Some Famous Las Vegas Movie Sites
Ok, so you might not want to replicate the strip club scenes from The Hangover, you can certainly visit Caesars Palace where parts of the movie were filmed as well where Rain Man was card-counting at a blackjack table. You can also head over to Hoover Dam for the "Dam Tour" as seen in National Lampoon's Vegas Vacation or the Neon Lights Museum where Audrey and Cousin Vicki partied. Sadly, the Riviera (where Casino was filmed) is no longer with us, but frankly you can go to virtually any of the older casinos and pretend you are a group of mobsters since Vegas is a town built on fantasy and guys who just want to have fun.
Even without the stereotypical debauchery of a "Vegas Bachelor Party" or the drug and alcohol filled nights as seen in Fear and Loathing in Las Vegas, you can still send your friend off in style. Just make sure to focus on him, create an experience around his interests, and be respectful of the bride when you do. As much fun as it might be to do a "boys behaving badly" adventure as depicted in the movies, things will NEVER end up happily ever after if you start his marriage off by hiding stories about the gang doing naughty things during the bachelor party.