Are you looking for the ultimate bachelor party destination? Look no further than San Diego! This city is home to some of the best breweries in the country, and there is something for everyone here. In this blog post, we will discuss how to plan the perfect brewery tour bachelor party in San Diego. We will cover everything from where to stay to what breweries you should visit. So read on, and start planning your dream bachelor party today!
Before we get into tips and advice on how you can plan an ultimate San Diego bachelor party touring and DRINKING some of the best craft beer in San Diego, I want to give a shout-out to Elizabeth Hahn from San Diego Bachelor Party. We connected with her during the pandemic and she along with the rest of her crew are absolute experts when it comes to helping guys plan the perfect bachelor party - from "completely bride-friendly" bachelor party ideas such as a brewery tour ... to wild and crazy bachelor parties that you hope the bride will never know about.
Forget Vegas, San Diego Is The Ultimate Bachelor Party Destination!
San Diego is quickly becoming the top bachelor party destination of choice for many guys. And it's easy to see why! This city has everything you could want in a bachelor party destination: great weather, beautiful beaches, amazing restaurants, and, of course, world-class breweries. San Diego is also home to a thriving nightlife scene and San Diego International Airport has plenty of direct flights from every major city so it is easy for your out-of-town buddies to come in to help celebrate.
If you are looking to plan a brewery tour bachelor party in San Diego, there are a few things you need to keep in mind. First, you will need to find a place to stay. There are plenty of great hotels and Airbnbs in the city,
it's the Best Man's job to plan an epic bachelor celebration for him. How to do this in a better way than with an exhilarating brewery tour in San Diego?
You won't find a better bachelor destination for a brewery tour with your bros than San Diego, an award-winning city for its breweries and fine beers. With over 150 different breweries, San Diego won't disappoint when it comes to beer quality and quantity.
You might feel a bit nervous and stressed if it's your first time planning a San Diego bachelor party brewery tour. Don't worry too much, we've got you. Read on for tips on what to consider to ensure your celebration goes smoothly and stays fun.
Creating Your San Diego Bachelor Party Invite List
There's enough beer for everyone in San Diego, but you must decide who to take with you on this San Diego bachelor party brewery adventure. Making a list of the people you plan to invite it's a good starting point in the bachelor party planning process.
It will help you see your party crew's size and how to approach other details later, such as reserving transportation or dinner at a top-notch restaurant. Some grooms want to keep the party to groomsmen only, while others may want to invite other friends and family. Knowing who will celebrate with you and the guest of honor can make things easier, so start by asking the groom who he wants to see at his single send-off party.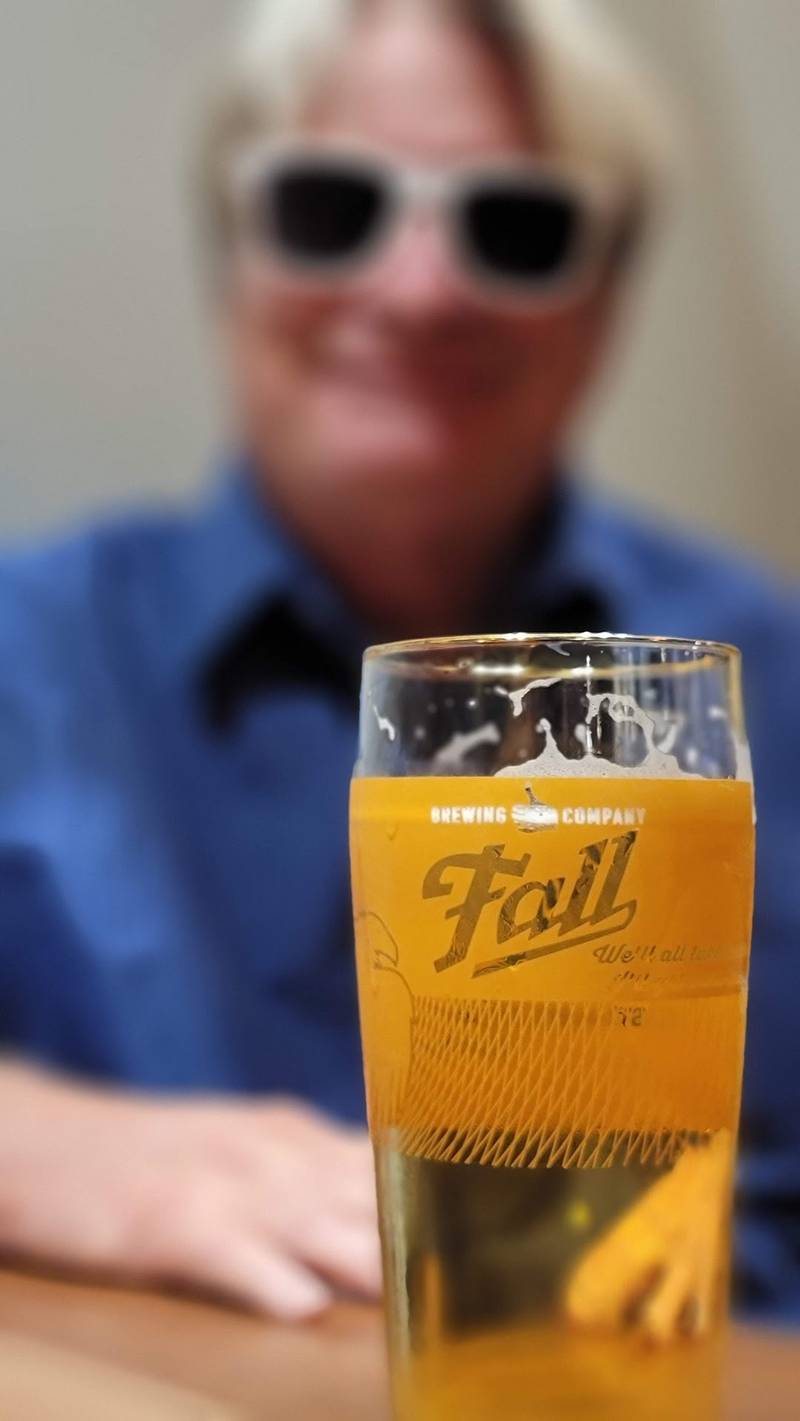 Picking The Right Brewery Tour Itinerary
Many local breweries in San Diego are worth visiting, but you'll have to pick which ones you want to tour. Your guide will be able to help you narrow things down but here are some suggestions to help with that as well.
Visit Breweries Featuring The Groom's Favorite Beers
You can't go wrong by visiting breweries that make the groom's favorite beer. For instance, if you know he loves maltier beers vs hoppy ones then you might want to visit Eppig rather than Green Flash. Similarly, if you know he loves Ballast Point's Sculpin IPA then make sure that one of their locations is on your list.
Don't Forget About Food
You're going to need some food to go along with all that beer drinking! If you don't, your San Diego bachelor party is going to end up going downhill fast. Fortunately, many of the best breweries here also have great food. Plan to stop for lunch or dinner at one (or more) of the breweries on your tour so you can avoid peaking too early.
Plan a Route That Avoids Driving All Over Town
Most guys planning to visit San Diego for a brewery tour are going to have a private driver rather than driving themselves (if not - please assign a designated driver!). However, even if you are riding around in a private charter van or party bus, you don't want to spend long periods of time on the road where your buzz starts to fade away.
Select A Mix Of Big And Small Breweries
Finally, you'll want to make sure your itinerary includes a mix of big and small breweries. San Diego is home to some world-class breweries like Stone Brewing and Modern Times, but there are also plenty of great smaller breweries worth checking out such as Kilowatt Brewing and Fall Brewing that make great beer too.
Keep these tips in mind as you plan your perfect brewery tour San Diego bachelor party.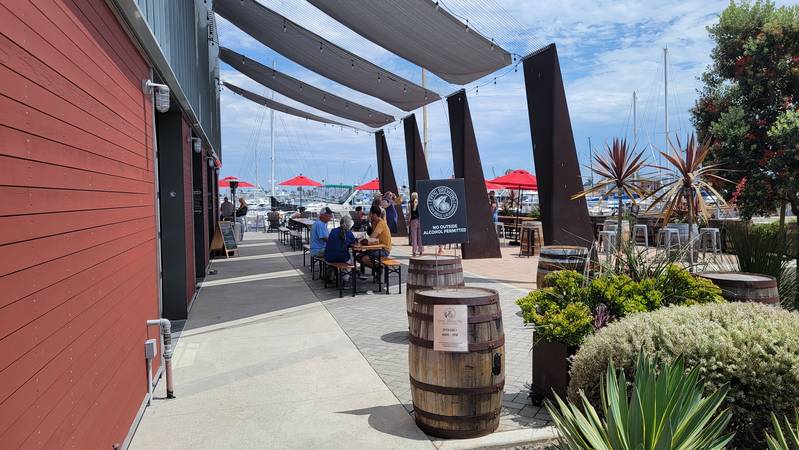 San Diego Breweries That Are Good For Groups
As mentioned above, while every guy in San Diego has his favorite place to grab a cold pint of craft beer, not every brewery makes a great location to visit with a group. This is especially true since your San Diego bachelor party is probably going to be a bit wild ... and increasingly so the more you drink. Here are some of our favorite locations though that would be particularly well suited for a bachelor party tour group to visit as part of an epic San Diego beer tour.
Eppig Brewing Waterfront Biergarten - Point Loma
Eppig bucks the trend here in San Diego and focuses on very session-able beers that taste great without blowing out your tastebuds. Their beer is good and their Waterfront Biergarten in Point Loma has plenty of outdoor space right on the marina where you can watch fishermen as well as sea lions playing in the water.
Stone Brewing World Bistro & Gardens - Liberty Station
With outdoor and indoor bars and restaurants, outdoor cinema, and gardens, Stone Brewing is a great way to spend a few hours. Stone Brewing features 40 taps of craft beer with year-round releases. If you and your best bros are passionate about the IPA style of beer, this place must be on your list of breweries to tour.
But IPAs aren't all you'll find here. Stone Brewing covers a large variety of beer styles, from Belgian-inspired creations to sours, lagers, and stouts.
Ballast Point - Little Italy
The Ballast Point's tasting room, located in the heart of Little Italy, offers laid-back vibes with bayside breezes and experimental brews. Your party crew can chill on their patio or in a private cabana while you enjoy unique beers flavored with peach, mango, lemon, mellow berry, grapefruit, or toasted caramel.
If your crew wants to know more about how the beer is made, Ballast Point offers you the chance to see their brewers making award-winning products.
Belching Beaver Brewery
Your bachelor brewery tour can't end without visiting the North Park Tasting Room of Belching Beaver Brewery. They love beer as much as you do and are known to be strict on quality when it comes to brewing it.
Delight your taste buds with smooth honey-flavored brews, or try something unique like their peanut butter, coffee, and dark chocolate-flavored beer. You'll also find lightly bitter varieties here with mild biscuit favors or juicy and tropical aromas perfect for a summertime Bachelor Brewery Tour.
Don't Drink And Drive - Book A Party Bus
The party doesn't have to stop while traveling from one brewery to another. Keep the fun going by booking a luxurious limo or party bus and travel in style. Enjoy a safe ride in a comfortable party bus while touring San Diego's best breweries.
If your party crew is eager to dance, a spacious party bus with a great sound system and a laser light show is what you need. You can have what you need for a bachelor party on wheels with cold beers, champagne, and even a plasma TV.
You can add a fun touch to the party by choosing a theme and having the party bus decorated. Let your imagination run wild and entertain your groom-to-be pal with balloons, banners, and funky outfits.
At the end of your bachelor adventure with countless alcoholic sips, your designated chauffeur can drive you to a delicious dinner, a private mansion, or wherever you want to continue the party. You don't have to worry about a thing; just lay back and enjoy the ride.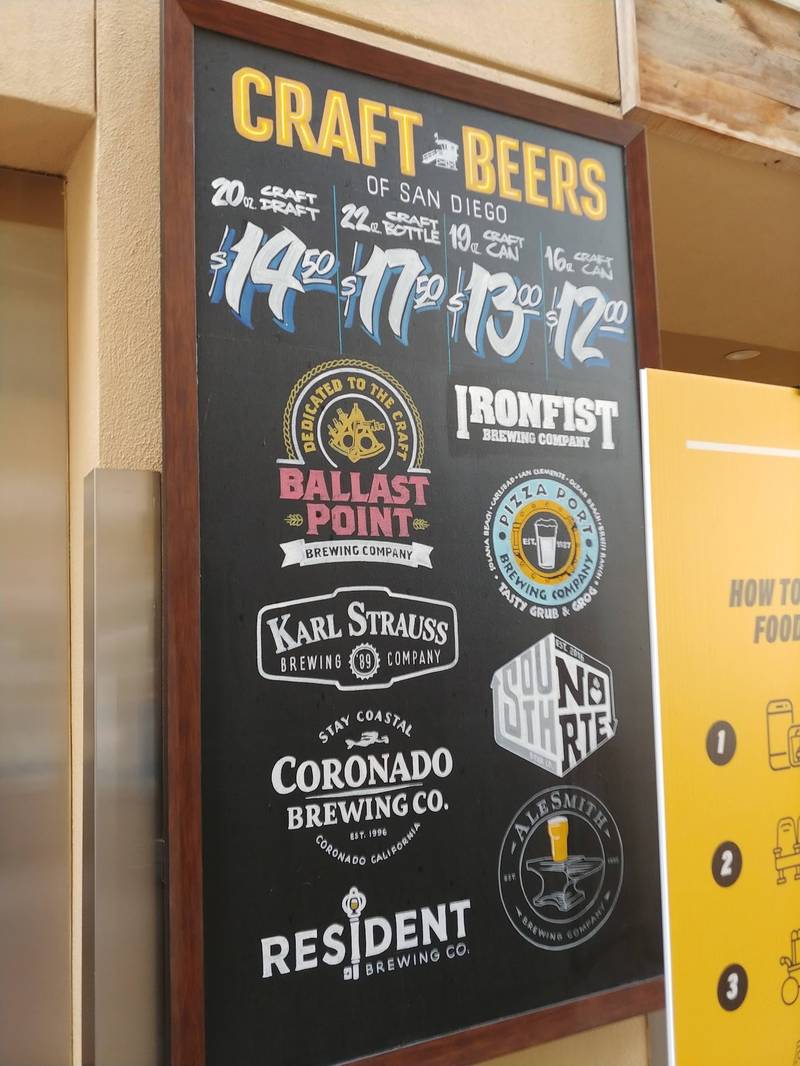 Bachelor Parties In San Diego Are More Than Just About Visiting Breweries!
San Diego is the best place on the west coast to visit for a bachelor party. They don't call it America's Finest City for nothing and so when it comes to putting together bachelor party packages, the possibilities here are endless.
Here are some of our best bachelor party ideas beyond visiting breweries ...
Attend A Padres Games at Petco Park
Watching the Padres play ball is a San Diego tradition and makes for a great bachelor party activity. Petco Park is located in downtown and has been rated one of the best baseball stadiums in America. It also has a fantastic selection of local craft beer located throughout the park so this could be an extension of your brewery tour!
Book A Private Yacht Charter
For an unforgettable experience, charter a private yacht for you and your group to cruise around San Diego Bay. This is a great way to see the city from a different perspective and enjoy some time on the water.
Deep Sea Fishing
San Diego is also a great place to go deep sea fishing and there are many charter companies that offer private trips. This could be a fun activity for the whole group to enjoy and you can even have your catch cooked up for dinner later!
Pool Party
Downtown San Diego aka the Gaslamp District has two of the best pool parties in San Diego that would be perfect for a bachelor party. The Pool House at Pendry Hotel offers a more luxury vibe while Float at the Hard Rock Hotel San Diego is a bit more wild and crazy as you might expect. Both locations though are going to offer your group of guys that fun-as-heck rooftop bar vibe that includes VIP tables and cabanas, VIP bottle service, a swimming pool, and the VIP treatment the groom deserves!
Hit The Links At A San Diego Golf Course
San Diego is home to some of the best golf courses in California so if your group enjoys hitting the links, there are many great options to choose from. Torrey Pines Golf Course is one of the most popular choices and is located right next to the ocean providing stunning views. Other great courses include Coronado Municipal Golf Course, Balboa Park Golf Course, and Rancho Bernardo Inn Golf Resort.
Take Surfing Lessons
We all know that San Diego has some of the best beaches but while most people will just visit places like Coronado Island, Imperial Beach, Pacific Beach Ocean Beach, or La Jolla and just chill out while relaxing on the beach ... the groom deserves more!
Taking a group surfing lesson is a great way to spend some time together creating some awesome memories.
Do A Taco Tour
If the groom loves tacos (and let's face it, who doesn't?), then doing a taco tour is a must! San Diego has some of the best Mexican food around and while there are plenty of organized tours ... as well as some great options across the border in Tijuana, you can also just ask your brewery tour guide to stop at a few places in between stops. Eating tacos in San Diego is one of the must-do bachelor party experiences.
Downtown Bar Crawl
Finally, when it comes to bachelor party ideas, a downtown bar crawl listening to live music and hanging out at rooftop bars is a great way to celebrate the night. San Diego's Gaslamp District is the best place in the city to visit when it comes to bars. While there is a heavy Mexican influence, you'll find the best parties here, including everything from chic Vegas style nightclubs to dive bars and everything in between.
When it comes to bachelor party destinations, San Diego is clearly one of our favorite places. It has some of the best restaurants, easy access to transportation, and pretty much everything you need for an incredible bachelor party experience.
While we don't promote it, San Diego also has its share of strip clubs as well as private adult entertainment. We're all adults here so it's hard to pretend that isn't a part of the bachelor party tradition for many men as they celebrate one last night of freedom before getting hitched.
So, whether you are looking to stay in the Gaslamp Quarter in a chic modern hotel or go retro with a stay at a historic beach-front property like the legendary Hotel Del Coronado on Coronado Beach, San Diego's hospitality is legendary when it comes to planning the perfect bachelor party.