There are TONS of steak houses in Chicago and many of them are quite excellent so sometimes the differentiating factor is simply the "total package".
As such, when I had the chance to check out the new menu at Jack Binion's Steak House inside the Horseshoe Casino in Hammond, Indiana (a short drive south of Chicago) I was excited for the opportunity.
Not only did Horseshoe Hammond purport to have a fun new menu with some fun and imaginative items and a ribeye steak with a bone that would work as a baseball bat, but they also have a new craft beer bar, Sixth Street that serves bacon instead of nuts and pretzels. Oh yeah, and it is a casino so there is always other stuff going on from a great poker room to concerts and boxing matches.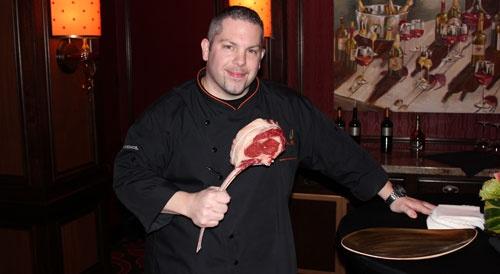 If that doesn't make it sound like a great "Total Package" for a guys night out, I don't know what is.
Sixth Street Craft Beer Bar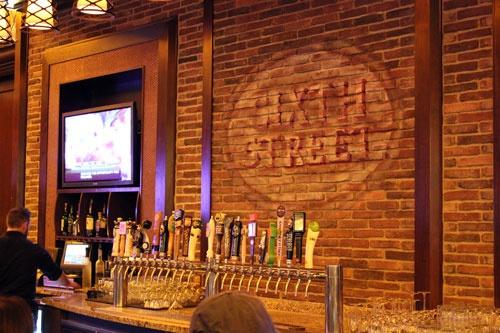 Sixth Street is a great craft beer bar with a selection that rivals almost anything I have experienced so far in Chicago. Part of the excitement for me was that they actually had some craft beers that you don't typically have in Chicago because of different distributors. Specifically, they carried Shlafly so that was pretty awesome!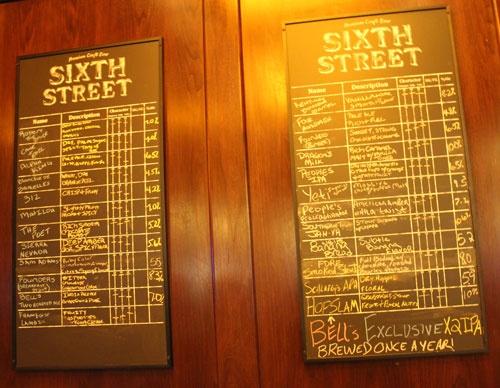 There was also a third panel with even more beers, but I wasn't able to get all three in the same shot. My favorite's were Bell's Hopslam, and the Banana Nutbread (which was really only good as an oddity ... not sure how many glasses I could actually consume). The selection also rotates periodically, so there's even more reason to come back!
If the beer selection wasn't enough to pique your interest then check this out ...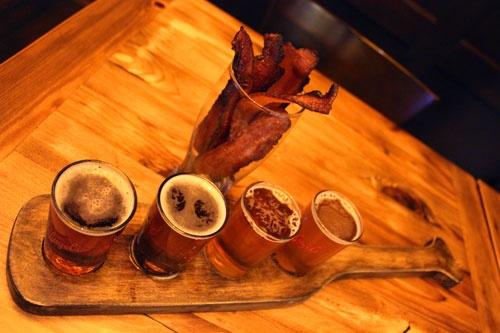 Sixth Street serves bacon along with their beer instead of nuts and pretzels that you might see at other venues. The flavors, like the beer selection also rotates periodically.
Jack Binion's Steak House
The view from Jack Binion's Steak House is probably one of the nicest in all of the Chicago area as it sits right on top of the casino overlooking Lake Michigan and the Chicago skyline.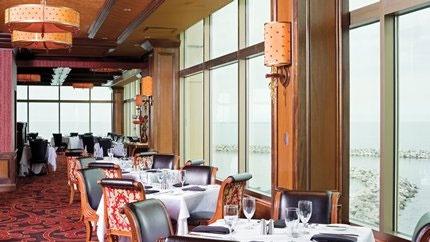 Unfortunately, we were only able to do a tasting of a few select items, so I am not able to provide a true review of how good the food or the service is, but between imaginative items like the Wagyu Spinalis Sliders (Pretzel roll, Maytag blue cheese, and caramelized onions), and some small plates under their new "Toys in the Attic" section I can say that it is intriguing and I look forward to returning for a full experience.
Oh yeah, and don't forget about the signature 48 oz ribeye steak, The Outlaw!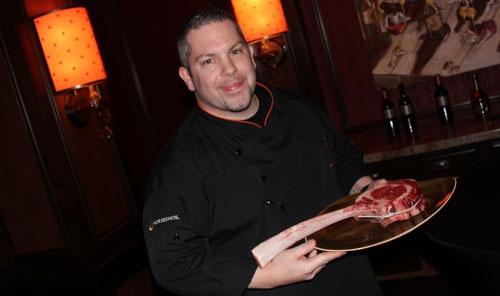 We did have a chance to taste a sample of this and the meat seemed very high quality - certainly comparable to that found in the big-name steak houses in Chicago.
The executive chef told us that they use Chicago 250 Natural Angus that is born and raised locally on natural grass pastures within 250 miles of Chicago and using sustainable methods by family farmers.