Looking for an action-packed weekend getaway destination? Check out Kansas City! This city is full of things to do for guys who love adventure and testosterone. From sporting events to breweries, there is something for everyone in Kansas City. In this blog post, we will discuss some of the best attractions and activities that the city has to offer visitors. So pack your bags and get ready for a weekend you will never forget!
This is turning into a great fall to plan a trip to Kansas City for a guys trip. In reality, this is a great place to visit any time of year but as we mentioned before - this is one of the top places on our agenda to visit again and spend more time in. I took a quick tour through the city a few years ago, ate too much BBQ, drank too much craft beer, and despite that making my plane ride home a bit rough ... I can't wait to go back.
This fall though is going to be special. While casinos have been legal on both sides of the state line for a while now, sports betting is scheduled to open in September in Kansas. This makes the area an even bigger draw for any group of guys looking for a sports getaway.
Unfortunately, though, Royals Stadium and Arrowhead Stadium are both located in Missouri where sports gaming isn't legal yet but you can still use Caesars sportsbook in Kansas to place wagers before you head off to those games.
Is Kansas City in Kansas Or Missouri?
This is a common question that people have about Kansas City. The answer is that it is located in both states! The city is actually split down the middle by the state line, with the majority of the city being located in Missouri. However, there are still plenty of things to do on either side of the border.
When planning your guys trip to Kansas City, it is important to note that people will refer to the Kansas part as KCK while the Missouri part is abbreviated as KC or KCMO.
Additionally, many of the best "Kansas City" BBQ joints are actually in Overland Park Kansas, a city on the west side of the state border that nearly mirrors Kansas City on the east.
This can be especially confusing for guys that are planning a trip to Kansas City to gamble and watch a NASCAR race at Kansas Speedway only to discover that they are in KCK instead of Missouri.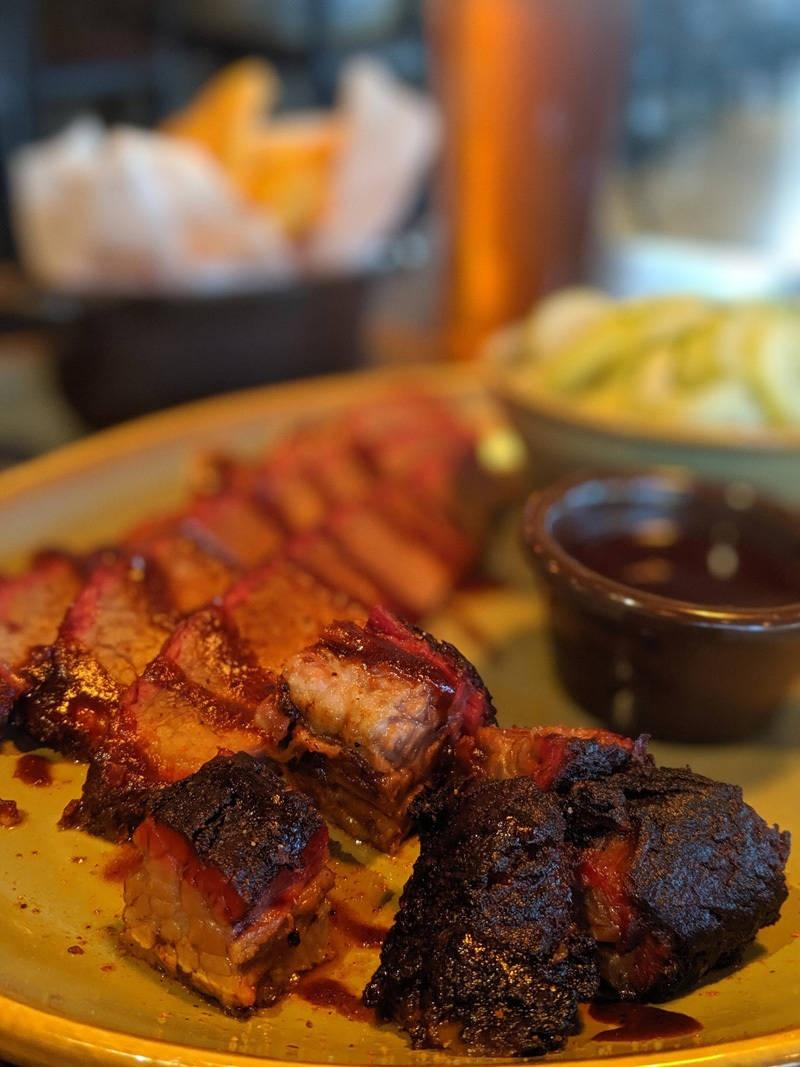 Meaty Eats - BBQ and Steaks!
As we mentioned, Kansas City is known for its BBQ. This city has some of the best BBQ joints in the country and you can find all kinds of different styles to suit your taste. If you are looking for a more traditional style KC BBQ, then head to Arthur Bryant's. This restaurant has been serving up mouth-watering ribs and brisket since it opened its doors in 1908.
For something a little bit different, check out Q39. This restaurant serves up wood-fired Kansas City-style BBQ that will tantalize your taste buds. The menu features all of your favorite KC BBQ staples like burnt ends and pulled pork but with a unique twist that you won't find anywhere else.
We also love Slap's BBQ since it is a nice cross between a BBQ shack and modern cooking.
Kansas is also known as a beef city so if you are looking for a delicious steak, then you have plenty of options. In fact, Kansas City is one of the top places in the country for steaks since they historically attracted cattle from both the midwestern plains as well as from the southwest. Some may not know it but the famous cut "NY Strip" originated from Kansas and was referred to as a Kansas Strip Steak until the NYC steakhouse Delmonico's decided to refer to it as a NY Strip on their menu. As the popularity of their food spread ... so did the name.
Kansas City History Museums
Ok so this might not be the most masculine thing to do on a guys trip but Kansas city has some of the most man-friendly museums that you will find out there.
Airline History Museum and TWA Museum -
Arabia Steamboat Museum -
American Jazz Museum -
The National Museum Of Toys And Miniatures -
Money Museum (Federal Reserve Bank of Kansas City) -
Museum of Illusions -
Negro League Baseball Museum -
Harry S. Truman Presidential Library -
Of these, the Airline History Museum is a must-visit for aviation buffs since it contains artifacts from one of the world's most influential and innovative airlines (which unfortunately is no longer with us). However, you'll find artifacts such as the TWA Moonliner, a space vehicle planned to one day take passengers to the moon as well as other historic aircraft that help illustrate just how far things have come since the early days of propeller planes.
Kansas City Is A Huge Sports Town
If you and your buddies are sports fans, then you will be in heaven during a guys trip to Kansas City. This is a town that takes its sports seriously with professional teams in baseball, football, and soccer as well as being home to some of the best college basketball and football programs in the country.
Moreover, if you are looking for a more unique sporting experience then consider checking out a game played by the Kansas City Roller Warriors which is the city's women's flat-track roller derby team. These ladies know how to put on a good show and it is definitely worth checking out!
Kansas City Is A Great City For A Guys Weekend!
Kansas City is one of those rare cities that packs tons of things that guys love all into one tidy little package and then super-sizes. To say there's "something for everyone" here in KC would be an understatement.
Your bigger issue may be deciding what to do in just a couple of days so perhaps you should make it a long weekend or even a KC mancation instead and head out on a road trip to Lake of The Ozarks for some fishing too?