Last year we sailed with Norwegian Bliss for the launch of the company's biggest, fanciest and most feature filled ship ever. At the time, Bliss was everything we saw on Norwegian Joy but had to wait just a bit longer for. That wait represented refinement, learning, and further time for innovation. When it arived as the first Breakaway Plus ship in North America it truly lived up to it's name. Seizing on it's incredible popularity, the folks at Norwegian Cruise lines abruptly pulled Joy out of the Chinese market and instead of just re-positioning it, did a complete overhaul of the ship. So, was it worth it? Does Joy deliver on it's name the way Bliss did? Yes .. it absolutely did though there are a few awkward areas that reveal it's journey to this point.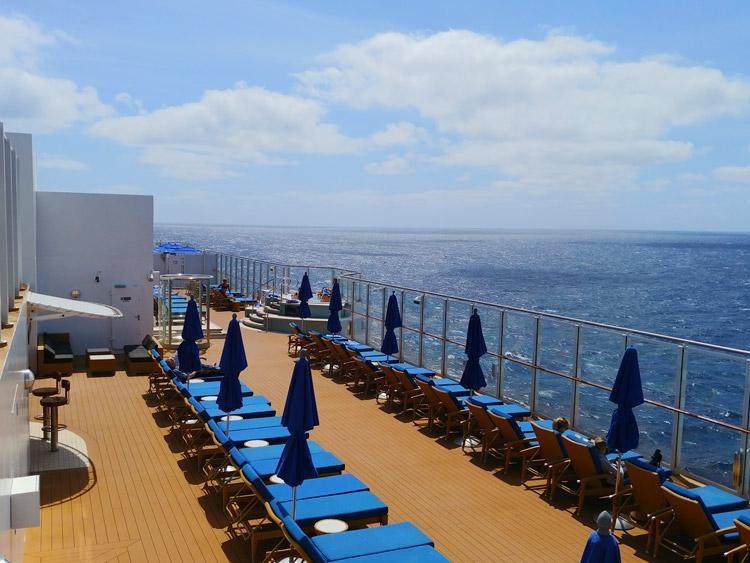 Norwegian Joy is one of the finest large ship experiences that you can get today. It's a huge ship but feels well laid out and you can get from one point to any other very quickly due to well placed elevators, external walkways and central corridors. At 167,725 gross tons, 1,094 ft long, and 136 ft wide it is far from the largest ship out there but it feels "right". Our cruise was during an exclusive, invitation-only press event so I can't comment on what it feels like at full capacity. Despite being able to carry 3,804 guests and 1,821 crew everywhere you turn there's a bar, restaurant, or something to do.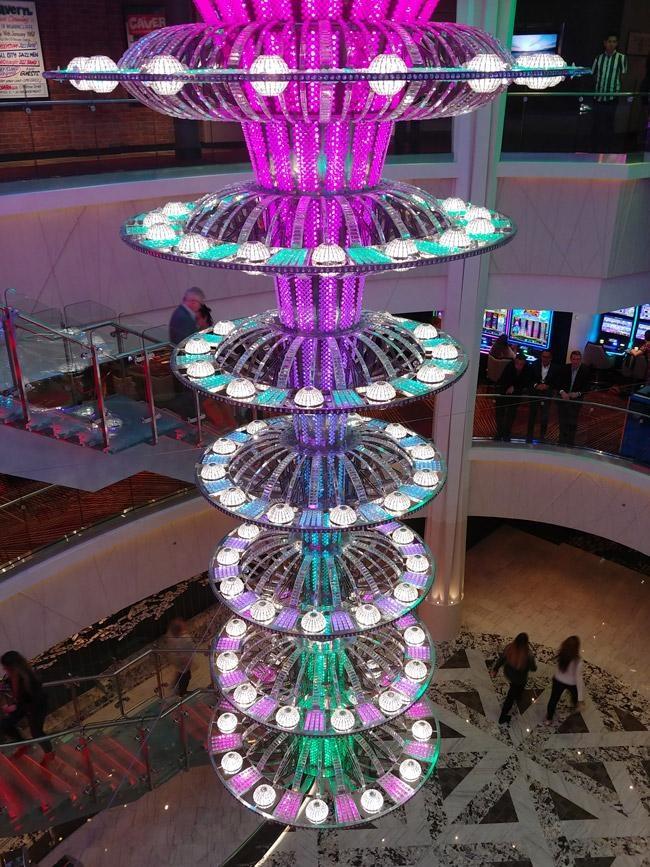 While there are "clusters" it didn't feel like there were bottlenecks the way you find on other large ships where there's a "rush hour" phenomena with half the ship walking down the same corridor all heading to dinner or a show for instance.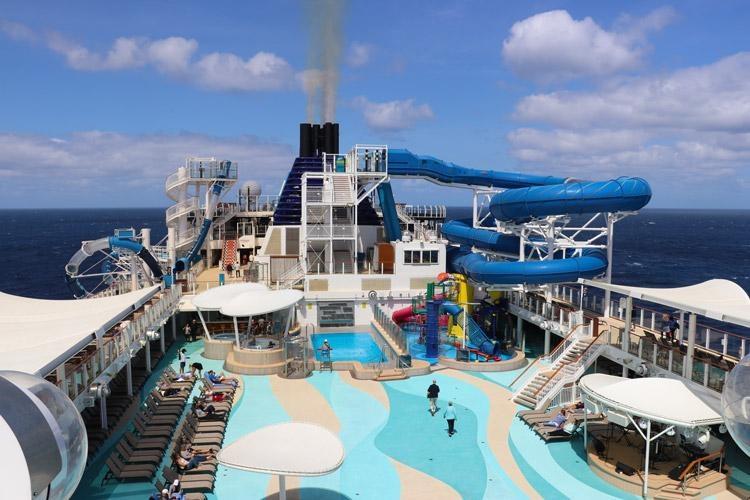 Joy is VERY Similar to Norwegian Bliss, With a Few Key Changes:
1) The pool deck area has been transformed from a sort of Asian "garden" that frankly I thought looked really cool. However, it doesn't fit the North American market.

Norwegian Joy pool deck Chinese Park configuration
Sadly though, the result is the one part of the ship that is aesthetically unpleasing. It still has the functions needed of the pool deck - pools, hot tubs, bars, lounge chair space and a stage for holding games and dance parties. However, it just feels "off". Unless you are set on taking the perfect pool deck photos then this isn't going to impact your vacation but I felt it was worth including here since Bliss just looked so nice in comparison.
2) Where the spa on Norwegian Bliss had a much larger footprint that included the entire back of the ship, on Joy the spa is MUCH smaller and the aft area of deck 16 is dominated by a truly amazing addition, Galaxy Pavilion filled with VR simulators and video arcade games that are available a cover-charge experience rather than pay-per-play like you might find at similar facilities on shore.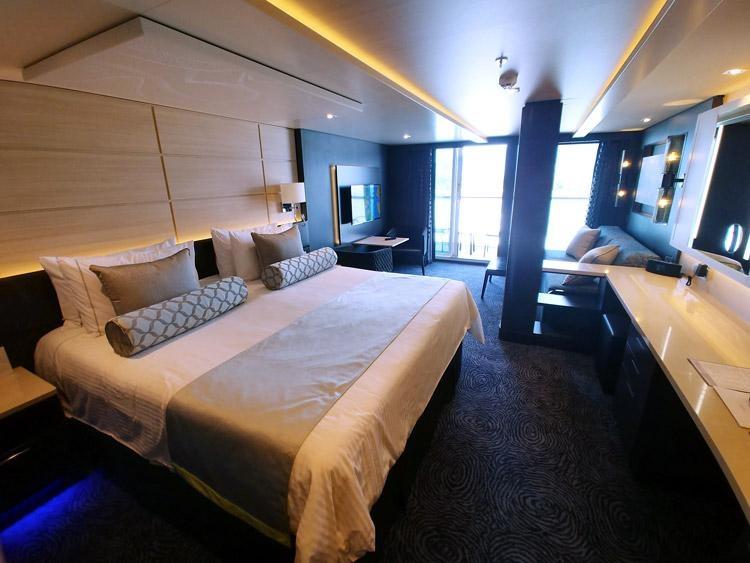 3) There's a new class of accommodations introduced here called Concierge. This is a step below Haven and while they removed the private Concierge Lounge so that it could be opened to the public, as the Observation Lounge (the right decision), guests have access to a private restaurant and concierge to help with reservations. Additionally, the accommodations are significantly nicer and larger than other non-concierge staterooms.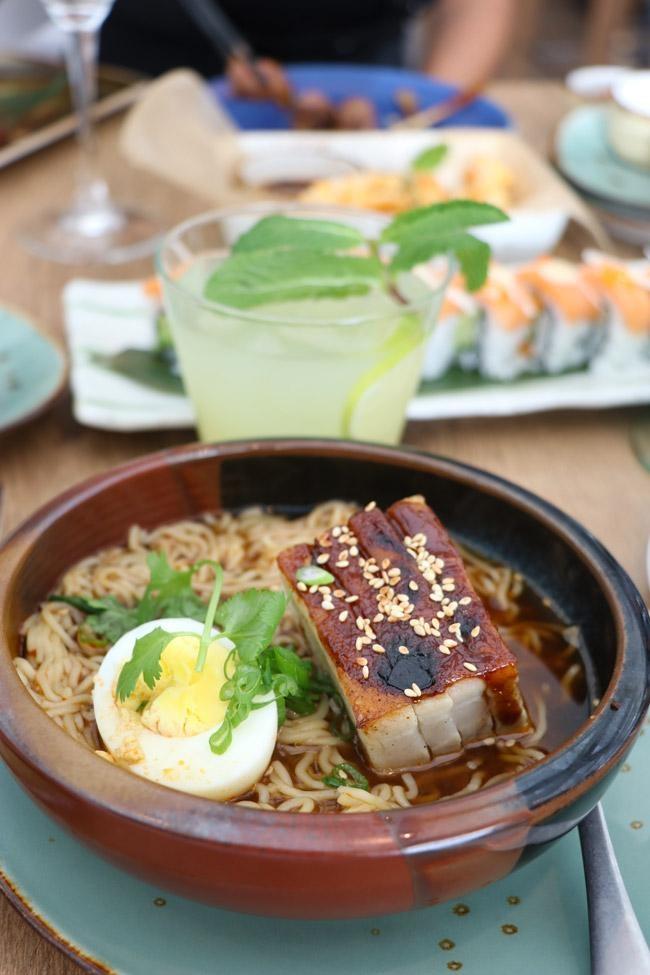 What's Awesome About Norwegian Joy?
Norwegian Cruise Line continues to dominate when it comes to their concept of Freestyle Cruising. This is a no BS approach to enjoying your vacation. While certain restaurants will require a dress-code, if you want to wear jeans or shorts in most venues - that's A OK! Likewise, there's none of these awkward mad rush for dinner in a giant dining room. While you can still have that experience if you choose, there are eight different specialty restaurants including NCL standards - Teppanyaki, Cagney's, and American Diner. Plus you've got The Local - a 24-hour eatery located mid-ship where you can get wings, burgers, fries, and various other pup-items that rotate daily.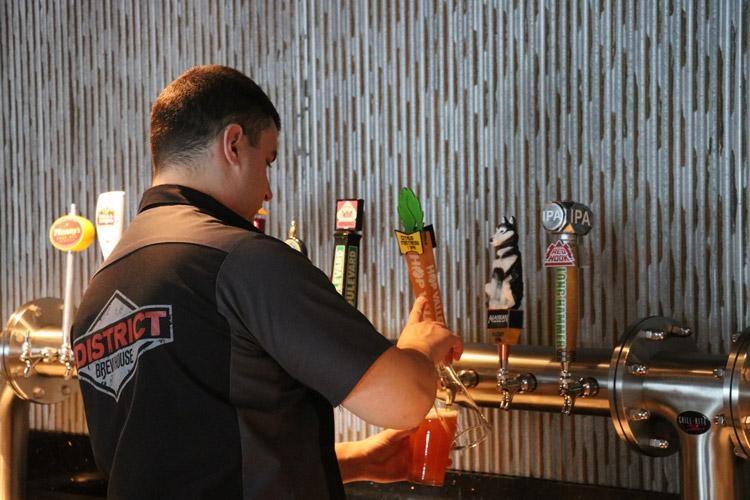 Similarly, not only do you have abundant food and drink options - the quality is also exceptional. One of my favorite places on both Joy and Bliss is the District Brewhouse.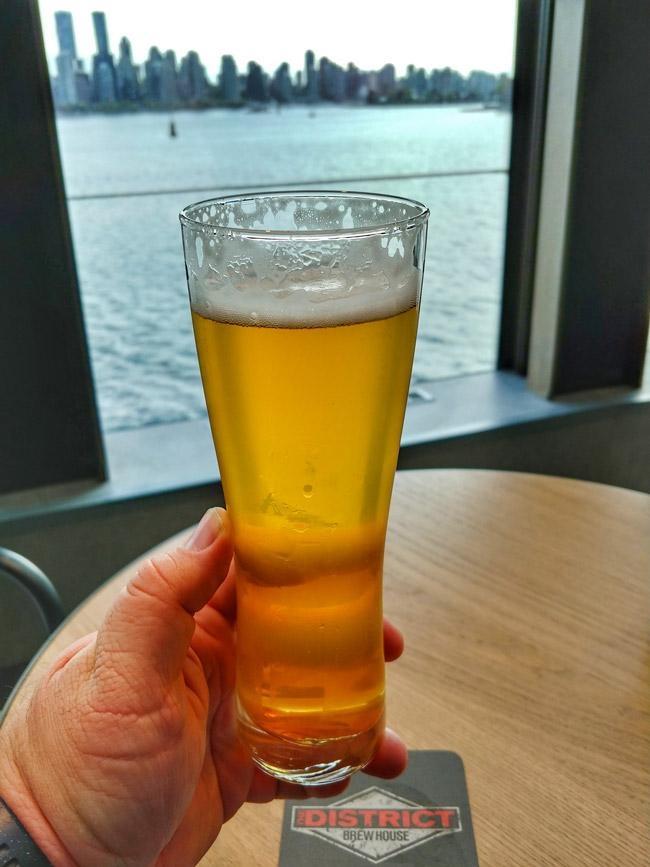 Not only is this a great lounge during the day where you can get some sunshine - without being outside, but at night it transforms into the piano bar. Throughout all of this, they have a great selection of craft beers on tap, cocktails on tap, and even more selections available in bottles and cans.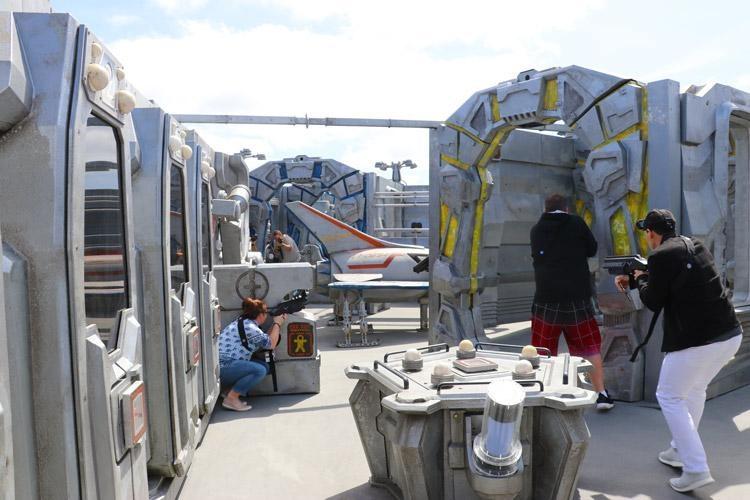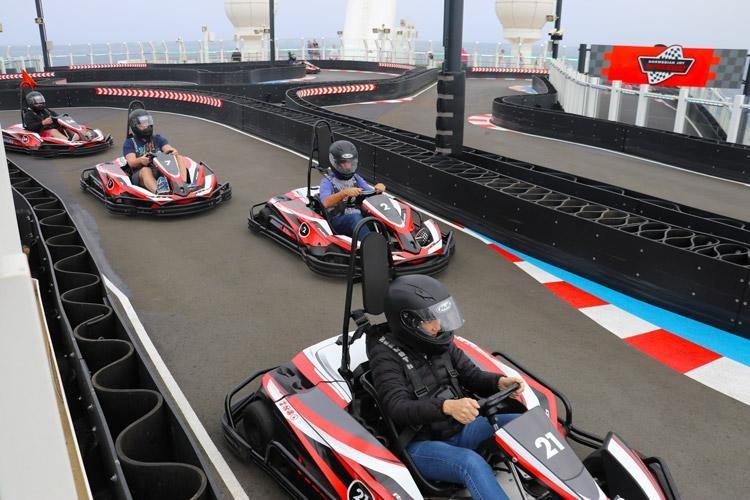 When it comes to activities, Norwegian Joy has the original Racetrack at Sea and Laser Tag. Fundamentally these are the same as you would find on Norwegian Bliss though I think the track-layout is different. Where Joy gets awesome though is the Galaxy Pavilion.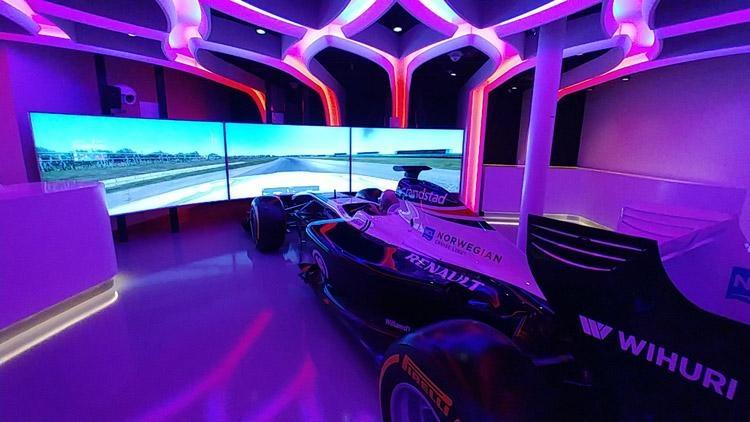 Much the chagrin of my wife, it does take a huge chunk out of the spa complex compared to Bliss but being able to ride a Jurassic Park Jeep through a virtual jungle, live out your F1 racing dreams, or ride a virtual roller coaster makes up for that. It is a SPECTACULAR addition that while not cheap is priced comparably with what I've seen similar experiences cost on-shore. For guys that love games and VR technology, THIS is the reason why you need to book Joy for your next vacation. While much of the games are designed for older audiences some of the games here would be awesome to play together as part of a father and son guys getaway cruise.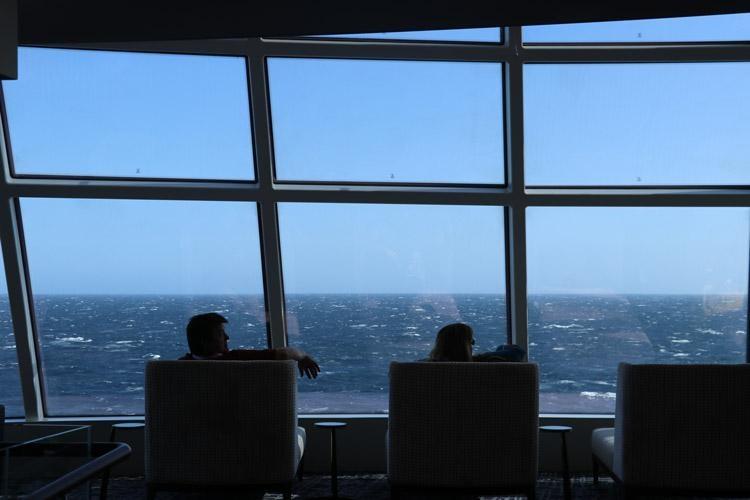 As much as I love the fancy features found on Norwegian Joy, this is your vacation and a cruise as as much about enjoying the journey as it is the destinations. My absolutely favorite feature of both Norwegian Bliss and Norwegian Joy is the Observation Lounge. This is a wrap-around lounge that takes over the entire front of the ship with floor to ceiling windows, comfy chairs and not only a bar ... but a Starbucks too. For breakfast there's also pastries and juice for those that want to avoid the madness one deck up at the buffet.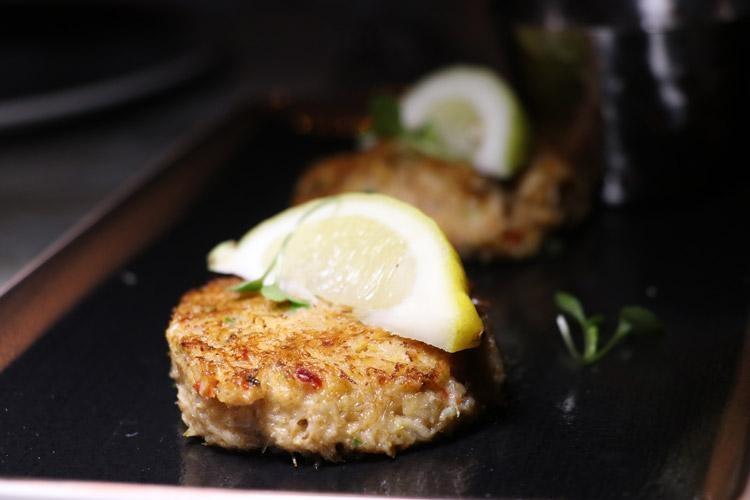 No matter what your choice of food, there's something for everyone on Joy. From crab cakes, BBQ, and southern favorites at Q Smokehouse to gourmet seafood at Ocean Blue you won't go hungry. Once again though, this is Norwegian and it's all about Freestyle Cruising so if you want to visit The Local at 2 am for wings and a pretzel to cap off a night of drinking before heading to bed ... that's cool too!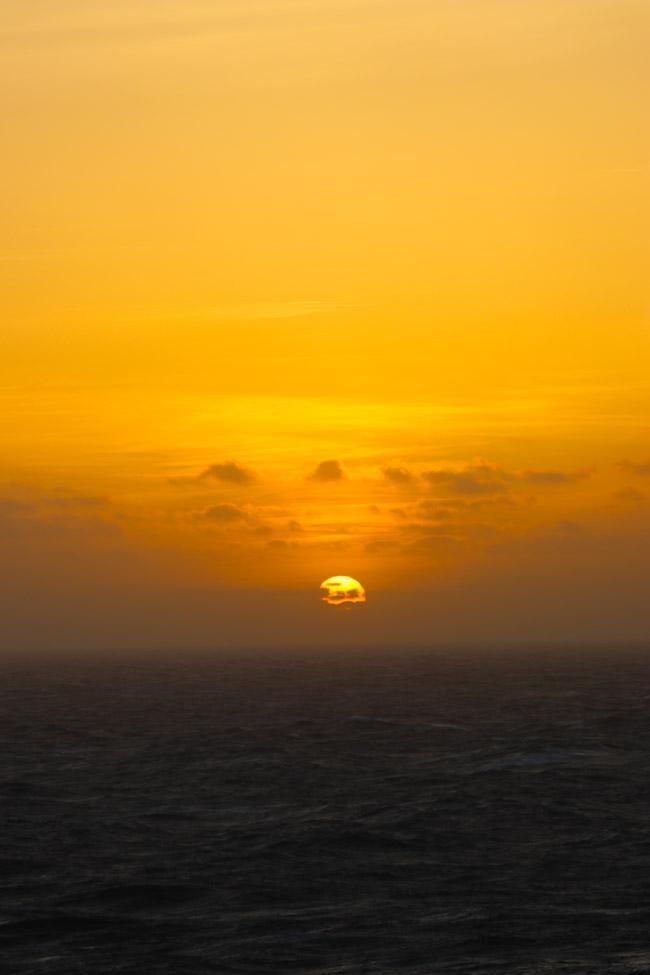 Norwegian Joy has a very diverse schedule of ports coming up. This summer, she's going to be sailing out of Seattle with a focus on Alaska Cruises. At the end of the season though, she'll be offering Pacific Coastal cruises out of San Pedro (Los Angles) before heading to the Caribbean and then up to New York for some Canadian cruises in the fall of 2021.
No matter what ship you sail on, one of the joys is the time you spend relaxing, recharging, connecting with the ocean. Norwegian Joy manages to do that while offering some of the best accommodations, food, drinks, staff, and cutting edge entertainment available on any line. I can't wait till I have an opportunity to sail on her again ... hopefully sometime soon!
Norwegian Joy Cruise Ship Photos
Here's some of the photos we took while onboard Norwegian Joy that didn't make it into the actual article above.
{lightgallery type=local path=images/stories/norwegian-joy-inaugural/ncl-joy-photos previewWidth=160}Photos of Norwegian Joy Cruise Ship 2019{/lightgallery}