One of the things I love about the newest cruise ships by Norwegian Cruise Line is that they've invested heavily in what they refer to as Studio Rooms. For those looking to do a guys trip at sea, this is the perfect option since you get privacy and can save money compared to the traditional cost of booking your own room.
For those not familiar with cruising, typically you have to sail with two people per cabin since generally, cruise ships cater to couples and families. While Norwegian does a great job of promoting cruises with discounts for solo cruisers in normal cabins, this is a great option for saving even more money on certain ships. Traditionally, those that prefer to not to share a cabin are charged an additional fee ranging from 20-80% of the cost for a whole other person. Instead, select NCL ships including Encore, Bliss, Escape, Getaway, Breakaway, Epic, and even Pride of America now offer rooms designed for one person.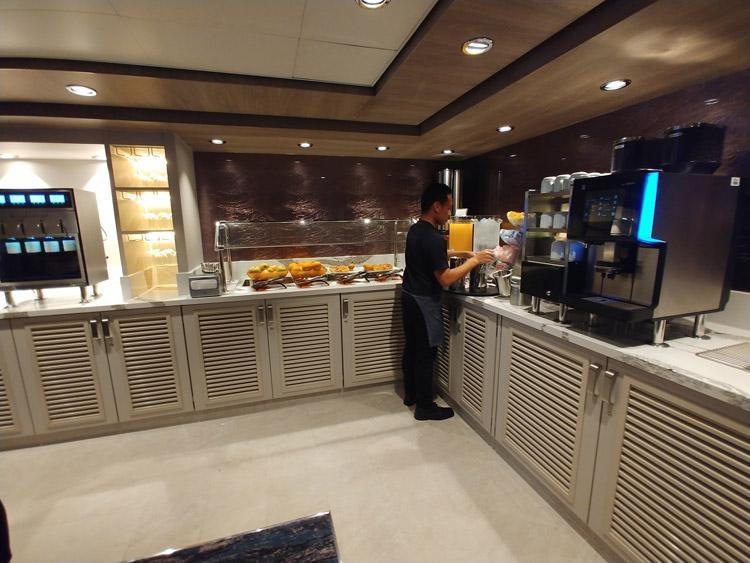 I've been wanting to visit one of these cabins since I first heard about the studio cabins a few years ago but haven't gotten the opportunity. Last fall during the launch of Norwegian Encore though, I finally had a chance. I was extremely impressed. Not only are these rooms smaller - designed for one person, but they also created a Studio Lounge area where guests can have more space to kick back and relax ... or work. The Studio Lounge (at least on Encore) even has refreshments - pastries and juice along with a self-dispensing wine machine while we were there.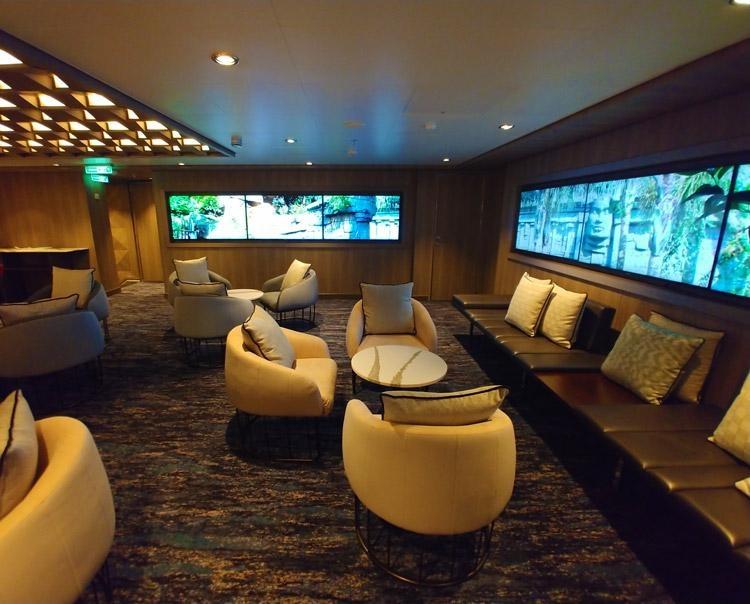 What Are The Solo Studio Cabins Like?
My biggest concern was that these studio cabins would be essentially closets that were designed more for practical function than comfort. While it is certainly not something I'd recommend for people who are claustrophobic, I didn't feel like it could be described as uncomfortable. We also asked a couple of passengers who had been booked in that category recently and the consensus was that while it initially feels "small" that it is well designed and you ultimately adjust. While a typical inside cabin might be about 130-140 square feet, these Studio cabins are approximately 100.
However, for persons of size, the issues that make a traditional cabin awkward make this downright uncomfortable. Specifically, that is in reference to the size of the shower and toilet. However, if I had the choice of booking a solo Studio Cabin or spending a few hundred dollars more for an inside, I think I'd probably "make it work".
Additionally, like with all inside cabins, it can feel dark and cramped. Personally, while I clearly prefer balcony cabins - I have no issues with inside cabins. In some ways, I appreciate the quiet and darkness since it helps me relax and since you're spending so much time out of your room ... it's not a big deal anyhow.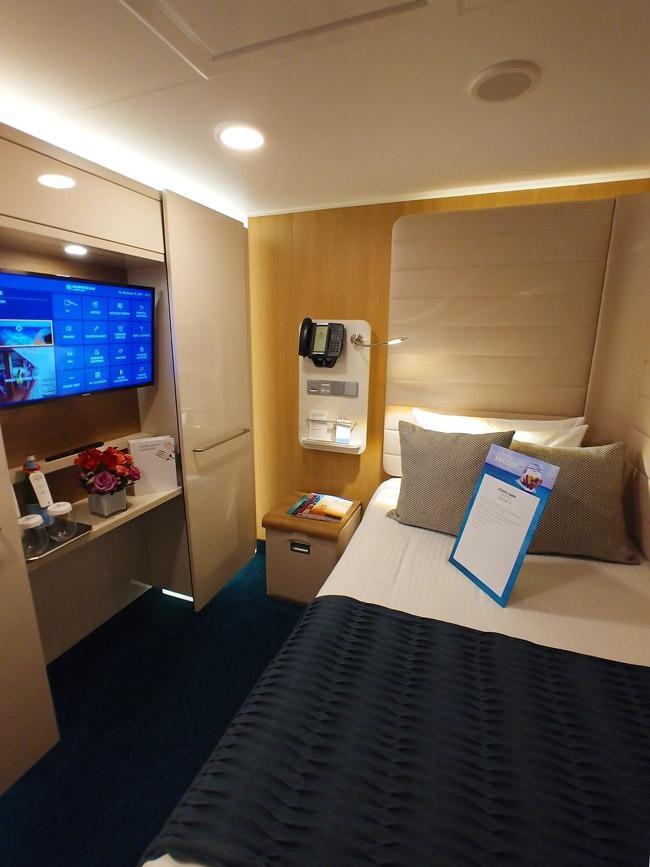 However, I did find that Norwegian did a fantastic job with lighting to help make the Studio Cabins actually a bit better in this regard. Additionally, they added a virtual window next to the bed that helps give the feeling of additional space in the room.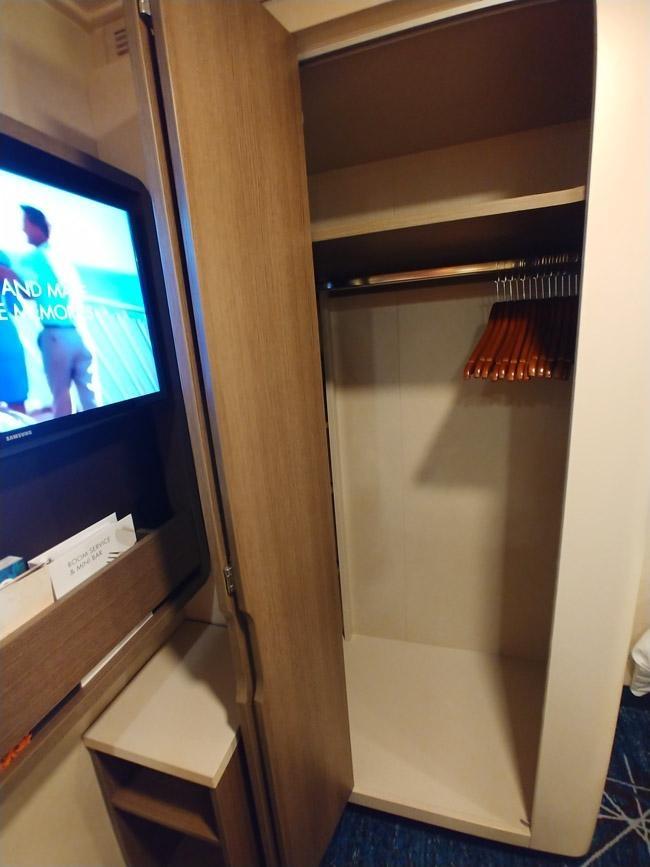 They also did an excellent job of providing plenty of space for storage and hanging clothes.
For a group of guys traveling together - for instance a bachelor party, guys getaway, or a college reunion, this idea can be made even better since there are even connecting single rooms. For the ultimate bachelor party cruise though, I'd suggest that the groom get a suite and that way you have a "home base" for the party with the rest of the guys able to save some money and have privacy in the solo Studio cabins.
What Ships Have Solo Studio Cabins?
The Norwegian Cruise Line ships that have Studio cabins designed for single travelers include:
NCL Encore, Bliss, Escape: 82 Studio cabins on deck 10, 11 and 12
NCLGetaway, Breakaway: 82 Studio cabins on deck 10, 11 and 12
NCL Epic: 128 Studio cabins on deck 11 and 12
NCL Pride of America: 4 Studio cabins on deck 13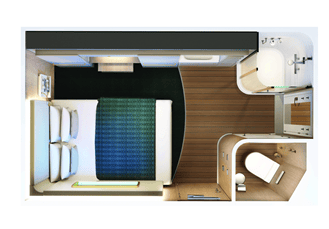 How Much Do Solo Studio Cabins Cost?
Clearly the price is going to fluctuate between different itineraries, ships, and time of year. However, here's a few examples to help you understand:
Seven Day Western Mediterranean on Epic in May: Solo Studio ($1,238-$1,840) vs Solo Inside ($1,482-$2,518) vs Double Occupancy Inside ($741-$1,259) (prices are per person)
Seven Day Southern Caribbean on Epic in March: Solo Studio ($849) vs Solo Inside ($1,258) vs Double Occupancy Inside ($629) (prices are per person)
Seven Day Eastern Caribbean on Encore in March: Solo Studio ($999-$1,129) vs Solo Inside ($1,398-$1,838) vs Double Occupancy Inside ($729-$1,119) (prices are per person)
Seven Day Hawaiian Cruise on Pride of America (various months): Solo Studio ($3,254-$4,038) vs Solo Inside ($3,792-$4,296) vs Double Occupancy Inside ($799-$2,239) (prices are per person)
While this is a basic survey of prices, what I see here is that the solo Studio is always cheaper than the solo Inside Cabin. However, the cost is still always more than the per-person cost of doing a double occupancy room.
Ultimately this isn't about parity with the double occupancy price, it's about providing an option that's cheaper than the alternative. In some cases, the savings is only a couple hundred dollars but in others, it is considerably more. For instance, on the Feb 22-29 sailing of Pride of America, a Studio is $2,899 vs an inside priced at $4,038. That extra $1,000 might be the difference between a snorkeling excursion and a helicopter ride to see the volcanoes.