Unless you are stuck in Lapland, Northern Canada or Siberia, you probably don't think of visiting a ski resort as a great summertime destination for your next mancation. However, these winter playgrounds can also be fantastic year-round mancation destinations offering hiking, biking, art, music, spas, and tons of other great things to do for a mancation. One of these areas that looks like a great destination for guys is the Taos Ski Valley, in Taos, New Mexico.
Man Tripping had the chance to chat with Alyson Hyder, the Executive Director of the Taos Ski Valley Chamber of Commerce, who was nice enough to answer some of our questions and provide more information on why Taos is a great place to visit!
Most people think of a ski resort as a destination for winter or springtime mancations, what makes Taos Ski Valley a great place year round?
Most people have heard of Taos Ski Valley's unparalleled winter offerings: the mountain is one of the last, most pristine, and still undisturbed ski areas in the country, nestled in a perfectly situated valley in Taos, New Mexico. Founded by Ernie Blake in the 1950s, Taos Ski Valley is still run by the Blake family. Taos Ski Valley boasts some of the best conditions in the country with an average of 305 inches of snow and the same number of days of sunshine every year. Also, the upcoming winter will be the first full season that snowboarders are allowed on this historic mountain. However, visitors will be pleased to find that Taos Ski Valley offers myriad activities year round, long after the snow has melted off the slopes. Whether guys are looking for a thrill-inducing outdoor adventure or a laidback weekend away with buddies, Taos Ski Valley has something for everyone this summer and fall.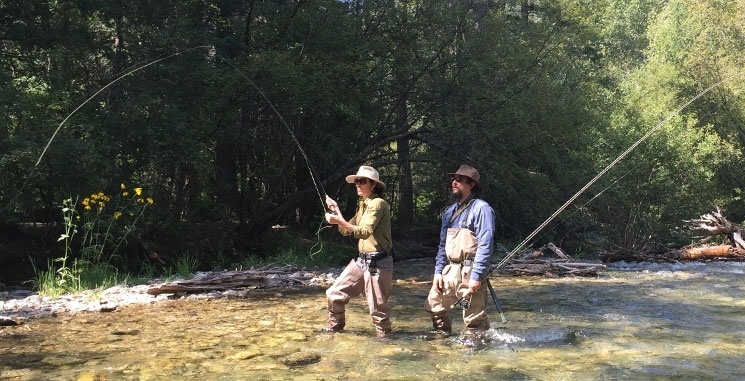 What are some really cool "guy" things to do in Taos?
This summer and fall, Taos Ski Valley is offering a variety of activities that could be perfect for action-packed or more laid back mancations: Athletically-inclined men may want to try the Frazer Mountain Madness Mountain Bike Race (July 26 – 27). Part of the New Mexico Off-Road Series, this 5.5 mile hill climb to the top of 12,163 ft. Frazer Mountain will challenge even the most experienced bike riders. But with temps in the high 60s, there is no better place to pedal than Taos. Or if pedaling is not their style, other men may enjoy the Taos Ski Valley Up & Over 10k Trail Run (August 23). This challenging 10K trail run goes up and over the ski hill and is part of the Trail Runner 2008 Trophy Series. With its 2,612 feet elevation gain, this run promises a heart-pounding experience. Or men can try the challenging hike to Wheeler Peak, the highest peak in New Mexico. Hiking from the Village (a 9200 foot elevation), hikers climb 3961 feet in this spectacular 16-mile hike. White water rafting adventures with Big River Rafts (https://bigriverrafts.com) or a thrilling rock climbing excursion with Mountain Skills Rock Guides (https://www.climbingschoolusa.com) are sure to thrill any group of guys. Men looking for more novice or laid back outdoor activities would enjoy the Full Moon Hikes to Williams Lake. This hike promises some of the best stargazing in all of the West. A short two-mile hike to Williams Lake promises extraordinary views highlighted by moonlight. Another not-to-be-missed event for visiting guys is the Oktoberfest Celebration on September 13. A small town fall celebration complete with 13 piece Oompah Band, German food, beer, German dancers, best costume contest, yodeling and brat eating contests! Also available are beautiful horseback rides up the mountain through A.A. Taos Ski Valley Wilderness Adventures (https://aataosskivalleywildernessadventures.com/index.php) or serene fly fishing excursions through Wild Rivers on the Fly (https://wildriversonthefly.com). Men interested in striking up a disc golf game at the base of the mountain can play for free and rent discs at Taos Ski and Boot Co. (888-285-8920)
3. What is the atmosphere like at Taos during the summer?
True to its reputation in the winter, summer and fall visitors will find that Taos isn't corporate. It's not big and flashy and it doesn't cater to the fur-clad and dressed-to-impress crowds that flock to places like Vail and Aspen. Taos Ski Valley is about the pure mountain experience and that's what it delivers along with spectacular views and unexpected charm. The mountain destination offers a summer and fall full of great events and activities sure to suit any group of men, with cooler climes that offer relief from the heat.
4. Does Taos Ski Valley offer any mancation packages?
While Taos Ski Valley does not offer any packages specifically geared toward men, its myriad summer activities can almost always be paired with a fantastic lodging deal to create a perfect mancation. For example, the Snakedance Condominiums are currently offering a fantastic lodging special, valid through October 5 2008, which offers studio condos from $65, 1 bedroom condos from $75, 2 bedroom condos from $99 and 2 bedroom + lofts from just $135. The Taos Ski Valley Chamber of Commerce is a fantastic resource for men looking to plan a summer or fall mancation. The Chamber's Web site offers comprehensive, up to date information about activities, accommodations and specials or deals going on at the moment: https://taosskivalley.com. Or, the Chamber of Commerce can be contacted via phone for any questions or suggestions for planning a mancation: 800-517-9816 ext. 1513.
5. What's the best way to get to Taos?
Direct flights are available into the Santa Fe and Albuquerque airports, which are about an hour and fifteen minutes and a 2 hour and fifteen minute drive from Taos respectively. Below are directions from both cities, as well as driving directions from surrounding areas that frequently yield driving visitors: From Santa Fe: Hwy. 285 north to to Hwy. 68 to Taos. From Albuquerque: I-25 to Santa Fe; exit on 599 north to by-pass Santa Fe; Hwy. 285 to Hwy. 68 to Taos. From Arizona: I-40 to Albuquerque; I-25 to Santa Fe; Hwy. 285 to Hwy. 68 to Taos. From Denver: I-25 to Colorado Springs to Walsenburg; Hwy. 160 to Fort Garland; Hwy. 159 and Hwy. 522 to Taos. From Vail: I-70 to Copper Mountain; Hwy. 91 to Leadville; Hwy. 24 and Hwy. 17 to Alamosa; Hwy. 285 to Tres Piedras; Hwy. 64 to Taos. From West Texas: I-40 to Clines Corners; Hwy. 285 to I-25 to Santa Fe; Hwy. 285 to Hwy. 68 to Taos.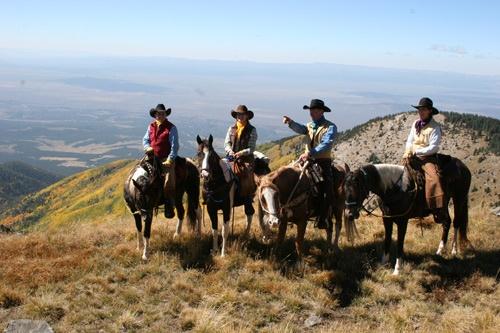 What kind of mancation budget should guys plan for when coming to Taos – i.e. lodging options, restaurant options etc.
Taos Ski Valley offers a wide range of lodging and dining options, with something to suit any mancation's budget. For men looking to save money, accommodations at the charming Snakedance Condominiums (also mentioned above) may be the perfect fit as studios start at only $59 a night during the summer and fall. (https://www.snakedancecondos.com/) The nearby Snow Bear Inn and Condominiums offer hotel rooms that can sleep up to 4 starting at just $69 during the summer. (https://www.snowbearinn.com/index.php) Midrange lodging offerings include the beautiful Kandahar Condominiums, starting at $140 a night in the summer (https://www.kandahar-taos.com) or the charming mountain suites of Alpine Village Suites, which also offers spa services onsite. Suites start at $114. (https://www.alpine-suites.com/) This location also offers studios starting at just $60 in the summer.) Men seeking a bit more luxury or sophistication in their mancation accommodations may enjoy the Bavarian Lodge and Restaurant, which offers first-class family lodging and gourmet dining; the perfect complement to Taos Ski Valley's European style. Summer rates starting at $125 (https://www.thebavarian.net/index.php) There are many affordable dining options in the ski valley including exceptional espresso, hot chocolate and mocha drinks from Black Diamond Espresso, sure to get any man revved up for a day of fun in the ski valley. (575-776-8858) Tim's Stray Dog Cantina serves delicious New Mexican cuisine and signature margaritas with a kick! $7-$22. (https://www.999dine.com/nm/Timsstraydog/) Crossroads Pizza offers carry-out or delivery pizza (whole or by the slice), pasta, soups and salads, $5-$20. (https://www.999dine.com/nm/crossroads/) The Hotel St. Bernard and Rhoda's both offer outdoor deck dining with beautiful views of the mountain, $9-$30. (575-776-2251or 505-776-2291). Also, the Mine Slide Market located in the Snakedance Condominiums offers an array of snacks, beverages, liquor and even organic dairy and meats to keep condos stocked while visiting.
Are mountain bike rentals available for those who want to try the Frazer Mountain Madness Bike Race? What about Mountain Bike Rentals in general?
Yes, mountain bikes can be rented on the mountain at $35 for a full day or $25 for a half a day with Alpine Village Suites. (www.alpine-suites.com) The Founders of the Frazer Mountain Madness Mountain bike event, Northside at Taos Ski Valley (www.ridenorthside.com), now offer 25 miles of single track mountain biking trails. Day permits can be purchased on-site, on-line or at the Taos Ski Valley Chamber of Commerce Visitors Center.