The Chevrolet Corvette is one of the most iconic cars in the world. Since 1953 it has captured the minds of men (and women) around the world for it's style and performance but also for being a fabulous example of American automotive design ability. While there are other American-made sports and muscle cars - none come close to the way Corvette combines performance and style into a lifestyle that is larger than just another fast car. However, few people actually get to experience how amazing this car really is since at highway speeds and on regular roads it's just a great looking car that turns head and goes fast. That all changed for me when I got invited to spend a day with Chevrolet driving a few different versions of this American icon around the track at the Ron Fellows Performance Driving School in Pahrump, Nevada - just outside Las Vegas.

This is Home To The Corvette Owners School
Those who buy a new Corvette Stingray, Grand Sport, or Z06 can take the 2-day program for only $1,000. This is a savings of more than $1,500 compared to what it would cost if I just booked it for a guys weekend adventure. Buyers of the Corvette ZR1 have their own special track-focused session as well and 100% of the tuition cost is included. In addition to time on the track, you also have access to luxury accommodations on-site and incredible instructors who know their stuff but make the experience super fun too. This isn't just a "fantasy car experience". The Corvette school is designed to hone your ability to drive better and more importantly have a better understanding for how the Corvette works.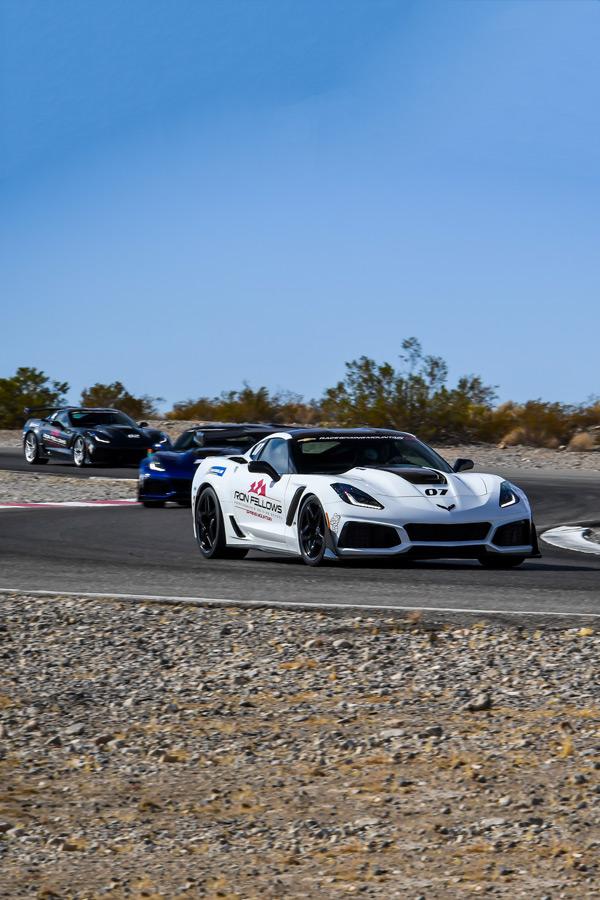 Corvette is Almost a Car Brand Unto Itself
With most car brands, the differences between different versions are predominantly just trim levels. With the Corvette though, the different versions - Stingray, Grand Sport, Z06, and ZR1 are significantly different. Even within these different models there are various options and trim levels to create a vehicle that is a perfect fit for your budget and desires. This is especially true between the ZR1 and the others, but each version is designed for a specific customer.
The Corvette family begins with the Corvette Stingray that is priced at $55.900 and features a 6.2L V8 pumping out 460 hp and 465 lb-ft of torque that can go from zero-60 in just 3.7 seconds. While this is essentially the base model, it is a fantastic opportunity to get introduced to the Corvette brand and certainly no slouch when it comes to speed, performance or styling. The Grand Sport is a step up from the Stingray starting at $65,900 and comes enhanced with additional performance handling ability.
The next step up is the Corvette Z06 that bumps the horsepower up to 650 with 650 lb-ft of torque and starts at $80,900. The supercharged 6.2L V8 is set to take you from zero-60 in only 2.95 seconds. This is about as close as you can get to a race car straight from the factory and in fact it was built in tandem with the C7.R race car to provide owners with one of the most thrilling experiences possible under $100k.
The ultimate expression of Corvette engineering is the ZR1 with 755 hp and 15 lb-ft of torque and a starting price of $123,000. With a top speed of 212 mph and a zero-60 of 2.85 seconds it is simply something that is indescribably cool.
While others out there can go faster ... the Corvette is untouchable when it comes to actual performance. For instance, while the Dodge Challenger boasts a zero-60 of only 2.3 seconds it is really designed as a drag racing vehicle. Corvette is both nimble and quick as we experienced taking different trim levels through various training courses during our visit.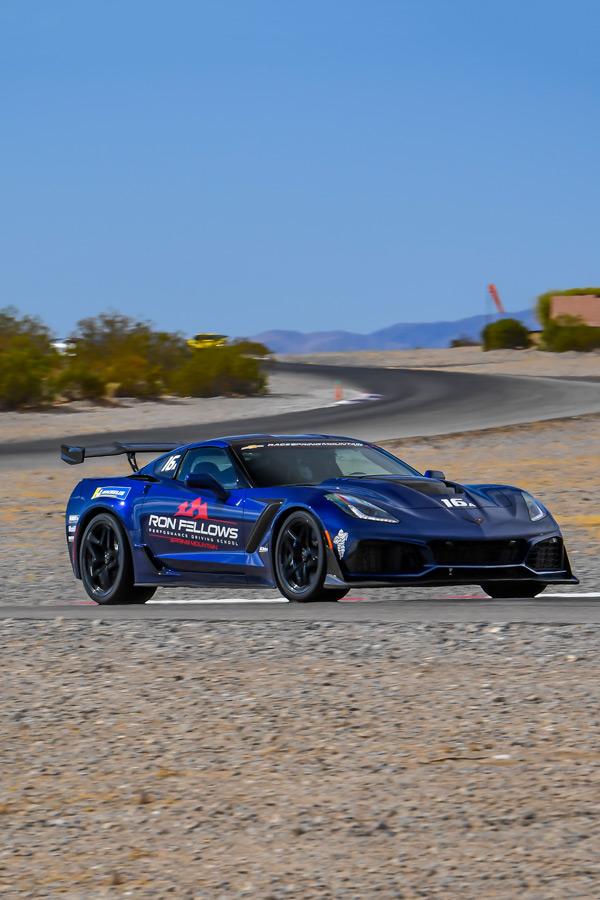 Brakes Are For More Than Just Slowing Down
Anyone who has even driven a car knows that breaks slow you down and that gives you better control of the vehicle. However, what I learned on the track here was that braking actually helps put the nose of the car back on the pavement so there's more ability to steer in the direction you want to go. Skilled braking is something I know that I need to spend more time working on during future track opportunities since generally with street driving slow gradual decelerations are prefered. On the track with a high performance vehicle you have awesome brakes and that allows you to do rapid decelerations while still maintaining control. These seconds or milliseconds that you save might be the difference between 1st and 5th!
This is so important that the school even has this quote from Ron Fellows on it's website, "It's far more than simply going fast and learning when to turn and apply the throttle." Each time I attend a driving school like this I understand that a bit more and it ultimately helps me be a better driver on and of the track.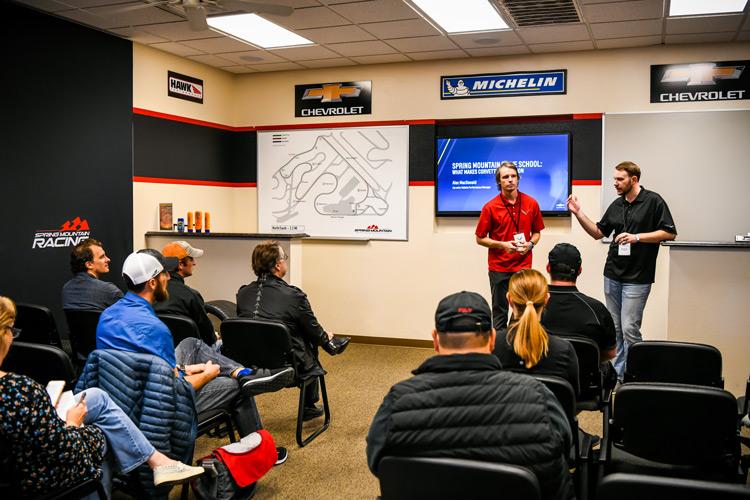 Classroom Time Is Essential For Understanding Performance
Driving a performance automobile is about more than just going fast - it's about going quick. The reality is that while the Corvette ZR1 has a top speed of 212 mph, we never got even close to that number. Instead, the goal is to get through turns quickly and safely not necessarily with the most speed. By studying the track and the characteristics of the individual vehicle that you'll be driving, it can save seconds on the track since you have less to think about in the moment. Think about it this way - if you know that immediately after turn two there's a tight turn to the left then you can position yourself to hit turn three before you even enter turn two.
Even off the track, any Corvette owner who goes through this school is going to be a better driver since you'll know the limits of your vehicle.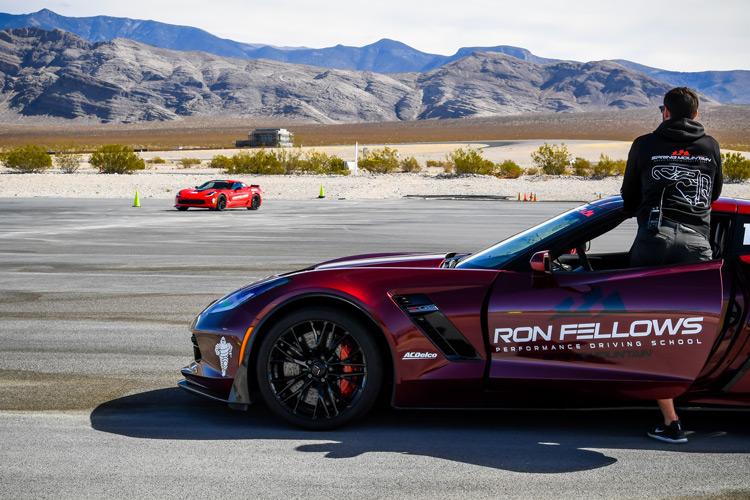 This Is A School - WAY More Than Just a Driving Experience
Las Vegas has no shortage of awesome driving experiences with cars costing hundreds of thousands of dollars but they are just that. All you get to do is take a few laps around a track and then you are done. Here, as part of the Ron Fellows Performance Driving School you'll get classroom time, one-on-one instruction, and a chance to test your ability at various skills tests. While $3,895 is ultimately much more costly than a couple laps around a track in a Ferrari I've never learned anything from those driving experiences. Driving an exotic car is awesome, but this is a full package that makes for an ultimate experience.
While this is home to the Corvette Owners School, anyone can register for the Ron Fellows Performance Driving School. The 3-day program Level 1 is $3,895 and is designed for drivers of all experience levels and includes up to 250 miles of track time. This is an inclusive cost so it ultimately makes for a perfect guys weekend getaway if you want to fly into Vegas for a day of fun on the strip at either side of the school.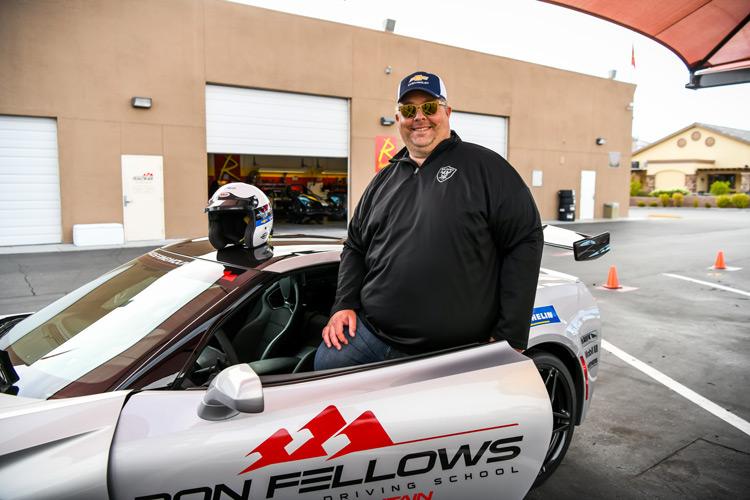 Even Big Guys Like Me Can Fit "Comfortably" In a Corvette
Comfort is relative and I'm not going to say that sitting in a Corvette ZR1 is as comfortable as a Tahoe ... but as a guy as big as I am I was nervous approaching the car. Not only would I fit in the seat, but would my head fit below the roof. On both counts I found that I was able to enter and exit the vehicle easily. While I'm not sure I'd opt to do a long road trip in a Corvette, it's certainly a more practical car that I expected. Beyond passenger and driver space, the rear hatch opens up too and provides a surprising amount of space. Certainly enough for two weekender bags and I'm told by Chevy that it's even measured to fit a standard golf bag too so you're all set for that golf weekend with the guys too!