We were on hand this week for the opening of Willows Hotel & Spa, but I look forward to being able to return to fully experience the resort - especially the spa, pool deck, and restaurants on our own. However, from the brief time we did spend on property and our stay in one of their Escape Suites, this is the perfect destination for anyone in San Diego that is looking for a getaway where there will be no kids. It's the perfect distance from downtown, easy to get to, and delivers a full suite of luxury, spa, pool, food, and all the action you'd expect from a casino resort. Oh yeah, and there's also some of the best outlet shopping in San Diego.
While there are many casino resort hotels close to San Diego, there are a few things that really makes Willows Special ... it's Adults Only, it's All Suites, and while it is obviously owned and operated by the Viejas Band of Kumeyaay Indians - it feels like a resort you'd expect to find in Scottsdale or even Vegas. Additionally, while many of us do enjoy some poker or a few pulls on the slot machines, Viejas has always felt different. Sure, it's a casino ... but there's more here too. That mentality has continued to Willows Hotel & Spa as well. You could absolutely have an amazing escape here, without once feeling like you are in a "casino resort". Of course - if you want to, there are 2,000 machines, a great variety of table games and more than $350,000 in winnings given out every day!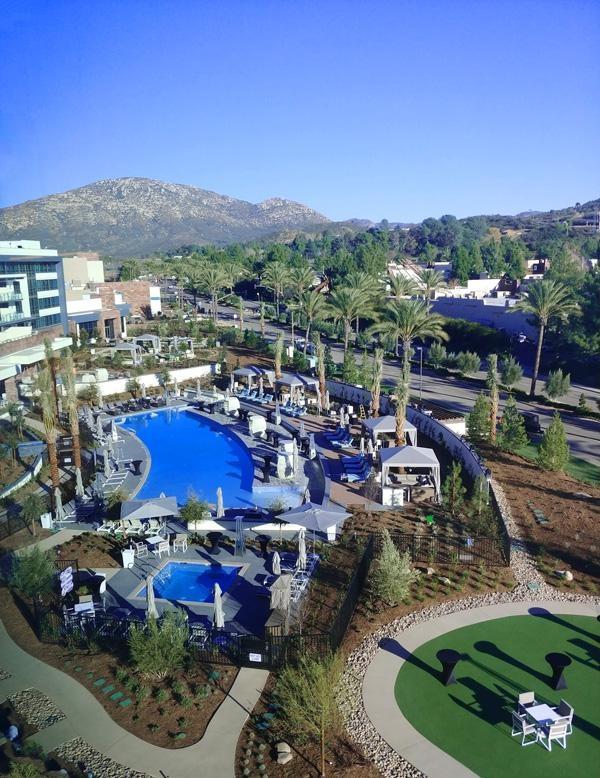 As you'd expect from a brand new hotel in a market like San Diego, Willows Hotel & Spa is very modern and luxurious, without feeling uncomfortable. The pool deck is just the right size, with plenty of cabanas, a huge hot tub, a walk-in pool, and it's all very close to the rooms too.
For those that want the ultimate pool-getaway experience - or perhaps for a bachelor party or just a romantic getaway, there are rooms with your own private patio next to the pool deck. Since you need to be 21 and over here, there's no worrying about kids running around to ruin the fun!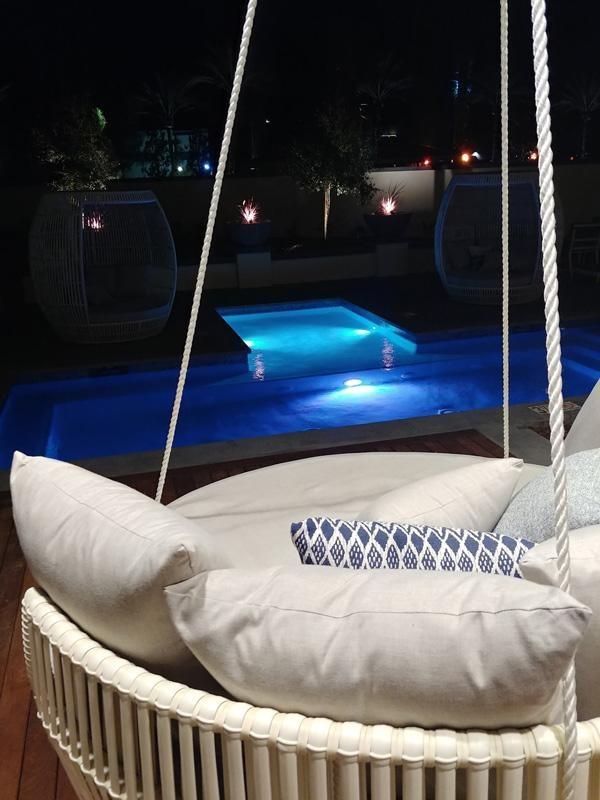 The Willows Spa is another area that Viejas clearly spent time on. One thing guys will appreciate here is that the amenities are identical on both the men as well as women's side. Often, I find that we don't even know what we're missing - yet we pay the same as our female friends so I'm excited to come back here. Plus, outside of the gender-specific areas, there's a fabulous co-ed area with a small relaxing pool, swings that are perfect for a couple to snuggle on as well as loungers to simply lay back and relax while taking in some sun and fresh air.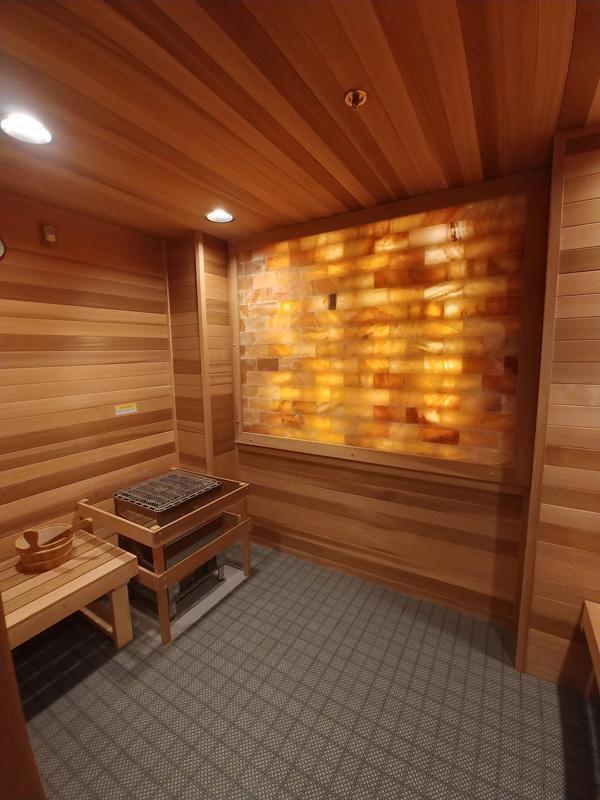 Amenities inside the spa itself include a full menu of spa services ranging from massages and facials to waxing, body treatments, hair and nails. The Gentleman's Choice spa package includes a 50 min Sports Massage, 50 min Facial, and 50 min Pedicure for $225. You can also book a Lucky in Love Couples Staycation package that includes a Couples Massage instead, as well as a Spa Lunch for $505 (for two).
After your treatments though, you also have access to the Steam Room, Himilayan Salt Sauna, Private Spa Pool located in the gender-specific sides of the spa.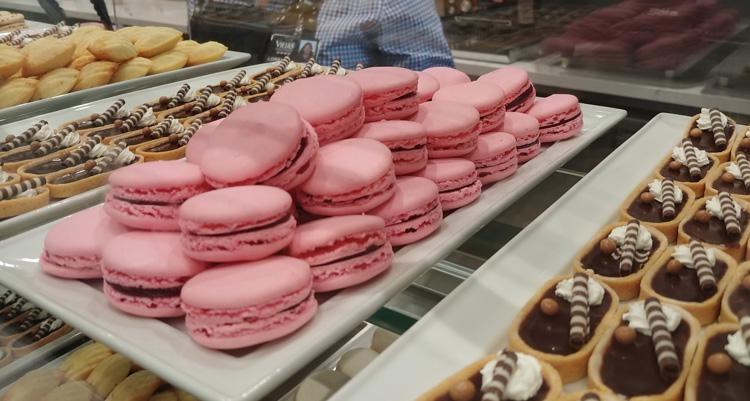 Our visit was during a special event, so we weren't able to visit the resturants. However, the samples of food that were available were all very good and I liked the fact that the coffee shop was clearly a step above "just another Starbucks". The macarons they served up were absolutely delicious!
Of course, you'll also have acees to other restaurants at Viejas, including their buffet that we visited earlier this year. That "Crab Friday" promotion is currently "Lobster Friday".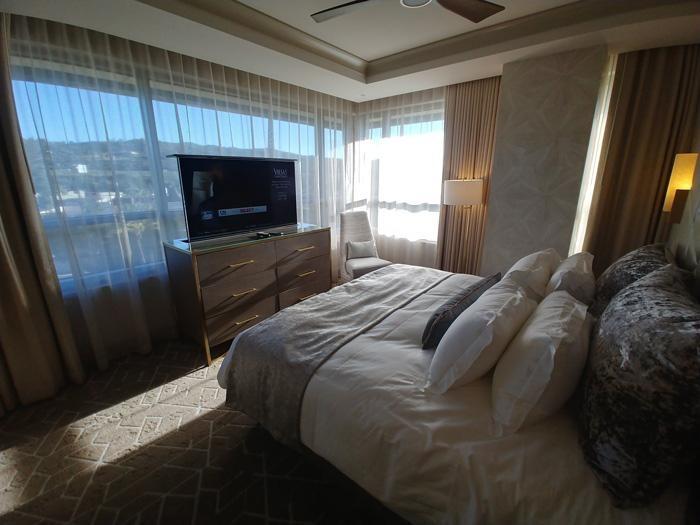 Willows Hotel & Spa features several different room types ranging from 600 feet and 700 feet (like Escape Suite we stayed in), as well as larger speciality suites that are also available.
I really liked our room since it was a corner room with windows all across the outside giving it plenty of natural light and even affording views of both sunrise and sunset! (I'll make sure to close the black-out drapes next time though.)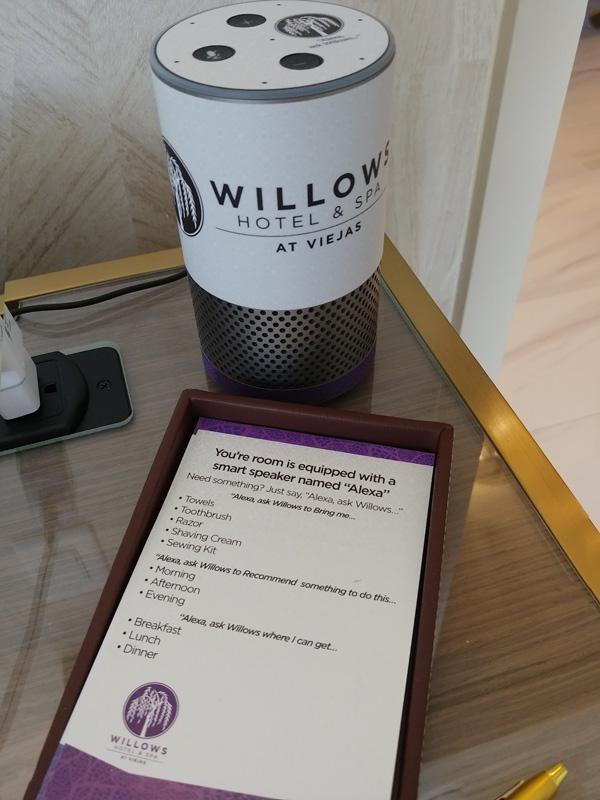 Technology wise, Willows Hotel & Spa has clearly invested a lot of time and energy to make this property stand out. For isntance, I've always wanted to have a TV that could hide in my dresser since I first saw one in a movie as a kid. They've got that here in the room and from a practical perspective, it was nice to be able to simply hide the TV and simply lay in bed and look out the windows. Additionally, guests here will find plenty of USB and normal outtlets located in spots that are easy to access.
They also have Alexa in each room. While this is something that CLEARLY has promise to make the hotel experience more seamless, it wasn't quite ready for prime time. In fact, despite the fact that they took the time to create a commands card - all of those commands simply prompted me to call the front desk. Similarly, when I asked it to play music, there was no account connected. Smart devices in hotel rooms are absolutely the future and should ultimately be connected to lighting and drapes the way that Aria has with their tablets, but it's a good first step and I can't wait to see how this evolves over time.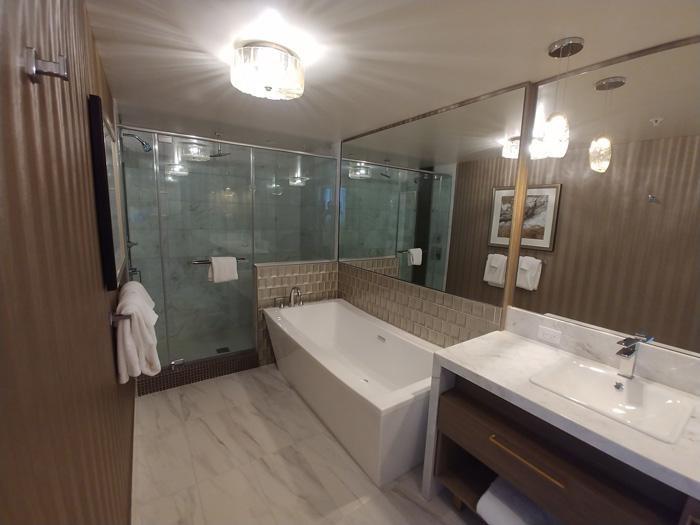 The bathroom was absolutely enormous - this is only half of it! It included a great shower with rain head as well as bench and normal shower head, this large bathtub, his and her (or his) sinks and a large toilet closet that could be closed off. Additionally, inside the drawers below the sink was a full compliment of amenities including not just a hair dryer but flat iron.
Select rooms will also feature at Wellness Experience that includes a Vitamin C-infused shower.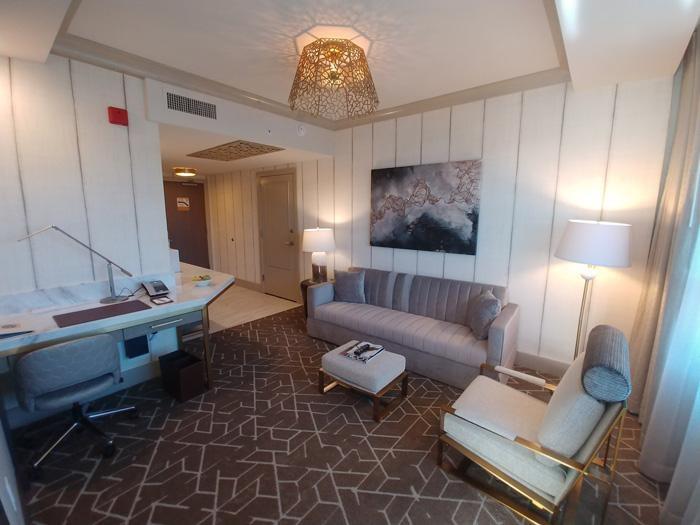 Our suite also feature a large sitting area that included a large desk and bar area with mini fridge.
Willows Hotel & Spa is a great addition to the San Diego casino resort market and I can't wait to see how Viejas evolves this over the next few months!