Most of us have at one point or another enjoyed a Brazilian steakhouse. Typically it's an expensive experience reserved for those celebratory dinners for holidays, birthdays, promotions etc. Recently though, Fogo de Chao has launched two new twists on this including their amazing brunch and also a "gaucho lunch". As a man who loves my meat I couldn't pass up the opportunity when they invited me to check out their new Brazilian Brunch!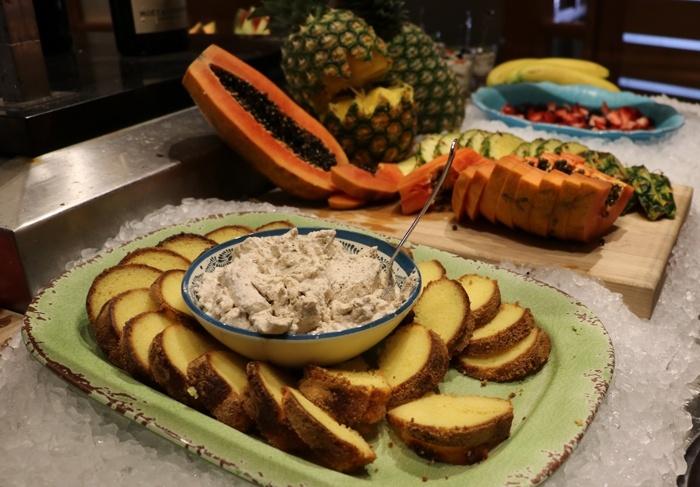 Following our guide about how to eat at a Brazilian Steakhouse, we began at the harvest table. Here at Fogo though, it is referred to as the Market Table. In addition to the traditional cold salads and items like cheese, artichoke hearts, olives etc. they had a selection of breakfast items. This included the amazing item that was like Bolo de Fuba - a sweet cornmeal cake with whipped caramelized banana cream (OMG GOOD!). Another interesting item just for brunch was a baked egg dish with asparagus, broccoli, peppers, and Swiss cheese plus the famous pao de queijo mixed in.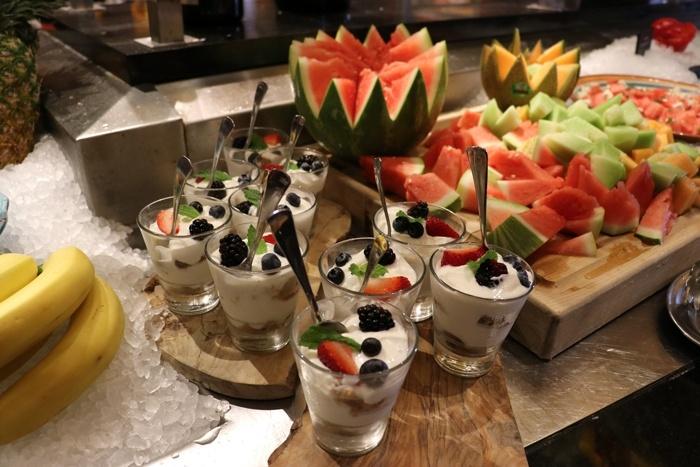 Additionally, they had Greek yogurt parfaits and tons of fresh fruit too!
Don't worry though, just because it's breakfast, that doesn't mean that your favorite dishes like feijoada aren't available. Simply ask your waiter for it :)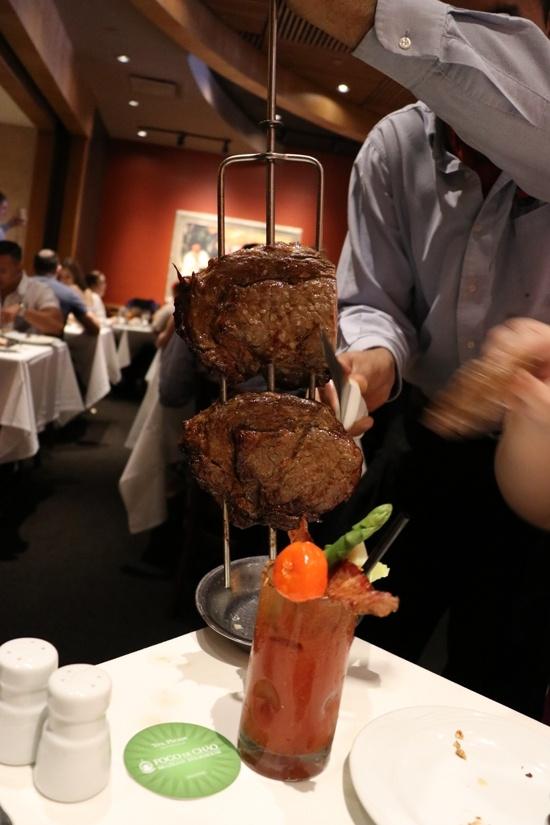 Next, it was time to flip over our token and begin the parade of meat! This is not my first time visiting Fogo de Chao and each time I've been very impressed by both the service, quality of the meats and the flavorings. Sadly that's not always the case at every churrascaria restaurant, but the passadors / gauchos here seem to genuinely enjoy their jobs and interacting with the guests.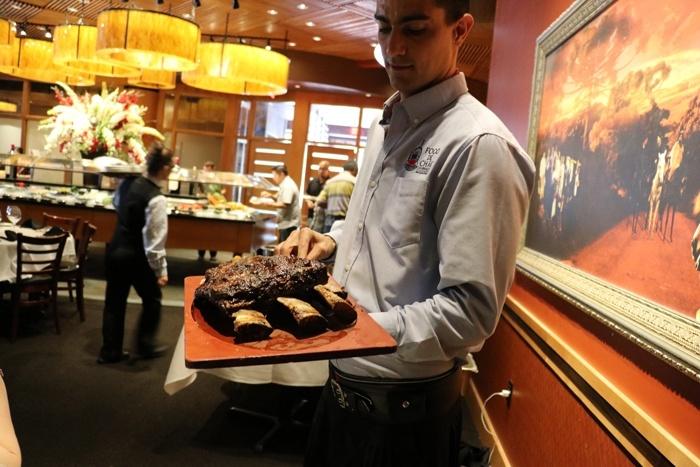 Honestly, I stopped count of exactly what items were available at brunch but it seemed very close to what I've experienced at dinner. All of my favorites were plentiful, including picanha, beef ribs, sirloin, ribeye, bacon-wrapped filet, lamb chops, pork sausage, and even chicken hearts!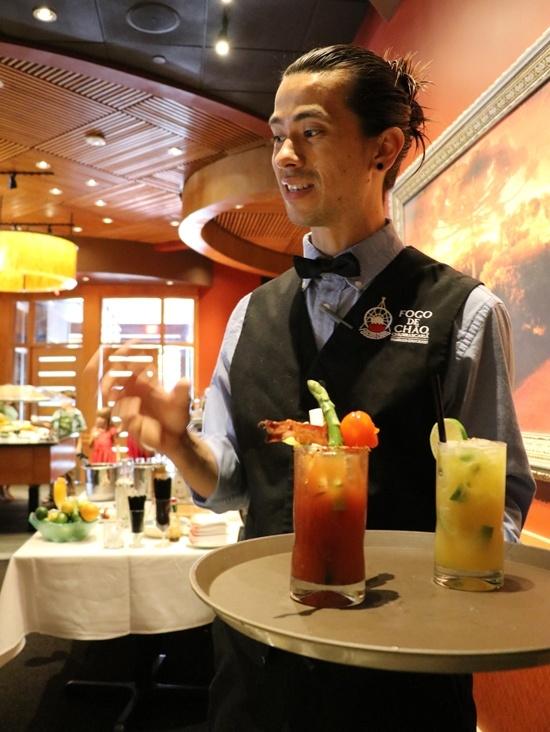 One of the aspects of Fogo De Chao that I haven't had an opportunity to explore fully is their bar. After this visit though, that's not going to be an issue in the future. Simply put, they make some great drinks that are both unique and incredibly tasty. While in the past I haven't ventured past the classic caipirinha I'm now craving a chance to return and try their other drinks again too. Stay tuned, we have another post coming up soon with details on these drinks we explored - including their "Brazilian Martini" featuring the VEEVE Acai Spirit from Brazil.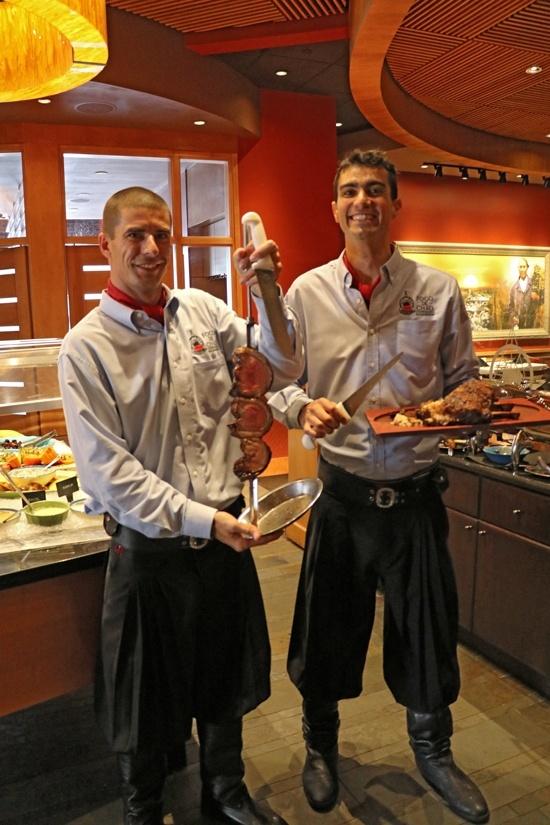 Drinks, meat, a fork full of beans and more meat! That's pretty much how our morning went thanks to the awesome guys at Fogo De Chao in San Diego. In fact, I think they had almost as much fun posing for photos as I did sampling the delicious meats they brought around.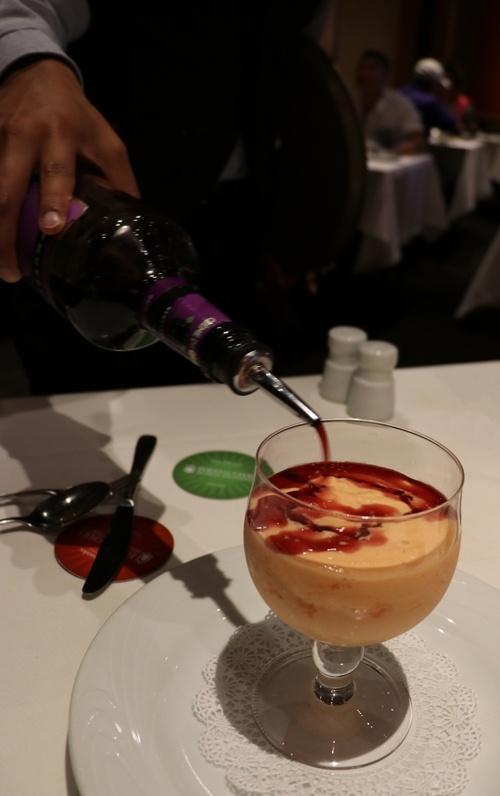 To end our brunch, I was highly encouraged by our waiter to try their Papaya Cream, which is fresh papaya blended with vanilla ice cream and topped with a black currant liqueur tableside.
After this review of Fogo De Chao's new brunch and the discovery they have a "Gaucho Lunch" now as well for under $15 (Market Table only + options for add a single selection to your lunch such as Picanha for only $8 more) it's really made Fogo's appeal much more open for me. Pricing will vary depending on your location, but at $37.95 for brunch in San Diego vs $52.95 it's that much more affordable for 90% of the same experience.
That isn't to say that even at $52.95 for dinner that it isn't still a great option for a celebration. In comparison though, brunch is almost an amazing deal that's too good to pass up for any meat lover like myself!