It's that time of year again! The kids are going back to school and parents are stocking up on snacks to send with them. If you're looking for a healthy and satisfying snack, look no further than beef jerky! Beef jerky is packed with protein and nutrients, making it the perfect snack for students of all ages. In this blog post, we will discuss the many benefits of beef jerky and why it should be your go-to choice for back-to-school snacking!
Frankly, we love beef jerky and beef sticks from pretty much every flavor but the market is clear today that some brands are better than others. That's not to say that we haven't enjoyed big-name legacy brands ... but there's a clear difference when you start to look at brands like Old Trapper that have set out to create something different.
I first discovered that there was more to "meat snacks" during a walk through Cleveland's West Side Market years ago. If there's one thing beyond great beer and sports that the folks in North West Ohio know how to do right, it's making sausages, smoked meats, and other creations designed to take meat to the next level of flavor and texture.
When Old Trapper offered to send me some of their jerky and meat sticks I was taken back to those moments walking through the aisles in Cleveland. These guys aren't going crazy with exotic flavors ... it's just classic stuff like "Old Fashioned", Hot & Spicy, and Peppered. However, each bite actually tastes like you are biting into an actual piece of meat and not some overly preserved meat that has been dehydrated to the point where the natural flavor of the meat is gone.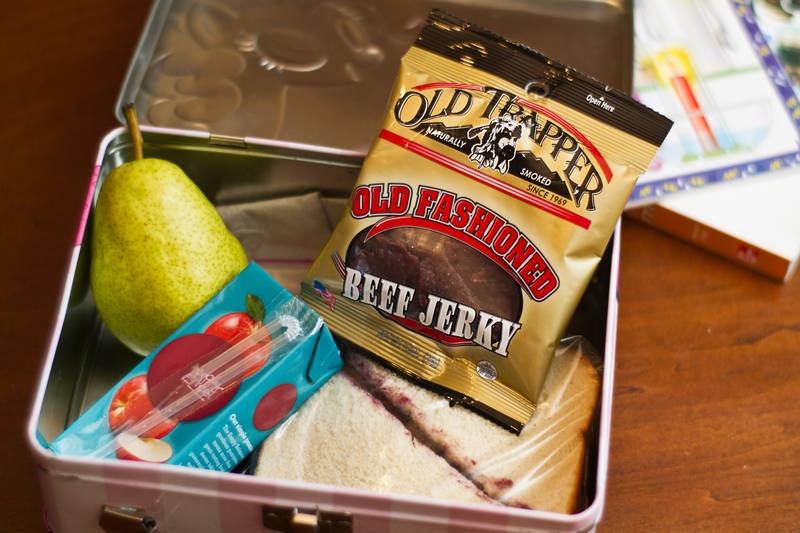 While jerky is always something that is on our list of travel snacks, it dawned on me that it would also be the ideal snack for back to school as well!
Jerky is a healthy and satisfying snack
Jerky is perfect for students of all ages. It is packed with protein and depending on the flavor - low in sugars, making it an excellent choice for those looking for a healthy snack option. In fact, just one serving (1oz) offers 19-20% of your daily protein and 8%+ of your Iron.
Iron and protein are both essential for kids to helping to build and repair muscles while providing energy for their busy lifestyle running around school, home, and play.
Easy to Pack and Eat On-The-Go
Life with kids is always on the go! Jerky is the perfect snack to pack when you're on the run because it doesn't require refrigeration and can be eaten without utensils. Just throw a few pieces in your bag and you're good to go!
This is even more essential when it comes to a schedule that involves early morning bus rides to school and then running off to soccer practice in the afternoon. Keeping a bag of jerky in the car, the locker, or even an emergency stash in a backpack can help your kids keep going, instead of stopping for a burger somewhere.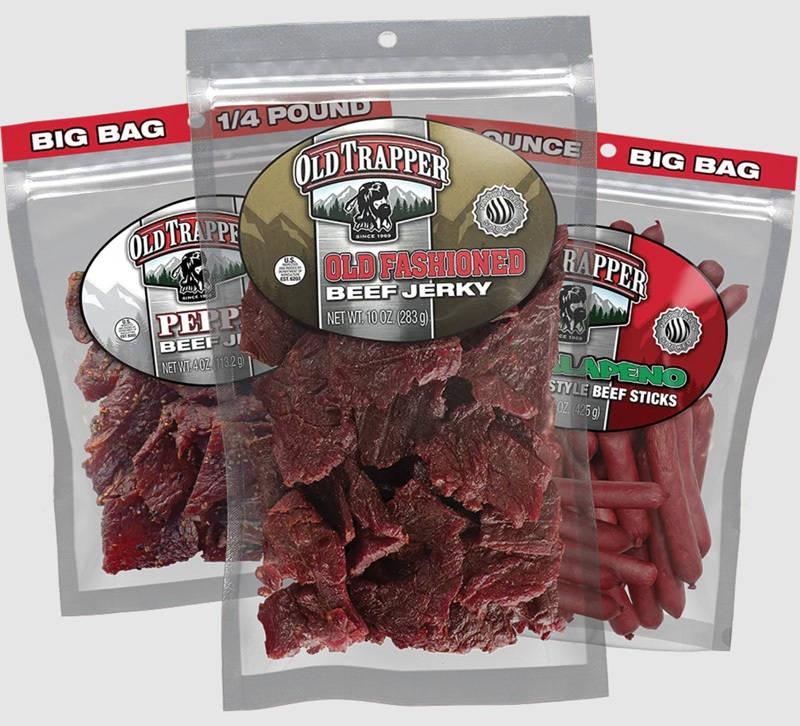 Old Trapper Comes In Sealable Bags To Avoid Stinking Up A Bag
One of the things I love about Old Trapper is that their beef jerky comes in resealable bags. This is key because, as we all know, nothing ruins a good snack like getting your bag full of beef jerky stink!
Jerky Is Great To Share With Friends
Jerky is also a great snack to share with friends! Kids love sharing snacks and beef jerky is the perfect size for little hands. Perhaps, more importantly, is that a bag of beef jerky is easy to reach into and grab a piece of without getting those grubby germ-infested mandibles all over everything else like they might with chips or chicharrons.
Having a bag of jerky on hand is a great way to make new friends. If your child is the new kid at school or just shy, sharing a piece of jerky can help break the ice and make them feel more comfortable.
So there you have it! Beef jerky is the perfect back-to-school snack for kids of all ages! It's healthy, easy to pack, and great to share with friends.