It's time to celebrate the holidays with feasts, bright colors, drinking, and good friends. Thanks to the folks at Fogo de Chao, I was invited to check out their new holiday offerings and of course, I jumped at the opportunity! At most restaurants right now you're going to find a menu matching the winter weather that we're all starting to dread. For those in the Southern Hemisphere like our friends in Brazil though, this is the beginning of summer! This means that you'll find not only traditional holiday treats like sweet potato casserole but also fresh watermelon, pears, mangoes, and other fruit on the harvest table.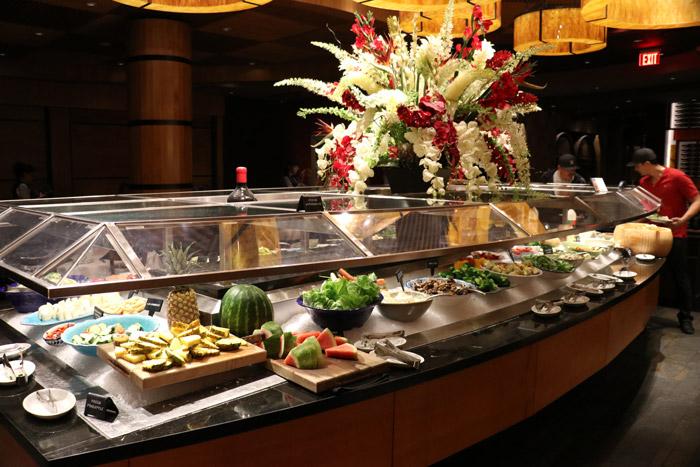 The thing I love about eating at a Brazilian steakhouse like Fogo de Chao is that there's literally something for everyone. Even our vegetarian friends will delight in the bounty found on the Market Table, but for the rest of us there's a seemingly never ending parade of meat being brought around. The nice thing about this is that the meal becomes highly social since you remain seated as the meat comes to you.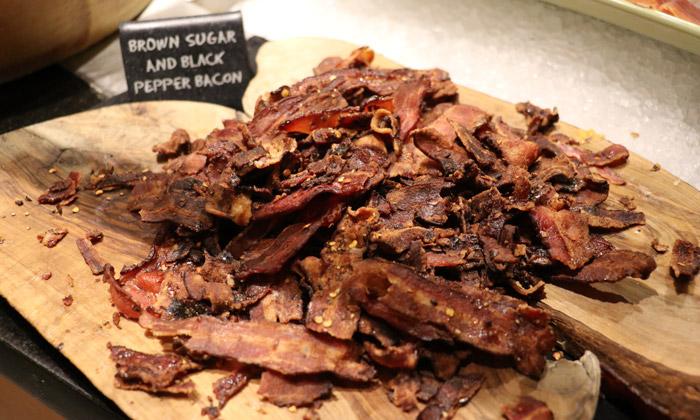 Bacon lovers rejoice! Not only does the Harvest Table feature olives, salads, fruit, cheese, and smoked salmon but also a huge pile of delicious bacon. I'm not sure how they do it, but Fogo manages to cook perfectly crispy bacon that isn't really greasy like what you might expect.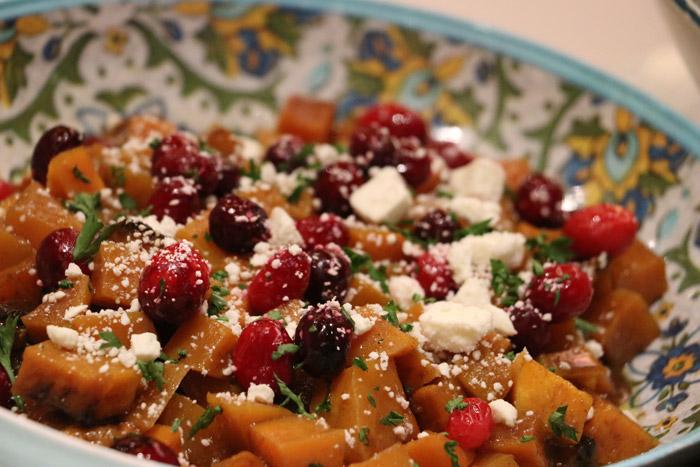 One of their new items on the menu right now is the Roasted Butternut Squash Salad. Butternut squash is a winter staple in Brazil and this salad features butternut squash roasted in cinnamon and honey, then tossed together with cranberries an feta. The result is one of the most beautiful and inviting items on the Market Table.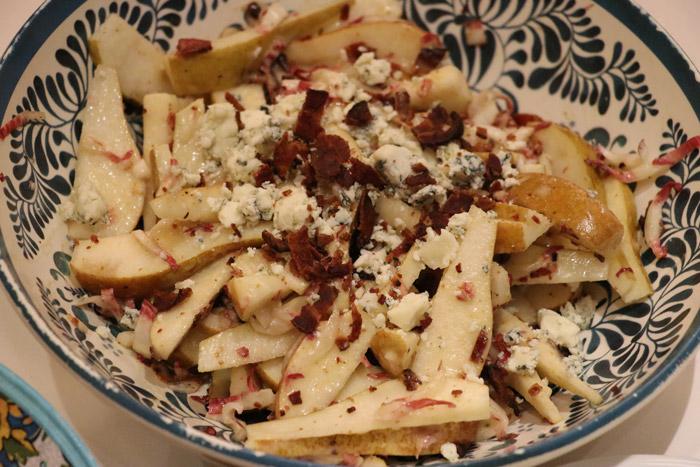 Another new addition is the Pear & Endive Salad featuring fresh pears mixed with endive, crumbled bleu cheese and candied bacon with pear vinaigrette.
Finally, you'll also find a Butternut and Sweet Potato Soup that is fantastic and perfect to warm you up on a cold winter night!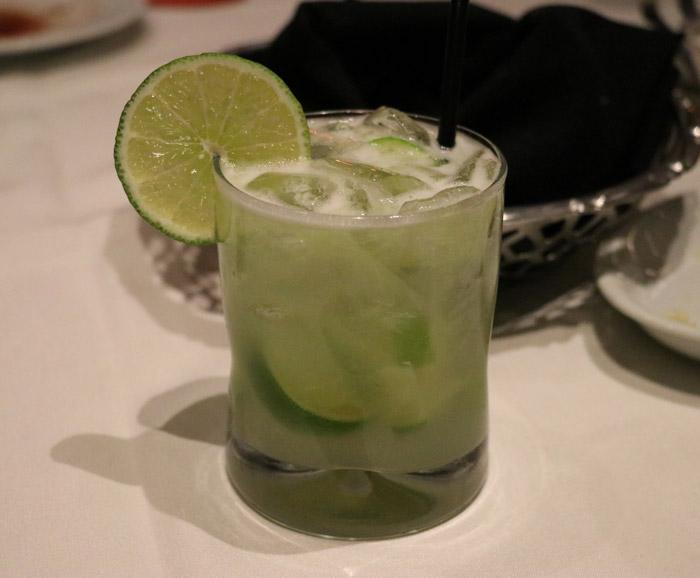 With the Harvest Table out of the way, it's time to relax a bit and sip one of Fogo de Chao's famous caipirinha cocktails. It's made with a Brazilian rum, mint and sugar and tastes great ... it's the perfect drink to cut through some of the heaviness you are about to experience once the parade of meat begins.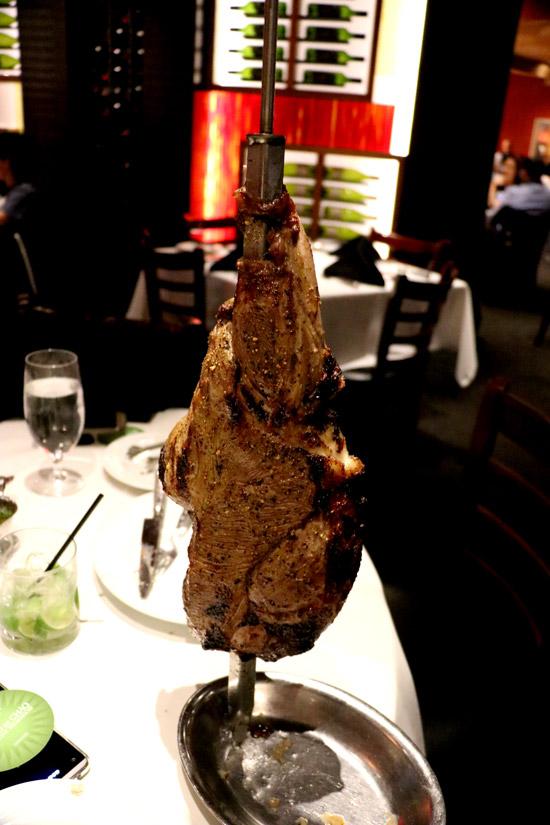 Once the parade of meat begins you are sure to find your favorites - beef ribs, lamp chops, and of course Picanha. However this time the manager encouraged me to try to their leg of lamb that he was particularly proud of with a lemon pepper seasoned crust. It was delicious! While I'm not generally a fan of lemon pepper on my meat (though I do enjoy it on my fish), this is just one example of how fun a trip to a Brazilian Churrascaria can be.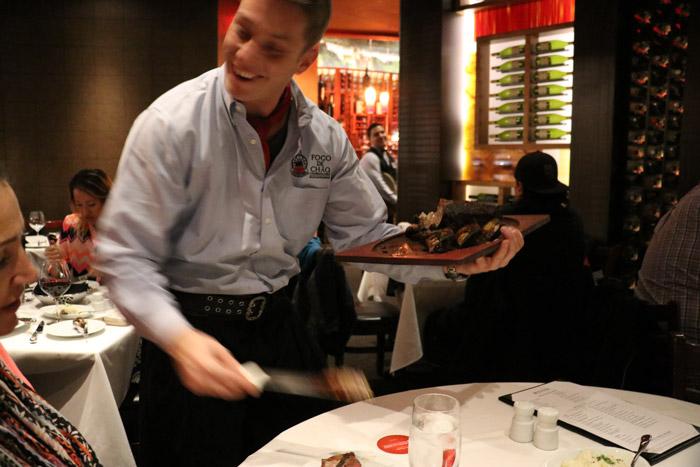 As the gauchos come around to the tables, it's clear that they enjoy what they do. I've had the good fortune to visit the San Diego Gaslamp location several times and I've never once seen them not smiling, laughing, and excited to share with you some of the meat that they've prepared back in the kitchen.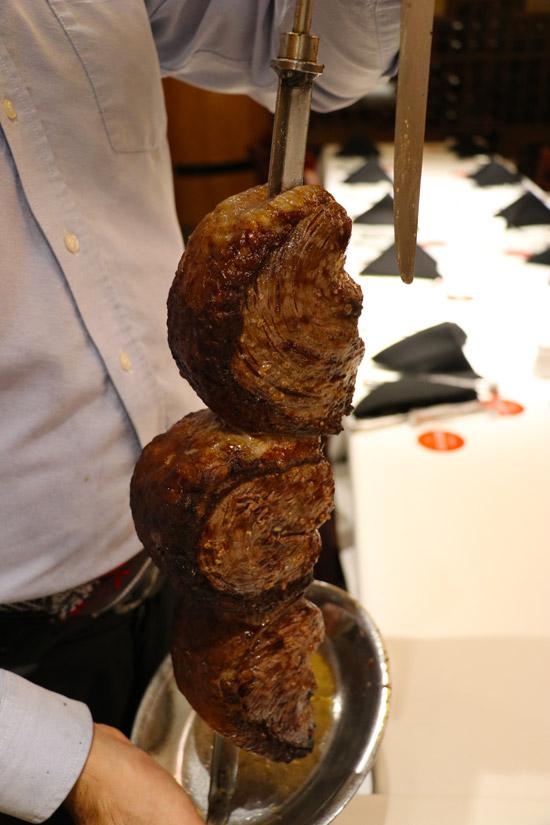 When it comes to a place where you want to take someone special to celebrate the season, thank a special friend or neighbor - Fogo de Chao is a great place to consider.