2020 was a rough year in a lot of ways and generally, we like to do at least one restaurant feature every month, sometimes two or even three. With dine-in options mostly closed or simply not to my level of comfort, I stopped doing restaurant features the way I liked to do previously. I still continued to order out but it took time for the industry to catch up and start producing options that made sense beyond the typical take-out heroes like burritos, sushi, sandwiches, and sandwiches. I was a bit nervous for New Years Day dinner since not only is this a big night for foodies in general ... but it's also my anniversary. Luckily we saw Parc Bistro on TV and loved their attitude and creativity so we decided to order their Beef Wellington and try it out.
I want to be clear here that this is not sponsored in any way. In fact, due to the challenges that the restaurant industry is facing we generally aren't seeking comps or asking for sponsorships. While we wouldn't turn an invite down if asked, that isn't what we are looking for right now. Instead, my goal is to be supportive of those who are doing the right thing, adapting, and delivering a great experience.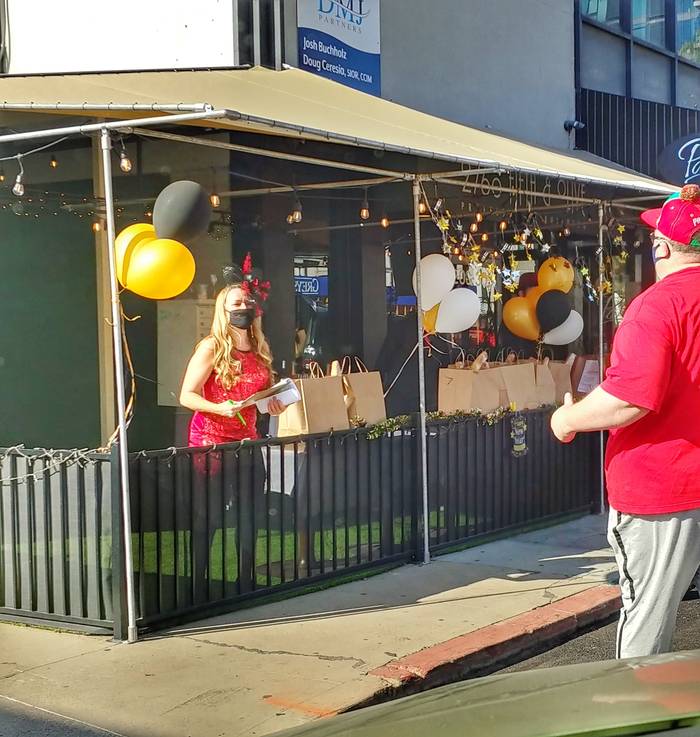 Beyond the take-out heroes I mentioned above, we've had some terrible experiences over the past few months. Not that the restaurants weren't trying. However, things like fried clams, hamburgers, and especially meals that involve delicate preparation just simply suck. We even had a steak dinner from a very well known restaurant that was a disaster. So, quite honestly I went into this experience with San Diego's Parc Bistro with nothing other than an effort to support them with my dollars.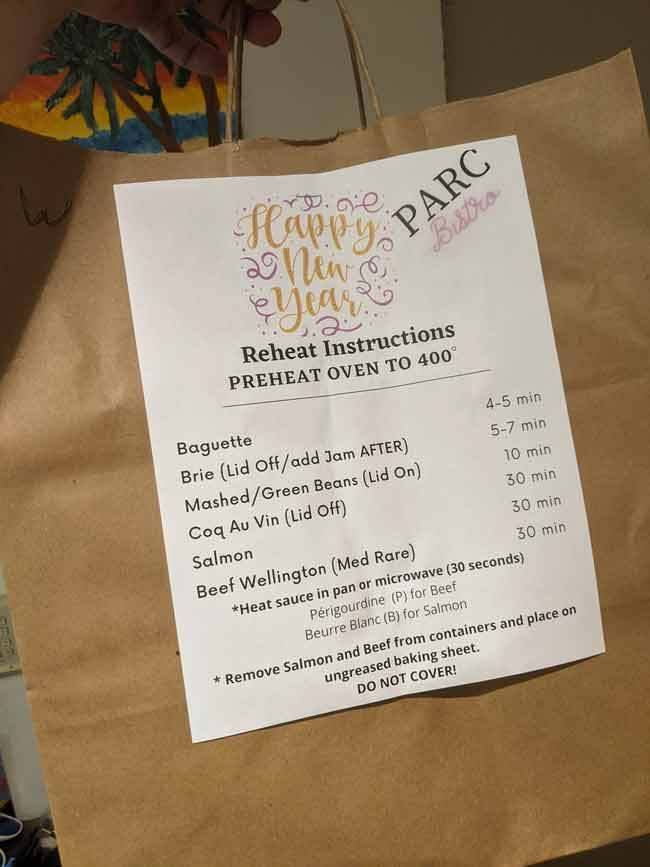 What I received however was a remarkable experience that shows that it can be done right.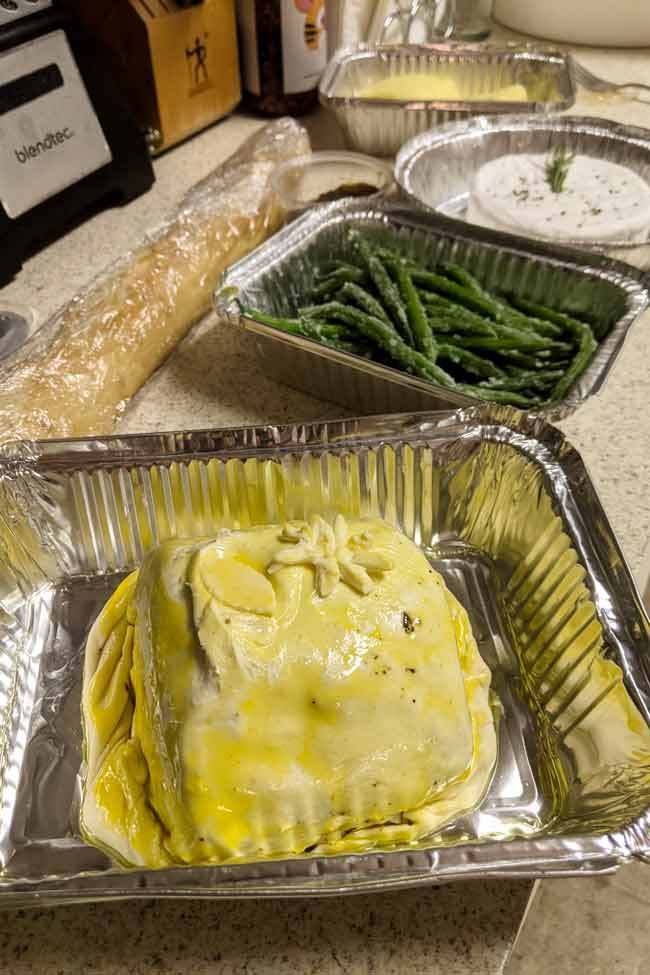 I almost don't want to call this experience from Parc Bistro "takeout" since it was somewhat between takeout and a meal kit. However, it worked perfectly and was absolutely the best meal experience I've had in San Diego since the pandemic began. What I liked about this experience is that instructions were extremely clear and it was paced out perfectly so you could put your main in the oven while enjoying the salad and baked brie. Everything was the proper temperature since it was essentially cooked at home but prepared professionally by their kitchen. Quite literally you are getting the best of both worlds.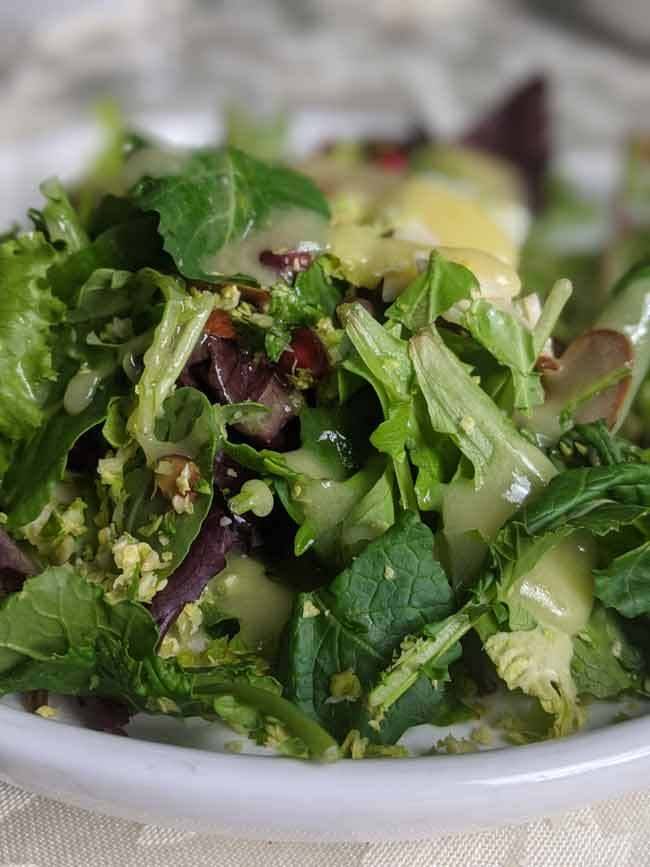 Our meal began with salad and a delightful lemon vinaigrette dressing.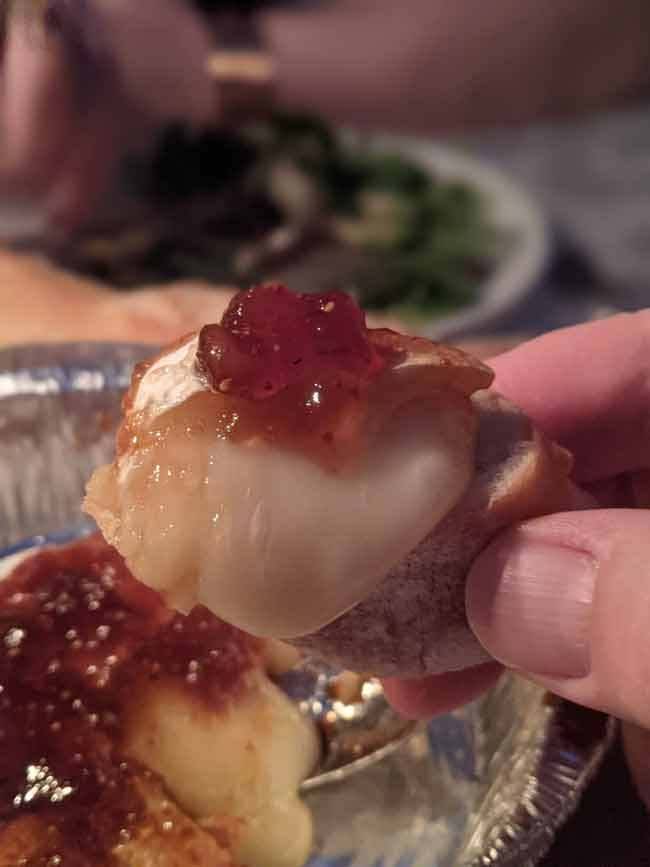 After our salad was finished, it was time to take the brie and baguette out of the oven. While not the prettiest dish, the fig jam, warm soft cheese, and fresh-baked bread set the tone for the rest of our experience.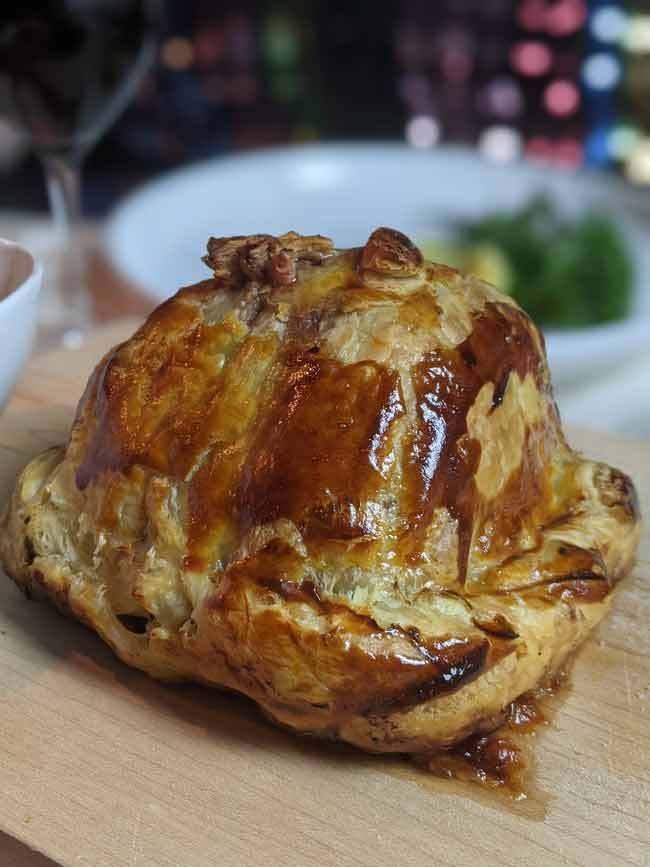 The main event of course was the Beef Wellington. Parc Bistro prepared a perfect 2-person portion where all I needed to do was place it in the oven for about 30 minutes. Unfortunately, this is also where the variability of cooking-at-home can never match the experience of dining out since I overcooked it a bit. Heather was happy though since she is more of a medium person whereas I prefer medium-rare.
Normally I use a digital meat thermometer to tell me exactly when something is done to avoid this, but the pastry was so beautiful that I didn't want to mess it up.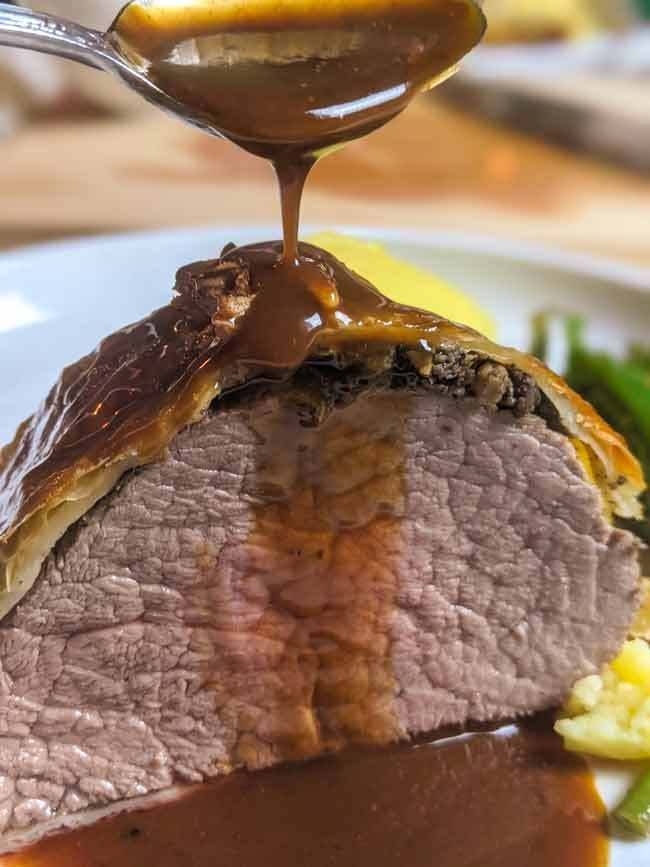 However, I was not disappointed. It was ultimately a perfect experience with a light flaky pastry on the outside and a beautifully tender fillet inside and sauce perigourdine to top it.
My only regret was that I didn't take their wine pairing suggestion of a Pomerol Bordeaux to go with the dinner and instead opted to pair with a California Central Coast Pinot Noir Tolosa 1772. This is another area where dining in a restaurant still has the edge over cooking at home since my logic of pairing the Pinot Noir with a filet was solid ... but the sauce perigourdine just deserved something richer with more body. However, as they say ... c'est la vie!
I can't wait to order from Parc Bistro again soon. They are doing things right and showing that with a bit of innovation, now is an opportunity to attract new customers while building stronger loyalty with existing ones. I encourage you to seek out those places in your own communities as well and support them with your dollars now and in the future.