Like most guys, I LOVE chili. I don't just love one style, I pretty much love them all. But no matter what I'm making, it tends to be a pretty labor and time intensive endeavor. However, with some help from Stubb's Cooking Sauce and my Instant Pot, the process is a lot faster. So, today I'm going to make one of my favorite meals - Frito Chili Pie!
There are a lot of variations on the classic Frito Chili Pie and many different stories about how it came to be. One thing is for certain, it's an awesome flavor combination with a great texture that adds a perfect level of crunch that is able to hold up under a heavy layer of hearty chili.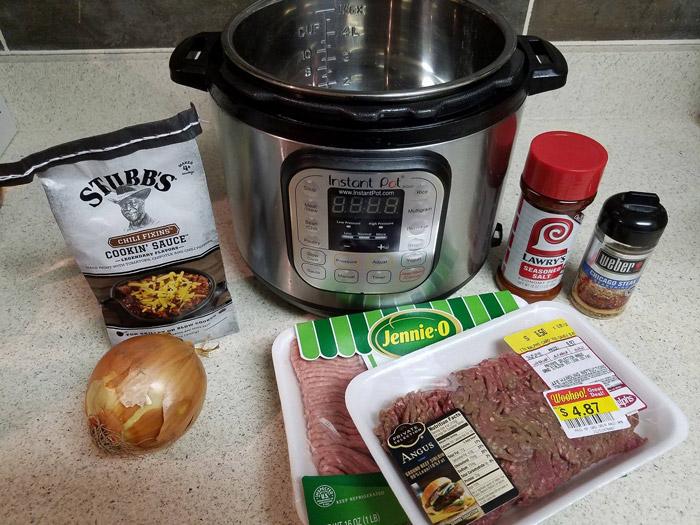 For today's recipe, we're going to use Stubb's Cookin' Sauce Chili Fixins to save some time. There are no sponsors on this post, but I do want to highlight some of my favorite brands as I share great recipes that I know guys will love as much as I do. Stubb's in one of my favorite brands since the flavors are generally very good, they have quality ingredients and it's always gluten free.
Stubb's Cookin' Sauce Chili Fixins is exactly what you'd imagine - it's pretty much all the spices and liquids that you need to make the chili (though I'm going to make a few modifications). In addition to Chili Fixins, Stubb's also has other sauces that I can't wait to try, including Smokehouse Bourbon, Bar-B-Q Slider, and Hatch Chile. Each one of these packages contains both a liquid sauce as well as a spice package so it's super easy to whip up a hearty meal without worrying about mixing up dozens of ingredients.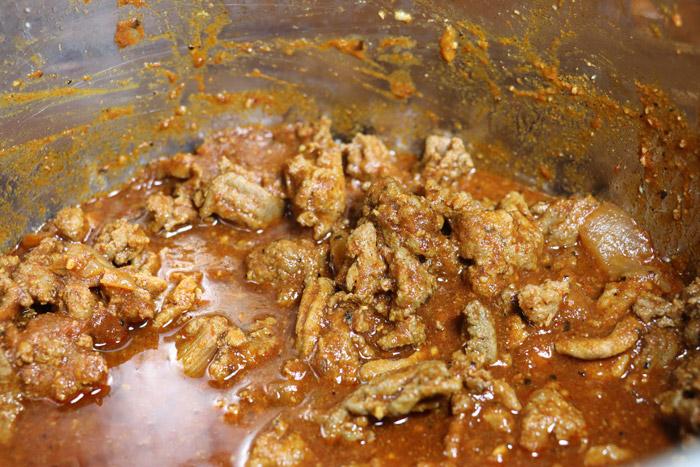 Three Way Frito Chili Pie Ingredients:
This is a very easy recipe to make, so ingredients are minimal.
1 Bag of Stubb's Chili Fixins
1 Sweet Onion
1 16oz package of Jennie-O Ground Turkey
1 16oz package of lean ground beef
Olive Oil as needed for cooking onions
1/2 tsp Season Salt (while grilling onions)
1/2 tsp Weber Season (while cooking meat)
Frito Chili Pie toppings ...
1 bag of Fritos
1 diced onion
"as needed" Mexican Cheese Blend (you can substitute for cheddar or others, this is just what I had on hand!)
"as needed" Sour Cream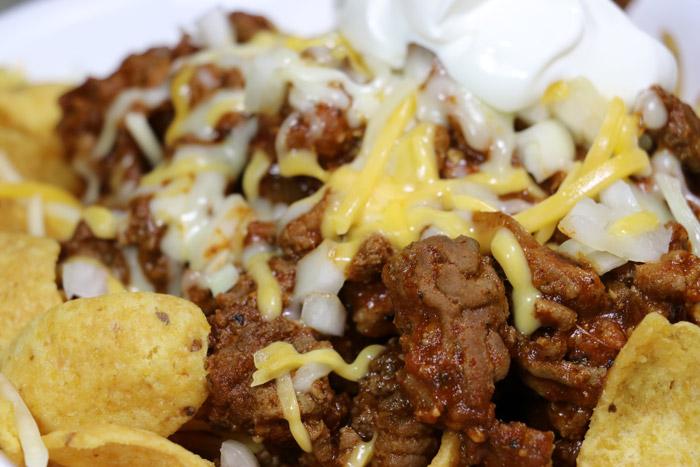 Three Way Frito Chili Pie Recipe:
I love my Instant Pot since I can create some great recipes fast and easy - but also most of the time I can actually use just one pan. This Frito Chili Pie recipe is no different, so not only is it super easy to cook ... it's just as easy to clean up afterwards!
One of the other things I love about this is that it shows the flexibility of Instant Pot. For most recipes, we use it as a pressure cooker to save time but it can also be used to saute and function as a slow cooker too. With this recipe in fact, the only reason to cook it for the recommended six hours is to give the flavors a time to come together. If you can't wait, simply make sure everything is cooked and then place it in the fridge overnight, then re-heat.
Ready? Let's get started ...
Cover the bottom of the Instant Pot pan with olive oil and turn it to "saute mode".
Dice the onion and place it in the pan till it begins to soften.
Place both ground meats in the pan and brown along with the onions.
Once the meat is browned, add Stubb's Chili Fixins. Depending on your preferences, you might want to moderate how much of the spice package you use. Personally I find that when you add the Fritos to the Chili that the dish is saltier than I'd prefer. Because of this, I recommend that you only use half of the spice packet and then use Tabasco sauce when serving to kick the heat back up.
Once everything is mixed together, place your Instant Pot on Slow Cook mode for six hours.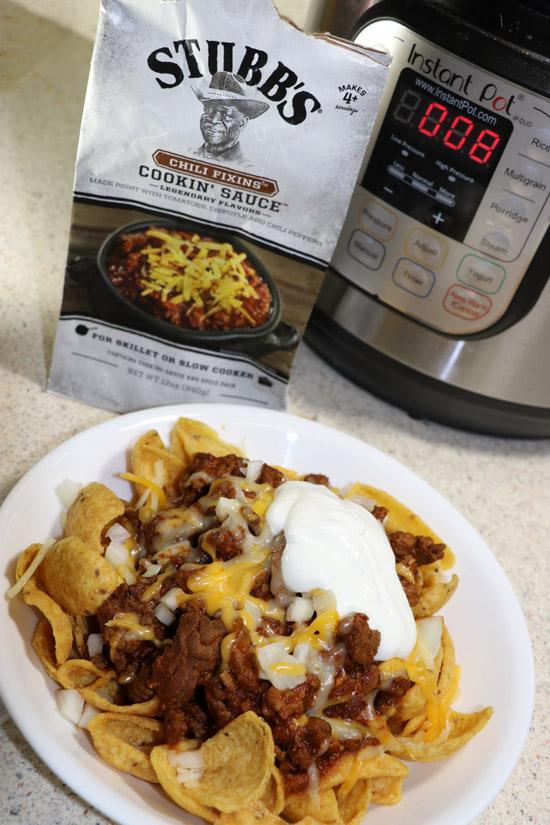 Serving Your Three Way Frito Chili Pie!
This chili recipe is so tasty right out of the pan that there's almost no reason to do anything further ... but we will, because we can!
Take your shallow bowl and cover the bottom with Frito chips then gently spoon the chili over it.
Next, as preferred take the diced onions and cheese and sprinkle over the chili then top it with a nice sized dollop of sour cream.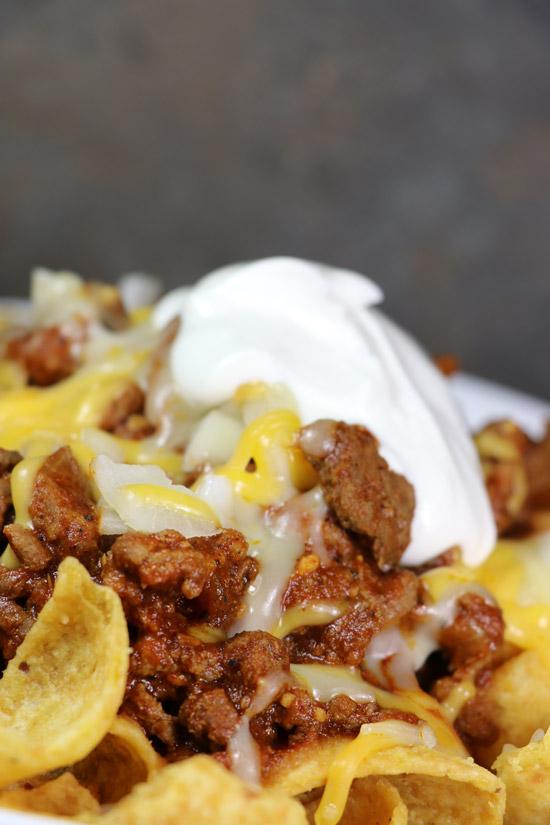 The final product is one of my all time favorite recipes. Frito Chili Pie is the perfect blend of spicy, salty, savory, crunchy, and smooth. Thanks to Stubb's Cooking Sauce, we were able to prepare it in less than 30 minutes (minus the cooking time). That makes this a perfect meal to prepare in the morning before work and then have ready to serve when you get home.
Of course, it's just as good as a weekend treat!