For most of you, winter is in full swing right now and that means it's time to warm up with a steaming bowl of hearty soup. I've also found that for some reason there seems to be a lot of spiral cut hams on sale right now. Perhaps it's just that "after the holidays" inventory close out, but who am I to complain. My only problem was that I end up leaving an awful lot of meat on the bone after eating the slices. So, instead of throwing them out - let's make soup!
Originally, this recipe was going to simply be a "ham and bean" soup but I discovered an awesome product in the store called "15 Bean Soup". It's actually intended to be a DIY soup mix that comes with it's own seasoning packet but I just liked the fact that it was so colorful and over the top. Why settle for Great Northern or Kidney Beans when you can have a blend of 15 different beans! The blend was so beautiful that I just knew that I needed to use it instead of one of the other bags. Hurst's HamBeens 15 Bean Soup mix includes: Northern, Pinto, Large Lima, Blackeye, Garbanzo, Baby Lima, Green Split, Kidney, Cranberry, Small White, Pink, Small Red, Yellow Split, Lentil, Navy, White Kidney, Black Bean, Yellow Eye. It's the perfect answer to my challenge of what beans to use ... use all of them!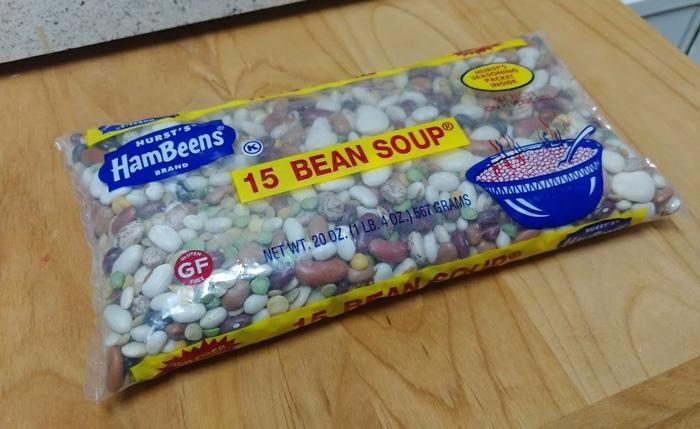 Unfortunately, after cooking down the colors didn't stay as prominent but having multiple beans in the mix still made the soup more interesting than it otherwise would have been.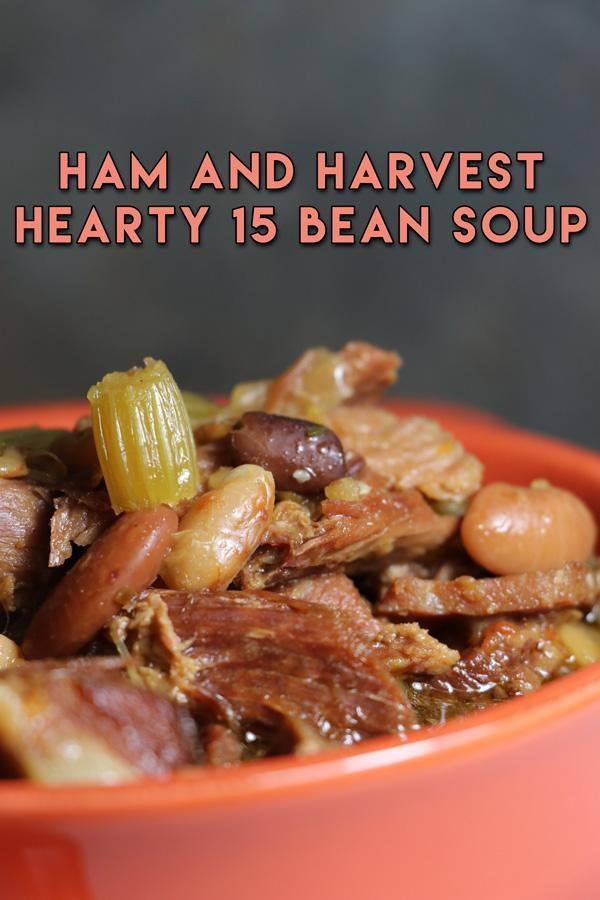 Ham and Harvest 15 Bean Soup Ingredients:
One ham bone (and approximately 4-5 cups of chopped ham harvested from the bone)
2 32oz boxes of Swanson's Chicken Cooking Stock
Water (add to taste and to ensure that ingredients are covered in broth while cooking)
One yellow onion
5 stalks of celery
3 cups of carrots
5 Tbs Season Salt (adjust to taste)
2 Tbs Coarse Ground Pepper (adjust to taste)
3 Tbs Chopped Garlic
2 Tbs Butter (for sauteing onions and carrots)
1 Can of Original Rotel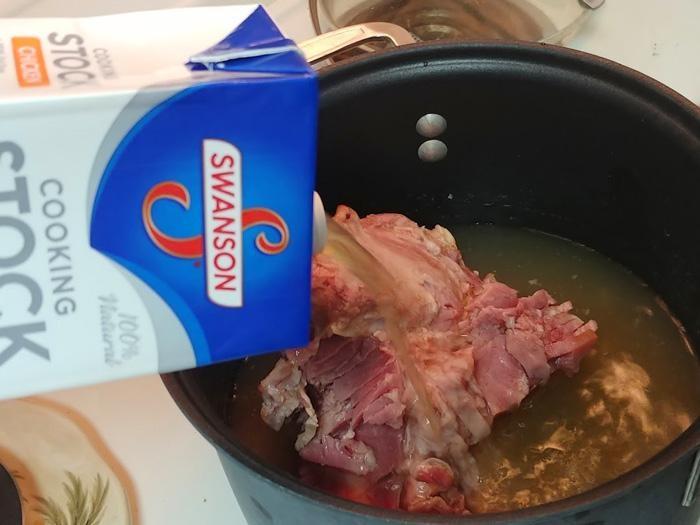 Directions for Creating Ham and Harvest 15 Bean Soup:
The first step in creating this rich and hearty ham and bean soup is to create the broth. To do that, we're going to take a ham bone that you've already trimmed most of the meat off of and place it in a large soup pot. Then, instead of adding water, pour 64oz (two boxes) of Swanson Chicken Cooking Stock over the ham bone. Depending on your pot and the ham bone, you might need to add 2-4 cups of water here so the bone is mostly covered. This will allow the water and steam to reach all parts of the bone and break it down so that all the good stuff leeches into the broth.
Bring the broth up to a boil and then drop to a simmer and let it simmer for 4-6 hours or until the bonest are clean.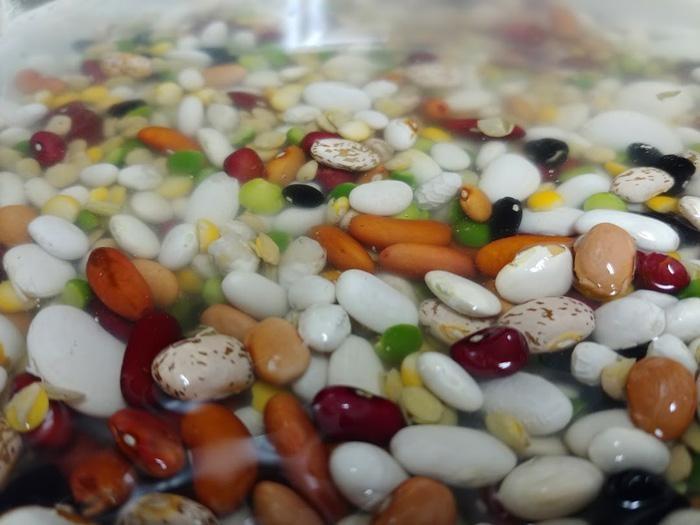 It's Time for 15 Beans!
Next, take the beans and rinse them a few times in a bowl. While they look clean - beans always have extra dirt and dust that you can't see.
Then, before placing the beans in the pot, make sure to remove the ham bones from the broth. Depending on your bone, there may be small pieces of bone as well so make sure to sift through the parts that remain in the pot. For absolute certainty, you can also remove everything from the pot with a strainer spoon, place the meat in a seperate bowl to sort through it before returning to the pot.
Now you are ready to start making the soup!
Add the rinsed 15 bean mix to the broth and bring back to a boil and then drop to a simmer. You'll want to leave the beans simmering for at least an hour before adding any other ingredients.
While the beans are simmering, sautee the onions with butter, garlic, and season salt then add celery and carrots to the skillet.
After about 60 minutes of simmering the beans in the broth, add the remaining ingredients including: onions, carrots, celery, and chopped ham.
Simmer the mixture for another hour and then add the can of Original Rotel. You do not want to add this at the same time since the acidity from tomatoes can interfear with rehydrating the beans.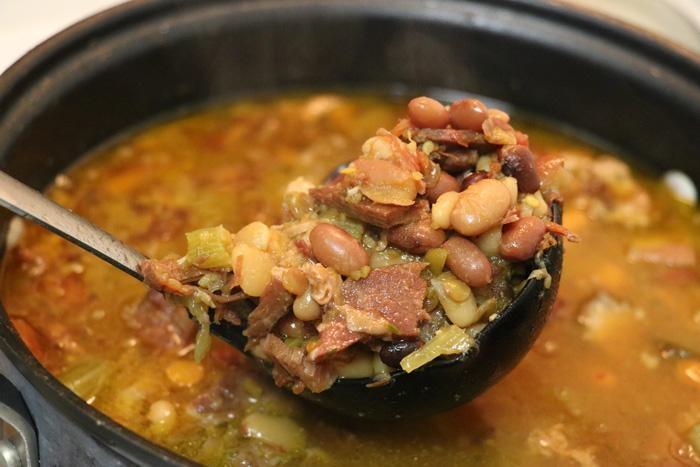 At this point, your Ham and Harvest Hearty 15 Bean Soup is complete and all you need to do is continue to simmer it for a few hours till the beans are completely soft.
At some point during this process, you will want to taste the broth and add pepper, season salt, garlic etc. to taste. You may also want to add additional water to create more broth depending on your preferences. This is a very hearty soup but I like to make sure that all of the ingredients are completely covered by broth so they don't dry out.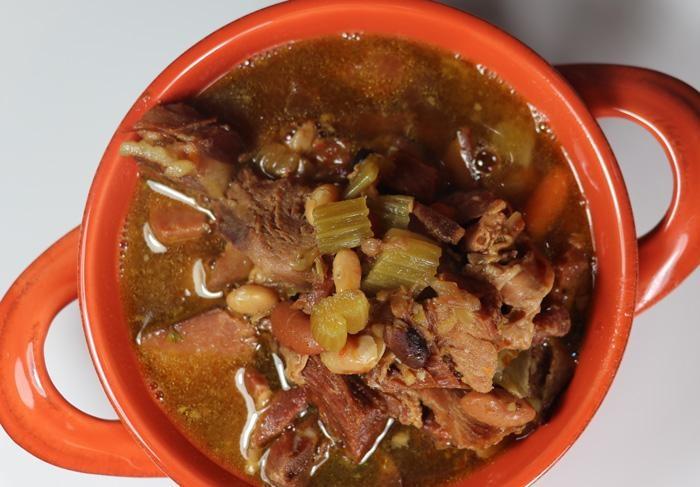 After several hours simmering on the stove top - typically 3-4 - you will have a delicious, rich and hearty soup that is relatively healthy too!