National Gumbo Day is October 12, 2019 and we're big fans of this hearty dish and how it reflects the local tastes and personal styles of the cook. While it is tempting to try and put together a list of "America's Best Gumbo" that would be an exercise in futility. The truth is that the best gumbo is the one that is made from the heart and served up with a smile. So, gator, seafood, sausage, pork, or something else, let's grab a spoon and check out these great places to get your gumbo on!

Peace River Seafood
5337 Duncan Road, Punta Gorda, FL
I've had a bunch of gumbo in my life, but seldom do I go back for seconds on the same trip and plan my return even after heading back home. Peace River Seafood in Punta Gorda, Florida is just that good. When asked how fresh their gator gumbo recipe was, the cook simply pointed to the bayou out back and smiled ...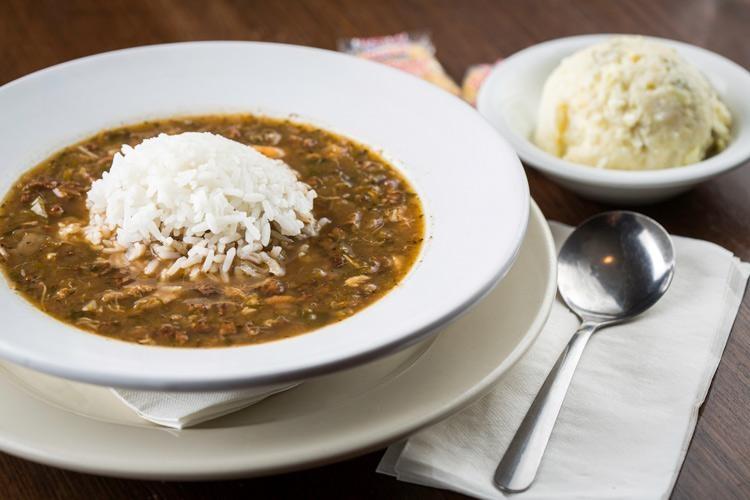 Spahr's Seafood Restaurant
3682 Highway 90 East, Des Allemands, LA
The menu and website say, "Spahr's … where catfish is king!" That may be true, but that must mean their Seafood Gumbo is queen. "Mr. Bill" established Spahr's more than 50 years ago, and the Seafood Gumbo recipe has never failed over all those decades. This gumbo achieves the near-impossible — consistency. Restaurant-goers love that they always know what they're going to get in their bowl: warm and hearty gumbo with a deep, dark roux made from scratch and filled with fresh seafood caught in the bayou just outside the restaurant. The Seafood Gumbo is made every morning from scratch, often by Mr. Bill himself!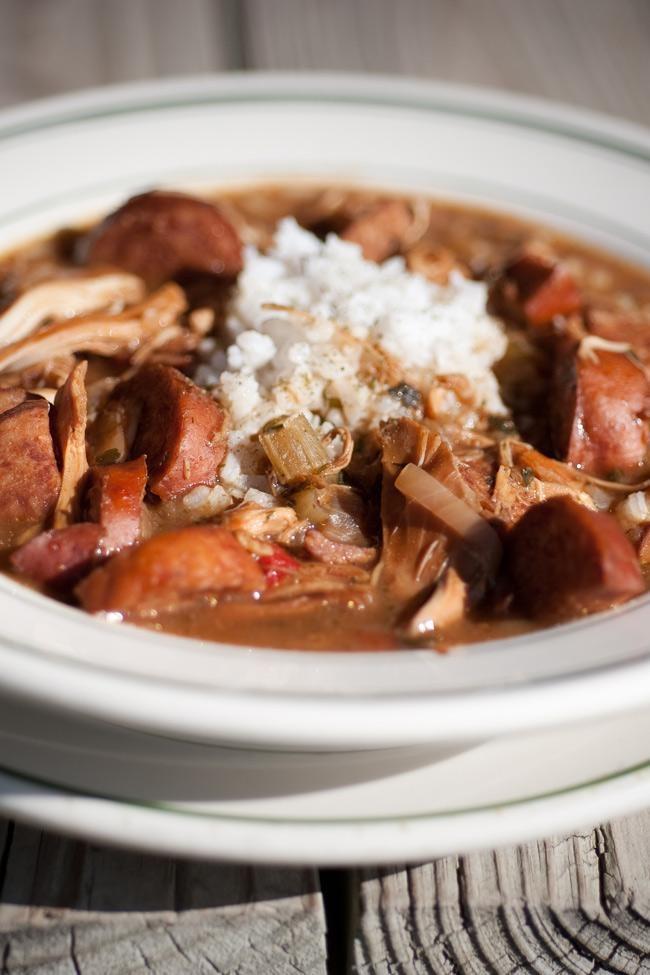 A-Bear's Café
809 Bayou Black Drive, Houma, LA
Opened in 1963 by Albert "Curly" Hebert, A-Bear's Café gives you that "at Maw-Maw's" feeling. With its wooden rocking chairs and barn-style front doors, the restaurant provides visitors with the true bayou experience. When Albert left school in second grade due to poor eyesight, his mother decided to teach him how to work miracles in the kitchen. He got good enough to open a restaurant whose name is a play on his and which has been in business ever since. A-Bear's staple gumbo dishes are the Chicken and Sausage Gumbo or the Seafood Gumbo. However, the locals will all tell you to abandon the choices, do like they do and order half and half. And if you're doing it as the locals do, you also can't forget the side of potato salad. That's another A-Bear's specialty and it ties the meal together perfectly.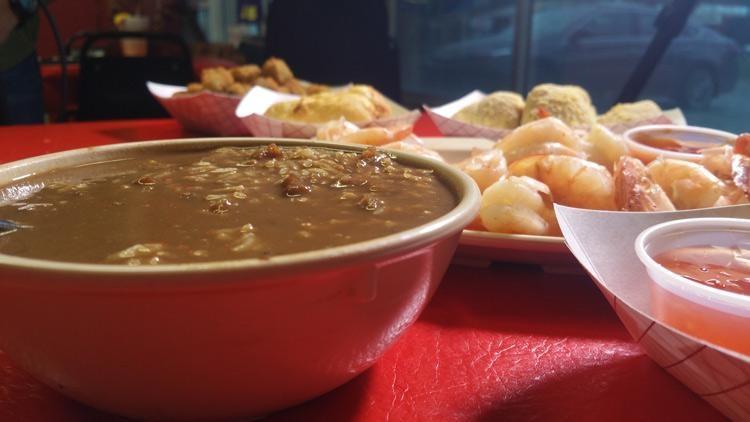 Seafood Palace
2218 Enterprise Boulevard, Lake Charles, LA
Everyone was raised eating gumbo it a different way, but folks in Lake Charles can agree that Seafood Palace is the place to go for authentic southwest Louisiana gumbo flavor. The crowd favorite in this down-home restaurant is the Shrimp and Crab Gumbo. The seafood used in this dish is sourced fresh from southwest Louisiana's Gulf waters. Sourcing the freshest seafood is what makes the gumbo so delicious. The restaurant also uses an awe-inspiring, dark roux recipe that's nearly impossible to replicate and keeps guests coming back for seconds. And thirds. And fourths …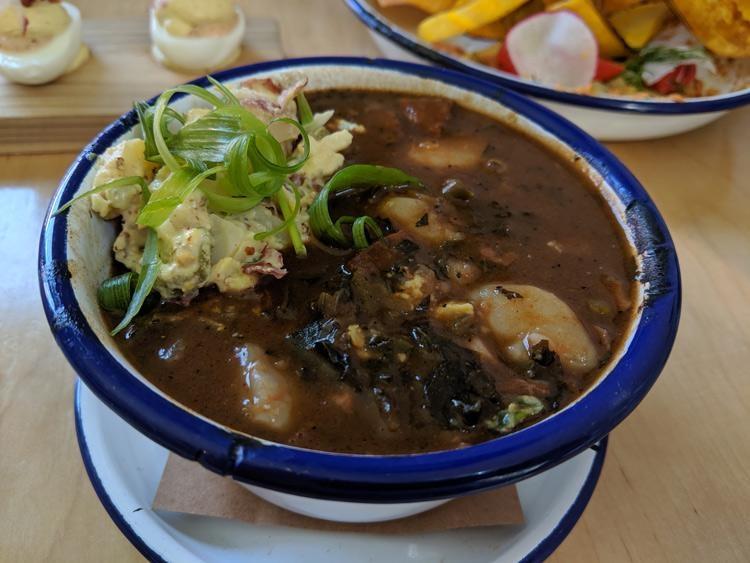 Hambone
544 Girod Street. Mandeville, LA
Located inside a 1940s cottage topped with a red tin roof, Hambone evokes feelings of down-home warmth and offers comfort food at its very best. In 2019, the Hambone Gumbo was named the best gumbo in Louisiana by USA Today's 10 Best. The dish is the perfect mixture of three different types of gumbo, according to Chef Luke Hidalgo. The mouth-watering bowl contains country gumbo, with ham hock and collard greens; Creole gumbo, with shellfish and dark roux; and Cajun gumbo, served with a scoop of potato salad right in the middle. Jam-packed with seafood, collard greens and potato salad, this gumbo is certain to have you walking away with a full belly … and an enormous smile.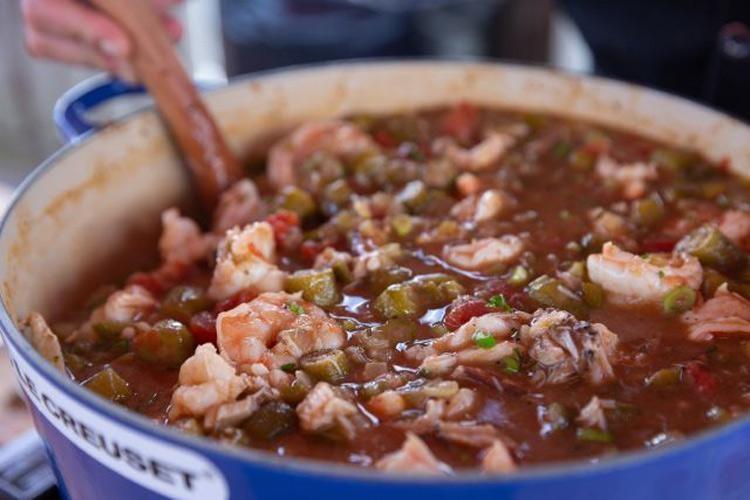 Lucy Buffett's Lulus
200 East 25th Avenue, Gulf Shores, AL
Lucy "Lulu" Buffett – yes, she's the sister of Jimmy Buffett – grew up on the Alabama Gulf Coast in a family that loved music and gumbo. Her grandmother's recipe was continuously changing based on new adventures and cultural influences, but the one constant in the recipe, to this day, is the fresh Gulf shrimp used in each batch. Lulu's was once a simple gumbo and burger shack but it's grown into a must-stop destination with three locations. The roof of the Gulf Shores location reads, "Gumbo Love," and that's the philosophy Lulu's is founded on: delicious gumbo should be made with love and shared with those you love. The roof is also a calling to Lucy's second book, Gumbo Love — Recipes for Gulf Coast Cooking, Entertaining and Savoring the Good Life, which is a love letter to the vibrant food culture of the Gulf Coast.