I love New Orleans, in fact I'm absolutely enamored by the food, music, and culture of Southern Louisiana and it's a surprisingly diverse combination of influences. It's a chaotic gumbo of sometimes conflicting perspectives but very few people are able to communicate why this area is so intoxicating ... Chef Quinton Austin though clearly gets it.
To be fair, restaurant menu decisions are often driven by more than just an individual chef's ideas though. In fact, I have a friend who ran a fabulous Mexican restaurant in San Diego that featured authentic modern "Mexico City" cuisine ... but he was told by visitors that his menu wasn't "Mexican enough" despite many of his best dishes being adaptations of ones his mom made back home.
The same challenge faces any chef that is looking to bring New Orleans cuisine to a place like California where we honestly just don't have a level of understanding that NoLA is more than just Mardi Gras.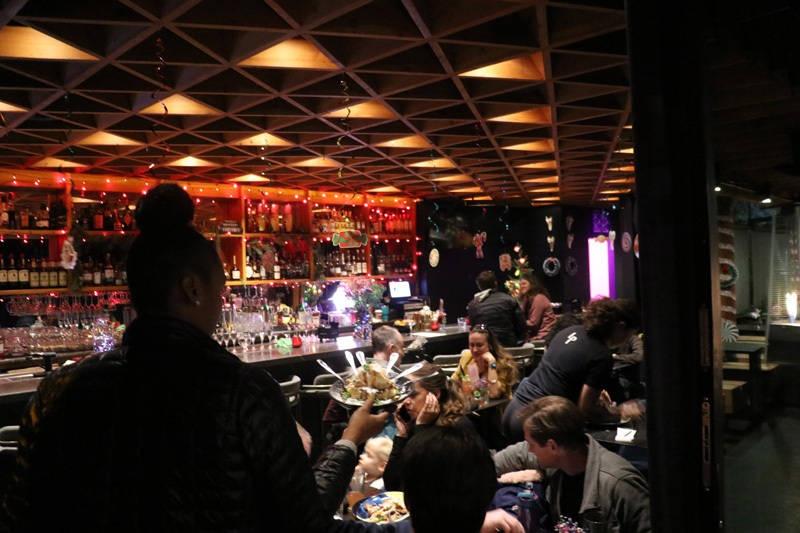 The menu here at Lousiana Purchase reflects an elevated perspective on New Orleans cuisine and it works well. To me, while I love a good gumbo, a po' boy, and pretty much anything involving crabs, shrimp, and andouille sausage - New Orleans has playful spirit that balances out the tragic challenges that face people who call "The Big Easy" home.
When you explore the city you realize that quickly ... it manifests itself in art, music, dances, and yes - food and drink too.
Upon sitting at the table tonight my eye caught sight of a card promoting Candy Shop cocktails - these included a "Hurricane Pop" (featuring pop rocks that you could add to the rum drink for that extra sizzle), Purple Haze featuring a coup holding a cloud of cotton candy that then the waitress poured the cocktail over, and other very imaginative drinks.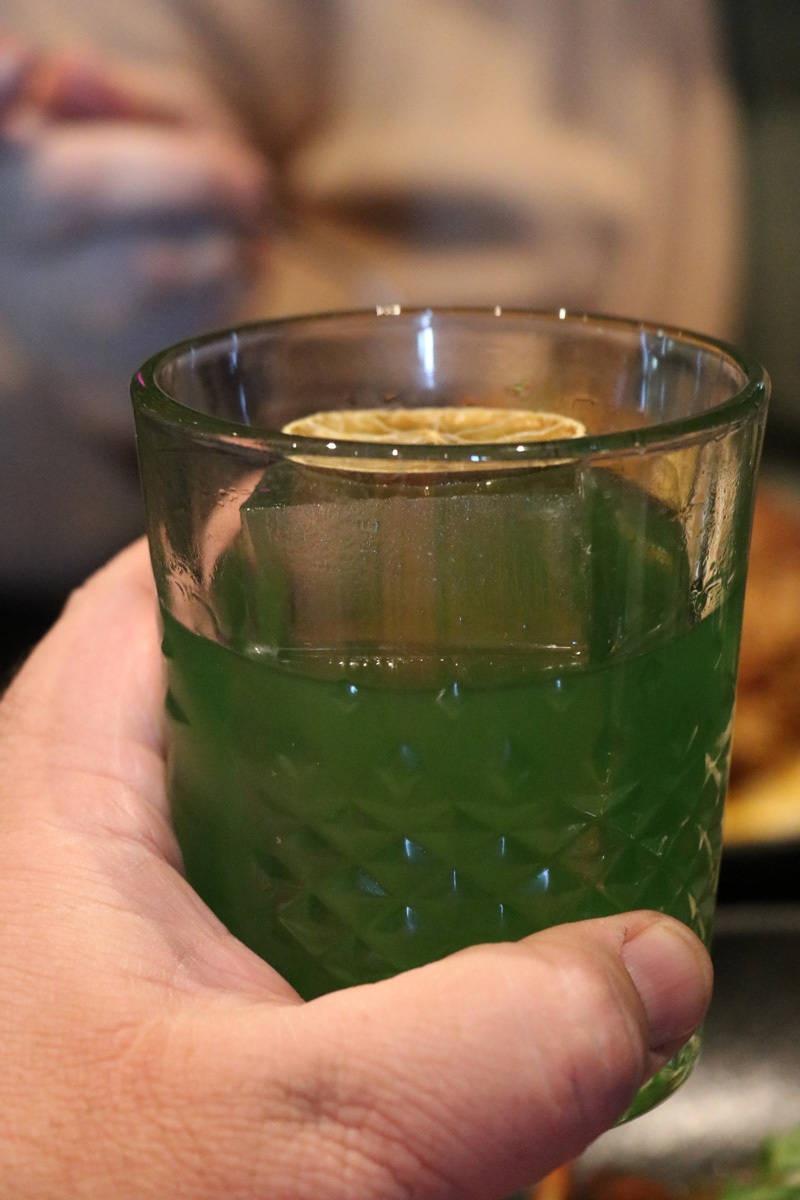 Initially, I just assumed this was another "hipster food" idea and so I didn't even try the Now & Later Apple Old Fashioned made with Now & Later Apple-Infused Cognac, Apple, Maple, and Orange Bitters. The manager however, encouraged me to try it and I was soon holding an anti-freeze green concoction in my hand, wondering, "what did I just get myself into!?"
It was absolutely fantastic though! This is the sort of thing I love about visiting New Orleans itself. You just gotta keep an open mind and be willing to try something new that you might not be able to experience elsewhere.
With a couple drinks past our lips it was time to dive in and try some of their food!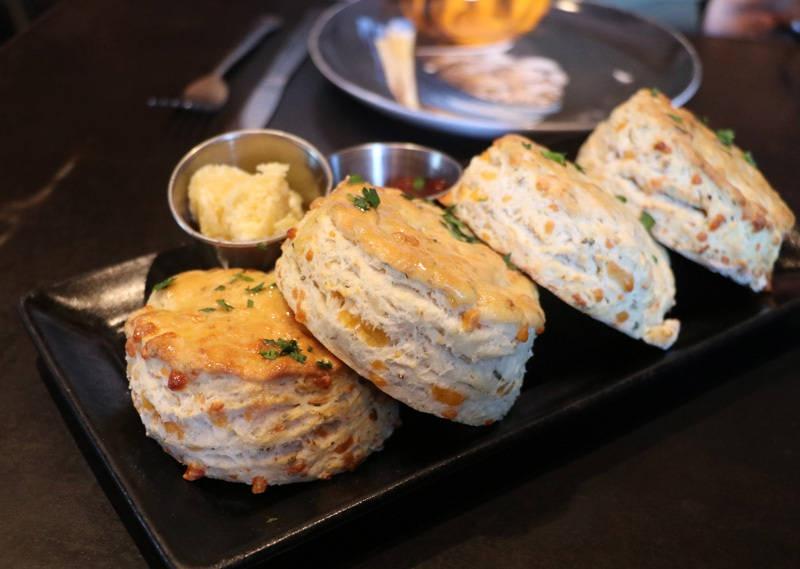 Our first item was their Garlic Cheddar Biscuits with honey butter and strawberry jam. These were both visually stunning to look at but also accompanied by fun appetizer plates with different artwork.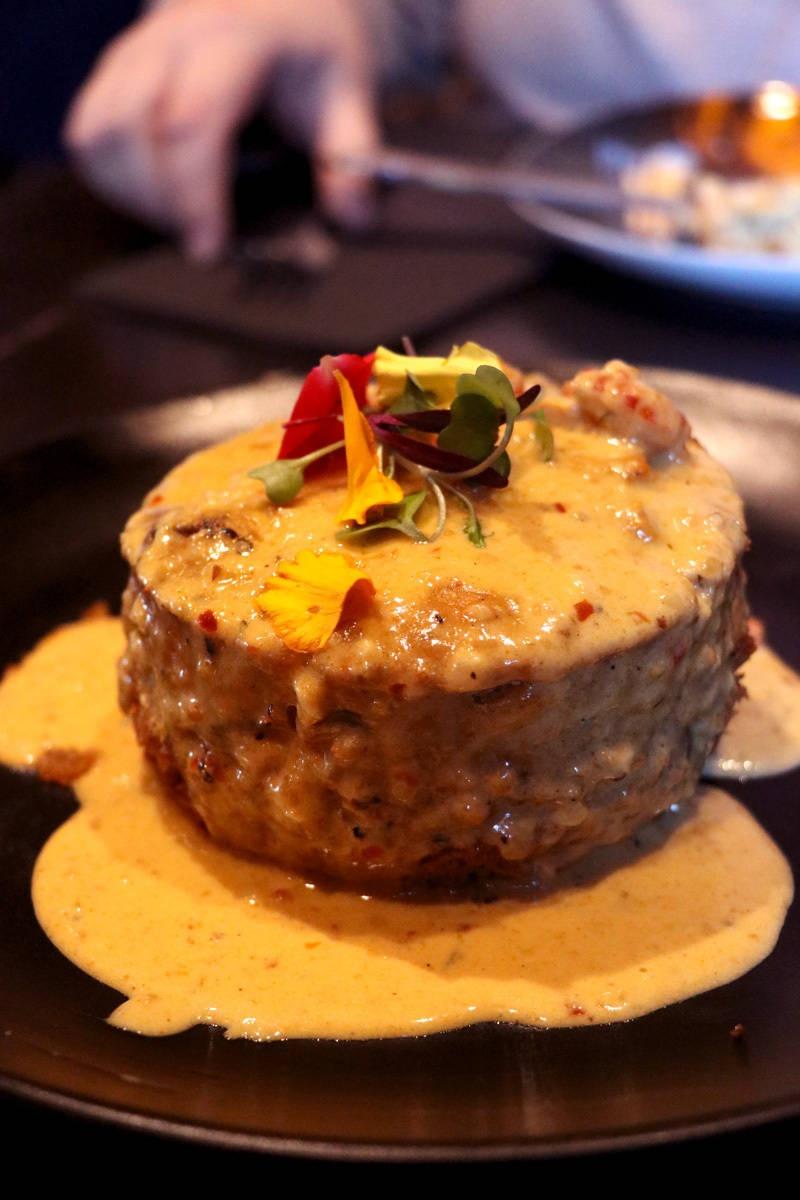 Next was the Alligator Andouille Cheesecake, a savory cheesecake that you can somewhat compare to "baked brie" in that it is wrapped in pastry, but in this case, the cheese is a blend of alligator and andouille sausage with a crawfish cream sauce on top.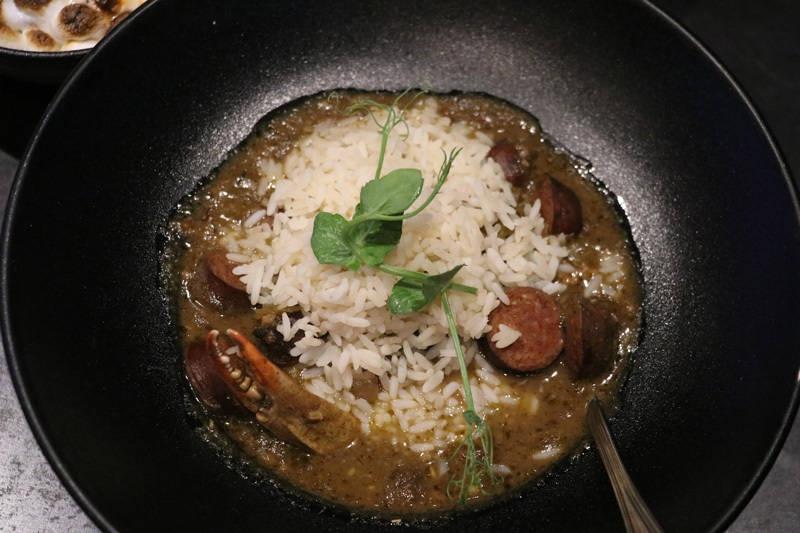 I'm a sucker for classics like gumbo and was not disappointed. Unlike some restaurants, this one was full of protein and not just rice and broth. Flavors were absolutely perfectly balanced here as well and while I am addicted to hot sauce - so I had to try theirs - it honestly didn't need anything added.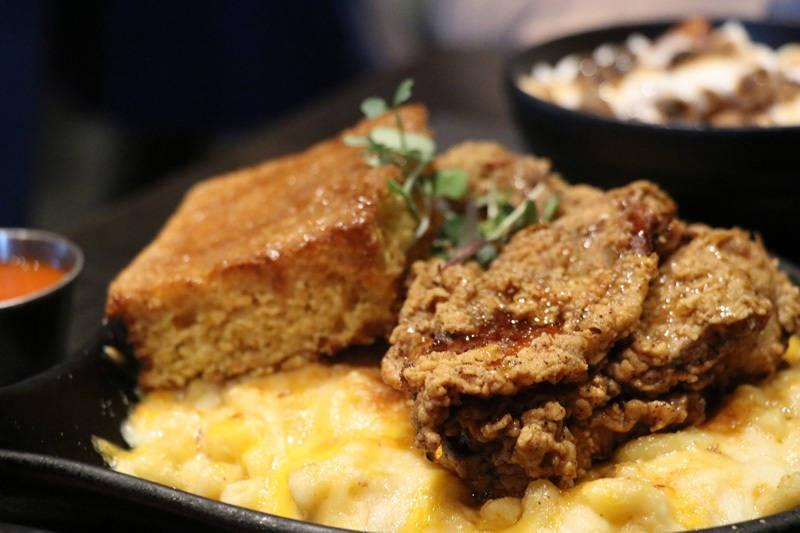 Heather tried the Spicy Chicken Skillet featuring some of the tastiest, perfectly fried chicken she's ever had. The chicken and cornbread is floating on a bed of smoked gouda mac and cheese and the chicken is topped with a drizle of chili glaze.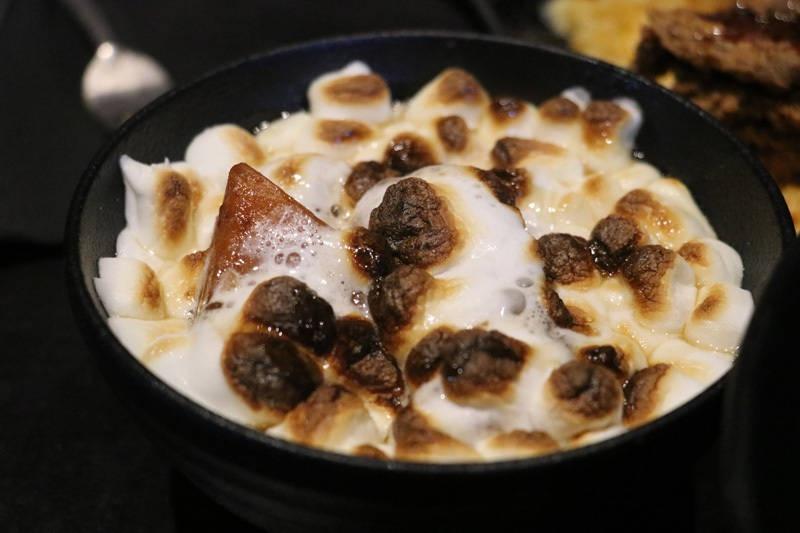 As a side, we went with the hostess's recommendation of the Candied Yams but they also had a variety of other New Orleans classics such as Collard Greens or Red Beans & Rice, as well as Cajun Fries, Mac 'n Cheese, and brussels Sprouts.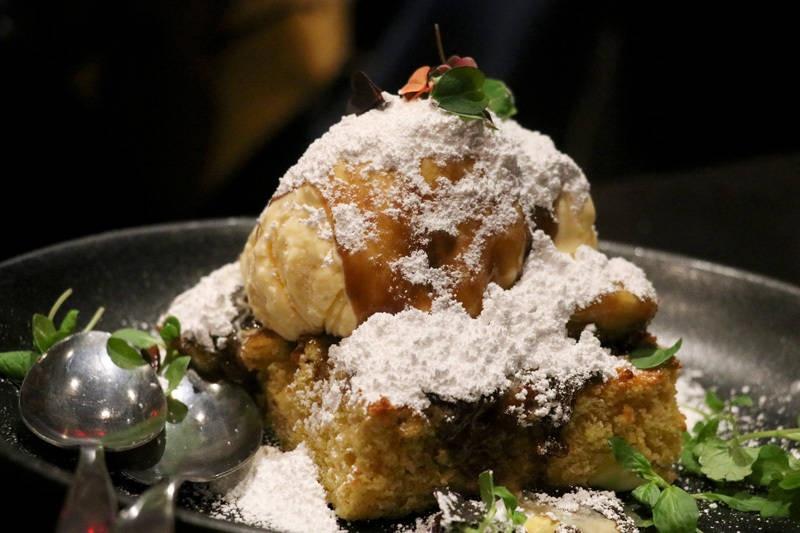 No dinner is complete without an over-the-top desert and here we were not disappointed either. After such a massive feast we almost passed on dessert but I'm glad we didn't!
While there's a fairly limited dessert menu of just two items, it's about doing things right - not having an endless list of mediocre options. Here the choice is pretty simple - classic Beignets dusted with powdered sugar, or this incredibly delicious Ooey Gooey 'Better Than Sex' Cake.
This decadent dessert is best shared with the table but if don't want to share, well ... I can't blame you.
It features yellow cake, cream cheese, and cinnamon, topped with banana fosters and vanilla ice cream then "dusted" with plenty of powdered sugar because, well ... why stop here! The flavors are perfectly matched served as the perfect ending to an impressive meal.
I absolutely loved the fact that Louisiana Purchase San Diego nailed it in terms of presenting the modern, chic, playful side of New Orleans' contemporary culinary scene without turning it into a soulless "hipster restaurant".
The absolutely best compliment that I can give a place is saying that while this dinner was comp'd (we provided gratuities to our hostess), I KNOW that I will be back again soon and will be happy to spend my own money exploring their fabulous bar menu as well as other food items that we didn't get a chance to try tonight.
Louisiana Purchase San Diego is located in the North Park neighborhood, visit their website for more information and to make reservations.