One of the fun things about cruising is the food – not just the quantity, but the specialness of having treats that you generally don't find at home. Over the years, as American tastes have gotten more sophisticated, cooking shows have become one of the most popular forms of entertainment. While many cruise ships do have a cooking demo a couple times on each voyage, Holland America Line has taken this to the next level with actual theaters to showcase their chefs as well as periodically invite celebrity chefs to make an appearance as well. Even though cruising is closed right now, we can still remember the good old days while planning for future explorations and adventures!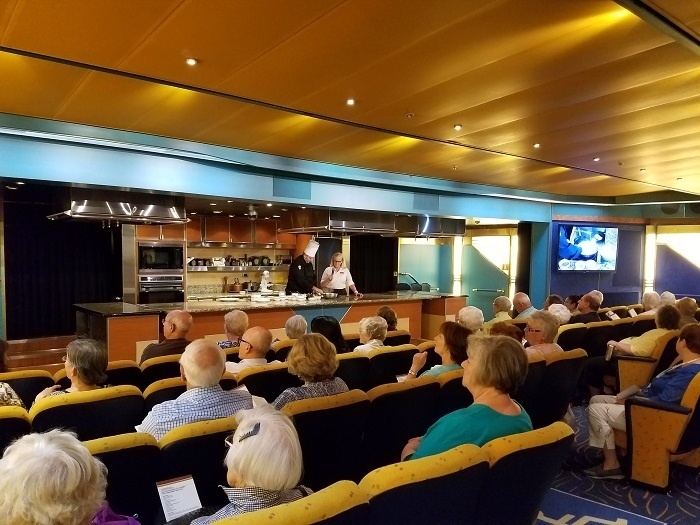 A few years ago, I cruised on the MS Maasdam north from San Diego to Vancouver, British Columbia. Since halibut is in season then, they chose to feature it in a recipe. This "Pacific Northwest" Halibut with Chardonnay Reduction was a great way to connect the passengers to the culture and places around us.
Pacific Northwest-Style Halibut Recipe
Right now, Halibut is in season in Seattle and Vancouver, so it was really special to have a demonstration that connected with the territory we were visiting on this trip. In the past, I've sat on ships in the Caribbean where they talked about making New England Clam Chowder and that just feels inauthentic compared to how Holland America structured this demo.
Ingredients:
8 six-ounce halibut fillets
Salt & pepper
Flour
Olive oil
Chardonnay Reduction Ingredients:
1 onion, diced
2 shallots diced
1/2 bottle of chardonnay (I recommend Columbia Crest H3 Chardonnay)
Juice from 2 lemons
1 bay leaf
1/2 liter heavy cream
1/2 pound butter
Salt & pepper
Preparation:
Lightly season the fish and dredge lightly in flour. Brown the fish in a skillet on both sides and then cook until fish is at desired doneness.
Chardonnay Reduction Preparation:
In a heavy sauce pan, saute the onions and shallots until translucent. Add wine and reduce by 3/4. Add lemon juice, bay leaf and heavy cream then slowly reduce by half. Remove from the heat and whisk in butter. Season to taste and then strain. Make sure to watch the temperature of the sauce so that the butter doesn't separate.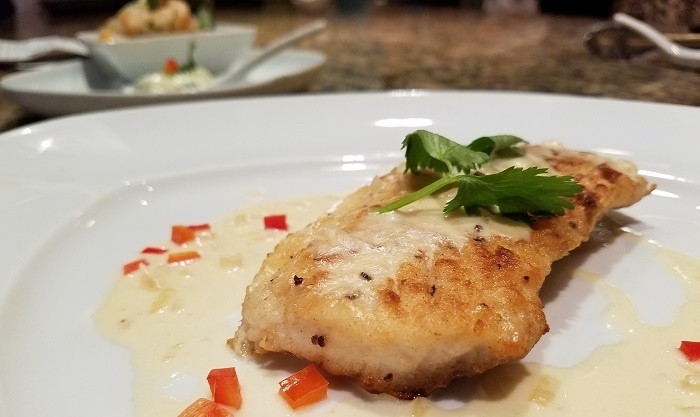 Food and travel go great together and so I was thrilled to see Holland America take things to the next level by actually having dedicated a theater space to these demonstrations.
Oh yeah and yes ... they had tons of samples afterwards for everyone to enjoy :)