I'm not a huge fan of casseroles normally. However, the undeniable benefit of being able to stretch a dollar while feeding a bunch of hungry people can't be ignored. We live in a time right now where both of those take precedence over simply "looking great". Today I decided to challenge myself to try something new with what stuff I had available in the kitchen. Lucky for me, the first things I found were cans green chiles and Hatch green chile enchilada sauce. That inspired me to combine it with the potatoes and Niman Ranch ground pork that I had stocked up on recently as part of our quarantine food. The Pork and Potatoes Southwest Green Chile Casserole was born!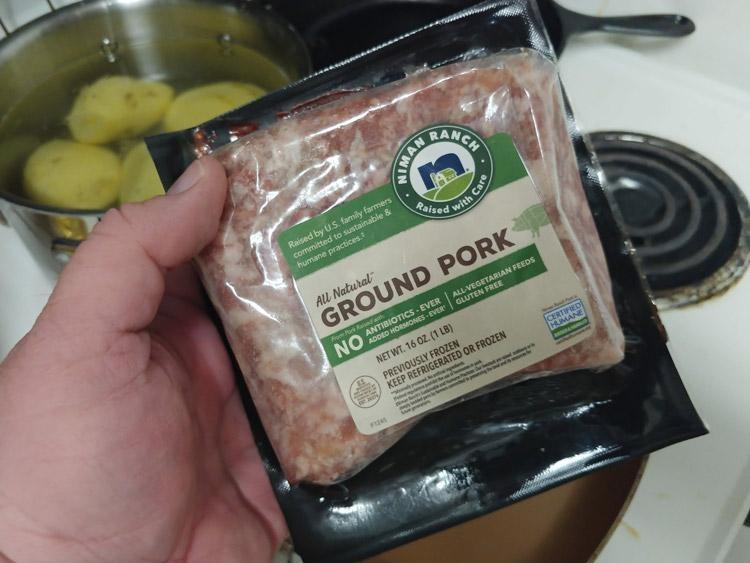 Like many of you, my life has completely changed in just a matter of a couple of weeks. Before this time, I appreciated working with Perdue Farms and their family of brands including Niman Ranch because while it costs a bit more to buy - the quality was paramount. I love the fact that regardless of brand, all Perdue Farms products share a common goal of working with family farmers who are willing to do the right thing in raising animals using sustainable and humane practices. In the case of this Niman Ranch Ground Pork it has no fillers, is gluten-free, no antibiotics ever, no added hormones ever, the animals are raised on an all-vegetarian feed, and it is certified humane.
Today, it's not that I'm less concerned with those elements - but frankly, other priorities are more important. I love the fact that I can order meat online from Perdue Farms and it comes delivered right to my door, frozen and ready to store in my freezer. I don't have to worry about standing in line with other people at the store or wondering if things are out of stock. You can also stock up with one of their bundles or buy it individually, this way - depending on the size of your family - you can have all the meat you need for weeks with no worries of running out.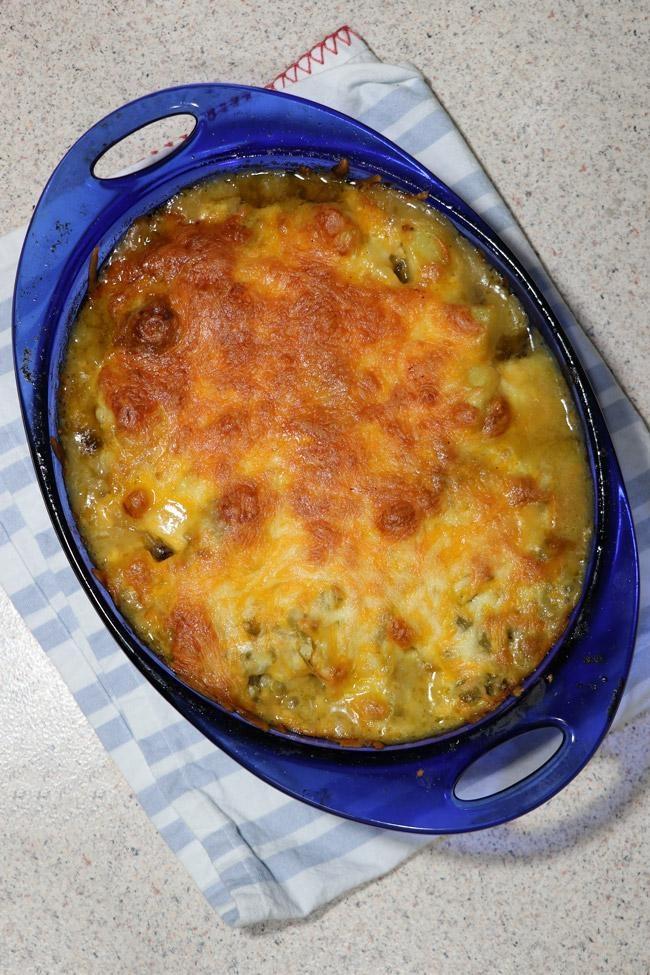 Pork and Potatoes Southwest Green Chie Casserole Recipe
One of my favorite foods is chili verde and so this is essentially a version of pork green chili with the addition of potatoes to make everything go further. It's easy to cook up and takes about an hour from the time you assemble the ingredients till the time you take it out of the oven.
Ingredients:
1 16oz package of Niman Ranch Ground Pork
4-5 medium Yukon Gold Potatoes
3-4 cups of shredded Cheddar Jack Cheese
2 4oz cans of diced mild Hatch Green Chilis
2 10oz cans of Green Chili Enchilada sauce
dash of Season Salt
dash of Avocado Oil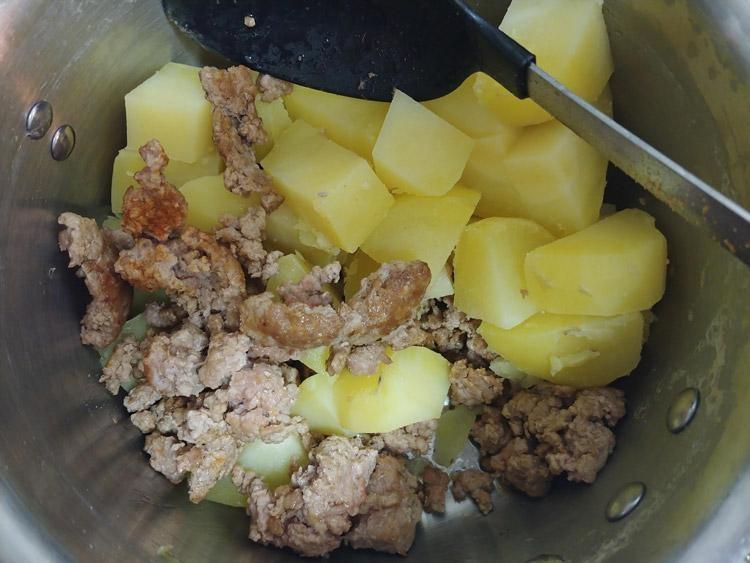 Preparation:
Peel 4-5 medium potatoes and boil for 10-15 minutes or until they are soft to the fork but not falling apart. You want to avoid mashed potatoes, so the fork should go in part-way but hit resistance towards the center.
While the potatoes are cooking, brown the Niman Ranch Ground Pork with a dash of avocado oil and season salt to taste.
Once the potatoes are cooked, drain the pan and chop them into medium-sized pieces. Then add everything back to the pot and mix with the green chili enchilada sauce.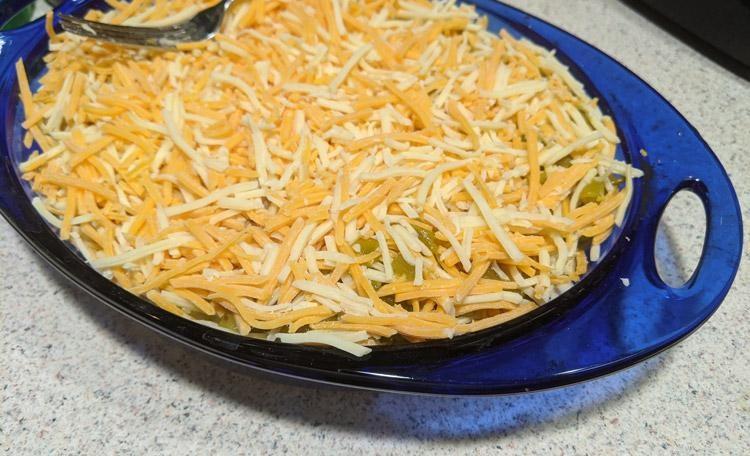 Next, place the mixture in a medium-sized casserole dish, place diced Hatch green chiles on top and then cover with a liberal coating of shredded cheddar jack cheese until the entire dish is completely covered.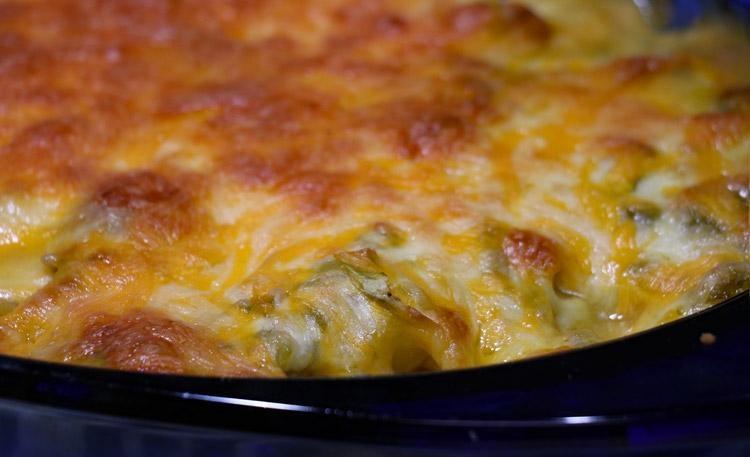 Place in a pre-heated oven at 350 degrees F for about 30 minutes and then broil for a couple of minutes till the cheese is a nice brown color on top.
Let the mixture cool for a moment or two and then serve!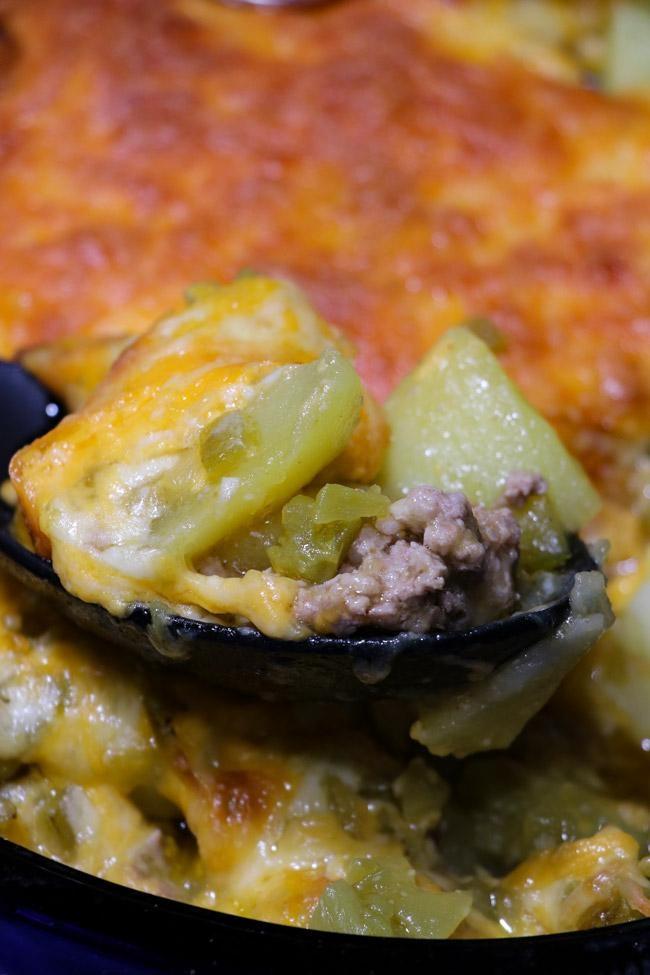 And that's it! This Pork and Potato Southwest Green Chile Casserole is a super easy to make a family recipe that also reheats very nicely if you have leftovers.