Sizzler is the one that gives you choices ... or at least that's what the 1991 training video says. Fortunately it was true back then and it's still true today. Honestly, that format of steak and "food bar" type restaurant has faded a LOT in the past decade or so as people seek out smaller portions and higher quality food served individually - not sitting on a buffet line. It's unfortunate though because something that a lot of us really enjoyed Sizzler back in the day. Luckily it's still here and better than ever!
The folks at Sizzler and I have been talking for a while now but doing a visit sat in my queue and never seemed to rise to the top. It's not that didn't remember the brand or even that I didn't want to go ... but it simply was "just another restaurant review opportunity". It took the confluence of the viral video that blew up the Internet a few weeks ago and the fact that I was planning a guys weekend to make things happen for us. I'm glad they did because we honestly had a great time and I can't wait to go back again soon and bring more friends with me.
A Brief History of Sizzler ...
Sizzler opened in 1958 with the goal of delivering the feel of a full-service restaurant but with the prices just above that of fast food chains. They were the innovators that popularized the concept of a food bar style "salad bar" and even had in-house butchers and meat grinders for the burgers. It was a recipe that many others quickly copied ... and then it all ended in the late 1980's as competition saturated the market leading to a general decline in quality and service across all of the brands.
After our great experience the other night I was honestly a bit surprised at how much I liked it. As a kid I knew I loved Sizzler but then stuff sort of declined and it became a place that I just stuffed my face at during college. Back then in the 1980's and 90's Sizzler was a fun place to stop at while we took family road trips across the country. While there were many great memories - the food quality was never one of them and we never ordered a steak. Instead, we would just pig out on the food bar since that had everything we needed and as kids we didn't really care. This is doubly true for me as a college student.
Apparently, others were more discerning (and my parents were too) so the popularity of the chain started to decline and in 1996 they closed 140 of 215 stores.
In 2001 though they tried to restore the image ... and that's reflected in promotional movies that have now become viral videos like what's been going around the past few weeks. It's been a long road though but they've since improved the quality and the actual menu items are being emphasized vs the "salad bar" being the reason to go.
Sizzler is still actively updating it's restaurants and we are told that the newest are even better than this one that we visited outside of Palm Springs in Indio, California. We stopped there after a day exploring off-road trails in Joshua Tree National Park and it was the perfect end to a great day.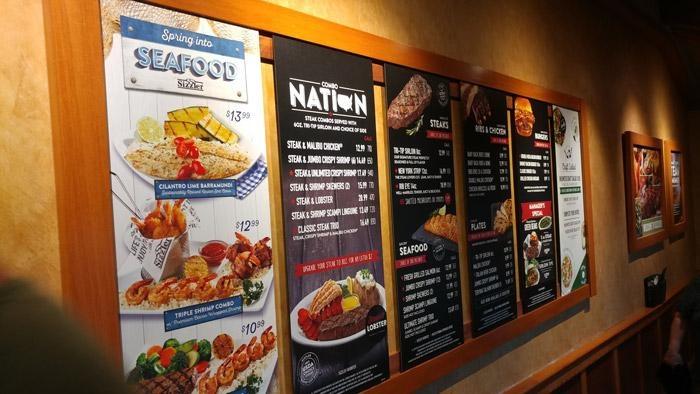 Prices Have Increased But So Has Quality!
Unfortunately, that means that the prices have also increased. For instance, my dinner was a Ribeye ($18.99) and Salad Bar ($5.99 with entree or $11.99 separate). At that price, it is significantly higher priced than the "quick and cheap pig out place" that I remember. That being said, the steak wasn't the greatest piece of meat I've ever had but I was more than satisfied.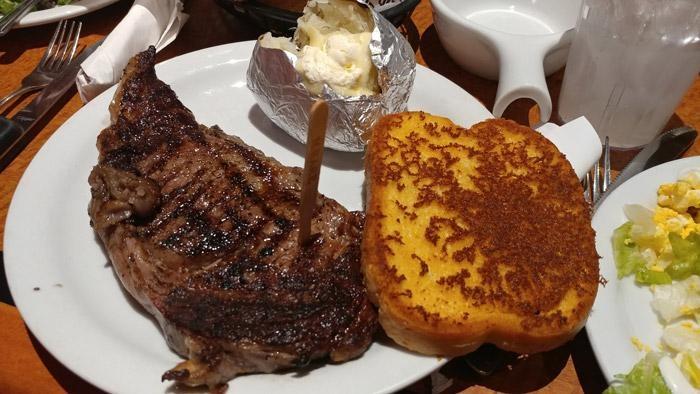 However, that's actually the top of the menu and there are plenty of items that would put your full meal at about $15 and you wouldn't possibly be able to leave hungry.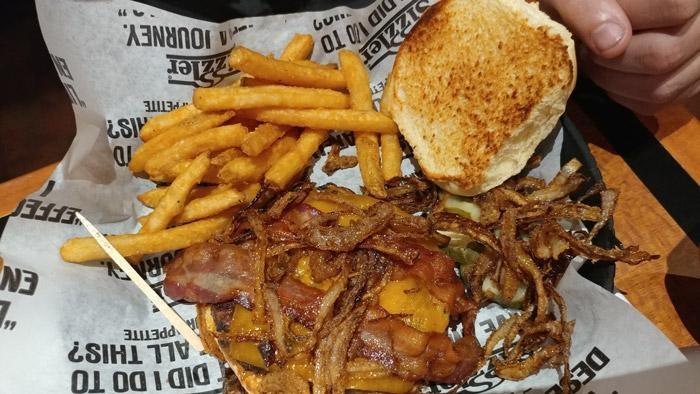 As an example, the Double Mega Bacon Burger was $9.99 and you can add the Salad Bar to that for $5.99 for a total cost of $16.98 and you've got a great meal that is complete with burger, fries, salad, soup, tacos, nachos, wings, mac and cheese, and the top it all off with a bowl of ice cream or some pudding.
You honestly can't go wrong for that price.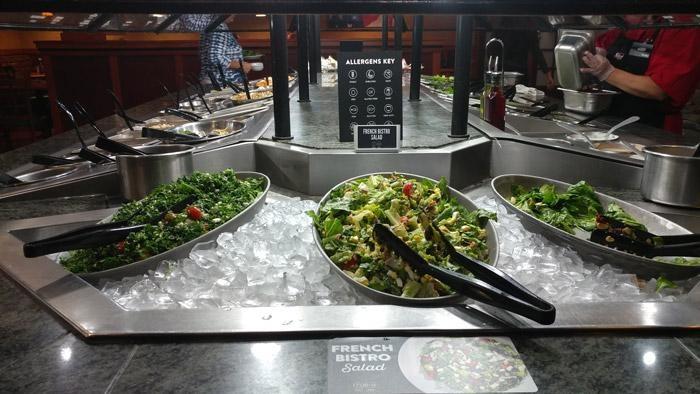 Sizzler is About Choices ...
The thing I loved about this experience is that unlike the last few remaining "food bar" competitors, Sizzler actually still maintains a legitimately great salad bar with lettuce that was crispy and fresh as well as pre-made salads that were expertly made. I've NEVER had a salad at Home Town Buffet or Golden Corral since honestly why would you? But here I did have one and was very happy.
So, ultimately it's your choice here ... Do you eat healthy or do you stuff your face with nachos and wings then go back for a third helping of ice cream? That's your choice but thankfully you can do both here and that's a great thing!