Years ago when I first tried sushi, it was a rare and elite luxury designed only for those willing to spend a lot of money and savor every bite. There is still that aspect of sushi and the exquisite precision of Japanese food preparation but over the past few decades, sushi has become democratized. Today, you can get sushi in ballparks and gas stations as well as some of the world's finest restaurants. Sushi Deli is somewhere between those with both the ability to bring sushi to the masses while still maintaining very high quality and adapting it to a market seeking fun, excitement and innovative ideas. It's no surprise then that they were also one of the first to adapt to the new realities by making their pickup experience one of the easiest and safest in San Diego.
Truthfully, I resisted writing and showing photos of food in carry-out boxes. I tried doing some re-plating and that looks worse since it is in-authentic. While we've today moved back to allowing in-person outdoor dining in San Diego, the reality is that it will be a while till I feel comfortable dining at restaurants the same way I did several times a week just a year ago. As a result, I believe heartily in supporting the restaurants that are doing the right thing and making it easy and safe to continue ordering from them.
Sushi Deli has three locations in San Diego, - Sushi Deli 1 at 228 W Washington Street, Sushi Deli 2 at 125 Broadway, and Sushi Deli 3 at 7986 Armour Street. They've been open since 1983 when Hiroa Otake opened the first location and today they are one of the most popular and highly respected restaurants in San Diego. Sadly Hiroe is set to retire but we hope her legacy will continue and based on the smiling faces and friendly folks we have met working for her, we are sure that Sushi Deli is more than just one lady.
The pickup experience at Sushi Deli 3 is what keeps me coming back and tipping generously each time I do. The preparation is always fast and I've never yet had an order that was inaccurate despite ordering a collection of different rolls. When you arrive there, they have a table set up in the doorway with a half window so that you can simply tell them your name, hand your card for payment and they pass the bag to you. Very limited interaction but also very quick, very friendly, and very safe.
Beyond the operational aspect that I appreciate here, the food is what will keep me coming back month after month and I will do so even after COVID is over for some of their more innovative products such as the All You Can Eat Sushi and Mai Tais at Sushi Deli 2. Even for a less gluttonous experience, while sushi "travels well" the experience of having it all plated beautifully on your plate along with items like miso soup, and tempura are experiences I can't wait to experience again.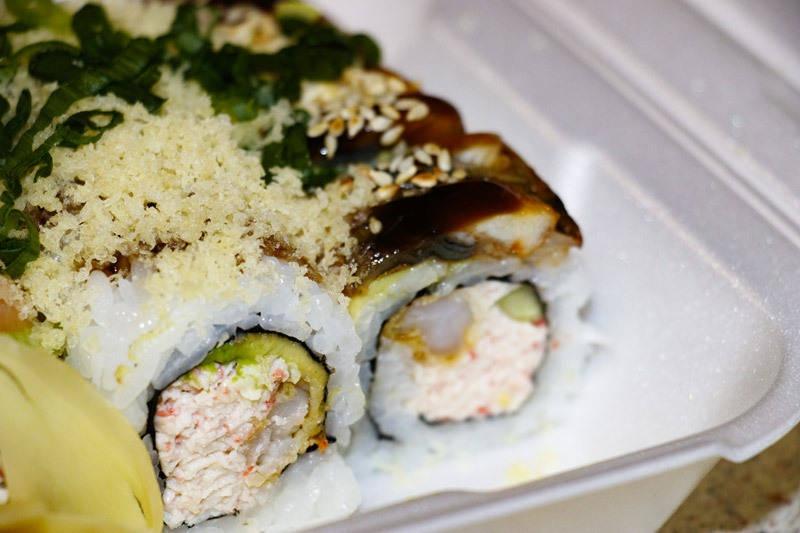 Each month they offer a different Sushi Special and Bento Special. This one we got recently was the January Sushi Special and for $11.99 you get 4 pieces of each of the following rolls: Crunchy, Dragon, Rainbow, and California. Different months have different combos obviously but they are always fun, affordable, and a great way to try something new alongside familiar favorites.
However, if you take a moment to explore deeper, you'll find some creations that are unique to Sushi Deli and represent what makes Southern California special. The "East Meets West" combination of flavors blending Japanese, California, and Mexican culture with a heavy splash of humor and creativity. For instance, a few of my favorites include:
Baja California - In: Crab surimi, avocado, cucumber TOP: Avocado, salsa, crunchies, cilantro w/ spicy sauce & ranch dressing
Habanero Heat Stroke - In: Salmon shrimp tempura, mango, cucumber, cilantro Top: Tuna, avocado, sliced fresh habanero peppers, spicy mayo, chili flakes
Hadouken - In: Spicy yellowtail, habanero masago Top: Lemon slices, masago, green onion w/ spicy sauce
Monkey Brains - Tempura style inari pocket stuffed with crab surimi, spicy tuna and cream cheese. Topped with spicy mayo, sweet & spicy sauces.
Of course, if you want a simple Philadelphia roll or a Spicy Tuna Roll ... they've got you covered there too!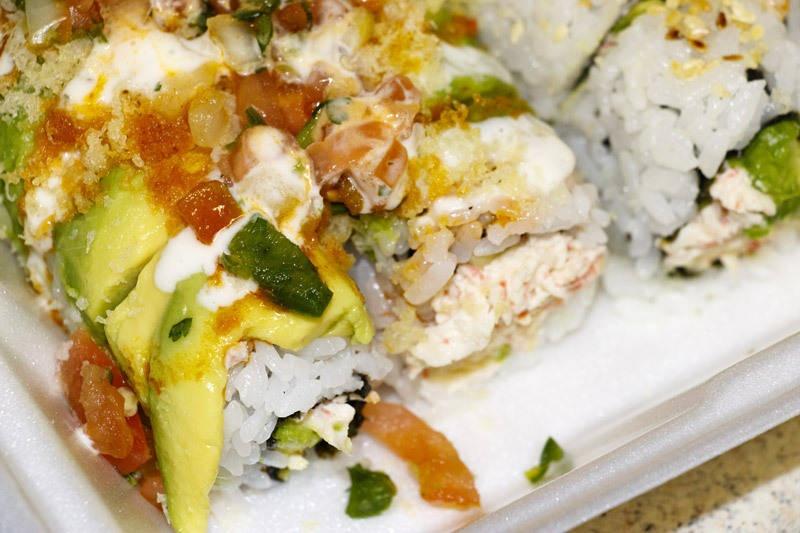 No matter if you like sushi or hate it, I encourage all of you to support your local restaurants as well as their staff. Just as I've learned that it is "ok" to share "takeout photos" ... it's ok for you to enjoy the takeout food for what it is and take a moment to remember that this current situation is only temporary. Right now though, we need to continue supporting each other or the restaurants we enjoy, might not be there for us to enjoy when this is all over again.