The other day I was wandering around my local grocery store trying to figure out what to buy for lunch. I was hungry and creative - a combo that tends to be expensive for me. As I wandered through the sauce aisle I realized that nearly every time I buy a bottled sauce I'm disappointed in the flavor, thickness, etc. So I thought to myself, "why can't I make a sauce that matches exactly what I love?" While this sauce ended up turning out great and was ultimately "wife approved", sometimes the journey of creation is exciting in itself. You can always learn from your mistakes, adjust the proportions and make things distinctly YOURS!
As I browsed the store thinking about what ingredients to include, my goal was to create something chunky that had lots of flavor but was relatively healthy. My one "sin" here was sausage. If you'd like to make it lower in fat, this recipe can be adapted to include pretty much any type of meat including chicken, pork, or ground turkey. I suppose you can also use ground beef but I'm not a huge fan of ground beef in my pasta.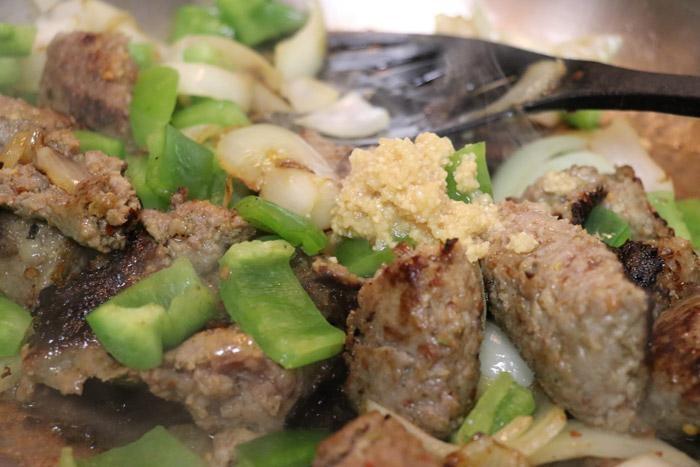 Green Bell Peppers are extremely important since a 1-cup serving includes 2.5 grams of fiber, 119.8 mg of Vitamin C and 0.55 mg of Vitamin E. These nutrients are critical to help protect against infection and cellular damage as well as generally helping your immune system.
Onions and Tomato are also very important towards helping reduce risk of prostate and other cancers. Studies have shown that people eating more than seven servings of onions per week in fact had a decrease in risk of getting colorectal cancer. Tomatoes have a key antioxidant called lycopene, which is very good at keeping cells healthy and improving resistance to cancer including prostate cancer.
Other health benefits of tomatoes include having a very high amount of Vitamin A, C, K, and B6. Tomatoes also have dietary fiber and protein. Mushrooms too have a lot of positive health benefits for men.
When you combine these (and plenty of garlic!) together, you have a hearty and most importantly healthy dinner. It will taste great and help keep you going.

Smoky, Spicy and Extra Chunky Homemade Spaghetti Sauce Recipe:
This is a fairly quick recipe to make initially and then let it simmer for about 30-60 minutes but it is ready to eat once you finish the initial cooking too. I just prefer to let the flavors set and mingle a bit.
Ingredients:
2 Tbs Avocado Oil to coat the pan
1 can Fire Roasted Diced Tomatoes
1 can Tomato Sauce
1 pound of ground sausage (or other meat)
1 large Green Bell Pepper
1 large Yellow Onion
1 heaping Tbs of Diced Garlic
2 Tbs of Season Salt
1 box of Baby Bella mushrooms
1 Tbs tyme
1 Tbs Oregano
3 Bay Leaves
2-3 Tbs Light Brown Sugar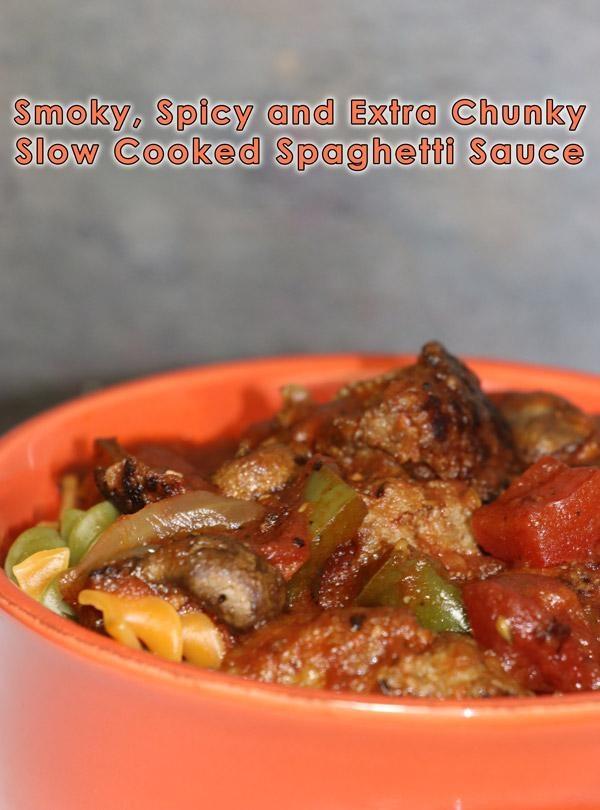 Sauce Preparation:
In a large sauce pan, pour avocado oil to coat the pan. You may need more if you are using chunks of chicken or pork, and less if you have a fattier meat such as sausage. Avocado oil is important here since unlike olive oil, it won't smoke as your sauté the meat and vegetables. This means that it won't cause carcinogenic chemicals that can be caused when oil hits the smoke point. It will also stay oil-like and help keep the stuff from sticking to the pan. I also like the flavor.
Place the ground sausage in the pan and use your spatula to cut it up into rough chunks and let it brown. Make sure to turn it regularly to prevent burning.
When it is nearly cooked, add chopped onions and season salt. Sauté them slightly before adding chopped green peppers and garlic. Continue to sauté the mixture until the onions have caramelized slightly.
Then add the fire roasted tomatoes and mushrooms; continue to sauté till they are lightly cooked. Make sure to stir regularly so that nothing burns.
Add the tomato sauce, bay leaves, oregano, thyme, and brown sugar. Continue to stir until bubbles start to form.
Taste the sauce and add more brown sugar and season salt to your preference.
Simmer the sauce for 30-60 minutes on low to help the flavors meld together.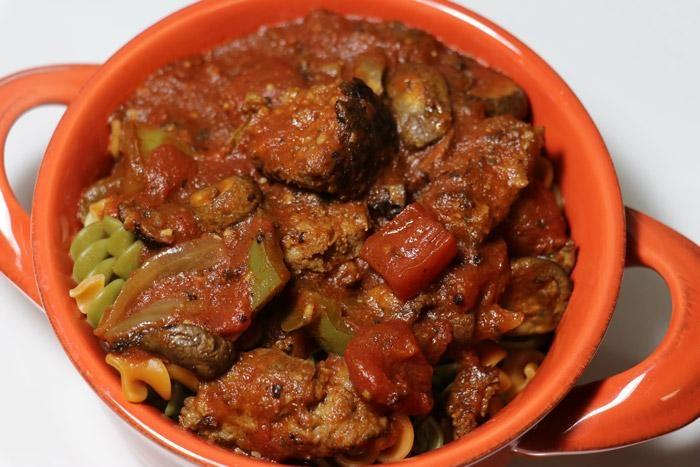 There you have it...
Spoon the sauce over your pasta and serve!