Theatre Box just opened up in downtown San Diego and frankly you'd have to be living under a rock to not know about it. Between celebrities posting ridiculous dessert pictures on Instagram and other buzz it honestly wasn't my sort of place I thought. After all, usually these places just have "instagram food" that looks pretty but doesn't really taste that great. However, when I was invited to check it out I accepted since I was curious. Honestly I wasn't expecting much. I figured that at very least though that it would be a good opportunity to finally see Aquaman and grab some dinner. My bias against celebrity endorsement almost caused me to miss out on one of the coolest new concepts in San Diego.
Theatre Box San Diego is a fabulous concept that is exactly what the theater industry needs to get people excited about going to the movies again. Instead of driving prices down like the mega chains are doing, Theatre Box is focused on creating a unique experience that people are willing to pay for. Unlike other high-end movie theatre experiences though, Theatre Box San Diego actually delivers on the promise. While too many competitors are a sub-bar experience, Theatre Box delivers with awesome food, great quality sound and projection and the flair and excitement that almost makes you forget how much you just paid for the experience.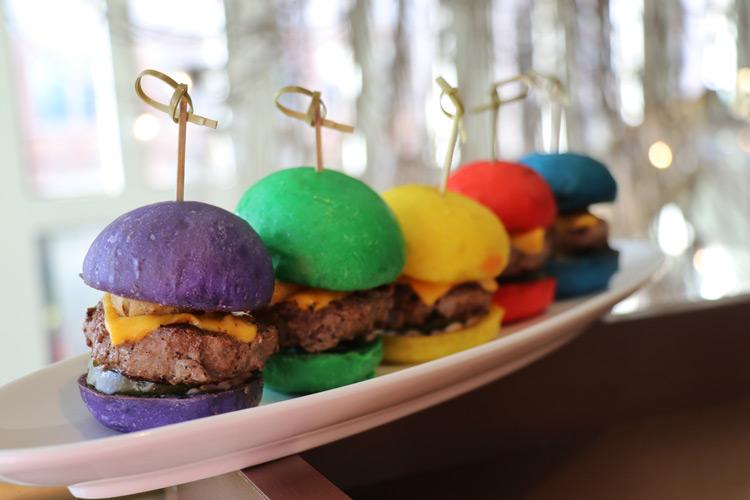 I don't know the solution to that last point and there's no way of getting around it - $39 "Goblets", $31 "Spiked Milkshakes", and $25 for a tray of Rainbow Sliders is CRAZY EXPENSIVE. However, when you put it in comparison to what you'd pay at the major theater chains for a crappy bucket of popcorn, a hot dog, and a bucket of pop then it's really not that much more expensive and the quality and fun of the experience is EXPONENTIALLY more awesome.
Sure, a night of drinks, food, and a movie at Theatre Box isn't something you'll be doing every week but for those special occasions it is perfect.
Movie tickets at Theatre Box vary in price but are generally around $15 and right now they have $5 specials on Tuesdays as well as half-off appetizers and drinks so that's actually an awesome deal.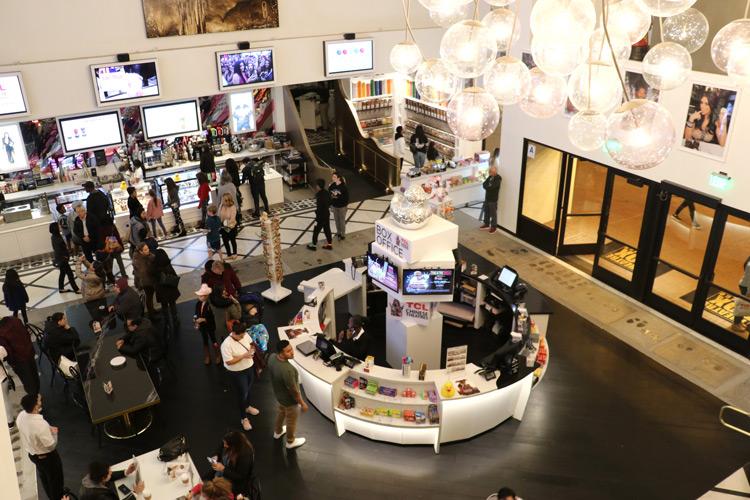 From the moment you walk in the door, it's clear that this is not a typical movie theater. The lobby is bright, welcoming, and colorful and the staff aren't your typical high-school kid's first job type guys.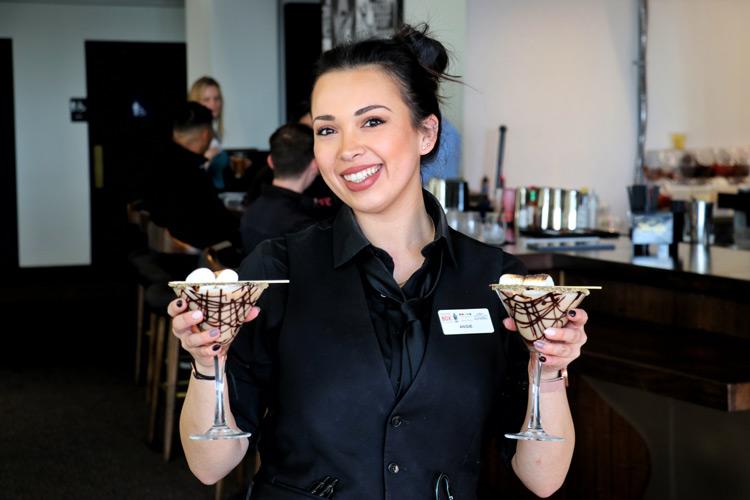 In fact, the staff here were fantastic across the entire facility. They were all friendly, professional, and cheerful.
They also can make some delicious drinks. This S'Mores Martini was one of the best I've had anywhere in San Diego and I can't wait to try more from their extensive menu in the future.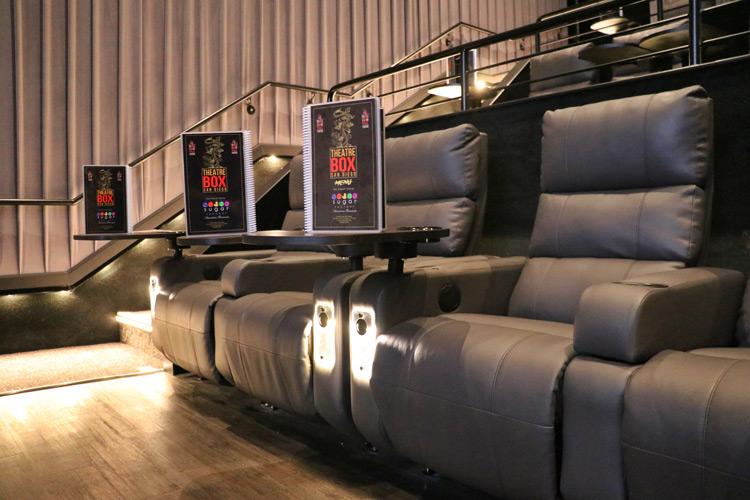 Inside the theater, the chairs are super comfortable and recline almost fully. You can take food ordered at the bar with you to enjoy or you can use the call button to order additional items from the full menu available. This includes drinks, deserts, appetizers, and even regular meal items too.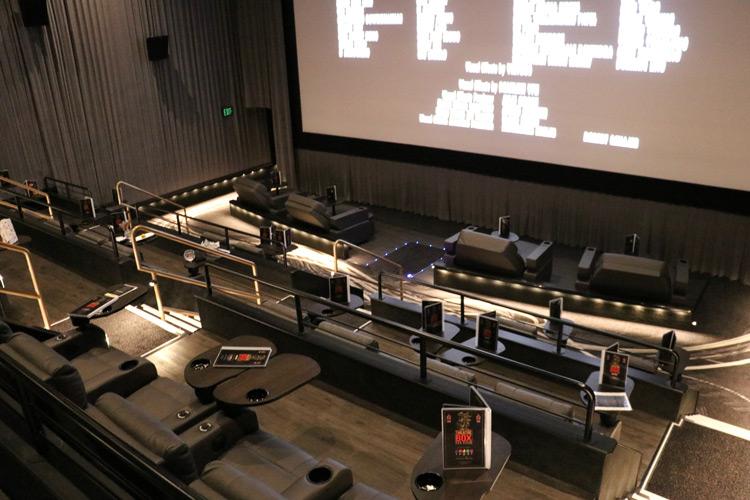 The theatre itself is laid out in a very spacious manner with plenty of space so you feel like there's enough privacy but also so that attendants don't bother you as they service other patrons.
One thing I also noticed here was that unlike almost every other theater I've been to - there was little to no noise-bleed between movies. This may have been circumstantial since we were there for Aquaman and next door was On the Basis of Sex and Vice which probably don't have loud explosions and fighting like ours did.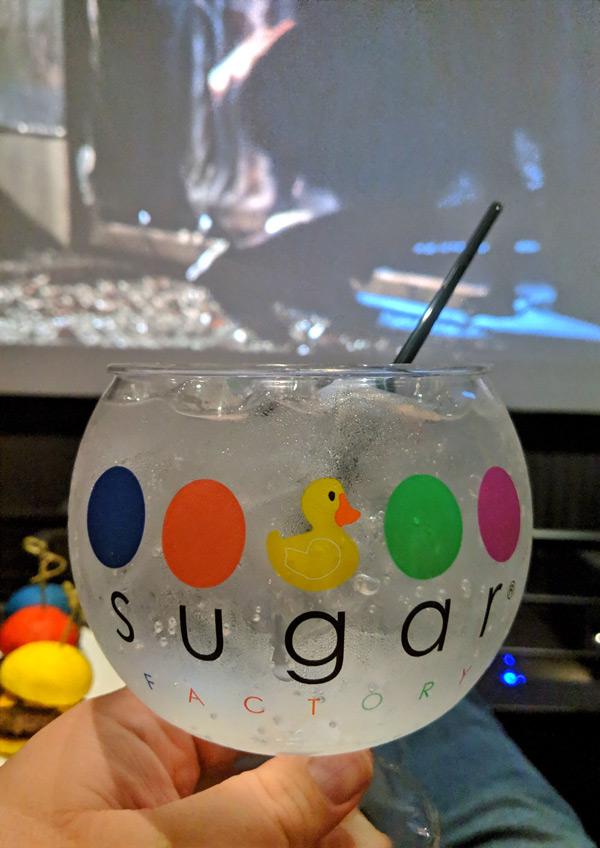 While pop ordered in the bar is served in normal restaurant-sized glasses, don't worry soda fans. You CAN get a giant goblet of pop to keep you hydrated all movie long!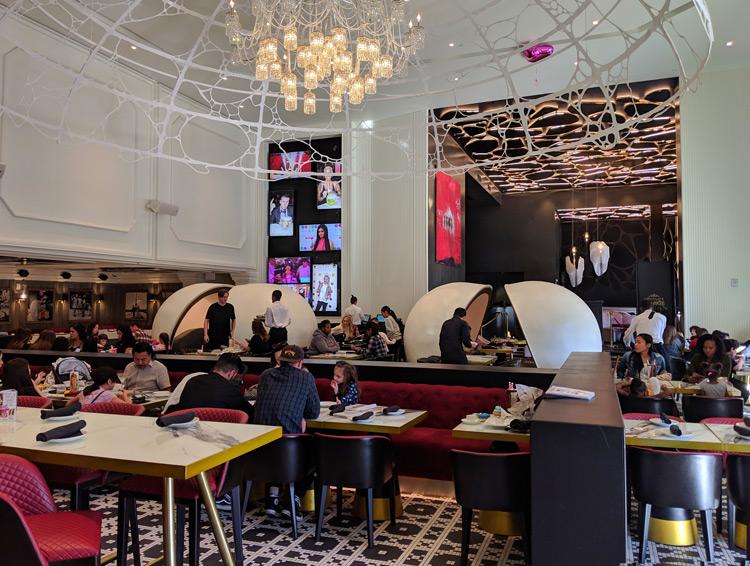 There are multiple bars and restaurants included in Theatre Box under the Sugar Factory brand. This one, Sugar Factory American Brasserie was an interesting mix of people. During the day, before our movie began (3 pm) there were a lot of families, but after the movie it was filled with a variety of people ranging from adult birthday parties and date nights to a handful of families. Even though it's a bar where there's alcohol the fun atmosphere worked for kids as well as adults.
They also have Chocolate Lounge where everything is about chocolate including Milk Chocolate Dipped Cocktails, dipped Chocolate Fruit, and Chocolate Fondues.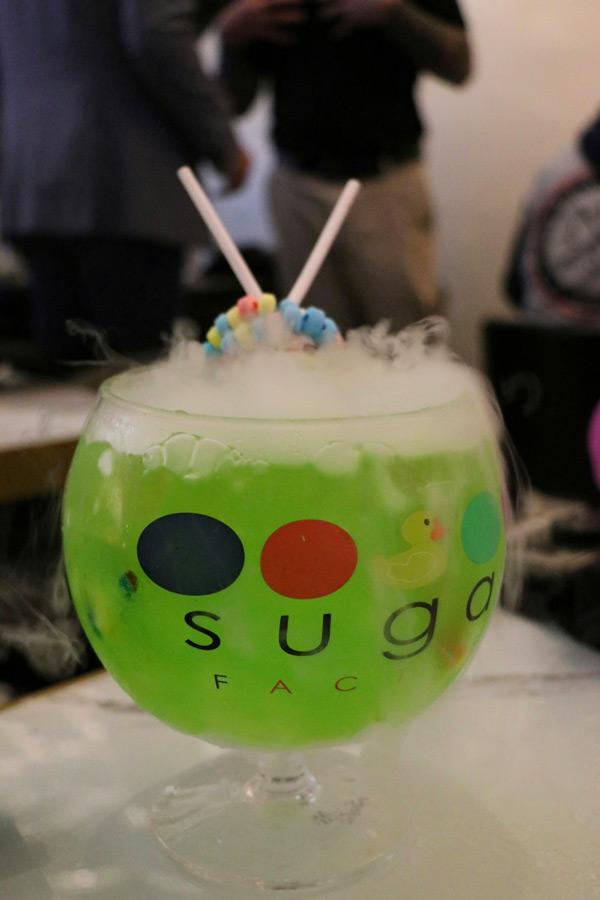 Sugar Factory is known around the world for its iconic Goblets where they combine brightly colored, super sweet drinks with candy and dry-ice smoke. We tried the signature Lollipop Passion and it included a blend of melon, coconut, and pineapple garnished with lollipops.
You can also order The Watermelon Patch - designed by Pitbull. That one includes a blend of Voli Vodka, fresh watermelon, lemon, and citrus soda topped with a mountain of gummy sour watermelon slices. Or if you want something spicy there's the Hot & Wild Spicey 305 Pineapple with Voli Vodka, pineapple juice, jalapeno, and blended chipotle pineapple garnished with gummy pineapple slices and spicy gummy hot chili peppers.
There are many more options available as well.
The creativity here is amazing and when the smoke starts flowing over the edge of the glass it makes the perfect topper for an amazing evening.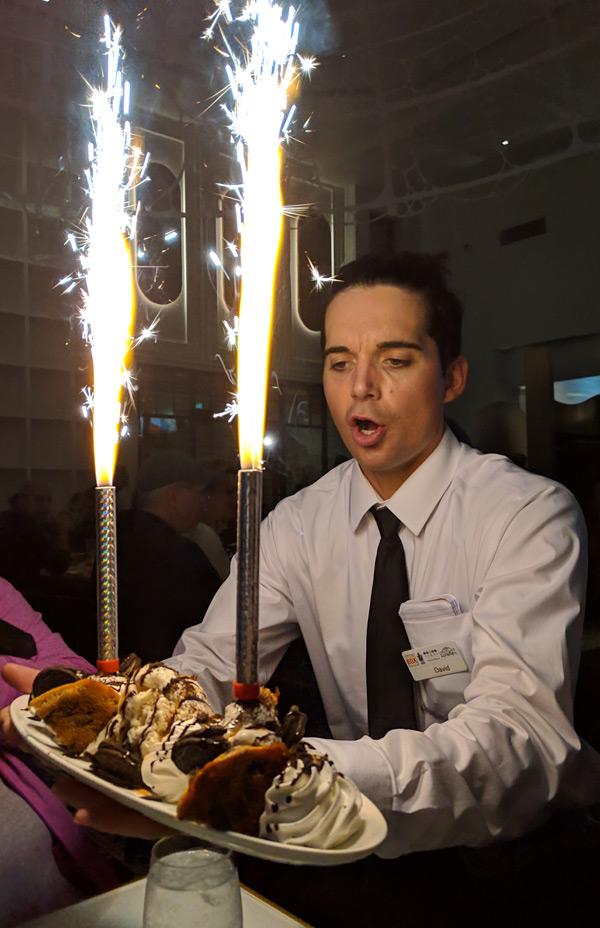 Of course, as amazing as the Goblets are - that's not the end of the story.
The dessert menu has a variety of sundaes and so we tried the Cookie Jar Sundae with scoops of cookies and cream as well as oreos and chocolate chip cookies wrapped around oreos - so good!
While some of the deserts come with the sparklers, you can add them for birthday or whatever celebrations as the staff sings to you.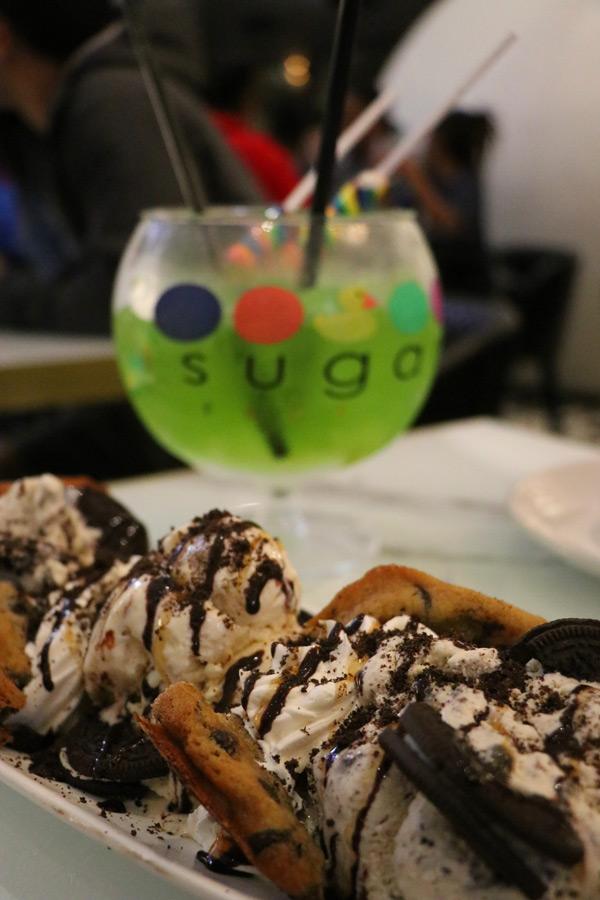 Once again, this dessert was top notch and I can see coming here just for ice cream.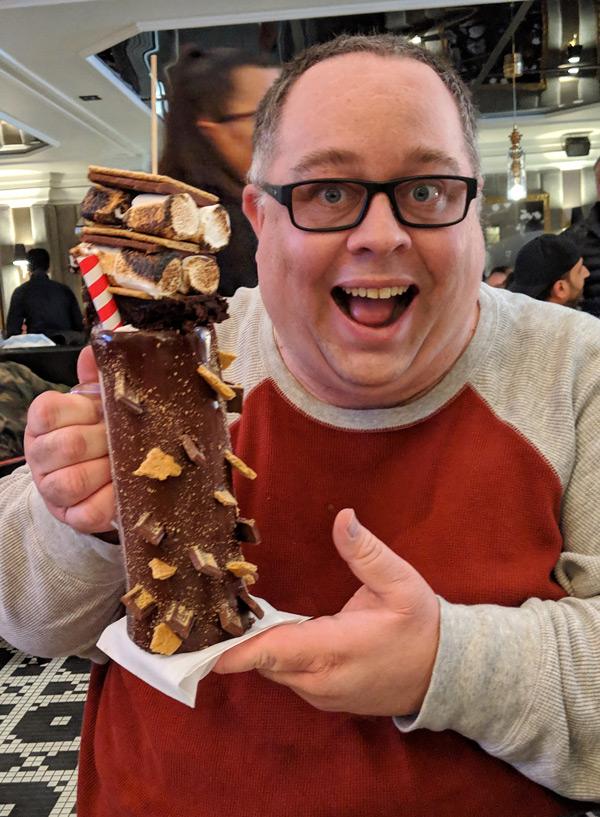 Despite my sugar high having hit levels I previously thought were impossible, I had to take one for the team and try one of their specialty milkshakes ...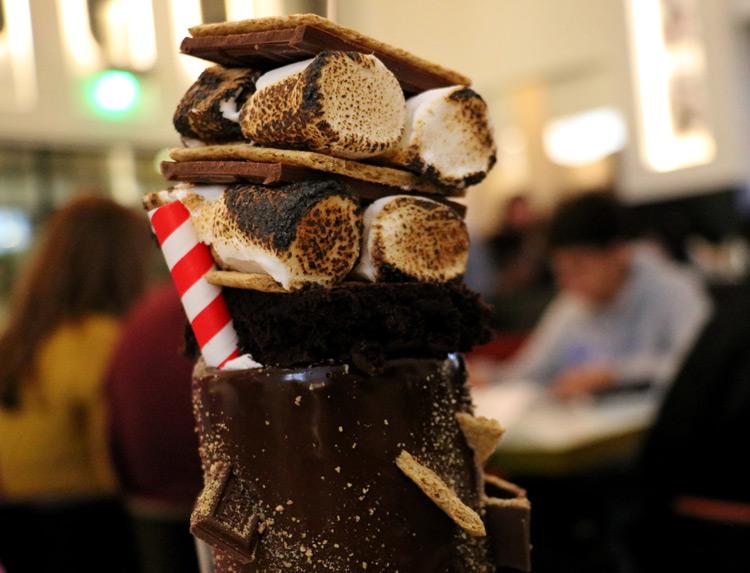 This one was the Campfire Spiked S'mores Milkshake and featured coffee and chocolate ice cream blended with espresso, toasted marshmallow, Virginia Black Whiskey, and topped with a seven-layer s'more cookie served on top of a brownie perched atop a mug covered with Hershey bar and graham cracker pieces. It's ridiculous and awesome at the same time.
We didn't have a chance to try the regular food items available at Theatre Box but orders of Chicken and Waffles, Donut Burgers, and tacos that passed our table made us regret not having room to taste more selections.
Theatre Box and Sugar Factory are an absolutely welcome addition to San Diego's Gaslamp neighborhood and while this was complimentary as part of our review, I know that I'll be returning soon.