When planning a guys weekend in Milwaukee, one thing that is likely at the top of your list is to visit a brewery. While most people will assume that means a stop at Miller, there are some incredible craft breweries here in town as well. The one we picked to visit during our Kia TurboCharged Weekend, was Lakefront Brewery and it happens to be one of the older craft breweries in the country.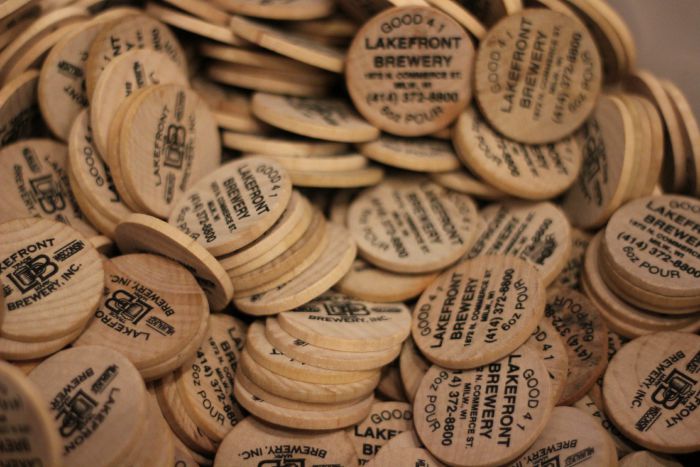 Ok, let's just pause here - you need to do the Lakefront Brewery tour!
Not only was it one of the most fun brewery tours I've ever done and for only $8 includes: A souvenir pint glass, four 6 oz pours, and a tour filled with bad jokes and a chance to reenact a scene from Laverne & Shirley at the end.
While a lot of breweries - especially on the West Coast - tend to be pretentious these guys were fun and approachable. They are still professionals, brewing up some of the best beer that I've tasted, but they recognize that it's beer and that should be fun!
When you first enter, they give you the tokens and this is your currency for the visit. However, if you are still thirsty though, they of course also accept credit cards and cash.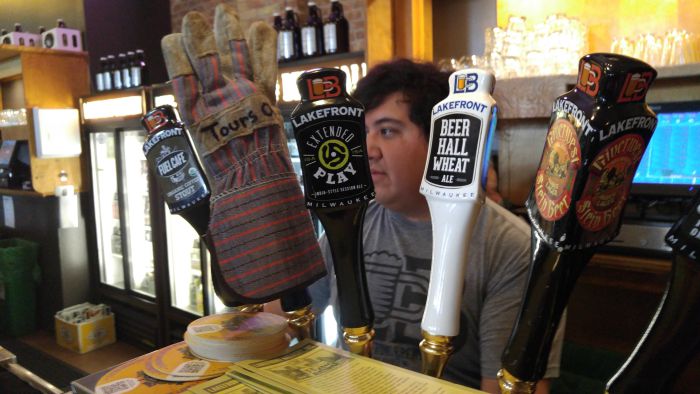 While waiting for the tour to begin, it's time to test out their different beers. I found the Growing Power - organic pale ale - to be exceptional. Though honestly everything I tried was great. Compared to my southern California IPAs though, nothing here was as hoppy, but it's good to give your palate a break and a chance to recover :)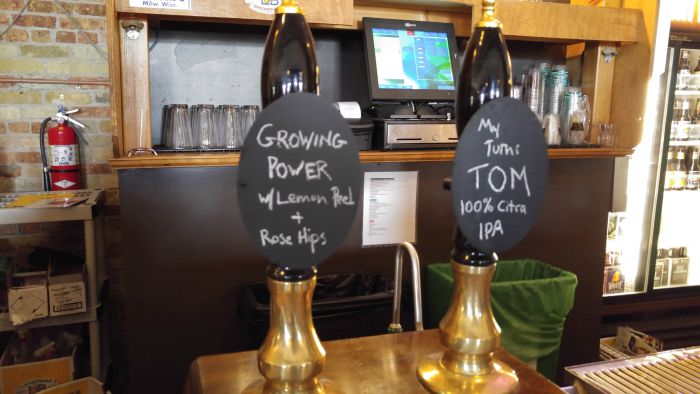 In addition to 4 stations with clusters of taps that are included in the tour, there were two specialty taps that unfortunately I didn't try but they both sounded very good!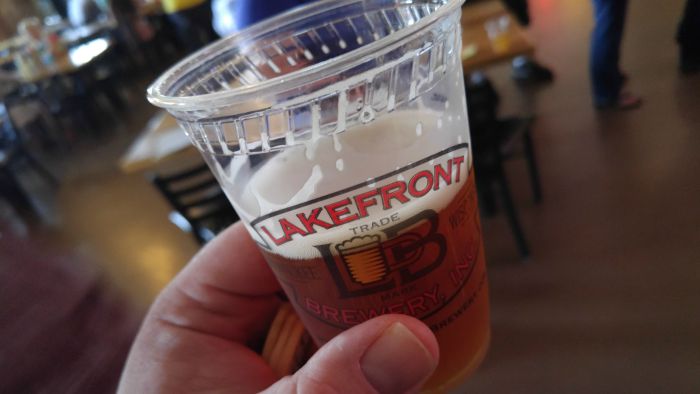 Before the tour begins, there is a huge open beer hall where you can order pretzels, sausages, and drink you beer - but make sure to save at least one token ...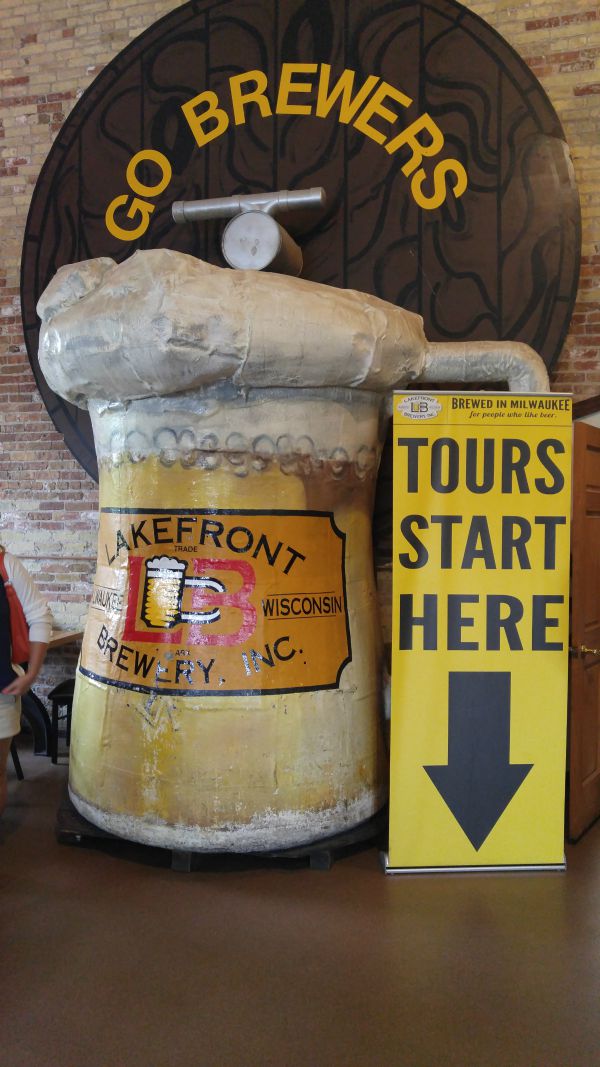 Brewers fans will immediately recognize this as the original Bernie Brewer beer mug. During Brewers games at the old park, Bernie Brewer (mascot) would slide down from his chalet and into the mug to celebrate home runs. With the opening of Miller Park though, Bernie Brewer has a new chalet and a new slide that isn't quite as exciting as what I am told the old one was like.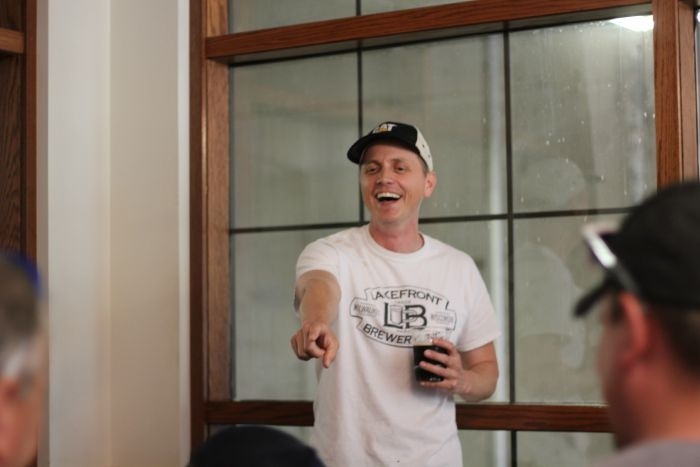 Lakefront Brewery is about more than just great beer - they are about helping to preserve Milwaukee. This manifests itself through saving artifacts from the past like Bernie Brewer's beer mug as well as the bottling line from Laverne and Shirley. In fact, the whole brewery itself is in a recovered building and they are committed to doing the "right thing" including offering Organic and Gluten-Free beers as well as focusing on Indigenous Brewing - featuring hops and barley from their home state of Wisconsin. Additionally, Lakefront was the second brewery in the country to offer a Pumpkin Beer and one of the first to bottle fruit beers since prohibition including their Cherry Lager.
The brewery itself is pretty standard - honestly if you've seen one brewery, you've seen them all.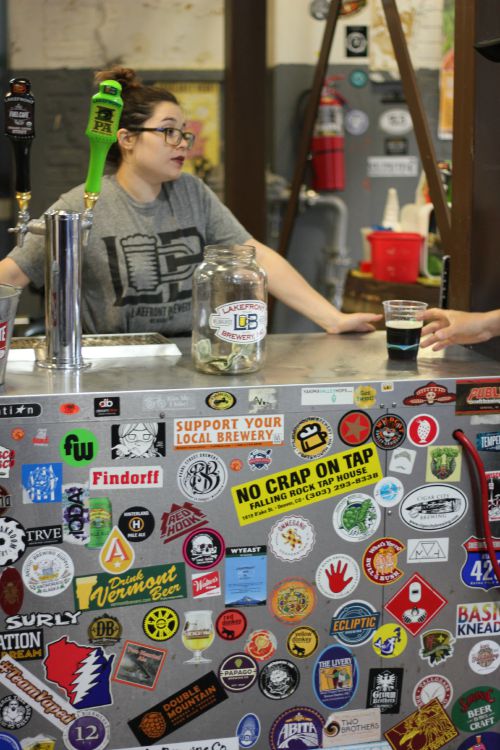 However, most don't have a bar half way through to grab another beer and I thought that was pretty nice of them on a hot summer day :)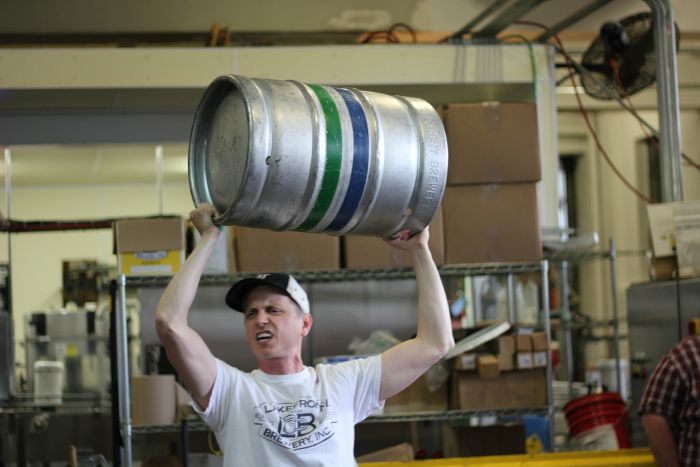 Just when we thought that the bad jokes were almost over, the tour guide started talking about "bungs", "bung holes", and ultimately picked a "bung queen" (on ours it happened to be a guy).
For those of you who don't know - a bung hole is the part of a barrel used to fill / empty the barrel and a bung is the stopper used to keep the beer inside :)
As you can see - the tour was a lot of fun, the beer was good, the people were awesome ... so we had one last question ...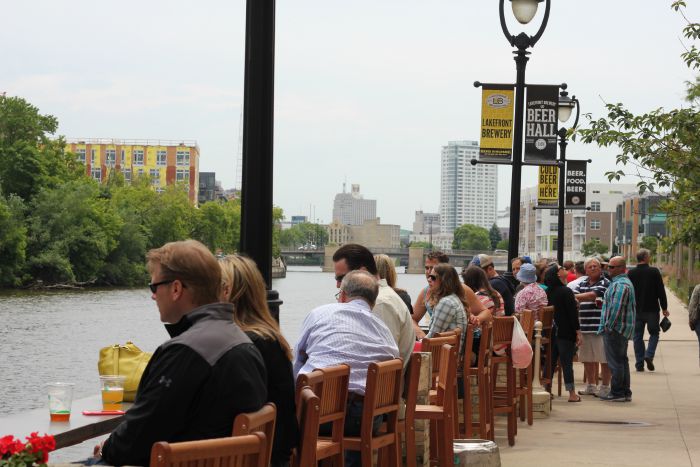 Why is it called Lakefront Brewery when it isn't actually on the lake?
Who knows ...
We're willing to overlook that one issue since they have an awesome seating area along the Milwaukee River, great beer, and great food as well as being very convenient to everything downtown.