If you're looking for the best steaks money can buy, you don't need to go to your local butcher shop. In fact, you don't even need to leave your house! There are a number of premium steak retailers online that offer an amazing selection of cuts and styles, all with the convenience of home delivery. So why should you buy steaks online? Let's take a look.
Why Buy Premium Steaks Online Instead Of Local Shops?
There are a few reasons why buying premium steaks online can be a better option than your local butcher shop or grocery store. First of all, the selection is often much better. When you're shopping online, you have access to steaks from all over the world, not just those available locally. This means you can find exactly the right type of steak for your needs, whether you're looking for a specific cut or style.
Meat Counter In Your Local Grocery Store
This category ranges from your local Kroger to Whole Foods as well as ethnic groceries which often have both better selections as well as more creative cuts. For instance, I know when I shop at Northgate Market here in San Diego - the selection and quality are both far better than what I can find at Ralphs.
Grocery store meat counters are great if you are just looking for a basic ribeye or some carne asada that is already pre-packaged or pre-cut and ready to be wrapped up for you to bring home.
Butcher Shop
I love visiting local butcher shops, the big advantage here is being able to talk directly to an expert who usually has a passion for procuring the best meat as well as offering premium cuts. For instance, while your grocery store might offer a ribeye, your butcher can often provide ribeye cap steak as well - especially when given advance notice.
Online Premium Meat Retailers
Online meat retailers on the other hand have the ability to stock a vast amount of diverse meats and cuts. Most Americans historically have simply assumed that there were four different types of beef based on USDA categories - Prime, Choice, Select, and Standard.
As you will find though from browsing our list of places we love to shop for steaks online, the world has changed!
Today's market for beef is just as sophisticated as whiskey.
Just as connectors will notice nuanced - but distinct differences - between small-batch bourbons ... the same is true when comparing wagyu steaks from Colorado vs Japan vs Australia.
This Is Not About Saving Money - It's About Being A Beef Connoisseur!
This isn't a conversation about saving money. This is about being a beef connoisseur who wants to find the best cuts and have them quickly delivered directly to your door. If you're like me and are looking for the perfect steak to match your premium wine then these are the places you should be shopping.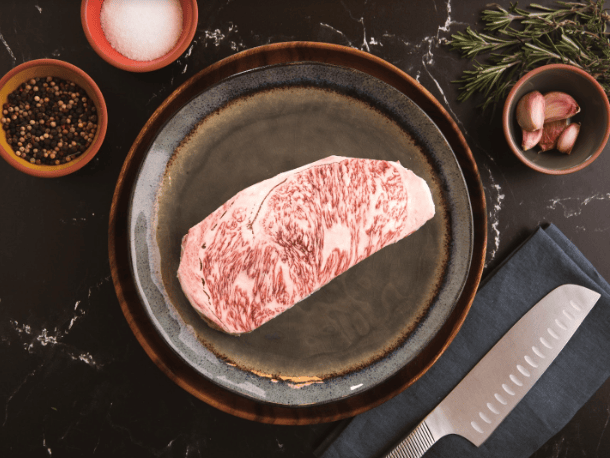 For instance - when you look at sites like like Holy Grail Steak Co. you'll find gems like the first-ever U.S. shipment of authentic Japanese Maezawa beef from Ogata Farm in the Iwate prefecture in Japan (arguably the rarest wagyu in the world). Now, this "hidden jewel of wagyu" is available for at-home delivery exclusively from Holy Grail Steak Co.
This marks the first time that Americans can buy this incredibly rare beef stateside. The heavily marbled beef has an unbelievably buttery taste, thanks to the fact that the Maezawa cows are fed a diet of beer, whiskey, tofu, honey and soy. It's even commonly referred to as the "toro of the land". The full lineup includes A5 and A4 ribeyes, New York strips, and filet mignons, starting at $129.
They sent us a sample and it is every bit as good as you might imagine!
Holy Grail Steak Co.
https://holygrailsteak.com/

Here you will find a team of professionals who are truly passionate about steak. They make it their business to connect with individuals who are this enthusiastic and are excellent in their craft from farmers to ranchers. Here you will find a deep passion for the quality and consistency of steak!
Pat LaFrieda Meats
https://shop.lafrieda.com/

At La Frieda, you will find only the freshest All-American raised meats that have been grazed in optimal conditions for the best tasking steaks around. The Custom engraved tomahawk is a delicious and innovative option to consider here. It's truly a unique experience with a professional engraving result on the bone. It is 40 oz and you can get a personalized message engraved!
Fossil Farms
https://www.fossilfarms.com/

Here you will find leaner and healthier proteins that are delicious and well-prepared. Not only that, but you may run into some exotic meats on this website like alligator or kangaroo. Rest assured, they give you delicious steak options here that are mouth-watering and high-quality. If you're looking for alternatives to red meat then there are many options here to choose from that will be beneficial!
Steaks And Game
https://www.steaksandgame.com/

At Steaks and game, you will enjoy the freshest cuts of prime beef and other meats from the most reliable professional ranchers around the world. You will get incredibly tender results here as you know that it has been sourced efficiently. Some exotic options are also featured here if you're looking for a new food tasting experience that will be challenging and fun!
DeBragga New York's Butcher
https://www.debragga.com/

One of the distinctive features of debragga is that you will be getting meat that can't be obtained from your local market. This is some truly exquisite steak that tastes how it should without the added hormones and unnatural raising methods. All the livestock are raised humanely and naturally which is becoming rarer these days. Here you can enjoy a selection of delicious steak cuts according to your preferences!
D'Artagnan
https://www.dartagnan.com/

At D'Artagan you will find some of the most delicious steaks around because they are sourced from smaller family-owned farms with a higher standard. This means that the cattle are raised in optimal conditions for a better quality steak. They are expertly crafted with natural ingredients that don't pose a threat to your health. There is a great emphasis on steak flavor here that can't be ignored!
Porter Road
https://porterroad.com/

Here at Porterroad there are many options to choose from with meat that is sourced from reliable farms for a delicious and safe experience. There is a great emphasis on how the cow is raised here and better conditions are ideal. The sheer amount of variety here is enough to set them apart from others and the flavors are savory and delicious.
My Chicago Steak
https://www.mychicagosteak.com/

There is a special offer where if you're really craving the meats where you can get 24 free burgers! Here you can shop by cut and get some of the finest steaks around with precision and freshness. Here you will find a quality that extends back to generations of the past who have upheld the same high standards regarding overall meat quality.
Allen Brothers Steaks
https://www.allenbrothers.com/

Here you will find some excellent steaks with different possibilities for gourmet meals that will impress all critics! High quality is stressed here and you will find immense versatility on their menu. Fish is available along with the wild exotic game that would be interesting to try. Steakburgers are also a delicious option to consider if you're looking for a middle ground.
Lobel's Of New York
https://www.lobels.com/

At Lobels you will have something new and fresh with the meat of the month. Here you will get an old-fashioned experience that stays true to a wonderful tradition of steak excellence. They have an extensive selection process that sets the meats here apart from other locations. It's truly special to have a steak from here because of the extra attention to detail. Everything is fresh and hand-cut with accuracy.
Omaha Steaks
https://www.omahasteaks.com/

One of the original innovators of online steaks and still one of the best. Omaha steaks have some of the finest cuts around with increased attention to the finer details from farm to table. There has never been a more staple classic to consider than Omaha steaks and they are continually innovating today. They specialize in bringing you premium meats that have been professionally raised. What sets them apart is their superior experience in the industry and they have what it takes to continue thriving!
Mr. Steak
https://mrsteak.com/

Steaks are supplied by the best professional ranchers who are nothing short of perfection. Here you can eat like a chef and enjoy meats that are top quality and promote a sense of well-being. What is truly unique about this company is that it spans back into the family through tradition. The art of grilling traveled to each generation and it is still a staple in the industry with impeccable flavor!
Greensbury
https://www.greensbury.com/

All of the meat at greensbury.com is sourced from natural farms where the animals are not exposed to antibiotics are growth hormones. If you're looking for the most organic experience then this is your best bet. There is nothing but organically raised and processed meat here where they have lived a humane existence. You will also find seafood here to consider, but the steaks are definitely the go-to. These farmers take careful measures to ensure optimal quality across all meat through sustainable methods.
Snake River Farms
https://www.snakeriverfarms.com/

This company specializes in giving you an experience with no-nonsense from the ranch to the table. Here you can find the most naturally raised cattle in a farming atmosphere where they spend a lot of time outdoors with a sustainable diet. Something interesting about this operation is that they have been implementing technology to raise their livestock in a positive manner. This helps them to get a consistent grade of beef each time and sharpens their craft by fine-tuning the process. You will enjoy a delicious steak here that transcends reality with more advanced quality and precision.