There are a lot of great gift ideas you can get for the men in your life but there's one that is my new favorite. Meat By Mail! Allen Brothers sent us a box of bone-in ribeyes this week and while I was initially skeptical because they arrive frozen, I'm convinced now that this is probably one of the best gifts for guys who love to grill.
Allen Brothers has been serving the restaurant industry for more than a 120 years - since 1890, so they know something about great steaks. This isn't some mail-order company that discovered there were great margins to be made by selling steaks - these guys know their shit with procurement as well as packing and shipping so that it gets to you in perfect condition. With the exception of Japanese Kobe and Wagyu Cabassi, all of their beef is sourced exclusively from US ranches. In addition to the bone-in ribeye that we got, they have pretty much every other chop that you can imagine as well as burgers, dogs, and sides.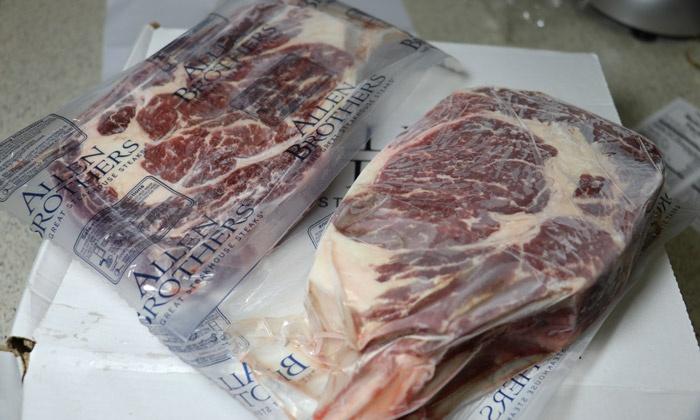 Our box from Allen Brothers arrived with a styrafoam cooler inside with a pack of dry ice on top of the box that contained the steaks. Each steak was individualy wrapped and there was even an "inspected by" card on top that just goes to show how much attention to detail these guys provide. While it's strange to have steaks that were frozen, it wasn't really that big of a deal - I put two in the freezer and two in the refrigerator where I thawed them over a two day period. Once completely thawed I unwrapped the chops, rinsed them off and let them warm up before putting on the grill.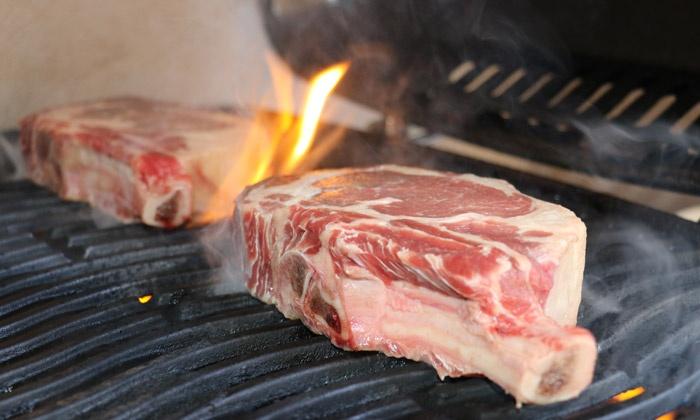 My only real concern here is that one of the chops was substantially thicker than the other. However, that worked out in our favor since Heather prefers her meat more done than I do. However, as you can see, the marbling on here is simply phenominal and there was almost zero gristle. This was simply one of the finest steaks I've ever had outside of a chophouse.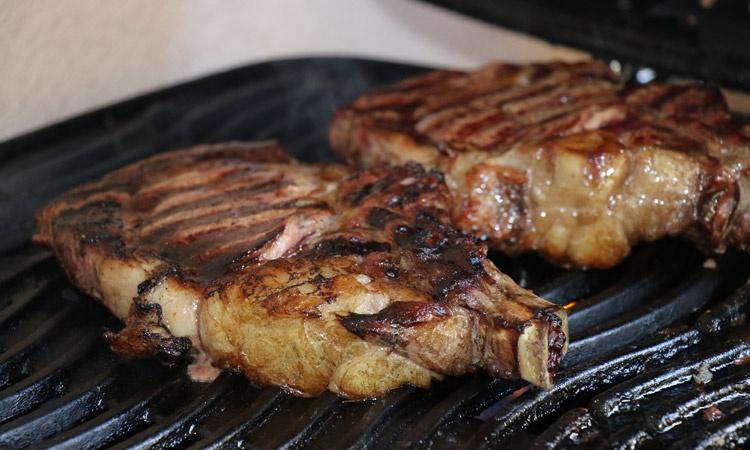 This is not a cheap gift. However, I love that it hits all the things that make a gift for men special:
It's delicious food that is a (huge) step above what you will probably ever buy yourself.
It gives the recipient an opportunity to be the alpha male and King of the Grill as he provides for the family by grilling up dinner.
It's something to share and trust me - after tasting one of these ribeyes, everyone in your office is going to know you got Allen Brothers for Christmas.
At $199.95 for four 16oz bone-in ribeyes this should be an obvious gift.