Cruising is one of the least tapped into mancation opportunities, but in reality to provides a great opportunity to party all day, see exciting sites, eat great food, and try things you maybe haven't tried in the past. We sailed on the Carnival Victory out of San Juan earlier this month and were absolutely impressed by what Carnival has to offer!
With steak every night on the menu, some of the best beaches in the world, a bar around every corner, a chance to explore a new local beer and rum each day, and the opportunity to watch sports outdoors on a giant screen while waiters bring drinks right to you ... can life get any better?
About the Carnival Victory:
At 101,509 gross tonnage, the Carnival Victory is not the largest ship on the seas, and it certainly isn't the smallest either. I found it to be a very nice size that featured an almost perfect compliment of dining and entertainment options. On the larger and newer ships, you will start to see "for-pay" speciality restaurants, but on Victory, everything from the 24-hour pizza shop to the sushi bar (located in the casino) was free.
This, my second experience cruising was WORLDS apart from last time. (See our review of the Royal Carribean Grandeur of the Seas,) I have NOTHING but WONDERFUL things to say about the entire Carnival organization. While the experience wasn't "perfect" I feel that this ship really had it together and from the time I booked my trip till the time I departed that Carnival was focused on providing their guests with the best experience possible.
There are multiple examples of this, but perhaps the largest one was that the way Carnival handled Tropical Storm Maria. Instead of just telling the guests to "make due" (as I sort of expected), they opened the phone lines so people could call home, they offered free Internet so guests could email their family and allay any fears or potentially rebook hotel etc. plans that might be interrupted. They also made regular updates via the PA system and notes left in the stateroom as to what the current status of Maria was and what the Captain's plans were.
In general though, Carnival really lived up to its moto of being the "Fun Ships". Staff was super friendly and there was always something fun going on - from hairy chest contests to trivia challenges.
For those of you who might be bartenders, there was even a mixed drink contest where the winner became a mini-celebrity for the week since the winning drink was featured at all the bars.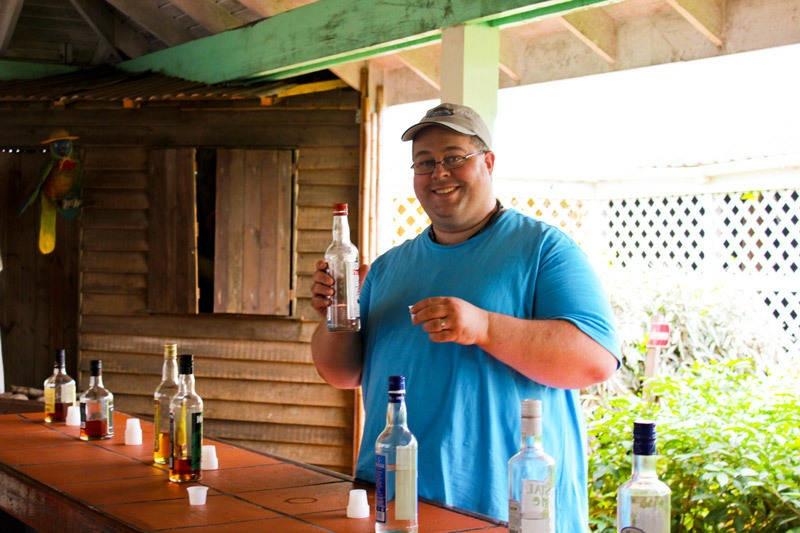 On top of this of course, you have fantastic shore excursion opportunities at stops including San Juan, St. Thomas, Barbados, St. Lucia, St. Kitts, and St. Maarten (though that was canceled due to Maria on our trip).
At each of these stops you can partake in activities ranging from sailing tours, visits to rum distilleries, snorkeling, swimming with dolphins, or just relaxing on a beach with some local cuisine and a bottle of local beer. (I recommend Piton in St. Lucia!)
Balcony Stateroom Review - 6-364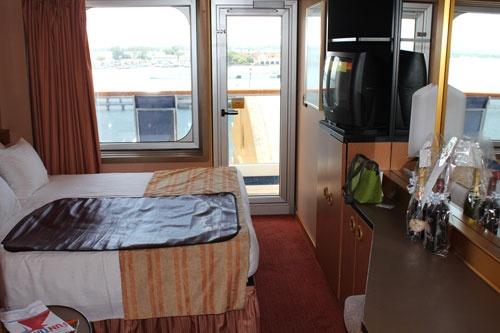 Cruise ship staterooms are always remarkably small, but I am told that Victory has some of the largest in the industry and it didn't feel cramped at all. There was plenty of room for the bed as well as a couch and table for enjoying room service at!
The balcony was also quite nice and the bathroom didn't seem as cramped as I was expecting either. (Though my shower at Turtle Bay Resort felt absolutely wonderful to be able to stretch my arms out!)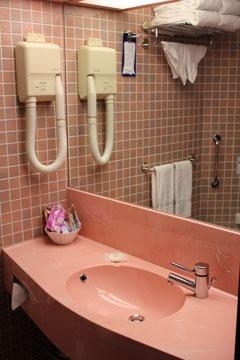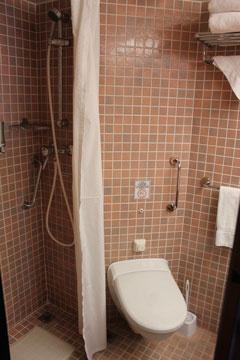 One of the other nice things about Carnival that I think should make it a serious contender for anyone considering a cruise mancation is that you can actually order bottles of liquor that will be placed in your stateroom when you arrive. No more trying to sneak booze on board!
Granted, this 1L bottle of Gosling's Black Seal rum cost $40 when you can probably find it at a duty-free shop for under $20. However, it was extremely nice to be able to add a little extra rum to the drinks onboard or just sip some at the end of the day! Other spirits were also available for a similar cost through the Bon Voyage department.
Regarding alcohol on board, one of the surprises was Carnival's new Thirsty Frog Red. This is is their own private label beer and while it is manufactured by Anheuser Busch it had a delicious flavor that was completely refreshing and at $5.50 / pint it was also affordable.
On the newer ships, they actually have a full pub designed around the beer, but on Victory, Thirsty Frog was available in the Atrium bar and a few other bars on the ship.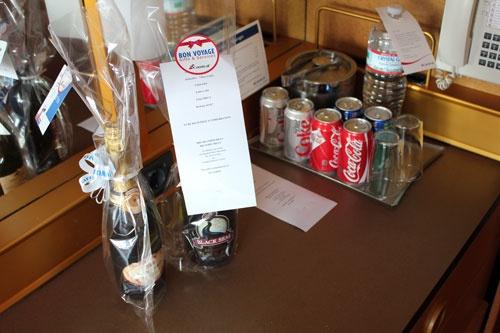 Adults Only Serenity Area:
Another nice touch on Victory and the newer Carnival ships was a private - adults-only retreat. "Serenity" - unlike other "adults only" areas on other ships actually stayed pretty good here. It was nice to escape from the kids yelling and splashing in our very own hot tub and plenty of lounge chairs to relax in and watch a sunset or just take a nap.
Food and Entertainment:
Remember how I mentioned that Carnival was living the "Fun Ships" motto? Their waiters and kitchen staff are living that as well.
While virtually every ship has the occasional "Singing Waiter" or "Congo Line" shtick, on Victory it was almost every night and the waiters seemed to be having a blast entertaining their guests.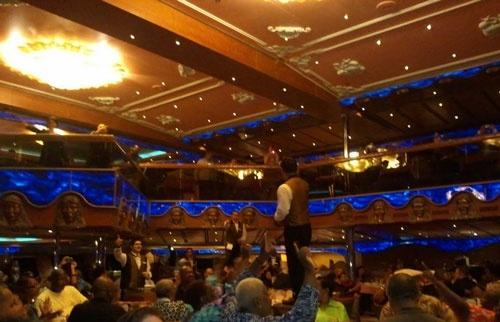 In addition to that, the menu followed in Carnival's "Didja Ever" campaign, featuring an exotic appetizer. These included frog legs, sushi, escargot, and other items that you might have always wondered about, but never tried. This added fun and excitement to the experience.
Of course, like almost any ship, if you want to eat steak or fish every night that is always on the menu. In fact, if you are like me and love your surf and turf, why not combine them!
The relatively small portion size almost made me wonder if that is the intention. Planned or not, it is just another reason why I loved this ship!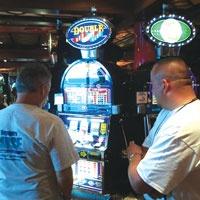 Of course, no ship is complete without a casino and Victory is no exception.
I am not typically a gambler, but they introduced me to the concept of a "Slot Pull". Each player puts in $20 and then the group takes turns "pulling". At the end the group splits the winnings (or redistributes what's left).
In our case, over two nights we ran about $600 into the ground - finishing off with an impromptu roulette lesson after we gave up on the slots.
(Word to the wise - if you think you'll hit it rich, on the slots, think again. Cruise ships have SUPER TIGHT slots).
Regardless though, hanging out in a group, drinking Thirsty Frog and drinking Gosling's Enhanced BBC drinks, while cheering, laughing, and crying was a blast and I heartily recommend including it in your future mancation activities!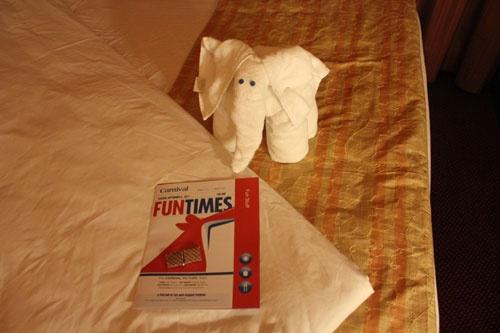 At night, we always found a towel animal waiting, along with a mint and the next day's schedule of events.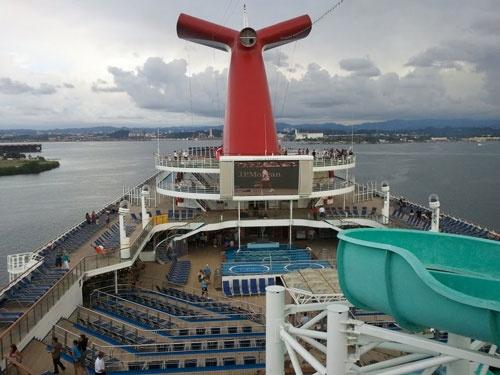 Finally, one last thing that makes the Carnival Victory a great mancation idea is the opportunity to watch sports outside on a giant screen while sitting in a hot tub!
While we were on-board, they showed Monday-night Football, Tennis, and other programming. On other nights, they showed movies and concert videos.
In all honesty, this was the cruise that was going to decide if cruising was something I wanted to do more of.
After this experience, I can say ABSOLUTELY I will cruise on the Fun Ships again in the near future!