Any time of year is a great time to visit Disneyland but Fall and especially Halloween is an extra special time of year here. The park is all dressed up and there's some awesome new treats each year plus a few unique attractions that are only available for a few short months before it goes into full "Holiday" mode. Disneyland gave us a couple passes to check out the fun, so we stopped by the park and did a quick walk through of a few different areas that you won't want to miss. Let's check it out!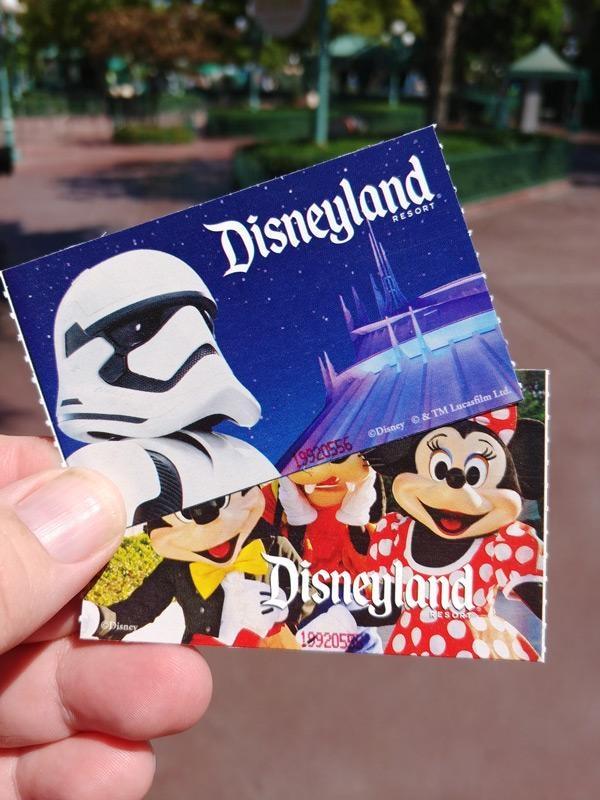 The first thing that I want to talk about here is that Disney is not just about kids. Over the past few years they've added a ton of stuff that's great for guys here at Disneyland, including Star Wars and Marvel attractions and Disney's California Adventure has some great cocktails at Carthay Circle, Wine at Sonoma Terrace and even six craft beer on tap at Bayside Brew. Plus with the launch of Pixar Pier there's some awesome thrill rides that while kids will enjoy ... are thrilling even for adults. In particularly, the Incredicoaster and The Pixar Pal-A-Round, which is a ferris-wheel-style ride where the gondolas swing back and forth for a pretty thrilling experience.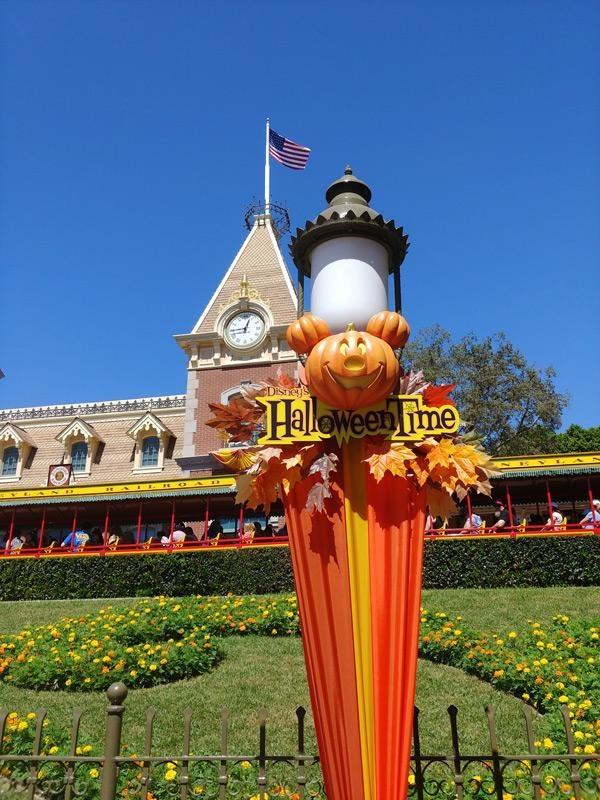 While there's almost always new stuff at Disneyland, it's important to remember the classics and that's why I always start my trip here with a walk down Main Street - or possibly a ride on the Disneyland Railroad. It's just classic, so make sure to enjoy these parts as well as iconic rides like Pirates of the Caribbean, and the Haunted Tiki Room as well. While they aren't usually decorated seasonally ... they are always fun to visit. BTW - coming next year there will be a new Hawaiian restaurant right next to the Tiki Room too!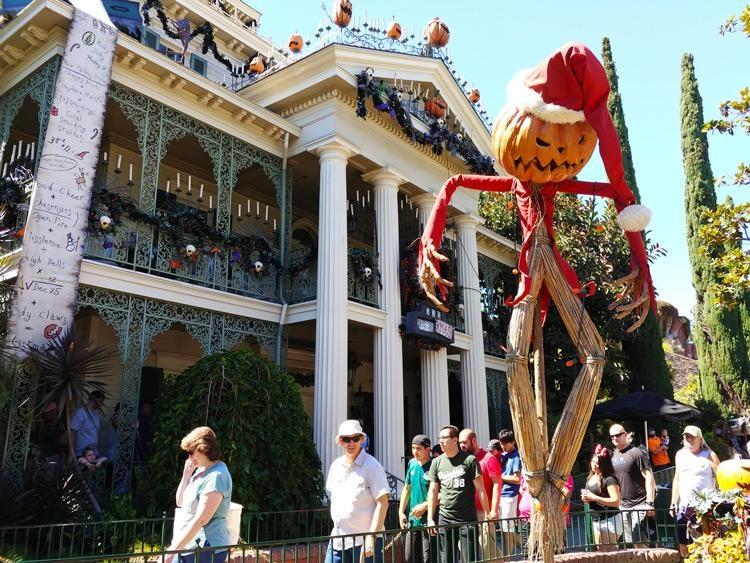 When Disneyland does dress stuff up though ... OH BOY! Once again, the Haunted Mansion is an absolute classic but at Halloween through Holliday time, it is transformed into a completely different experience. Instead of the normal ghosts and ghouls, you'll find Jack Skellington and his friends have taken it over for a Nightmare Before Christmas experience.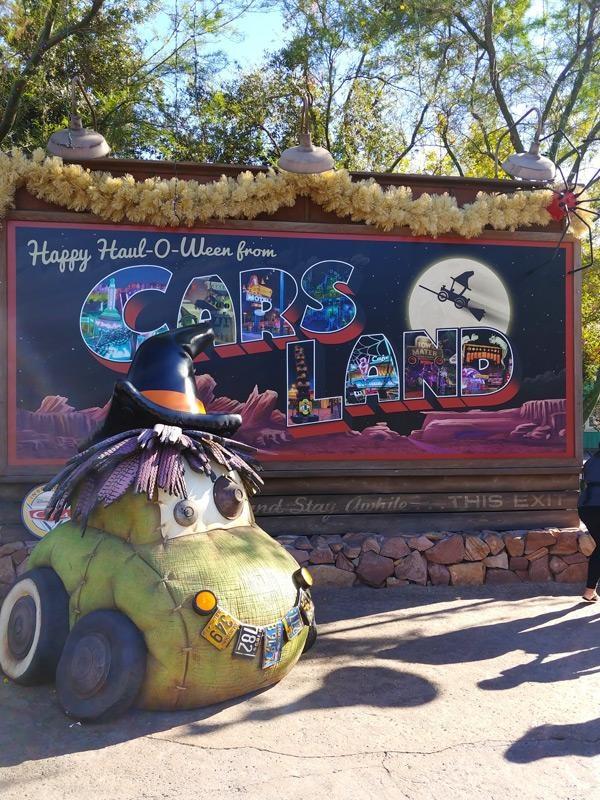 Next, we decided to head over to Cars Land where it too was decked out for Halloween. Or rather ... Haul-O-Ween!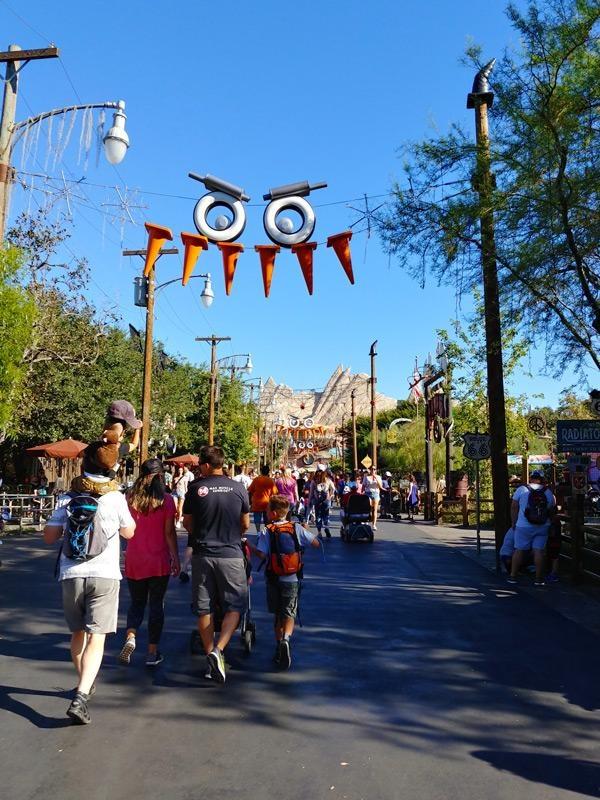 Disney really is magical ... whether it is old familiar stuff, completely new attractions (Star Wars Land is coming in 2019!!!), or simply familiar attractions with new looks, I just love to visit Disneyland.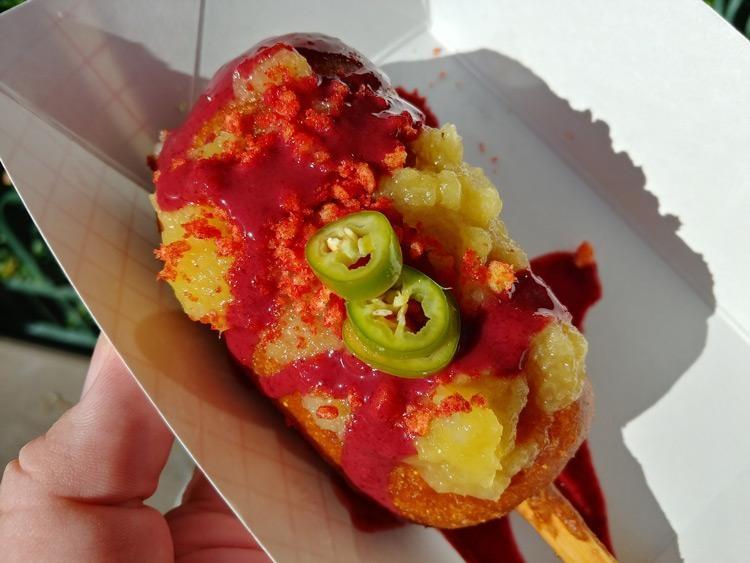 And while attractions are great ... food is awesome too!
While you can find familiar items, at Halloweentime there's unique creations like this "Spicy Pepper Jack Dog" at Corn Dog Castle ... While it might look and sound scary, it was truly one of the most delicious treats I've had in a long time. This huge chunk of fried pepper jack on a stick was drizzled with blackberry sauce and topped with pineapple salsa, pickled serranos, and crushed cheese puffs.
Other treats you won't want to miss include:
Churros - From candy corn dipping sauce found in Frontierland to the Sour Apple Churro in Tomorrowland to the Pumpkin Spice Churro in New Orleans Square and Cars Land, you could make an entire visit just touring the churro carts here.
Mickey Mummy Macaron - (photo in header along with the Graveyard Cupcake) found at the Jolly Holiday Bakery Cafe on Main Street
Poison Apple Mug - found on mainstreet is also super cool
Cookies and Cream Funnel Cake Fries - found at Award Wieners
There's so much more that I can't even fit in this post, so make sure to visit the Disneyland website for more details!
More Photos from Halloween At Disneyland and California Adventure ...
{lightgallery type=local path=images/stories/disneyland-halloween-2018/halloween-disney-gallery previewWidth=160}Halloween at Disneyland and California Adventure Photo Gallery{/lightgallery}