There are some awesome long-distance bicycle routes in the US that you can try out this spring and summer. To complete these routes you must be an advanced cyclist with proper training.
However, the joy of bicycling is that you can bite off as much or as little as your physical stamina will allow. So use these as inspiration and know that the five-mile stretch you enjoy today could lead to a trip lasting weeks in the future.
Long Distance Bicycle Touring Is A Great Way To Explore America
In our modern lifestyle we sometimes focus too much on getting from one spot to the next as quickly as possible. Even on road trips by car we choose to roll up our windows and close the sunroof so we can go just a bit faster and just a bit more insulated from the outside world. When you explore one of these long distance bike trails on two wheels though ... it is an opportunity to see small towns and historic sites that you may have otherwise missed. It's a chance to explore rolling hills of the midwest or flat terrain of long desert roads. Wherever your adventure takes you though, bicycle touring provides the opportunity to stop and savor the moment in a way that other sorts of travel simply don't allow for.
While there isn't really an official definition of what defines a long distance bike trail, it is generally accepted that anything longer than 100 miles are considered long trails.
Rail Trails Offer A Great Place To Start Exploring Long Distance Cycling
The United States was once a great rail nation but today, we've been blessed that converted railroad beds are becoming rail trails instead. While many of the ultra long trails offer once in a lifetime opportunities ... exploring a rail trail offers the chance to do the entire route or just a small portion for more novice cyclists.
Long rail trails in the US are still evolving and it is a work of passion by a variety of rail trail organizations to open more of them. Currently though, there are more than than a dozen long trail trails in the United States. This includes Missouri's Katy Trail State Park, offers 240 miles of trail following the Missouri River as well as other parts of the state and is a great opportunity to explore the history of the state.
Other Notable Long Distance Trails
Palouse to Cascades State park Trail in Washington State (229 miles)
Cowboy Trail in Nebraska (219 miles)
Soo Line Trail - Northern Route in Minnesota (148 miles)
Soo Line Trail - Southern Route and Saunders State Trail in Minnesota & Wisconsin (114 miles)
Columbia Plateau Trail State Park in Washington State (130 miles)
Paul Bunyan State Trail in Minnesota: (119 miles)
Flint Hills Nature Trail in Kansas: (117 miles)
OC&E Woods Line State Trail in Oregon: (110 miles)
George S. Mickelson Trail in South Dakota: (109 miles)
State Line Trail in Michigan: (107 miles)
Wild Rivers State Trail in Wisconsin: (104 miles)
As work continues to bring life back to these abandoned railways, I'm sure that the longest rail trails will continue to evolve.
TransAmerica Bike Trail
This one is looooong. Really long! The TransAmerica Bike Trail is all of 4262 miles and it starts from the Atlantic Coast in Virginia and goes to the Pacific coast on Oregon. It is, therefore, qualified to be referred to as a coast-to-coast route and crosses the Continental Divide.
You will pass through the heart of the USA, the Rockies and by the time you make it to the Pacific coast in Oregon, you will be glad that you tackled this route. Along the way are parks, stops, mountains, and many other things to see. You will see why this trail, started in 1973, has been growing in popularity ever since. You can expect the terrain to change from flat river valleys to mountains and so on.
Mississippi River Trail Bicycle Route
Just as its name suggests, the Mississippi River Bike Trail follows the river for about 2000 miles. Imagine that, 2000 miles of riding along the mighty Mississippi River starting from the source of the river in Minnesota and going through the wonderful countryside and eventually terminates at the delta of the river in New Orleans.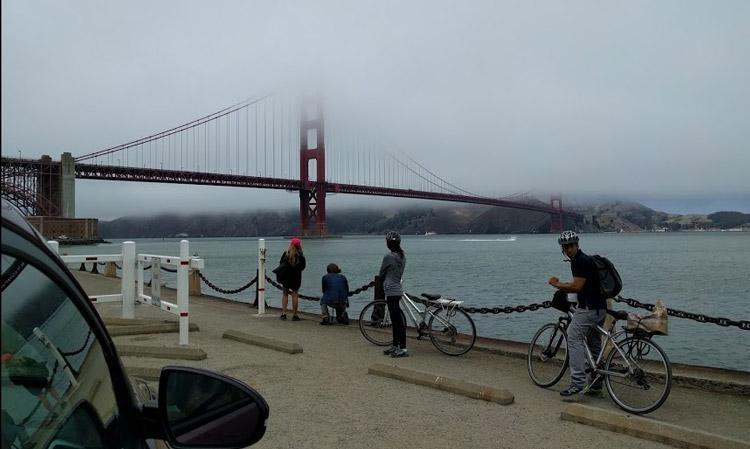 Pacific Coast Bicycle Route
The Pacific Coast Route takes you through some of the most awesome scenery in the USA. You will start at the Washington-Canada border and then cycle all the way to San Diego and the best thing about it is that the route follows the shore of the sea, so you should have a nice time enjoying many stopovers along the way and the fresh breeze of the sea blowing on your face. The length is 1,853 miles, but you can extend it further to British Columbia in the north and Mexico in the south.
Lewis & Clark Bike Trail
Looking for a challenging trail that has a little of everything? If yes, the Lewis & Clark Trail for cyclists has the right kind of challenge and thrill for you. It is named after the two explorers who were given the duty of surveying and mapping the land that was acquired in Jefferson's Louisiana and the trail follows their route to the Pacific from the Great Plains.
This trail is long, all of 3252 miles from Hartford, Illinois to Portland Oregon, but you can also break it into 8 maps with the first leg being Hartford to Council Bluffs which measures 554 miles. The shortest route in the Lewis & Clark Trail is the Missoula, MT to Clarkston, Washington which measures 245 miles. Expect all manner of terrains for this trail, from mountains to rivers, flat lands and so on. However, the experience will be out of this world.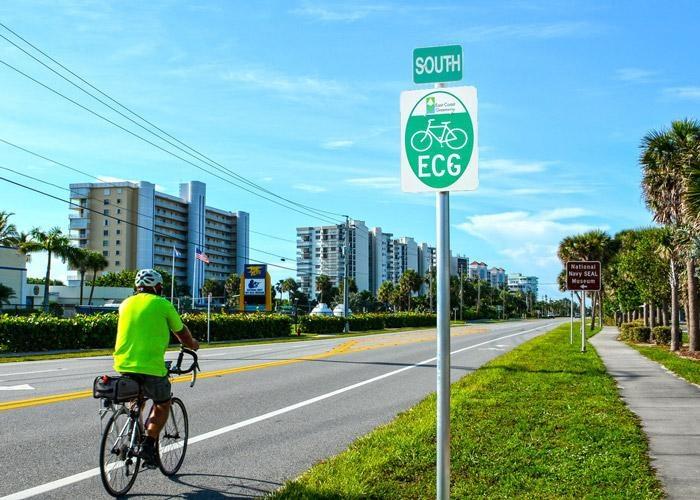 East Coast Greenway
The East Coast Greenway measures about 3000 miles, connecting 15 states, 450 cities and towns, and will be the longest single trail biking and walking route in the United States. It is intended to link Key West, Florida and Calais Maine. This trail is totally car-free and will allow a cyclist to travel the entire route without being in danger from motorists. This is accomplished through a combination of road-side right-of-ways and dedicated paths.
The Great Divide Bike Trail
The Great Divide Bike Trail is all of 2,696 miles long and it is best for advanced cyclists. While that is true for all long distance bike trails, The Great Divide Bike Trail is a special challenge as it is made of gravel. The Great Divide Trail is a single track on most of the miles and it also comprises of old railroads that have been converted to a cycling track. As you cycle, you may not notice it if you have a good bike, but the route eventually gains a lot of elevation, up to 11,000 feet!
The Underground Railroad Bicycle Route
This is for people who would like to cycle through a route that has history and character considering that the Underground Railroad is the original underground routes that were used by Africans escaping slavery before, during and after the civil war. A journey along the Underground Railroad Bicycle Route It is a good learning experience for you as you enjoy a great time on your bicycle. You should love every bit of the 2028 miles that make up this trail. It really is not underground, it just means it is little known.
Denali Highway
This 100+ mile bike trail in Alaska has a reputation for being one of the loneliest of all the long distance bike trails and is only open from late May till the first snow in the fall. Unlike other trails that you might try in the lower 48, since this is such a remote trail it can also be one of the most challenging due to a combination of weather related erosion and lack of services.
Great Allegheny Passage
The Great Allegheny passage offers 150 miles of biking through historic sites along the Erie Canal towpath and natural beauty of the Allegheny mountains from Pittsburg, PA to Cumberland, MD. This trail is one of the most beautiful in America, especially in the fall when the leaves begin to turn.
Online apps with trail routes are a great resource the Adventure Cycling Association has some great printed route maps that can help inspire you and your next adventure.