Osteria Panevino is set in the heart of San Diego's Gaslamp Quarter and while there is no shortage of restaurants here, it's always fun to find ones I haven't been to before.
The restaurant is designed to evoke the best of an authentic Tuscan osteria complete with brick walls and chalk boards on the walls with specials, a great wine list ranging from $25 to $900, sidewalk seating and of course bread as well as a full menu featuring homemade pasta, steaks, seafood, and of course gourmet Italian desserts.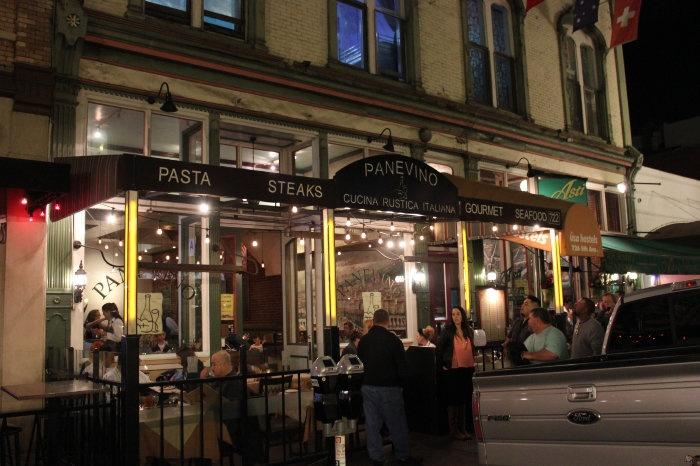 Outfront, like most San Diego Gaslamp restaurants, Osteria Panevino has a few tables that are great for people watching.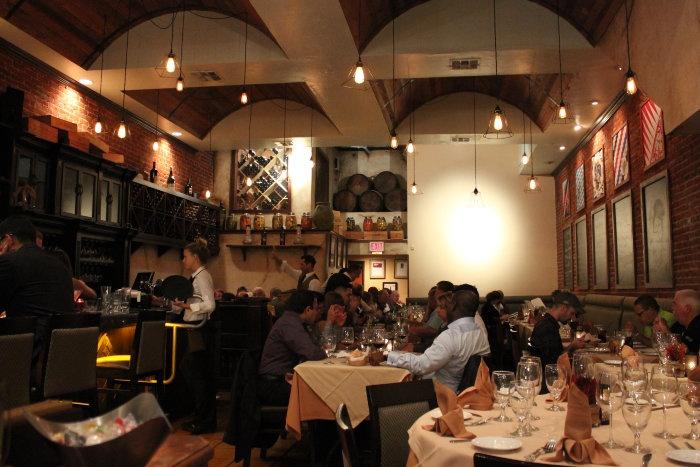 Inside the restaurant consists of one big room with tables that can be divided into individual spots for a couple or a long table for a group of 20 people (as there was the night we were there) as well as the table next to us that sat 8 people.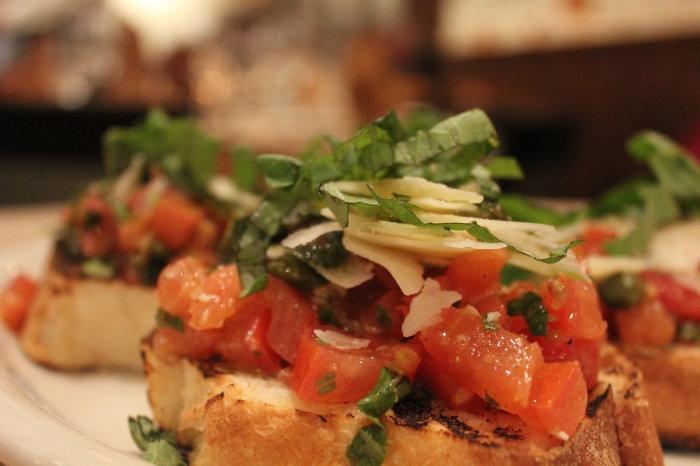 Our meal began with the classic Bruschetta Con Pomodoro. While virtually everyone has their own preferences, this was one of my all time favorite bruschettas.
The bread was gently toasted and piled high with tomatoes, big chunks of diced tomatoes, capers, basil, olive oil, and a generous amount of parmigiano shavings. Also served on the plate were olives and that was a nice touch too.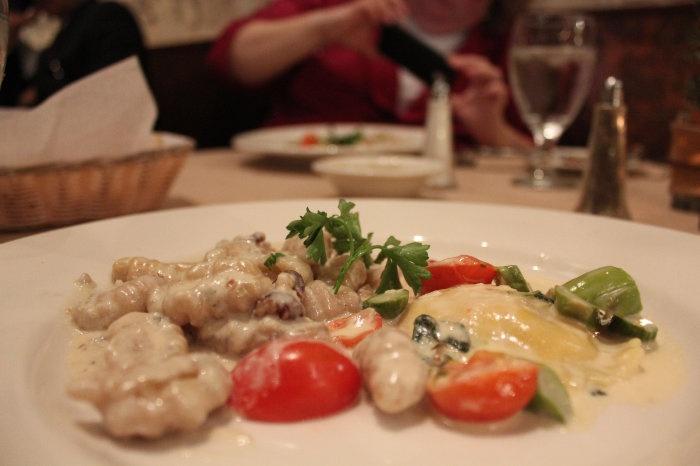 Next we went on to sample two of their pastas. Our waitress Sabrina informed us that the pasta course could be served as an entree or split between the table as a course and we could also combine a couple different pastas together as part of that course.
Most of their pastas here are made fresh daily, including their Gnocchetti Crema di Noci and their Ravioli including the Ravioli di Aragosta e Asparagi (above).
Both of these were remarkable for both the quality of the pasta and in the case of the creamy walnut sauce with gorgonzola cheese on the gnocchetti it was absolutely out of this world.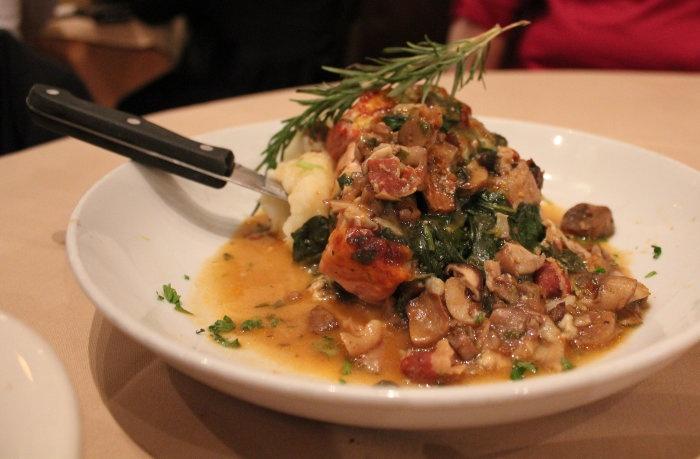 For her entree, Heather chose the Arrosto di Maiale Ripieno - Roasted pork loin stuffed with spinach, bacon, provolone cheese, and a rosemary mushroom sauce.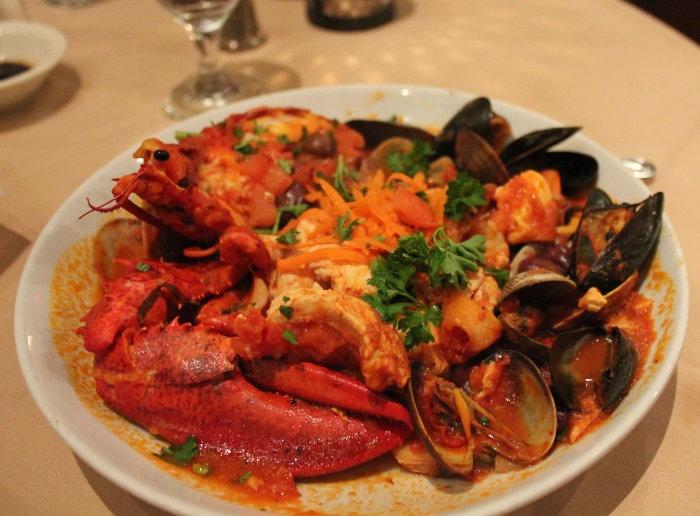 I on the other hand LOVE cioppino and so I had to go with the Cioppino Livornese.
For those of you who have never had it, imagine that you could take all the best flavors of the sea (Clams, Mussels, Calamari, Maine Lobster, and Fresh Fish) then put them in a spicy tomato broth along with olives, capers, and garlic. What you get can be absolutely heavenly.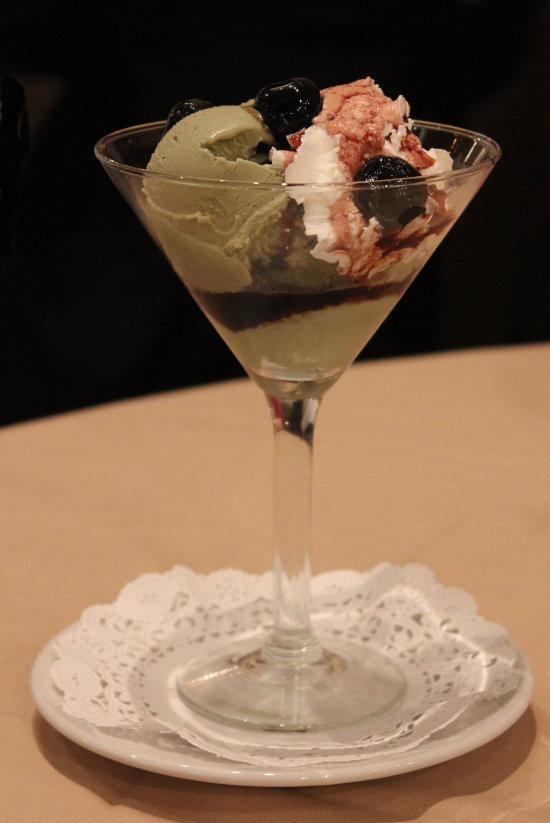 Finally, for dessert we split the pistachio gelato with cherries and fresh made whipped cream. This gelato was fresh made from the restaurant's partner just down the street at the Chocolat Cremerie and was fantastic. The perfect way to end the evening.
So, "How was it?" ...
Service was exceptional, both friendly and efficient with refilling water glasses and clearing dishes when they were done. Our waitress has been here for more than 10 years and so it is nice to see a place where a job like that can been a career vs something someone does for a few months between other gigs.
The atmosphere was fantastic as well with a warm and eviting environment to enjoy food, wine, and good company.
Our food was fantastic as well - except oddly the main courses were both overcooked though not to the point where it would be turned back. However the sauce on the pork loin was amazing and the broth on my cioppino was fantastic as well (though I wish there was more of it). If it wasn't for the fact that at $37 for the cioppino and $28 for the pork I would expect it to be absolutely perfect, I probably wouldn't have even noticed.
Everything else though was absolutely delicious and I'd have no problem recommending this as a place to take a client to during a convention, a group of guys doing a San Diego guys weekend, or for date night on a romantic getaway.
Our meal was provided by the host, but our bill would have been ~$110 for two people, not including alcohol or drinks.
Osteria Panevino is open for breakfast, lunch, and dinner. It is located at 722 5th Ave, San Diego, CA, 92101.