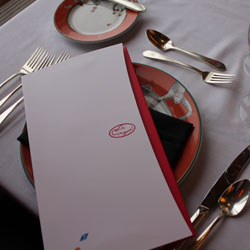 Recently Heather and I had the pleasure of attending a special "Pop Up Series" of An Evening with Le Cirque events across the country. Ours was located at the Mid-America Club in Chicago, a SPECTACULAR venue set 80 floors above Chicago with gorgeous views that matched the fabulous flavors and plating that Le Cirque is known for.
In the event that you have been living in a hole for the past couple decades, Le Cirque is one of the top rated restaurants in the world - not just for it's food and service, but also for the whimsy that it presents.
This was evident immediately in the monkey pattern on the signature china that awaited us when we sat down to the table and then immediately evident in person when we met Sirio's son, Marco Maccioni. Marco was walking around greeting guests with colorful anecdotes about the family, the restaurant, and his excitement to have finally visited Chicago for his first time!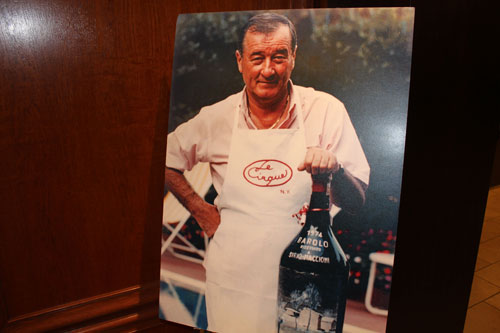 While Le Cirque now has locations in a few different cities across the world, if you don't happen to live in New York, Las Vegas, New Delhi, or on a beach at Casa de Campo (Dominican Republic), this is a fantastic way to get the experience without leaving home. For me, it was an experience that placed Le Cirque and it's sister restaurant Osteria del Circo on my "must do" when I visit New York later this year!
Clubs holding "An Evening with Le Cirque" events:
Mission Hills Country Club (Rancho Mirage, California): March 9
Citrus Club (Orlando, Florida): March 16
The Mid-America Club (Chicago): March 23
Center Club (Costa Mesa, California): April 6
The Downtown Club (Houston): April 13
Tower Club (Dallas): April 20
The University Club Atop Symphony Towers (San Diego): May 11
City Club on Bunker Hill (Los Angeles): May 18
Buckhead Club (Atlanta): May 25
Silicon Valley Capital Club (San Jose, California): June 1
Price at our Chicago event was $150 ++ per person and includes wine, dinner and a copy of Sirio: The Story of My Life and Le Cirque.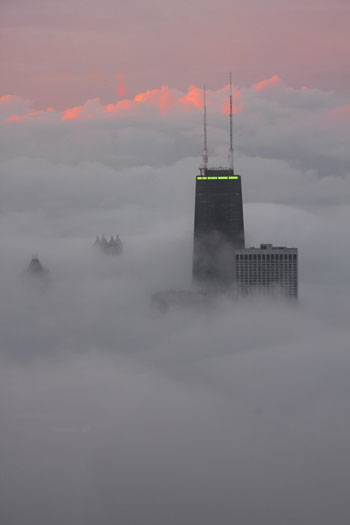 Our view was initially shrouded in clouds, but as the evening progressed, the clouds began to abate - by the time our meal was set to begin, the tops of buildings began to emerge from the clouds, affording us this spectacular view of the Hancock building and the fading rays of sunlight bouncing from the clouds.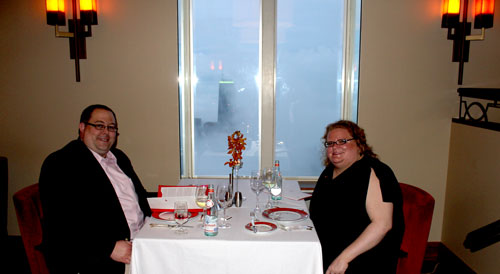 One of the challenges with events like this is that the staff is not 100% the same as would be in the normal restaurants, but to its credit the Mid-America Club shined this night with fantastic service that you would expect of a dining experience of this caliber.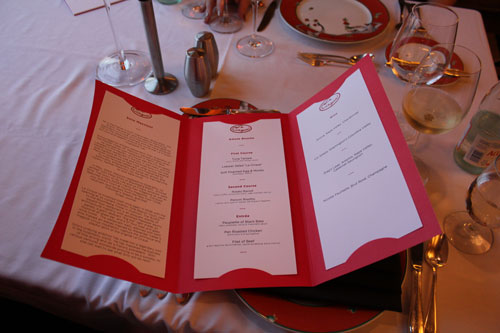 Our dinner menu featured selections that Le Cirque is world famous for and some of the top wines from California and Washington State.
Marchesi Antinori, which has been making wine in Italy for 26 generations, offered its Antica Napa Valley Chardonnay from the Antinori family estate on Atlas Peak. Two additional Antinori wine projects, crafted in partnership with Ste. Michelle Wine Estates, were also poured: Col Solare (a Cabernet-based blend from Washington's Columbia Valley) and Stag's Leap Wine Cellars ARTEMIS (Napa Valley Cabernet Sauvignon). Champagne Nicolas Feuillatte Brut Rosé from France rounded out the wine selections as our final pairing and served with desert.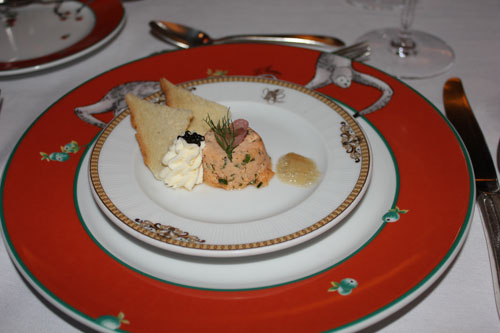 Our dinner began with an Amuse Bouche that featured an interpretation on bagels and lox with creme cheese.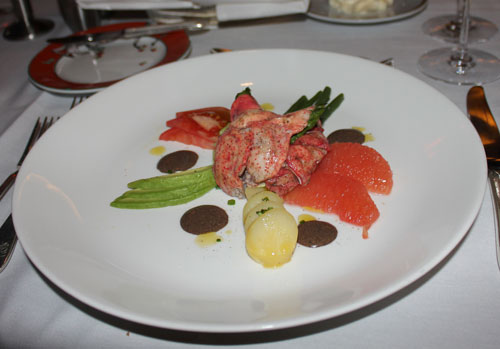 For our First Course, the choices were:
Tuna Tartare, with curry, fennel, and mango sauce
Lobster Salad "Le Cirque" (pictured)
Soft Poached Egg & Morels, with asparagus, chervil.
Both Heather and I selected the Lobster Salad and it was delightful.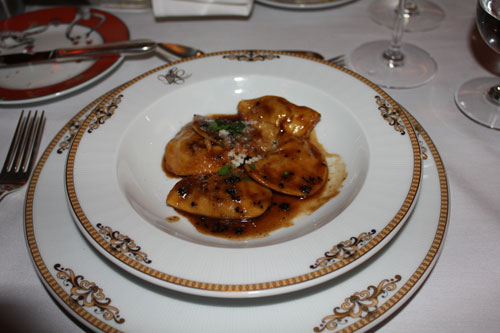 Four our Second Course, choices Included:
Potato Ravioli, with black truffle, prosciutto cotto, and sage scented veal jus.
Porcini Risotto, with vialone nanon, porcini daube, and parmigiano reggiano.
I had the Ravioli (pictured) and Heather had the Risotto. While both were delicious, both of us agreed that the risotto was clearly our favorite.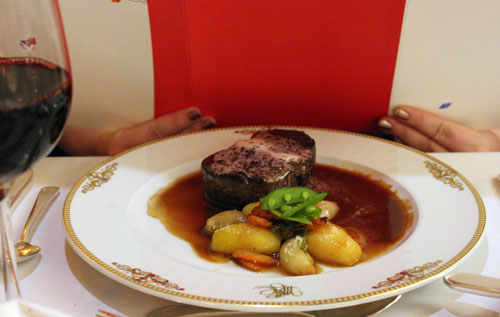 For our Entree's, choices Included:
Paupiette of Black Bass, with leeks, potatoes, and rocca di frassinello sauce
Pan Roasted Chicken, with petits pois a la bourgeoise
Filet of Beef, with gratin legumes de printemps, sauce bordelaise, and bone marrow
Our waitress recommended the Filet (and that was a fantastic recommendation), but to add variety, I chose the Black Bass and Heather chose the Filet.
Both were delicious and presented beautifully, however our attendant was spot on as the Filet was clearly our favorite as well. While the Black Bass was maybe a little on the dry side, the Filet was cooked perfectly and while Heather prefers medium and I like medium rare it was still juicy and made my mouth water for another bite off of Heather's plate.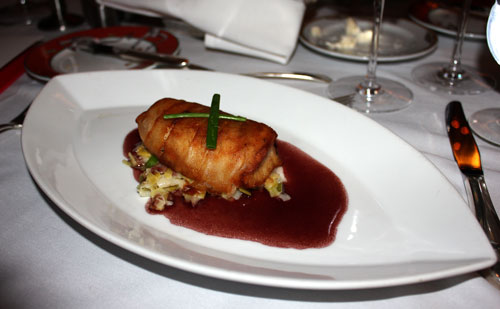 The stand-out moment of my Black Bass though, was the bed of leeks that the fish sat on. These were perfectly cooked, nice and buttery, and did help to add in some of the fattiness and flavor that felt missing from the fish itself. Similarly, the sauce was spectacular and served the fish well.
This is sometimes the fun of fancy cuisine, in that the guest gets to explore the layers of flavors, ultimately creating a unique and memorable experience.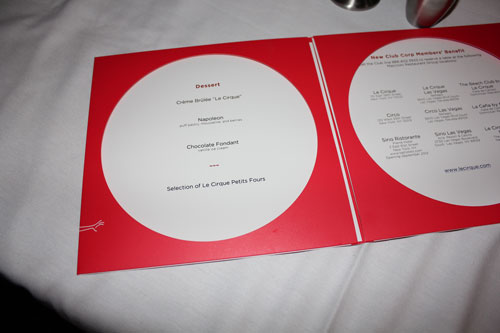 Our Desert selections Included:
Creme Brulee "Le Cirque"
Napoleon, puff pastry, with mousseline and berries
Chocolate Fondant, with vanilla ice cream
We were also presented with a Selection of Le Cirque Petits Fours
Both Heather and I LOVE Creme Brulee and had heard amazing things about Le Cirque's. We were NOT disappointed.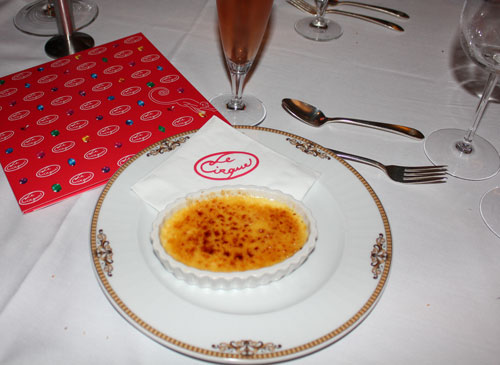 In fact, we were DELIGHTED to discover that as we spooned away bite after bite of the desert, we were in fact uncovering the recipe, which was printed at the bottom of the ramekin.
This again reflects the sense of whimsy and humor that Le Cirque is known for, and that makes a dining experience memorable.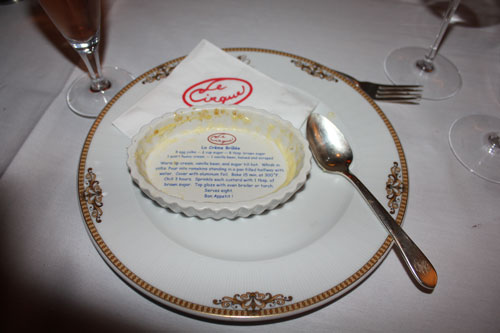 In case you were wondering ...
Le Cirque Creme Brulee Recipe:
According to the bottom of the ramekin, the following recipe serves eight ...
Ingredients:
8 egg yolks
[how much] cup of sugar
8 tbsp of brown sugar
1 quart heavy cream
1 vanilla bean, halved and scraped
Directions:
Warm up creme, vanilla bean, and sugar till hot. Whisk in yolks. Pour into ramekins standing in a pan filled halfway with water. Cover with aluminum foil.
Bake 15 min. at 300 degrees Fahrenheit.
Chill for 3 hours.
Sprinkle each custard with 1 tbsp of brown sugar
Top glaze with oven broiler or torch.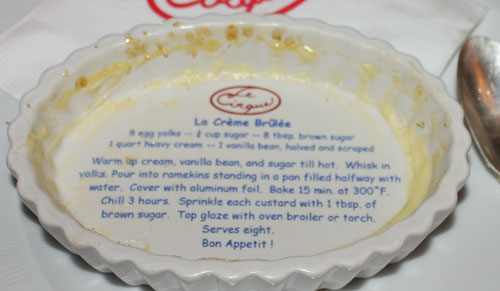 Our final stop on our culinary tour through chef Olivier Reginensi's menu was the selection of Petit Fours.
They were the perfect way to end the evening.
Before leaving, our friend, Regional Manager Michael Lucero, for Club Corp (and former F&B Manager from Abbey Resort) escorted us around the Mid-America club to show off some of the spectacular views now that the clouds had cleared. Below is the view from the club, looking south across Grant / Millennium Park and into the South Loop neighborhood.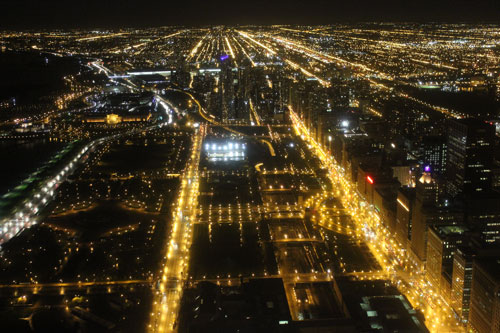 This is the view from the Men's room - certainly one of the most SPECTACULAR views that I have ever had while washing my hands!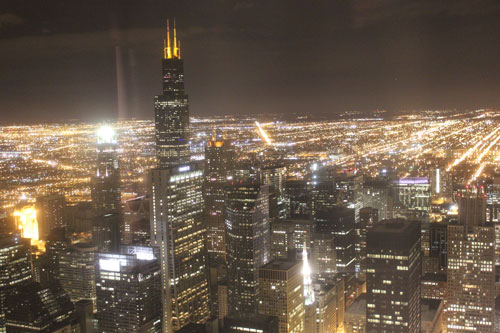 Finally, our evening was completed with a copy of Sirio's book, the documentary A Table In Heaven, and a box of chocolates.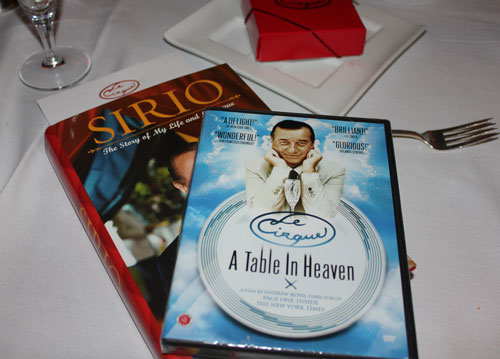 If you are in one of the cities that this traveling event is going to be visiting, I heartily recommend checking it out. It is a fantastic opportunity to try something special and your wife, girlfriend, boyfriend, or husband will enjoy being treated to a world-class dining experience.
Of course, at the end of the day, if this evening did nothing else - it made me want to go experience the full Le Cirque experience next time I am in NYC!