What's better - new mega boats or the smaller, older ships like the Carnival Ecstasy? While I can't answer the first part, I can say that the Ecstasy is an extremely fine ship and was as clean and polished as the much newer Carnival Victory that we sailed on a few months ago. This trip was Heather and I's "test" to see if we "really liked cruising" and I have to say that the Ecstasy and her staff passed with flying colors - Heather and I even executed our "future cruise" deposit, so now we are committed to sailing again!
This cruise wasn't fancy, wasn't long, and wasn't expensive. It was however a perfect post holiday romantic retreat.
Small Ships are Great Too!
The general wisdom seems to be that the newer ships are always better, but this may not be true. The Ecstasy is about as old as they come - having being in service since 1991 (the second oldest ship in Carnival's fleet!). It is only 70,367 gross tons and carries only 2,634 passengers at max capacity. Compare this to the Oasis of the Seas at 225,282 gross tons and carrying 6,296 at max capacity. Despite this, the ship felt almost new on the inside and impeccably clean. While the Ecstasy does not have the bells and whistles that the new ships do, if you are looking for a comfortable ship that is your floating hotel between stops at the beach, then this is perfect. In fact, the smaller size was actually sort of nice since we could easily walk anywhere within only a few moments.
more photos from our Review of Carnival Ecstasy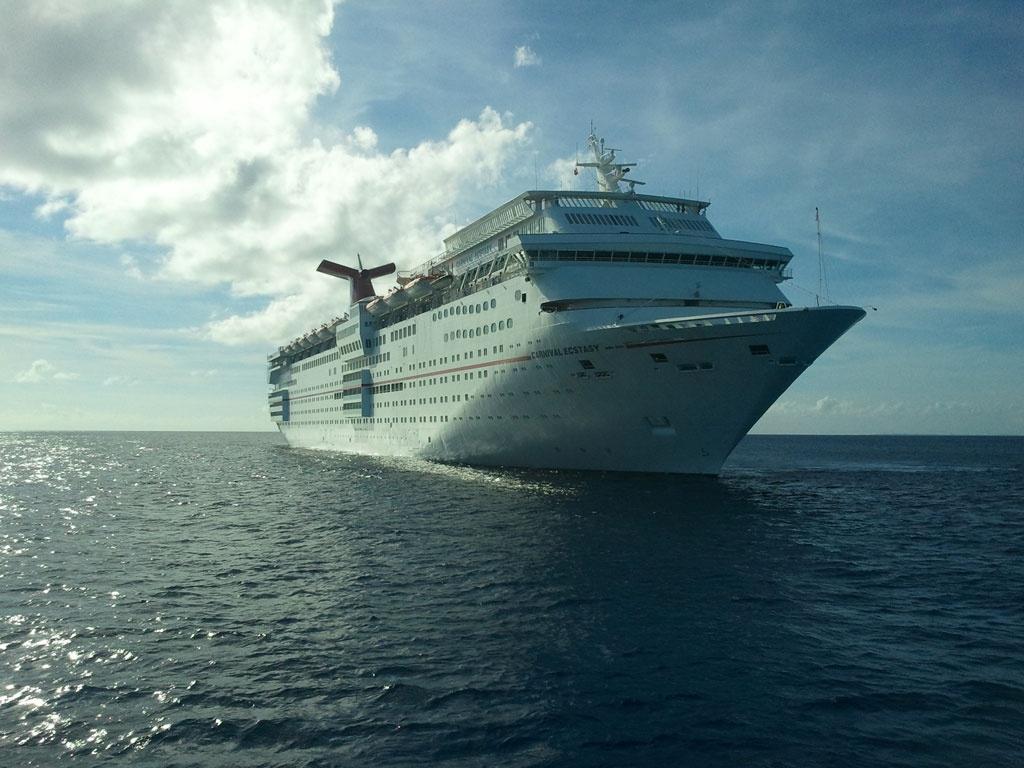 Despite its small size, if you are looking for a romantic escape then it had everything one would need to have a great time - large rooms (Carnival seems to generally have the largest in the industry), comfortable beds, an adult-only Serenity Area that was more private, quiet, and more scenic than what we enjoyed on Carnival Victory (review of Carnival Victory). Additionally, with the exception of the lack of a specialty restaurant, the food service was top notch, with beautiful plating and excellent service.
Romantic Desert for Two!
One of the tips that Heather and I employed on this trip was to skip desert at dinner and instead head to the pastry shop for one of the premium deserts there instead. It isn't that desert is bad with dinner, it is simply that deserts at the Rolls Royce Cafe were suburb and very cheaply priced at only $2.25 for a HUGE piece of cake to share. Easily a $6 desert on land (both in quality and quantity).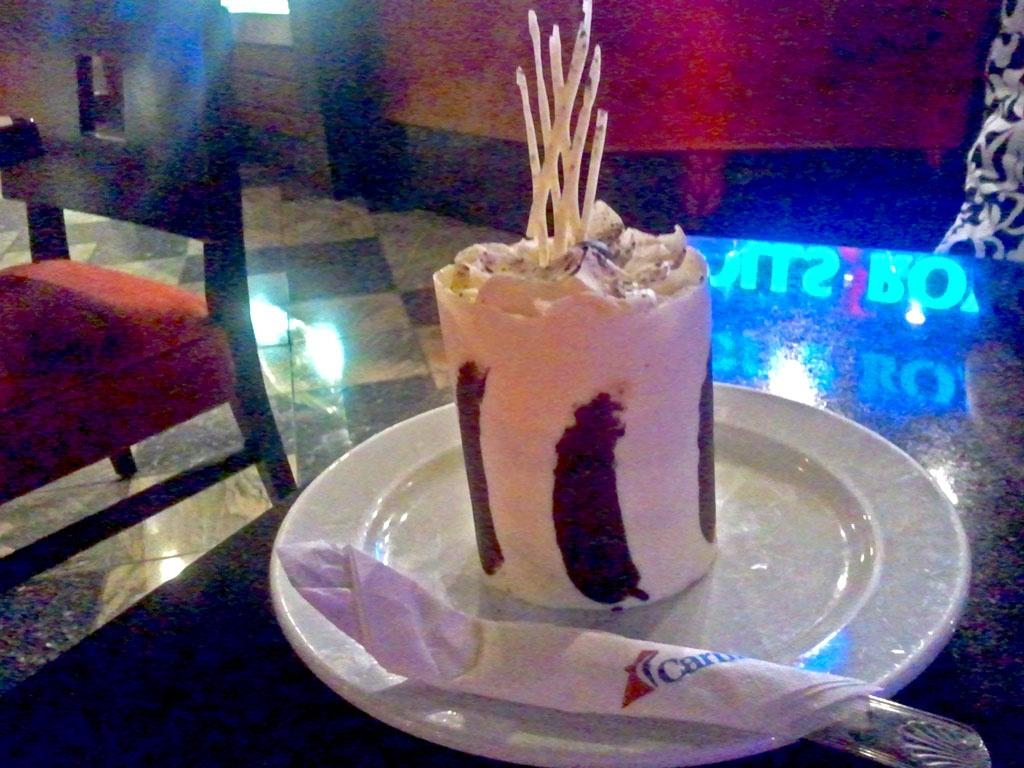 There is simply something special about sharing a desert while watching the waves pass by. While we tried a couple different ones, the White Forest Cake (above) was our favorite. However, make sure to try the Chocolate Melting Cake in the main dining room at least one night as well. It is Carival's signature desert and is available on the menu each night.
Romantic Beach Days!
This cruise, with one sea day, followed by stops at Half Moon Cay, Nassau, and Freeport Bahamas is perfect for a low key winter escape. While we never even got off the boat at Freeport (25 mile cab ride to the town), the day at Half Moon Cay and our visit to Atlantis Resort were perfect stops that required us only to step off the boat and not get into a hyper planning mode that tends to cause stress.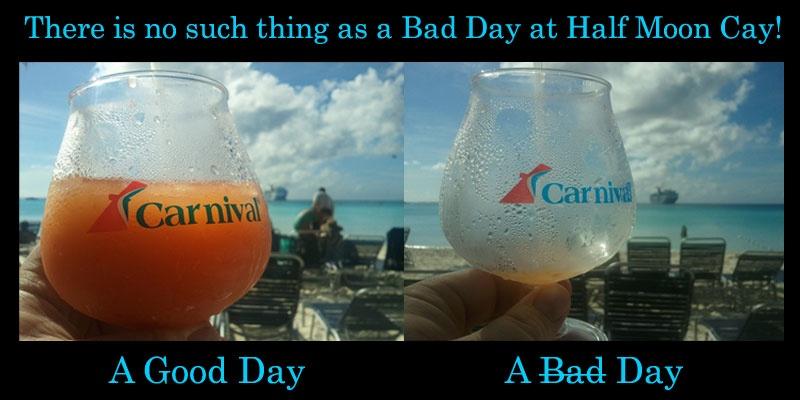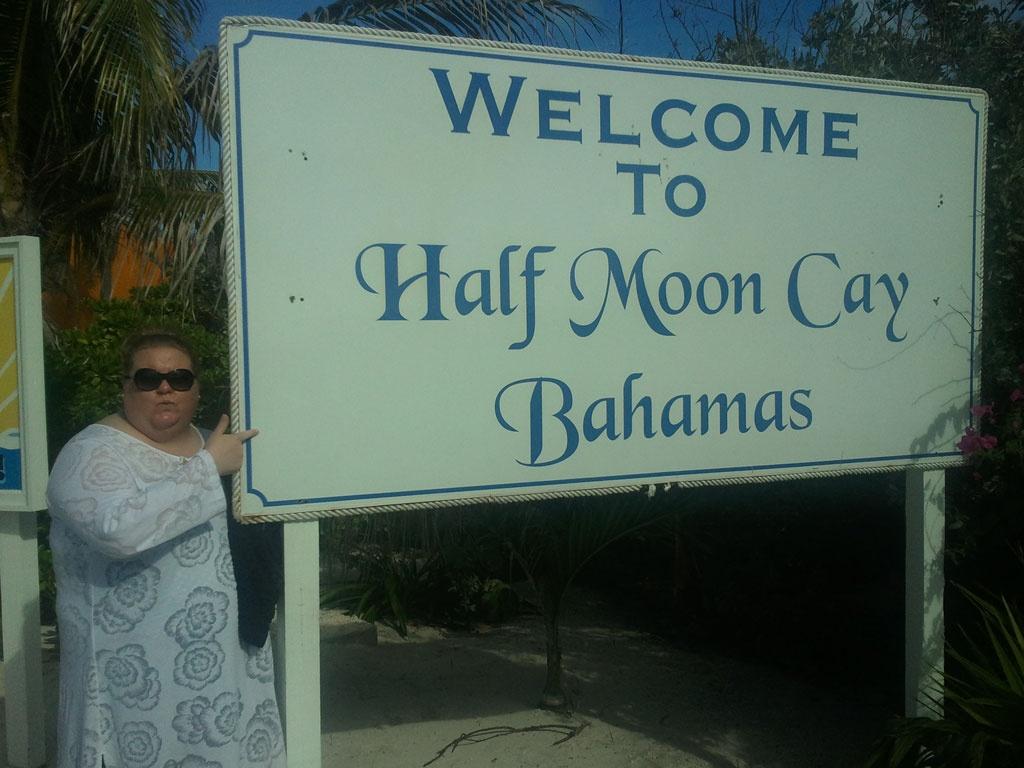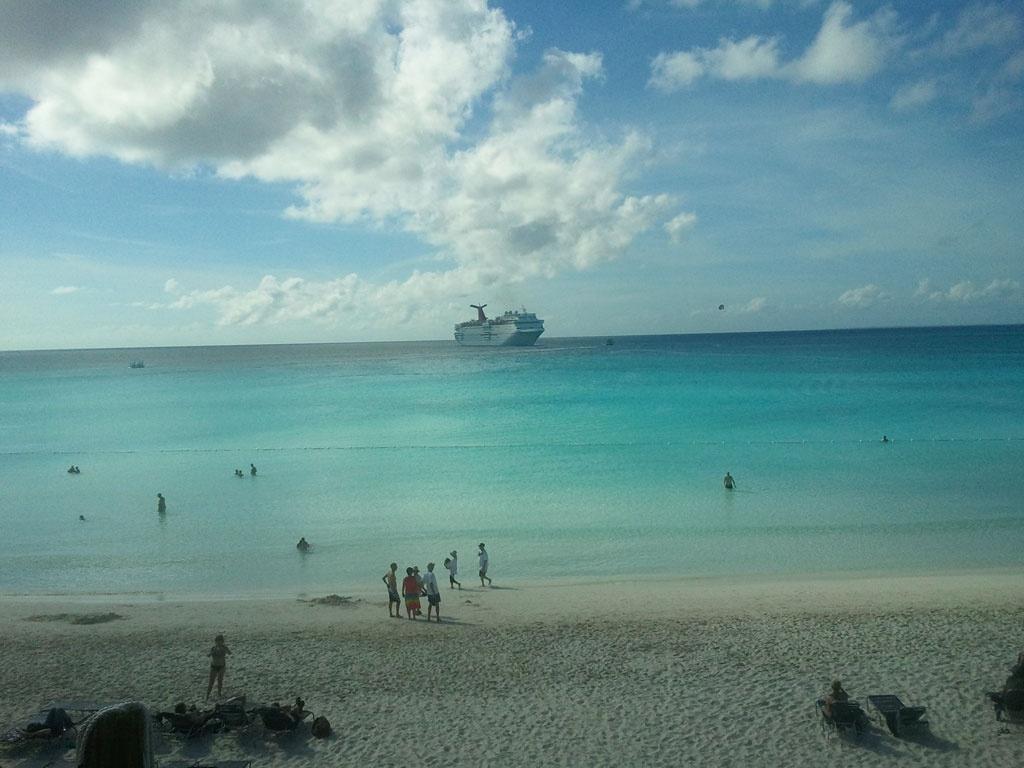 With powder sugar sand, turquoise colored water, and waiters that were on a mission to make sure that our glasses were never empty, Half Moon Cay was a fantastic stop and frankly I wish we could have just parked the boat off the beach and chilled out here for the rest of the vacation. Unfortunately that didn't seem to be a possibility, so we headed on to Nassau next - where Heather and I decided to check out Atlantis.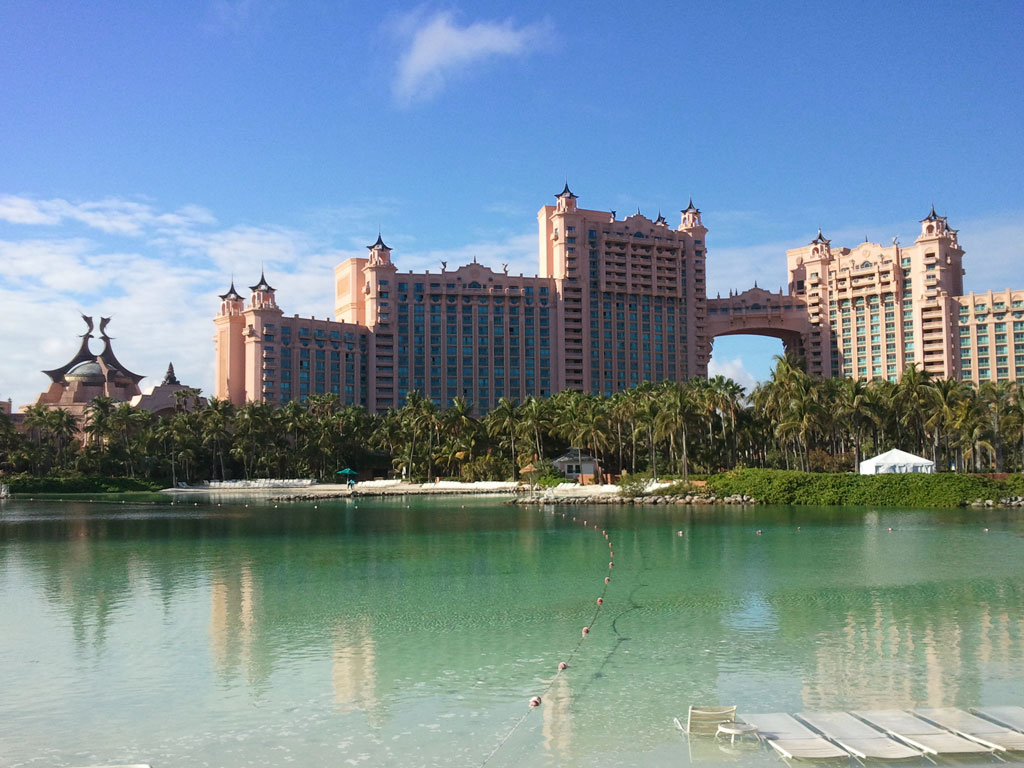 Atlantis Resort has several beaches, including this one and then another on the ocean, though frankly the pools and water park is where it is at!
This is just one part of The Current, Atlantis's high-energy lazy river ride. In this part, the tubes are subjected to a wave machine that pushes a mountain of water at you, causing an almost white nuckle experience. Other parts of the ride were also adrenaline inducing, hug and kiss producing, fun that Heather and I both enjoyed.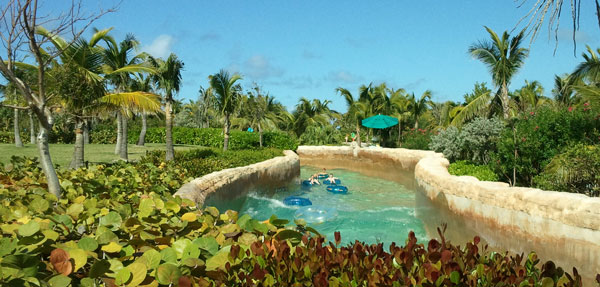 Serenity Adults Only Retreat!
One of my favorite things about Carnival is that they have taken a bit of extra effort to make sure that the Serenity area is truly an adults-only area. While it would be nice to have a large private pool, we were both very impressed with the large area dedicated to Serenity on the Ecstasy. It contains two hot tubs (think of it more as "small warm pools" though since they are typically not overly bubbly or hot. Some complain about this, but I think it is actually more pleasant than sitting in hot foamy water.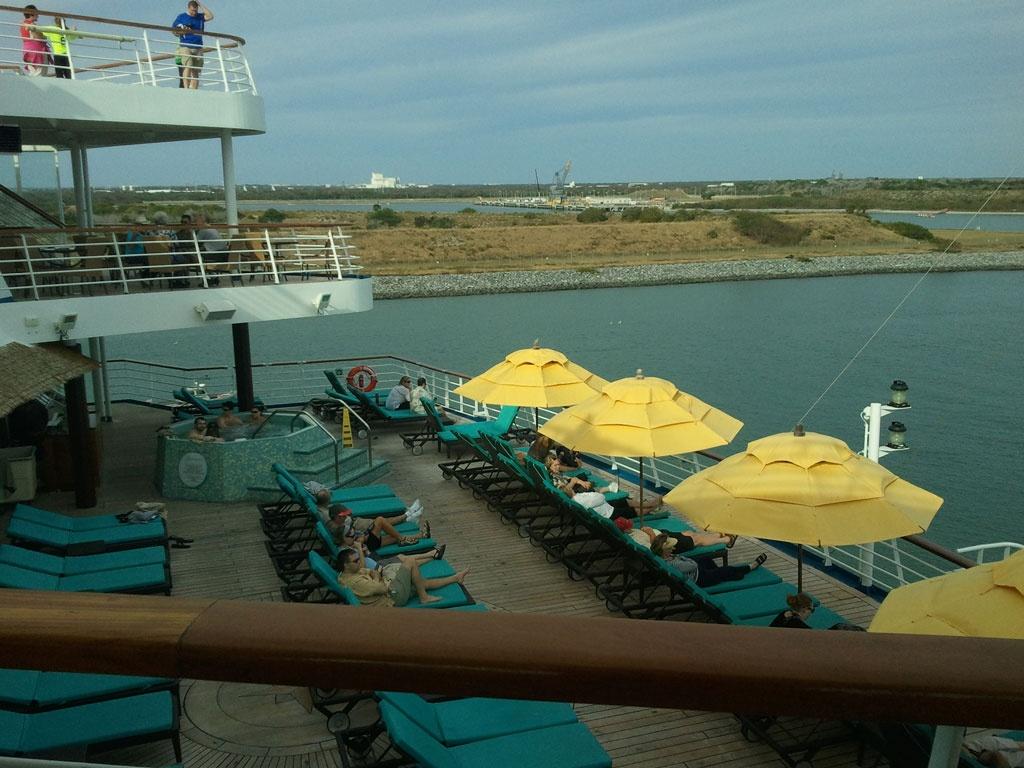 Located on the stern of the ship, the Serenity area is a FANTASTIC place to lay back and relax while watching the port disappear in the background, while sipping on a BBC (Bailey's, Bananas, Creme) or a Miami Vice (half strawberry daiquiri and half pina colada). In fact, on this trip I actually fell asleep here following the return from Half Moon Cay. Unfortunately I also have the peeling skin from the sunburn now too! :)
Entertainment on Ecstasy Review:
It is easy to under-estimate the importance of a Cruise Director and his/her staff. While we loved the cruise director and staff on the Carnival Victory, Steve Cassel just didn't do it for us. He is beloved by many and a fantastically talented violin player, but his humor and passions seemed targeted at an older audience and the entertainment wasn't as "engaging" as we experienced previously. That isn't to say that he was bad - just simply not our favorite so far.
Despite this, one of the things that we both LOVE is the great comedians that Carnival brings to its ships. Sure there are the classic stage shows, but that isn't really what we enjoy. A funny as hell comedy show like that given by Steve 'Aint' White (Black comedian doing mostly racial jokes to a 95% white crowd), and the Cowboy Comedian (exactly what he sounds like).
Steve White:
Cowboy Comedian:
Pool Deck Activities:
Activities on the pool deck were fairly typical but always fun - from hairy chest contests to the mixology competition as well as nightly dance parties. While the pool deck is again smaller than other, newer ships, it was appropriately sized for the size of the ship.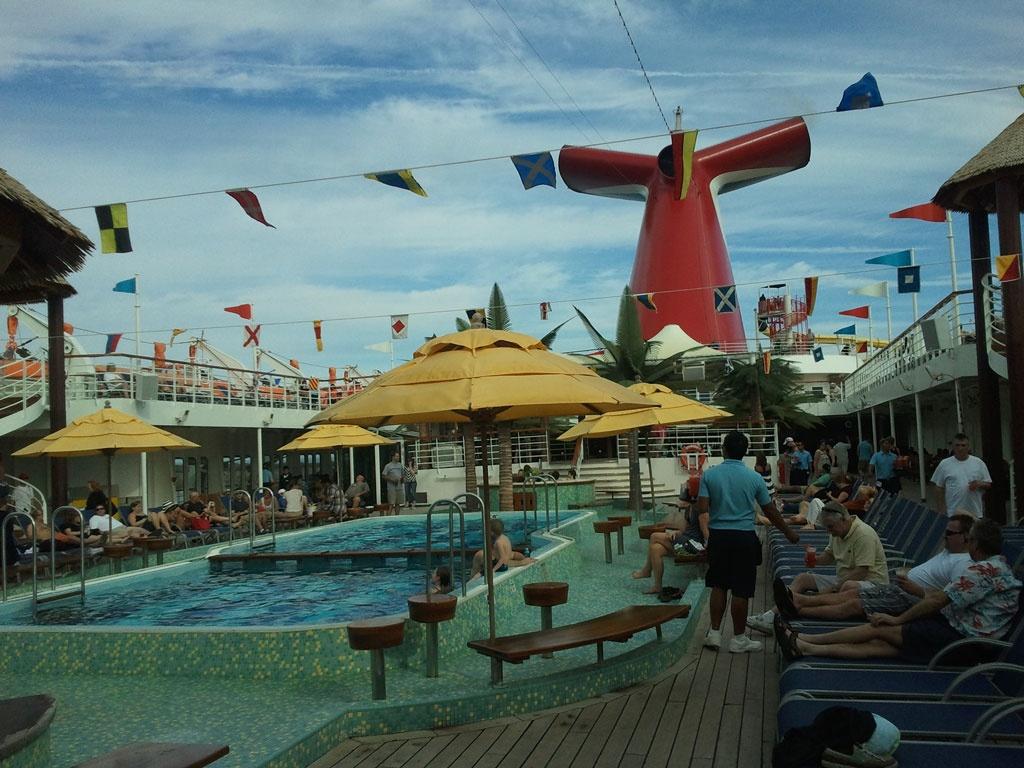 Summary and Conclusions:
At the end of the cruise review of Ecstasy, we were very sad to go and we were already considering checking out other "Fantasy Class" ships, so that obviously is a good sign for a ship that others have referred to as "rust buckets" because of their age. While I can't speak for its sister ships (Fantasy - 1990, Sensation - 1993, Fascination - 1994, Imagination - 1995, Inspiration - 1996, Elation - 1998, and Paradise - 1998), it is likely that they are in a similar condition and you should expect a similar on-board experience. The photo below shows the stern of Ecstasy and the bow of Sensation at Nassau.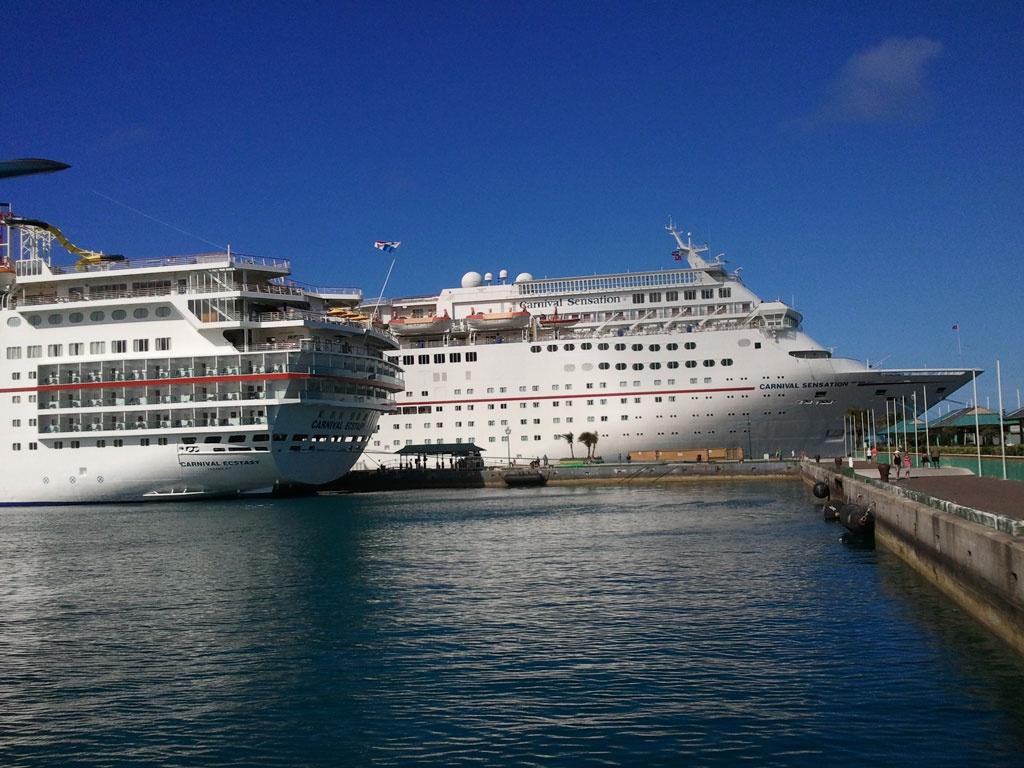 One major weakness of the Ecstasy and its Fantasy class sisters though is that it lacks the number of balconiesfound on more modern ships. Initially this was a weakness in my mind until I noticed three things.
1. Inside cabins are JUST FINE - especially if you aren't on a port intensive itinerary and want to see the port when you wake up.
2. Because the stern and sides aren't blocked off by private balconies there tends to be more public access than we experienced on other ships. This was acutely clear with the outside seating at the Lido buffet (tables outside rock!) and also because the stern of the ship isn't packed with balcony rooms it allowed Carnival to have extra public space here too - including the Serenity area, which is probably in the best location it could ever be.
3. Because there was no natural light we tended to sleep in more and relax, rather than getting up at the first rays of light.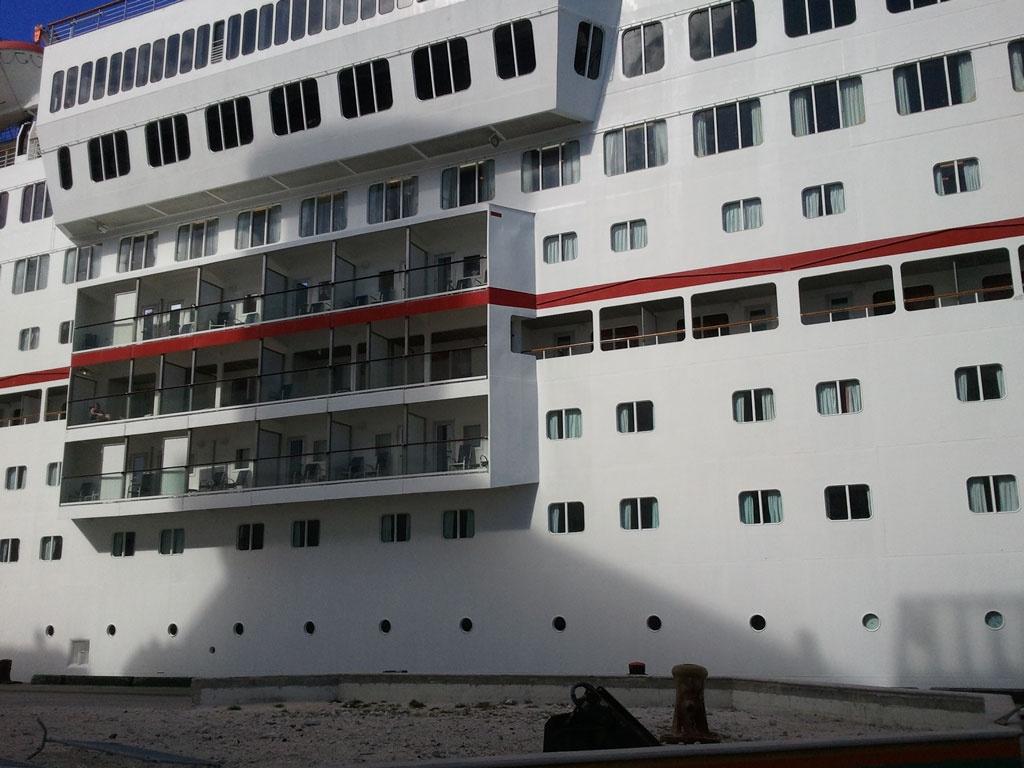 This cruise also supported what we enjoy most about sailing with Carnival - that they are laser focused on maximizing the fun of cruising and investing in their entire line - even older, smaller ships. Unlike other ships, the Sushi Bar is free, Ice Cream machines are always working 24-hours, Pizza and Sandwiches are free, premium deserts are priced very inexpensively, and rooms are larger than average (Norwegian newest ship the Norwegian Epic's features inside cabins that average 128 sq ft vs Ecstasy's 186 sq ft). Additionally - and this is fairly important for a romantic weekend - the beds combine to create a King vs other lines that have only a Queen!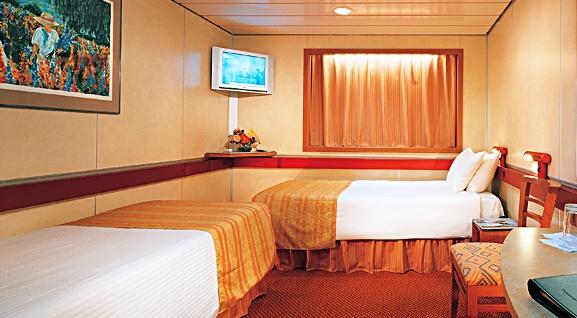 That isn't to say that Carnival doesn't have big ships too and that they might be even better, or that the Ecstasy wasn't perfect. (you won't find premium restaurants, wave machines, ice skating, or climbing walls) However, for what we we were looking for - a quick inexepensive romantic getaway with maximum relaxation and fun, without worrying about money, noisy kids, or "what to do", this was a near perfect cruise.
Carnival Ecstasy currently sails out of Port Canaveral, which is located conveniantly to both of Orlando's airports, so it is also very easy to get to. Our cruise was for 5 Days and priced at $289 pp for an inside cabin, making our romantic escape comparable in cost to two nights in a Chicago or New York hotel - not counting food and entertainment!