Earlier this month I spent eight days in the middle of the Caribbean Sea with some of my friends exploring Carnival Sunshine. This ship is literally packed with activities and entertainment in every nook and cranny, but one area that seemed to be consistently drawing us back for more is SportsSquare. During the course of the week, we gathered here to play (mini) golf, shoot pool, play chess, corn hole, basketball, dodgeball, and shuffleboard with one of the best views you can ever ask for of the ocean as it passed by 14 decks below us.
Despite 30+ mph winds that added a whole other dimension to the games the day we held our mini-golf tournament, we had an absolute blast during our mancation at sea on Carnival Sunshine. Any guy that thinks a cruise ship is just about eating and laying out in the sun needs to check this out next time they cruise.
SportsSquare is a feature on Carnival's newest ships including: Carnival Breeze, Carnival Magic, Carnival Sunshine, and the forthcoming Carnival Vista set to launch in 2016.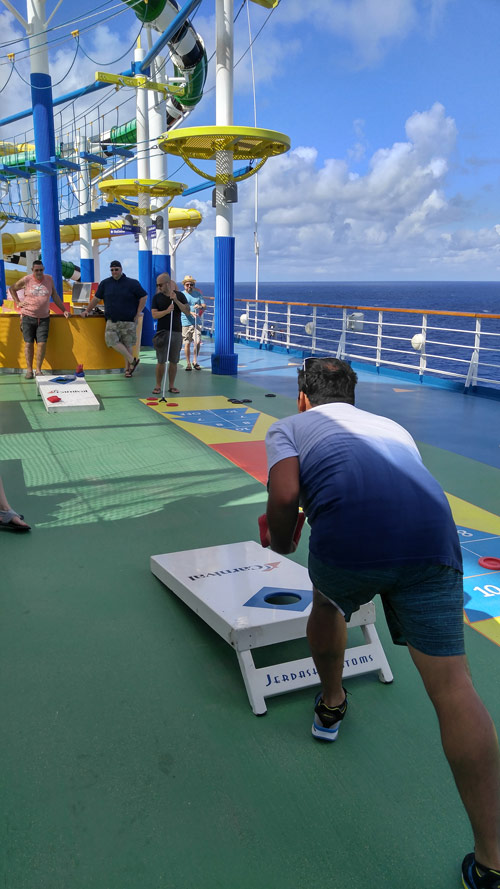 While we didn't get a chance to explore it because of the high winds, in the background here you can see the "SkyCourse", which is a ropes course a sea. For us though, trying to throw bean bags against the wind was challenge enough!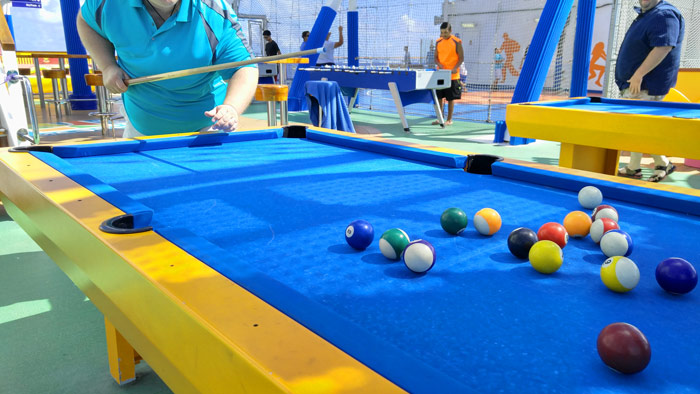 For first time cruisers it is a shock that despite being in the ocean that the ship doesn't move that much. As a testament to this SportsSquare actually features several outdoor, all weather pool tables.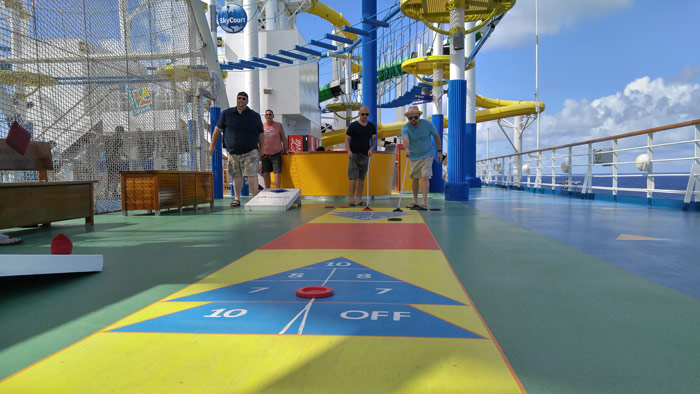 Once you are done playing, the Lido deck is right below SportsSquare where you can grab a burger from Guy's Burger Joint for some of the best burgers at sea or Blue Iguana Cantina for tacos and burritos. Though if all you need is a quick bite they even have a Seadogs right there on SportsSquare so you can munch while you play!
Looking for more about Carnival Sunshine? Visit the Carnival Cruise Review page on #MenWhoBlog.