Last month, Heather and I had a chance to visit Haywood County, NC and stayed at Boyd Mountain Cabins. For those of you who have never heard of Haywood County, it is located in North Carolina's Smoky Mountains, just off of I-40 and only a few hours from all the major cities of the South East. It is also a very easy drive from most places in the Midwest. The collection of seven different cabins plucked from locations all over North Carolina, have been restored, refined, and brought up to date will all the modern conveniences you would expect for a romantic weekend together - including a full kitchen, heat and central air, comfortable beds, rocking chairs on the porches and more.
This isn't a "luxury cabin rental", but it had everything we were looking for. If you are looking to get away from it all by relaxing in the middle of North Carolina's Smoky Mountains, there aren't many better ways to do it!
As you can see from the photos, these rental cabins are situated on beautifully landscaped grounds. During the spring (we visited in May, 2010), the flowers were in bloom and there was plenty of places to relax and enjoy being together. These included sitting on a rocking chair on the porch of the cabin, a romantic walk on the paved loop through the cabins, or sitting on a bench next to the pond.
One of the things that makes Boyd Mountain Cabins such a great romantic destination is that each of the cabins are authentic and range in age between 150-200 years old. This immediately gives the entire property a laid-back feeling that a more modern setting just can't match. I guess it is one of those situations where some locations allow you to create your own romance, while others just frame that special "couple time" from the moment you set foot on the property.
Additionally, because each one of the cabins was built independently and brought from different parts of the region, Boyd Mountain Cabins has the feeling of a sort of miniature village or town. It is certainly a place that one could come back to multiple times and explore a new cabin each time.
The cabins range in size from the one-bedroom Little Cosby Cabin (below) to the four-bedroom Clinch cabin that sleeps up to 10 people. Of course, those numbers are more suited for families and friends than romantic couples visiting the area.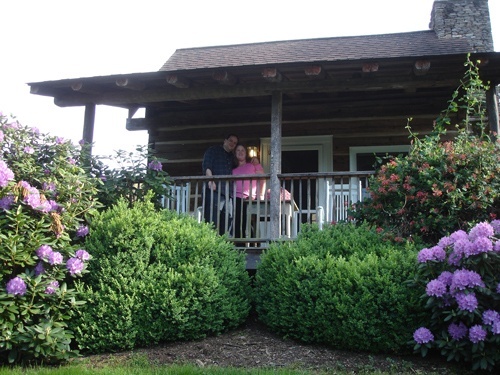 Stacie and Jason on the porch of Little Cosby Cabin (above). Heather and James after a walk around the grounds (below). In the background, you can see that Boyd Mountain Cabins is also a tree farm, so this would also make a great fall / winter escape if you are looking for an excuse to head out of town and get a super fresh Christmas tree!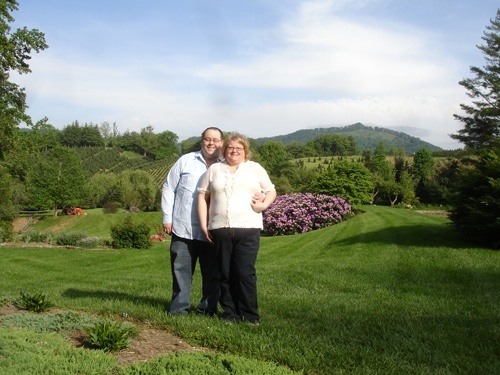 Heather says:
Boyd Mountain Cabins was the perfect romantic escape, we stayed in Shelton Laural cabin
James says:
I liked visiting Haywood County with Heather. Staying at the Boyd Mountain Cabins was especially nice since it allowed us to essentially step out of our daily lives and focus on each other - without going too rustic. While some cabins may bring to mind images of camping, Boyd Mountain Cabins are nothing like that. It was clean, comfortable beds, a nice kitchen that would be perfect to make a nice romantic dinner, and the cabins all had excellent high-speed Internet,