As you know, I'm a huge fan of Kia and I own a Soul. The company is something very special that you don't find that often - in the auto industry or really anyplace else. There is a sense of confidence that comes from being a winner and that's true for the 2017 Kia Sportage as well. Having first launched in 1995, the Sportage (like its sister models) has moved from "this cheap Korean brand" to one of the best in the industry. What makes it special though is that they are laser focused on brand integration and catering to a certain lifestyle that just makes you crave getting an invite to the party. To help celebrate the launch of the new Sportage we were invited to drive it around San Diego, eat some great food, hang out with some amazing people, and party the way only a true rock star can!
This was one of the best launch events that I've been to in a while. Kia knows how to party ... and they also know how to blend all the important things together that a car needs to be great.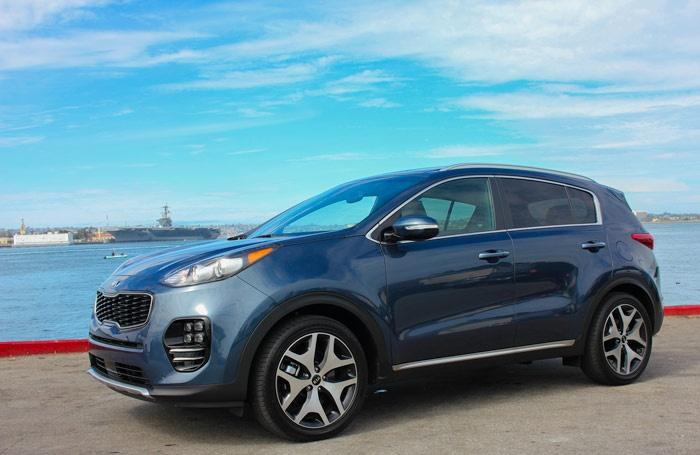 The first thing you will notice on the new Sportage is that it looks beefier and more aggressive than a typical CUV. With a high belt-line and slightly raised headlights as well as "ice cube" fog lights it is really pretty to look at and perfect for anyone who has ever thought, "I want an SUV but not the same one everyone else already has".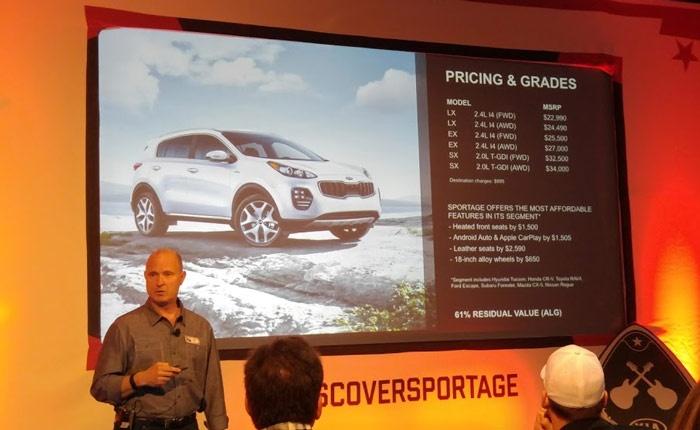 True to it's roots, Kia is still the master of delivering value, with a combination of affordable features such as Heated Front Seats, Android Auto & Apple CarPlay support, Leather Seats, and 18-inch alloy wheels ... all less expensive than its competitors.
The 2017 Kia Sportage will launch in three trim levels starting at $22,990 for the LX and topping out at $34,000 for the fully loaded SX AWD. Each of those three trim levels comes with an option of AWD or FWD but frankly in our testing that extra $1,500 for AWD is absolutely worth it if you live anywhere that might have sub-optimal conditions ranging from snow and ice to driving on unpaved roads.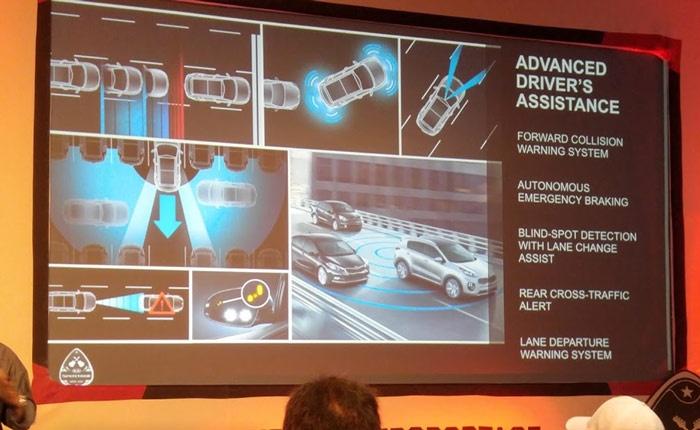 One of the biggest surprises was that many of the features I love on the Sorento and K900 have now made it down to the Sportage. As you may remember, this is one of the (very) few things I was disappointed by in Hyundai's Tucson last summer. While it's hard for many consumers to fully appreciate these features without experiencing them, things like Forward Collision Warning System and Rear Cross-Traffic Alert. However, it still doesn't have Adaptive Cruise Control, one of my MUST HAVE features on any new car if you like to do long road trips. Hopefully that comes in a future model.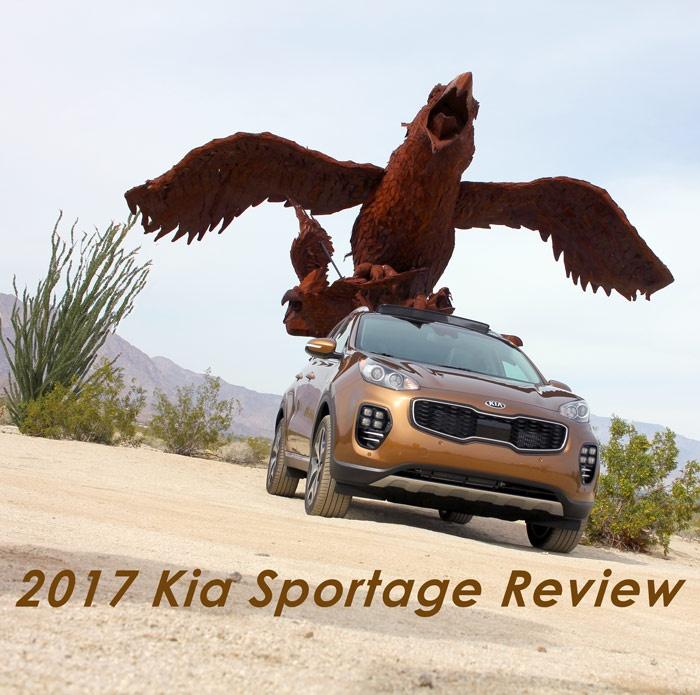 Our drive consisted of a combination of urban streets as we departed from downtown San Diego through the mountains and into the desert where we met this giant eagle sculpture and other statues in Borrego Springs. The 237 hp AWD and 240 hp FWD both provided enough power to do whatever you need them to do, but fuel economy seems to be the focus here as acceleration wasn't particularly exciting though the FWD version did feel significantly more sporty. The 2.4 L LX and EX are rated at 26 mpg combined for the FWD where as the 2.0 L GDI AWD is rated at 21 mpg.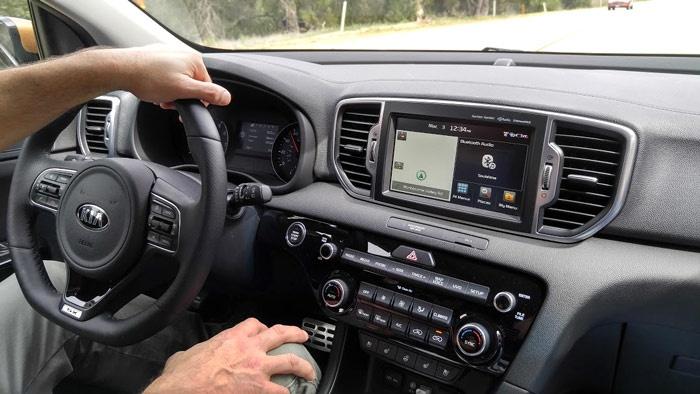 During this drive, we were able to test out the new Dynamax AWD and it performed exceptionally. In our tests to try and spin the wheels while launching it into traffic, the wheels refused to slip and even while playing in the desert it felt sure footed as we cruised around the sand.
Inside the cabin, it was very roomy and comfortable with plenty of head room and great visibility. However, while driving this with four guys in the car the rear seats proved to be pretty week with regards to leg room. However, for a couple with kids or a as a car where it is driven primarily with just the front two seats filled it wouldn't be a problem.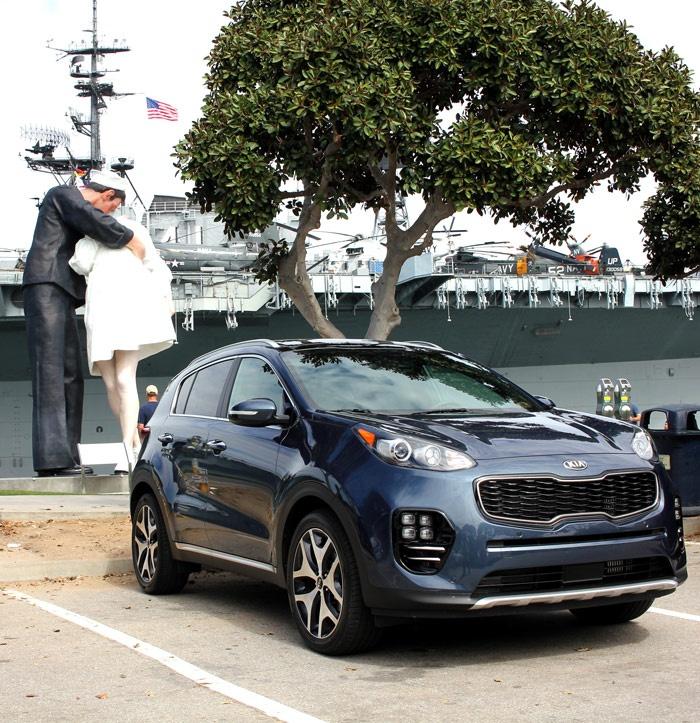 Overall, this is a spectacular addition to Kia's lineup and it is a great option for anyone who demands a high level of value - while craving technology and a appreciating luxury. That isn't to say that this is going to compete as a luxury vehicle, but I certainly would have no problem inviting a client to ride with me to a lunch meeting in it.
The 2017 Kia Sportage is a great addition to the Kia family and we have some more coverage of it coming up later this week from our San Diego Guys Weekend, so stay tuned!