In this age of trucks, trucks and more trucks Mazda is working hard to put some "zoom-zoom" into its sedans and crossovers. I've always thought that Mazda vehicles are underrated, but also a little underpowered. Recently, Mazda announced a new power upgrade to one of its vehicles that you might not expect.
The launch of the fourth-generation Mazda3 generated some press and customer interest, but as Mazda put it "some asked for more power" and now Mazda is responding. Mazda North American Operations (MNAO) just announced the addition of a turbocharged Skyactiv-G 2.5T engine to the 2021 Mazda3 powertrain offering. This announcement and power upgrade signals Mazda's commitment to its existing lineup for buyers looking to enjoy their vehicles.
In my previous reviews, I've characterized the Mazda drive experience as sporty with grippy handling that exceeds competitors in its price point and some vehicles above it.
The thing about more power is that you can always choose not to use it, but when you don't have it, it's like reaching for a gear that's not there. Mazda addresses the issue in the 2021 Mazda3 with the availability of the Skyactiv-G 2.5T engine. This new engine infuses 250 horsepower and 320 lb-ft of torque (premium 93 octane) or 227 horsepower and 310 lb-ft of torque with regular (87 octane) fuel. The power to weight ratio should benefit not only standing start launches but also allow some addition "umph" on the highway for passing and cruising speeds -I'll verify after a future test drive. Mazda indicates that the combi engine is specifically calibrated to the Mazda3 so as to deliver the unique driving dynamics expected by passionate drivers. I'm interested to gage the performance improvement and response (via paddle shifters) from standing starts and when exiting winding curves or highway sweepers. How do the additional horses mesh with the transmission and suspension calibrations? The Mazda3 with Skyactiv-G 2.5T engine delivers power to the pavement via recent updates to the i-Activ all-wheel drive (AWD) system. The high torque characteristics of the Skyactiv-G 2.5T paired with the predictive i-Activ AWD should really carry out/complete your driving performance intentions,
For comparison, the Mazda3 line also includes the Mazda3 2.5S, available in hatchback and sedan configurations. It will continue to offer the Skyactiv-G 2.5-liter engine with 186 horsepower and 186 lb-ft of torque and come with standard front-wheel drive.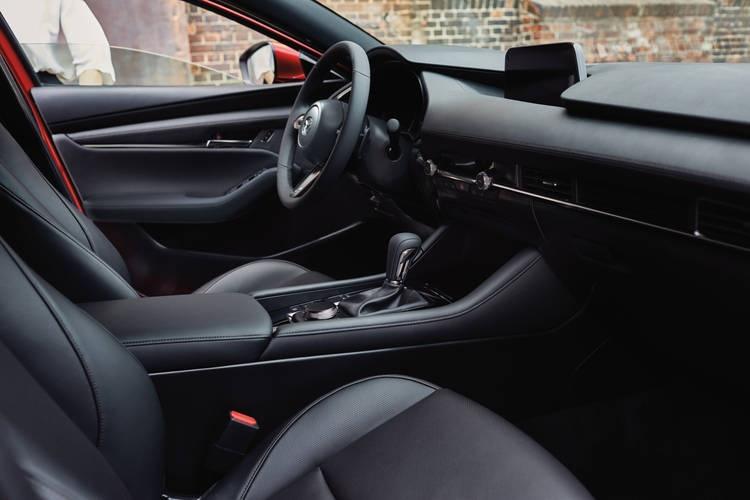 The Mazda3 2.5 Turbo's list of tech features includes Apple CarPlay and Android Auto, Mazda Connected Services with three-year trial and in-car Wi-Fi hot spot with six-months or 2GB trial, Bose 12-speaker premium audio, 8.8-inch large center display with Bluetooth hands-free phone and audio, two front USB inputs and Mazda Advanced Keyless Entry.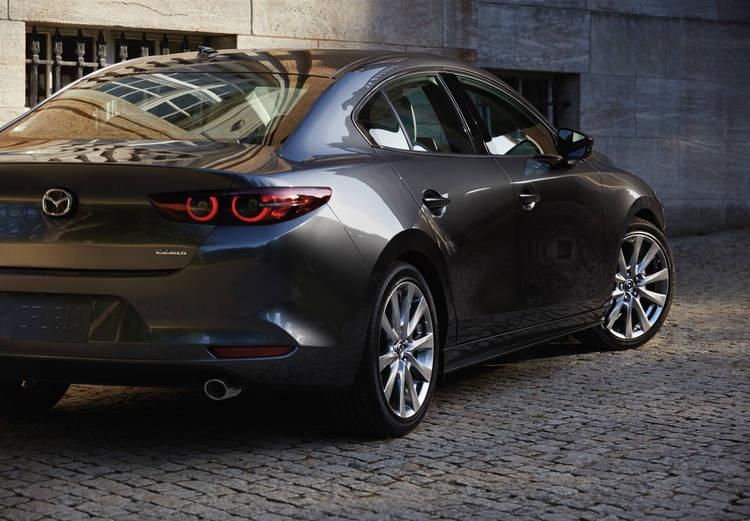 Visually, the Mazda3 2.5 Turbo adds larger tailpipes, 18-inch black aluminum-alloy wheels, gloss black heated door mirrors, "TURBO" badge on the trunk and on the engine cover, rearview camera, LED daytime running lights, automatic on/off LED signature headlights, rain-sensing windshield wipers and a shark fin antenna. The Mazda3 2.5 Turbo sedan also features a gloss black front grille and sleek lower front bumper accent. I haven't seen the car in person yet, but the styling is very fluid, and from some angles, it could be mistaken for an Infiniti.
If you really what to get an insider's view download the MyMazda mobile app to receive exclusive Mazda content as it becomes available (must have push notifications turned on), including the latest information on the Turbo, which is expected to arrive in dealerships by the end of this year.
Mazda indicates the non-turbo 2021 Mazda3 models will be arriving at dealerships in early August, no information on pricing as of this date.
Hopefully, Mazda will continue to "spread the horses around" to every vehicle to enhance the high level of performance characteristics that already exist.