New trucks are coming to a dealer near you - maybe. This year's Chicago Auto Show, and other shows, may be your only shot to see/touch the hottest '22 vehicles in person. While this year's show takes up less floor space, and features fewer manufacturers than previous years, it is still thee show for the latest trucks, SUVs, commercial vehicles, and growing contingent of EVs. No major debuts this year, but there were numerous limited production/trim debuts and first-time public displays of previously revealed all-new models. Here's a roundup of the top trucks on display this year.

Ford Bronco
During the 2022 Chicago Auto Show media day, no vehicle display drew a bigger crowd than the 2022 Bronco exhibit. Special limited editions including the Everglades introduction and Raptor. The Bronco Everglades will be based on the Black Diamond trim and Sasquatch packages. The display version came in a striking green hue (other colors available) and rolls on meaty 35-inch B.F. Goodrich all-terrain tires wrapped around 17-inch wheels. The tires and rugged Sasquatch suspension components afford the Everglades a factory ground clearance of 13.1 inches. One of the standout pieces for serious off-roaders (or poseurs) is a factory snorkel that allows a water-fording depth of just over 3 feet. A nice go to feature is a 10,000-pound Warn ZEON 10-S winch on the front bumper. Swamp stomping is enabled by a 300-hp, 325-lb-ft 2.3-liter EcoBoost engine. Ford throws in a protective safari bar and rock rails with removable step covers. The baddest '22 Bronco is the Raptor. The stance looks F-150, and Bronco Raptor, has a massive 3.1-inch Fox Live Valve dampers and 37-inch tires-largest offered by any MFR. It features the top Bronco engine a 400-plus-hp twin-turbo 3.0-liter V-6. The interior is washable, all four doors are removable and the entire roof peels back to let the outside in. Bronco Raptor will start at $69,995 (good luck on that) which is only $3,000 less than big brother F-150 Raptor's price. If you want either Bronco, you better be on the "reservation list' already or your out of luck this year.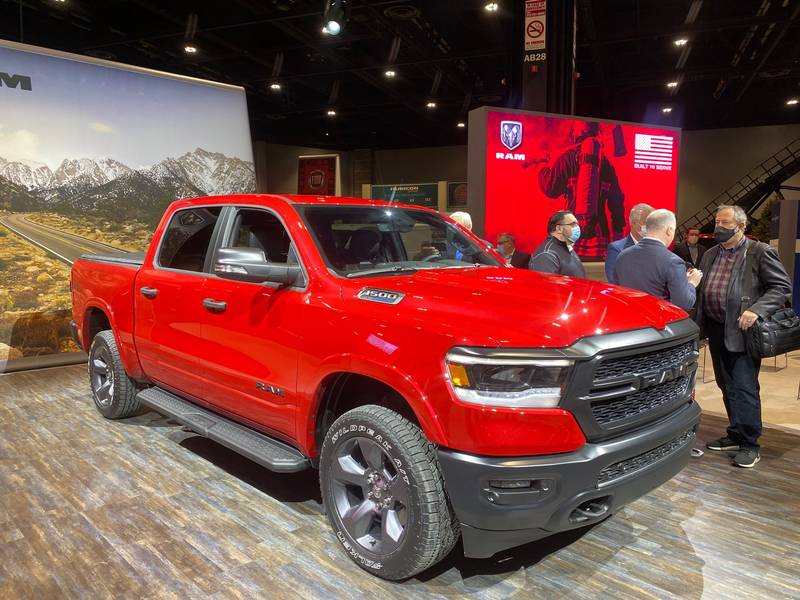 Ram 1500—Built to Serve: Firefighter Edition
For 2022 Ram adds a new 1500 "Built to Serve" Firefighter Edition featuring two color choices, special identification, and custom interior accents. Using the Big Horn trim package as the base, it comes standard with the 4x4 Off-Road Group and unique Velcro fabric seat inserts that allow you to add your department or any patch to display - a great idea that will be mimicked elsewhere. Firefighter Edition Ram 1500 pricing starts at $48,420 and will go on sale shortly. Another big Ram shown was the limited production, 702 hp Ram 1500 TRX. The 2022 Ram 1500 TRX Ignition Edition is available in blazing Ignition Orange, and comes with the TRX Level 2 Equipment Group, a revised interior, unique TRX graphics and blackened rims. TRX will only be available to 875 buyers-no reservations required.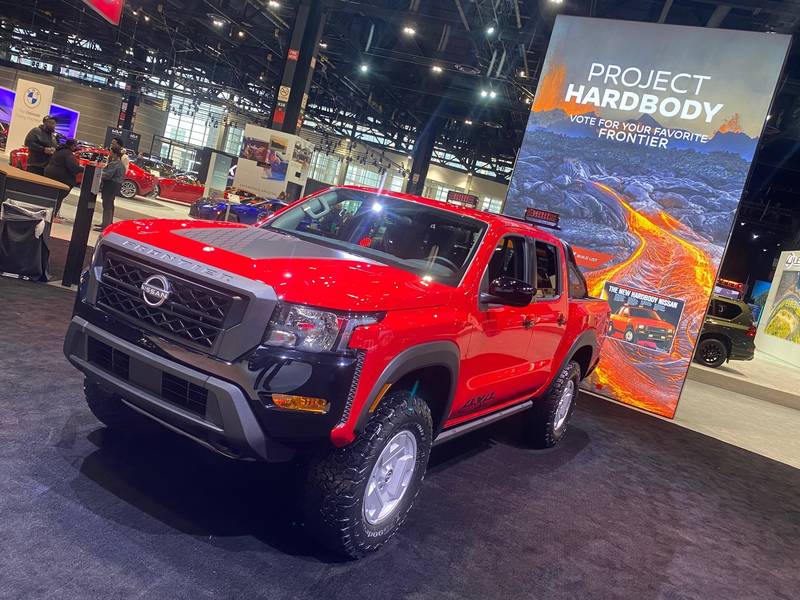 Nissan Goes back to the Future with Frontier
NISSAN's display at the Chicago Auto Show indicates they will try and elbow their way back into the truck spotlight this year using a trio of "concept" Frontiers. Nissan's 2022 Frontier Project Adventure Concept features a 5-inch lift kit, 34-inch tires, a bed rack, rooftop tent, and outdoor gear. This Frontier also has a custom carbon fiber snorkel designed and built by in-house Nissan Design America. The exterior has "U.S. Atlas" theme to promote a "go-anywhere" theme. Truck enthusiasts will like the Frontier Project Hardbody that pays homage to the tough "Hardbody" mini-trucks that were popular in the mid-80s-early 90's and a highly coveted by truck enthusiasts. Hardbody features a 3-inch suspension lift, sport bar with Rigid LED off-road lights, subdued graphics, fender flares, bed rollbar and side panels and a classic red paint job. The real throwback are the unique block-style 17-inch aluminum wheels that look so 1988. The final truck triumph for Nissan was the Project 72X. This concept is inspired by a 1979 Datsun 720 pickup. Using a base Frontier S, Project 72X features an understated gray exterior color with custom retro white/grey 70's style graphics, and Nissan's accessory sport bar in the bed. The 72x has a 2.5-inch suspension lift, and rolls on a set of white steel wheels (painted spare tire rims) which again look so 70's cool.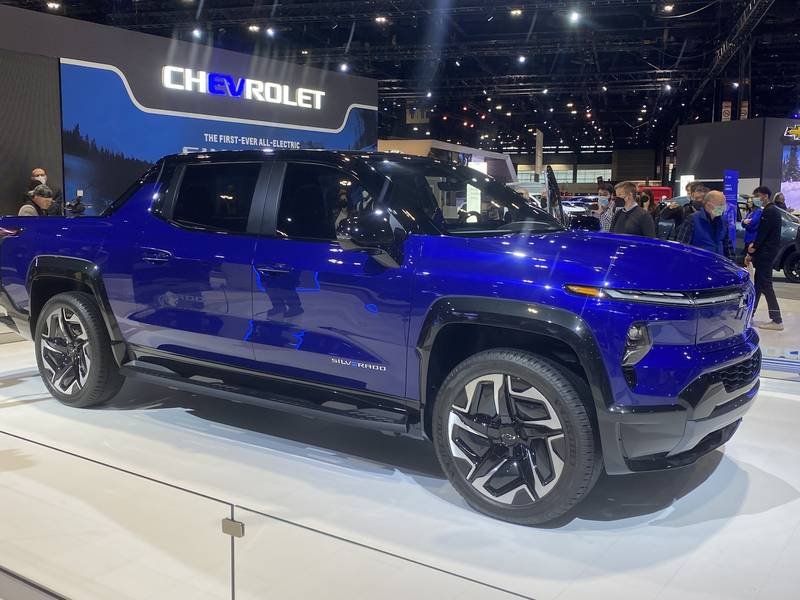 2024 Chevrolet Silverado EV
Chevrolet displayed the 2024 Silverado EV, which is modern take on the Avalanche with some juice. The automaker claims it will offer 400 miles of range (matching Ford F-150 Lightning), and it will also function as a self-contained power generator. Power is stated to reach up to 664 horsepower with a robust 780 lb.-ft of torque in max power Wide Open Watts Mode. This makes for juicy 0-60 mph times of 4.5 seconds. It will feature standard DC fast charging (up to 350kW) on WT and RST models. Up to 10.2 W of offboard power on WT and RST with optional equipment. Silverado EV utilizes GM's Ultium EV Platform and revives the Avalanche mid-gate section but this time it's completely removable. Oh, and there's a spacious frunk behind the front bumper and includes seating for five. ChEVrolet is trying to so show EVs are its middle name. Apparently, consumers are buying in as the automaker received over 110,000 orders selling out first year production.
GMC Hummer
The big dog of SUVs is back and is electrifying the segment – truck too. The all-electric Hummer SUV is meeting the masses to convince buyers that off-roading and electricity can mix – I think the jury is still out. Hummer covers the ground with nearly 9-inch less wheelbase than HUMMER EV Pickup, giving it expected best-in-class off-road proportions, with greater departure and breakover angles and a tighter turning circle of only 35.4 feet (10.8 meters) with 4 Wheel Steer. A three-motor Ultium Drive system t delivers up to 830 horsepower and up to 11,500 lb.-ft of torque — enough power for a 0-60-mph blast in approximately 3.5 seconds. Up close this rig is big, wide, and tall.