We loved what Chevrolet did to the Colorado ZR2 with the Bison package and it looks like GMC is headed down that same path with this one. While they seem to be positioning this OVRLANDX truck as purely a concept to stoke the imagination, we would love to see something like this available for purchase at GMC dealers. Even if it was simply a set of dealer-installed options this would be exactly what Canyon needs to fully differentiate itself.
GMC revealed the Canyon AT4 OVRLANDX concept truck today at Overland Expo Mountain West 2021. This concept was designed to explore GMC's vision for its growing lineup of premium yet capable trucks and SUVs. Currently Canyon sits in the awkward position of being the Chevy Colorado's awkward brother without a fully developed identity.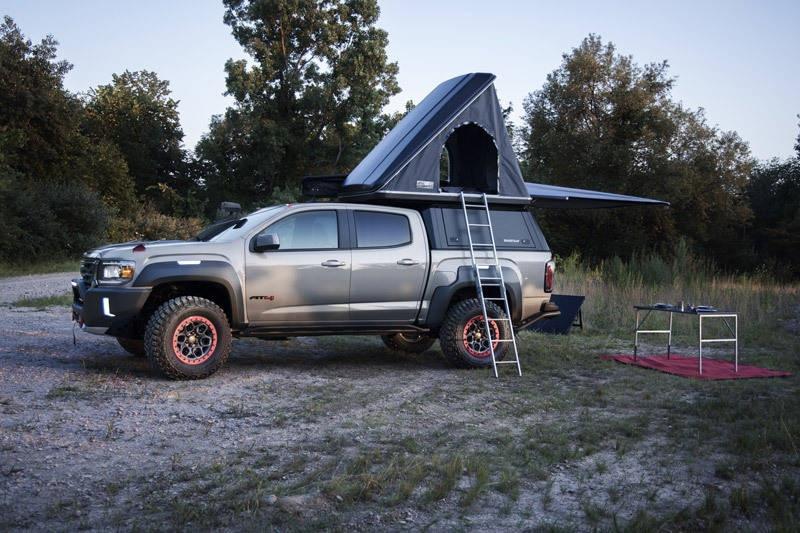 Building on the capability of Canyon AT4, the concept further elevates Canyon's off-road credibility by showing how it could be customized for an overlanding enthusiast. GMC is using this as an opportunity to showcase it's commitment to developing premium, off-road capable trucks beyond just the Sierra 1500 and also as a thermometer to test consumer appetite for more aggressive configurations from the brand.
This desire to take GMC's sub brands of AT4 and Denali to new levels is something that was hinted at when we met in Detroit recently for a preview of the Super Cruise technology. Clearly, the market has evolved over the past few years and GMC knows the AT4 off-road trim can't continue to succeed if it stands still!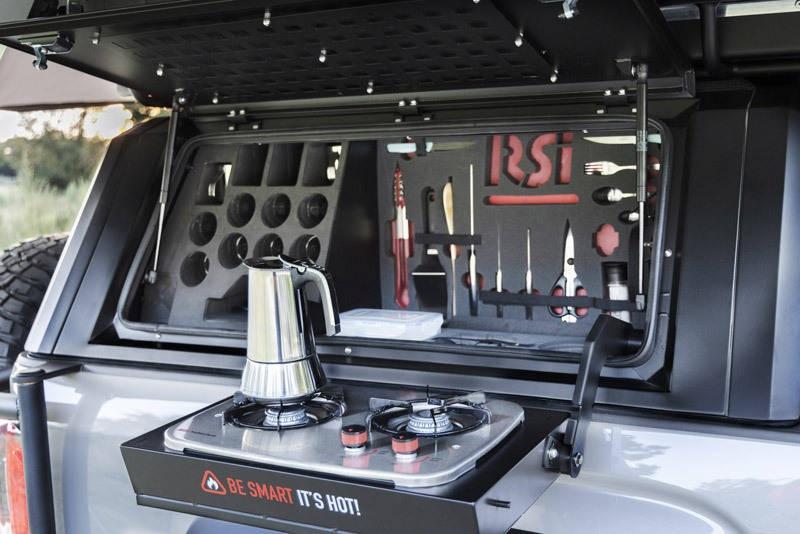 With the impressive styling and premium appointments GMC customers expect, the Canyon AT4 OVRLANDX concept truck was designed for overlanding enthusiasts, with capability features that include:
Factory-lifted, wide off-road chassis with enhanced underbody coverage
Off-road rocker panel protectors
Cast-iron control arms
Heavy-duty front bumper with winch
Integrated front recovery points
Front and rear electronic locking differentials
Wheel flares with integrated task lamps
Multimatic DSSVTM dampers
Spare tire swivel mount so a spare tire can be kept on the back of the truck and swivel out of the way of the tailgate when bed access is needed
Guy lines for protecting the windshield from low-hanging branches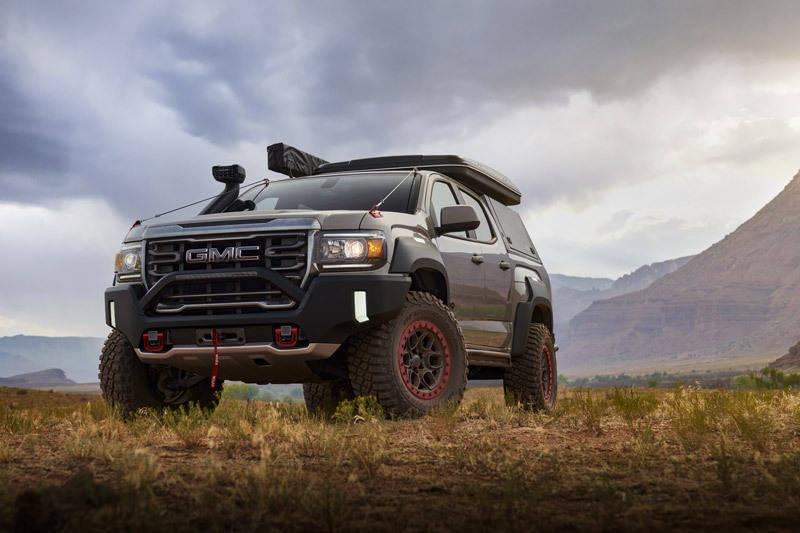 Power to explore rugged terrain is provided by GMC's 3.6L V-6 engine mated with an eight-speed automatic transmission.
The concept truck could confidently handle a variety of obstacles encountered far from civilization with a 27.7 degree approach angle and a ground clearance of 10.0 inches (a nearly 2" improvement over stock), boosted by 33-inch BFGoodrich KM3 Mud-Terrain tires on 17-inch AEV Crestone wheels. The vehicle could engage in water fording up to 32.1 inches, and its custom-tailored snorkel could allow for filtered and cooler air intake.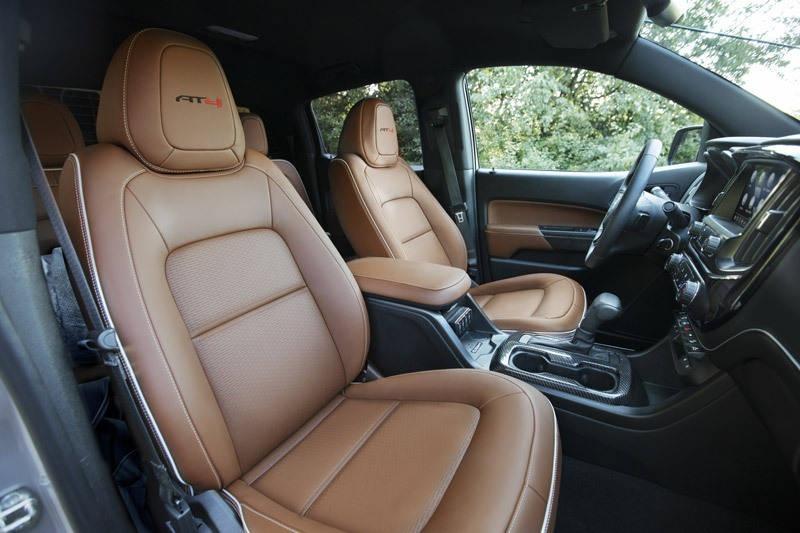 Additional features that could help drivers venture off the beaten path include:
AEV rear off-road bumper
Stainless steel truck bed cap
Roof-mounted tent
270-degree awning
Jerry cans for gasoline and water
Traction boards
Off-road jack and mount
Cooler and kitchenette
Truck bed storage with drawer system
Solar panel
All concept features are integrated with GMC's premium design cues, resulting in a rugged-yet-premium appearance. Unique grille and headlamp finishes, distinct AT4 badges, and an exclusive leather-wrapped interior create a sense of confident capability that doesn't compromise style or comfort.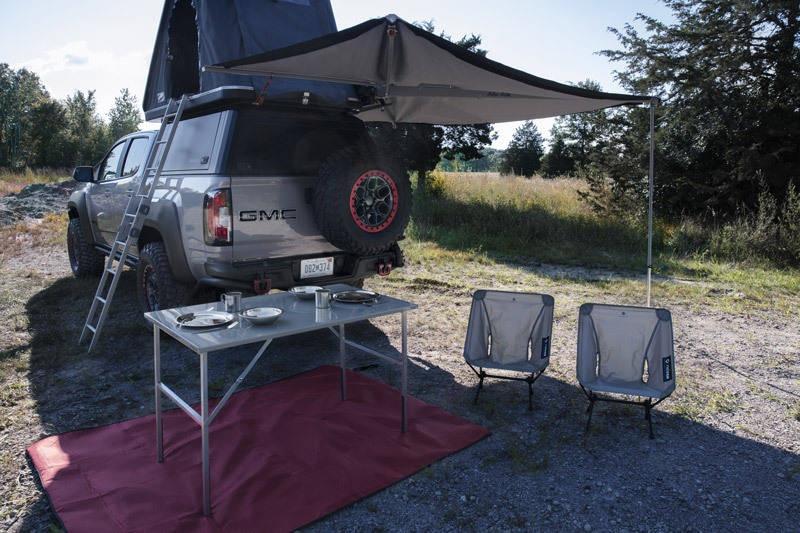 GMC first introduced AT4 in its Sierra light-duty pickup truck in 2019, positioned as a unique persona meant to offer bold capability while maintaining the innovative technology and premium appointments associated with the brand. It has since expanded across the entire GMC lineup and continues to gain popularity, with over 30 percent of Canyon buyers choosing AT4 this year.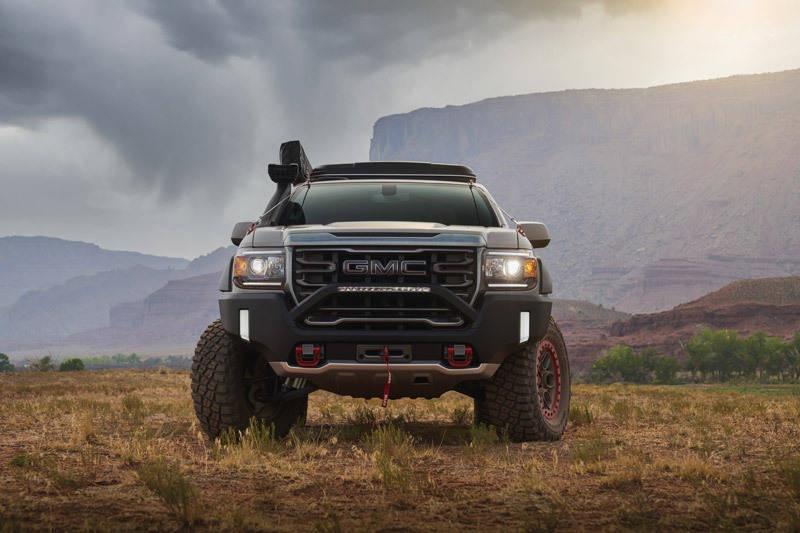 Canyon is also attracting new customers to the brand with more than half of its buyers in 2021 being new to GMC. The Canyon AT4 OVRLANDX is the perfect concept vehicle to show how GMC envisions the future of Canyon and how the brand is looking ahead to serve its growing customer base of off-roading and overlanding enthusiasts.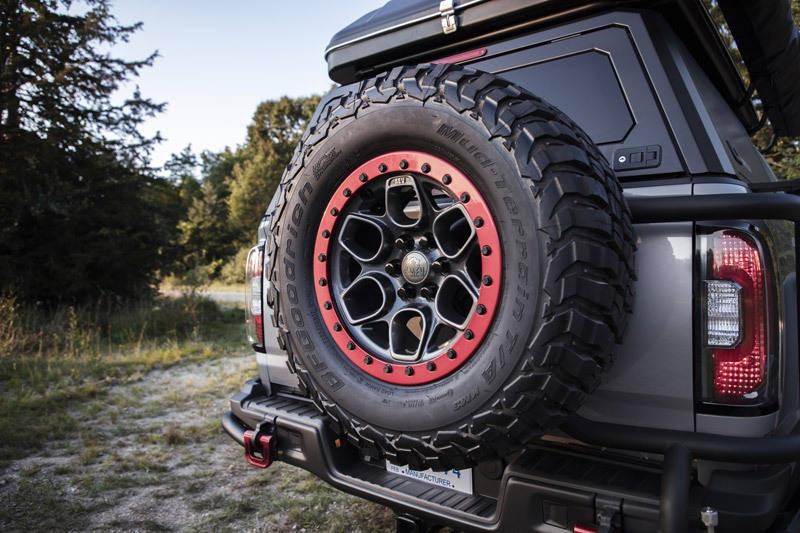 If this is a hint at the future of the AT4 trim then we are excited! It would be wonderful to have a mid-sized truck like Canyon that is able to deliver comfort, style, and technology for those who would prefer to buy the package they want directly from a dealer, rather than piecing it together and hoping stuff works out.