Grills come in many shapes and sizes and frankly, I've seen them made with everything from ceramic to steel to cast iron and aluminum. Never though have I ever heard of one made from a fire-resistant fabric but the potential is pretty incredible. This grill from GoBQ is lightweight and truly portable since the outer surfaces are made from fabric while the legs and grilling surface are made from lightweight aluminum.
While I have not yet had a chance to try GoBQ Grills myself, I can't wait to take it with me on an upcoming offroad trip. Typically I don't want to lug a big bulky grill with me because it could scratch the bed of whatever review truck I'm working with, and I certainly don't want to put a grill inside the car either.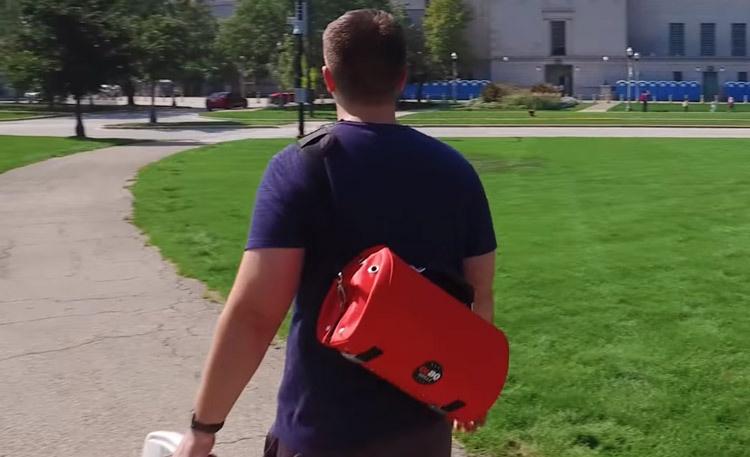 With GoBQ though, the outer edges are rugged, but not going to damage the vehicle if it slides around a bit. In fact, it actually collapses down to fit in a carrying case so you can simply swing it over your shoulder.
Another thing I love about this is that unlike your normal grill where cleanup is a PITA - GoBQ suggests simply taking a garden hose to the grill to clean it off and then let it dry before packing up again. Obviously, for the meta grill grate you should clean that off like you would any grill grate to remove food particles and likewise you should put a drip pan or foil below the charcoal basket to catch drips. However, the ash and dust that might collect - simply wash it away.
You can buy it online right now for $149.95. Black GoBQ Grills are available on Amazon [my affiliate link] but you can order the red ones as well as black directly from the company itself.
Ultimately, this might be something I need to try to fully believe it, so stay tuned for more. I'm absolutely going to be bringing this GoBQ portable grill with me on some adventures this year. While we wait for parks and trails to fully open up though, the folks at GoBQ were awesome enough to let me give one away in partnership with #MenWhoBlog so that one of you lucky gentlemen (or ladies!) could try it too.