This weekend while watching NASCAR it's hard to miss the overt commercialism of the sport. As you watch cars fly by with logos on almost every square inch of space where a camera just might pan to during the race it's sort of crazy. That's true for the World Challenge Racing League that Kia competes in too, but instead of blasting Kia logos and oil companies, Kia and the team owners Kinetic Racing decided to do something special and focus on promoting two very important and awesome charities - B.R.A.K.E.S. and DonorsChoose.org. Sure, there's a Kia logo on the side, but in press materials and on the track, these cars are referred to as the No. 36 DonorsChoose.org Optima turbo and the No. 38 B.R.A.K.E.S. Optima turbo.
That says something about the company when they lead by promoting two amazing charities rather than focusing just on their own brand, and I found that refreshing.
Honestly though, this is just another reason why I love the company. Not only do they produce great cars - I am a very happy Kia Soul owner - but they are committed to doing the "right thing". Way back when they first entered the racing world, Kia was a bit of a joke. Even today when we attended a race up at Road America, people walked by the tent scratching their heads wondering why on earth Kia was there. Seriously - the Optima couldn't possibly compete with Chevy Camaros, Ford Mustangs, Aston Martins, and Porches, right? Well actually in both races that weekend Kia had podium finishes, so yeah ... these guys are for real!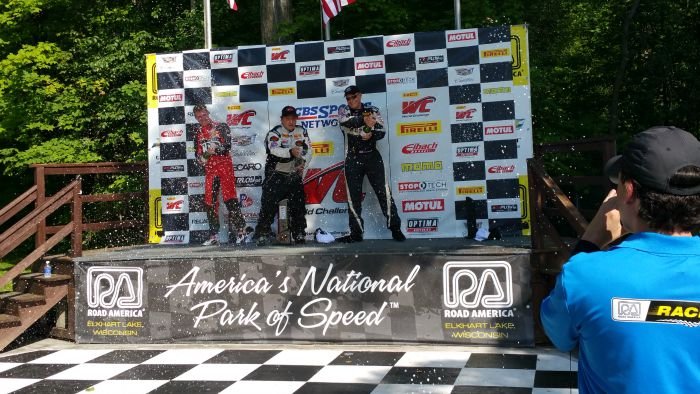 The World Challenge Format appealed to the brand since several years ago they had a lot to prove about reliability. Unlike NASCAR and IndyCar, the World Challenge Format is two 50 minute sprints with no planned pit stops. This means that reliability is critical since if your car has trouble mid-race, you are pretty much out of commision without a chance to head back to the pits and get stuff fixed. This meant that Kia had an opportunity to show to the world that they could make extremely reliable vehicles able compete with the best cars out there.
Today, Kia has two classes they compete in - the first is with the Kia Forte, but for today I'm going to focus on the Kia Optima and the two amazing charities they support.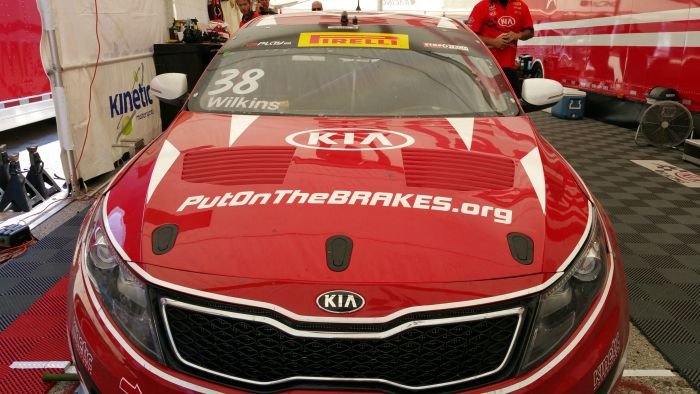 B.R.A.K.E.S.
Better known as Put on The B.R.A.K.E.S. (Be Responsible And Keep Everyone Safe), NHRA drag racing star Doug Herbert who lost two sons in a tragic accident in 2008 founded it in to help other families. His grief turned into a passion to create a driving program where young drivers would be taught important skills to stay safe behind the wheel. While we all had driver's ed at some point in your youth, the curriculum was mostly about keeping your hands at 10 and 2 and obeying stop signs. However, this program teaches kids how to handle accident avoidance through a slalom course, a Distraction Exercise, and a Wheel Drop-Off Recovery exercise to help train young drivers on how to recover safely when your tire goes off the side of the road on to the shoulder.
In addition to providing money and publicity to the organization, Kia is also the official vehicle partner and so this further helps promote Kia as a safe and reliable car that is great for families.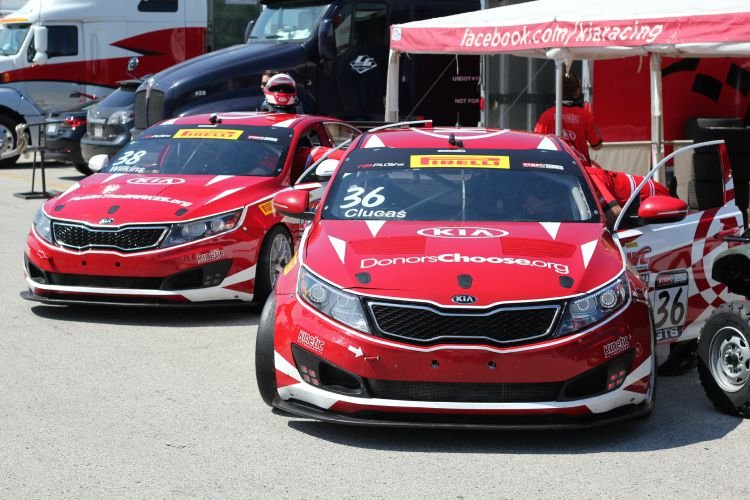 DonorsChoose.org
On the No. 36 car, you'll find DonorsChoose.org. This is a completely different type of organization but also an extremely awesome choice for Kia to support. DonorsChoose.org is designed to make it easy to help classrooms in need. Public school teachers post classroom project requests from pencils to poetry and even microscopes and donors can help to fulfill those requests by donating to help fulfill the request. Donors may contribute the full amount or just a portion. When you give over $50 though, you'll get hand-written thank you notes from the students. Kia isn't alone here, you may have heard recently that Steven Colbert and Jimmy Fallon donated more than $26,000 each.
Since 2000 when it first began, the organization has engaged almost 2 MILLION supporters and funded nearly 600,000 projects. That's truly exceptional!
Sure, Kia invited me to the race and showed me a great time - but it's things like the charities that they support that confirms everything I love about the company and why I'll probably chose another Kia when it comes time to trade in my Soul. I wish more companies were as dedicated to promoting great organizations while simultaneously driving their own product forward. After all, it's not enough to just write a check ... you gotta be able to back it up with how you operate your business too.