This is a different sort of review about a different sort of car. One of the challenges that we face right now is brand confusion and terminology that doesn't always align as neatly as you might want. Some of this is due to terms like "GT" once meaning something but now just simply slapped on anything to make it sound sportier. Others are self inflicted by creating too many trim levels of a model and that's what I see with Kia's K5 GT-Line. It isn't that simple since the GT-Line and GT actually offer different options, making one a much better option for some buyers than the other.

What Is The K5 GT-Line And Who Is It For?
Kia's GT-Line trim level is essentially for people who want a great sedan that isn't boring but don't need or want to take the sedan fully into performance sedan territory.
For example, at first glance, the K5 GT-Line looks fantastic and inside it looks as sporty as you could possibly make a sedan that starts at only $23,690. The K5 is a beautiful looking vehicle but the platform is not purpose built as a sports sedan purpose like it's big brother than Kia Stinger. However, with the GT-Line and GT trim levels you get a much different experience than simply buying a "boring" sedan.
GT-Line offers you all the looks, while GT actually offers you that an extra 110 horses as well as a sportier seat. What is even more confusing here is that the K5's Hyundai-made sibling, Sonata offers a sport trim they call the Sonata N Line. This N Line Sonata though is essentially comparable to the K5 GT, not the K5 GT-Line. Confused yet? Yeah us too and that's why we wanted to walk you guys through the differences.
Curiously though, the K5 GT is FWD only while the GT-Line offers the option for AWD.
Our friends over at GuysGab had a chance to drive the Kia K5 GT if you are interested in their perspective on that trim level.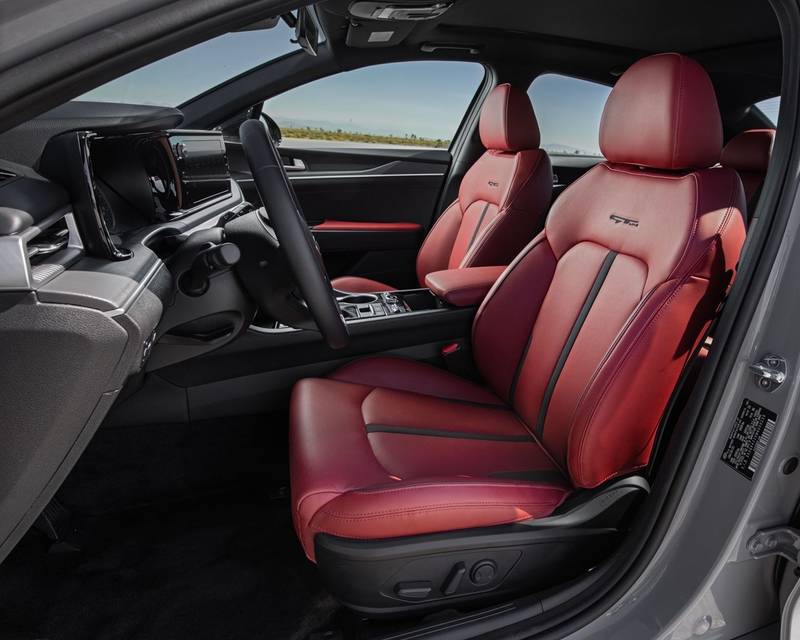 What it comes down to is three things:
1) Cost - The GT-Line is $5,000 less than the GT.
2) AWD - Do you live in an environment where AWD is a necessity?
3) Comfort - I haven't sat in the GT personally, but the bolsters look much larger and so the seat looks much closer to a racing seat than the one found in the GT-Line, which as a bigger guy I found to be quite comfortable even after several hours.
The K5 GT-Line Is Stunning, Unfortunately It Just Doesn't Deliver On The Promise
The K5 GT-Line is stunning visually ... both inside and out, it has these phenomenal lines with chrome accents running down the back and a angle that almost makes it look like a fastback. With strategically placed exhaust ports and air intakes, the car looks like it should have something special beneath the hood. Heck, even the headlights have an aggressive and intriguing look that will turn heads.
Inside, the GT-Line Red Leather SynTex material seats with GT-Line logos just makes you excited to drive it.
Unfortunately, it is the same engine found in the base model and while that 1.6 L 4-cynder isn't "bad" ... it is far from sporty. Even the GT with a 2.5 L producing 290 hp isn't going to win a whole lot of races but it is at least competitive (and sometimes better) than the cars it is trying to beat.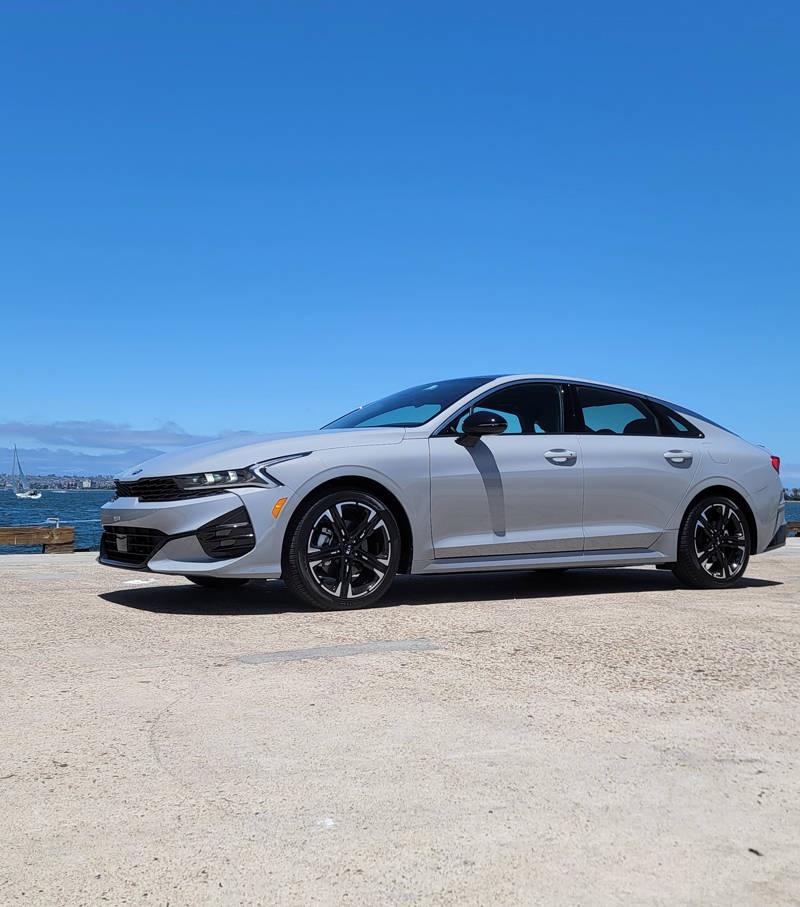 Is the K5 GT-Line A Bad Choice?
No, absolutely not. Kia / Hyundai have two of the best sedan platforms on the market today and they both offer some of the best safety features and technology. If you are looking for a sedan, you can't go wrong with the K5.
In terms of what trim level you should purchase, that comes down to personal preferences. If you need that extra power then the GT trim is where you should go. If you want something that just looks great and feels great while driving it and you don't ever need those performance features then the GT-Line will give you that warm fuzzy feeling when you open the doors and see those red syntex seats staring back at you.
The K5 GT-Line is a great option in this way for recent grads and guys who need something to commute back and forth to work. With a $31,300 price as tested, it offers a great value for budget conscious car shoppers.