The YA-MAN Heated Electric Men's Shaver, is a game-changer in grooming technology that so far has been a secret that the Japanese were happy to keep to themselves. Picture a near perfect rotary shaver that does the technical side flawlessly ... now add a heated function that offers a barbershop like luxury experience and you get the idea. Is it perfect - no - but the added element to head the head adds a new level of luxury that I think all men will begin to expect to be included in high-end electric razors soon.
Key Takeaways
YA-MAN is a renowned manufacturer of high-quality grooming devices with innovative and user-friendly features.
The YA-MAN shavers have skin-safe heated rotary blades for a comfortable and effective shave, and they are designed for efficiency, providing up to 6 shaves from a single charge.
YA-MAN products are reasonably priced, offering a fine balance between cost and quality, and they are easily available for purchase from various online and physical stores.
The YA-MAN Electric Shaver has a 3-D motion head that tilts inward by 10 degrees for optimal comfort and a close shave, and it is 100% waterproof with an auto power-off feature for convenience.

About The YA-MAN Electric Shaver
The YA-MAN Electric Shaver, is a high-performing, user-friendly device designed to give you the ultimate "ON-ZORI" hot towel shaving experience. This 100% waterproof device boasts a 3-D motion head that tilts inward by 10 degrees, ensuring optimal comfort and a close shave, even on the trickiest facial curves. What really sets the YA-MAN shaver apart is its skin-safe heated rotary blades. These deliver a soothing warmth to your skin, offering a comfortable shave without nicks, cuts, or irritation.
While I was quite impressed with the core functionality as a good razor - the heat was what honestly sets this apart. However, while it was a very welcome addition, barbers are safe - for now! Part of the experience that I enjoy with a hot towel shave is the level of closeness that a trained professional can get with training and well maintained tools.
Regardless though, I'm happy with the experience that this delivers!
The heat is delivered through the use of RF (Radio Frequency) technology to provide a "Hot Shave" experience that I found remarkably luxurious this week as I did my first shaves of the year while looking at freezing temperatures and snow outside my windows here in Ohio and Michigan. I had initially thought this heating benefit would be more of a gimmick but it does work nicely and was tuned just right for my enjoyment.
Frankly it also looked cool with the areas between the razor heads glowing red :)
The YA-MAN shaver is rechargeable and energy-efficient, thanks to its lithium-ion battery and auto power-off feature. While it is larger than some other competitors, It's still very portable, making it perfect for the man on the go.
Product Specs: 100% waterproof, 3-D motion head, heated rotary blades, auto power-off, lithium-ion battery.
Pros: Comfortable and close shave, energy-efficient, portable, user-friendly design, cutting-edge grooming technology, includes attachments for beard trimming.
Cons: This is not a barbershop equivalent - may require multiple passes for a super close shave, heat function may not suit all skin types.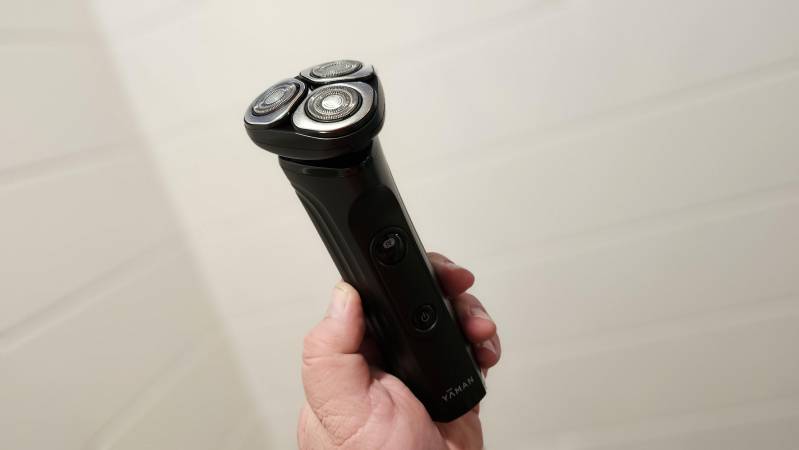 While I'll continue to use this as a replacement for my previous razor due to warming feature, I have to admit that for my hands ... I didn't feel the experience of holding it was as comfortable as I would have expected. It isn't that it was uncomfortable but it just didn't have the balance that I am used to from the Braun 8-series that I've used for the past few years.
However, after using it, I did feel like my skin was more "awake" and that it did a generally superior job than my current razor and so at least for the upcoming winter months ... I'll be saying Ya Man in the mornings!