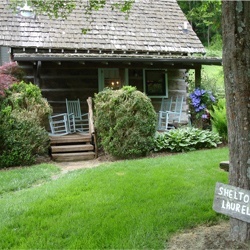 Tucked away in the Smoky Mountains of south western, North Carolina is a fantastic mancation destination just waiting for you to explore it.
Haywood County is located just south of Asheville and has pretty much everything for a fantastic mancation - great fly fishing, awesome mountain roads that are perfect for driving a bike or a car, great food, awesome hiking trails, a casino, and even a chance to test your luck while gemstone mining.
Boyd Mountain Cabins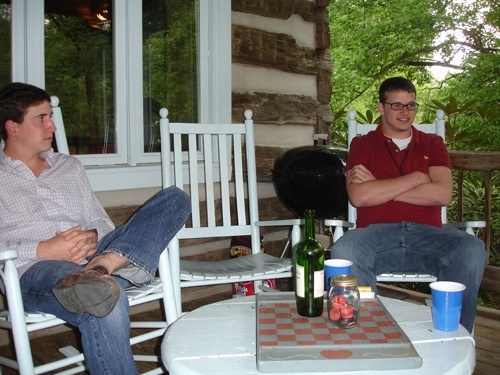 We stayed at Boyd Mountain Cabins which were fantastic for a guys weekend.
With cabins ranging from 2 person to 10, there is something for any sized group. Each cabin has a kitchen, washer / dryer, highspeed Internet, cable TV, and a DVD player. On the porch we even had fishing poles just waiting for us to use them to angle at the pond that was feet from our door, or the fishing hole just outside of the entrance to the cabin area.
Andon-Reid Inn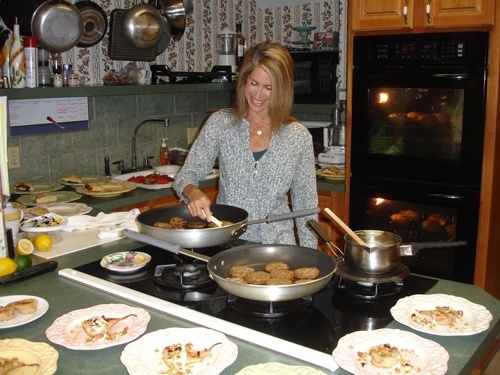 If you have a smaller group of guys and are looking for a more tailored experience, the Andon-Reid Inn would be a great choice. We had a chance to visit and the breakfast was one of the highlights of our trip. While most places to stay are just that, Andon-Reid Inn's owners, Rachel and Ron are also fitness trainers and love putting together custom packages for groups of guys - including fitness weekends, fishing adventures, or whatever might be your desire.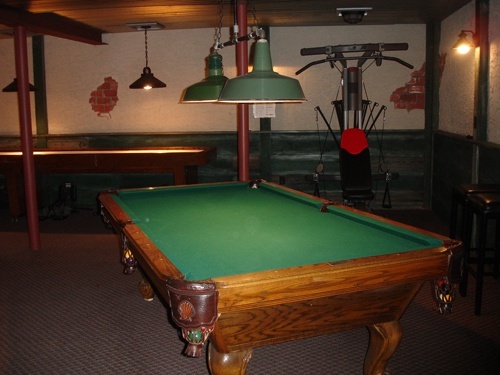 Additionally, Andon-Reid Inn is a fantastic example of how the B&B scene is changing. While the core audience is couples planning a romantic weekend, guys will feel at home in the Inn as well. The basement features a great weight room, sauna, and game room featuring a pool table, shuffleboard, and boardgames.
Five Awesome Things to Do in Haywood County
Fly Fishing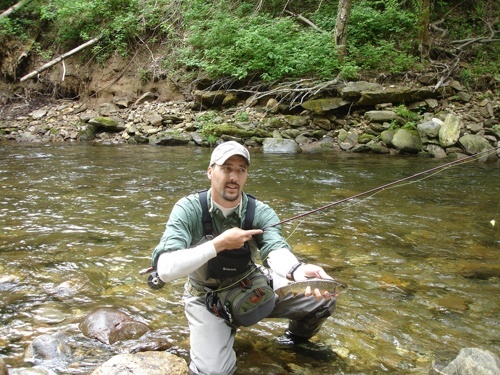 North Carolina keeps through trout streams stocked. So in addition to a great excuse to spend time outdoors, there is a good chance you'll actually catch something. If you have never gone fly fishing, it is quite a bit different than other forms of angling. This was my first experience fly fishing and I found it to be quite relaxing and required quite a bit of mental attention and skill that I hadn't found in other forms of fishing.
If you haven't gone fly fishing before, you should definitly stop by the Waynesville Fly Shop and get a guide who can outfit you and point you to all the best spots.
Even though you might not be able to keep your fish, you can head on down to the Sunburst Trout Farm where you can fish from their stocked pond, buy a fish already cleaned, or you can try some of my favorite treats from there, Trout Jerky!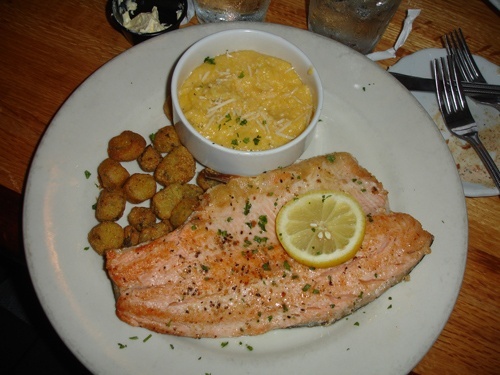 If simply eating the fish is more your style, you can't beat The Sweet Onion in downtown Waynesville. In addition to trout (from Sunburst), they have great steaks and of course fantastic deserts too.
Wheels Through Time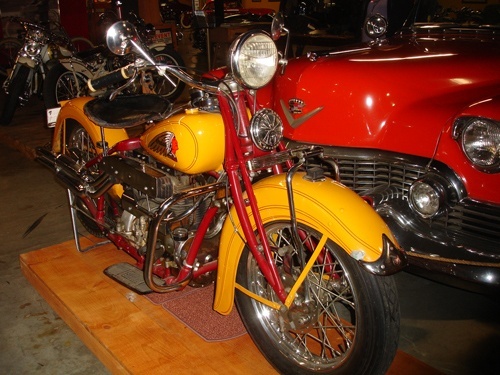 If you love bikes, the smell of engine exhaust, and the sight of tire marks on the floor of a garage, then this is the place for you. Wheels Through Time is a museum and also a personal collection of virtually anything and everything that involves motorcycles. With more than 250 bikes including super rare, one-of-a-kind prototypes, and even some more common specimens, this is the place to go to be immersed in the history and culture of motorcycles.
In addition to just bikes, Dale (owner), also has a number of vehicles that are based on motorcycles including saws, jet skis, and delivery bikes. Wheels Through Time also has many awesome classic cars.
Hiking and Mountain Climbing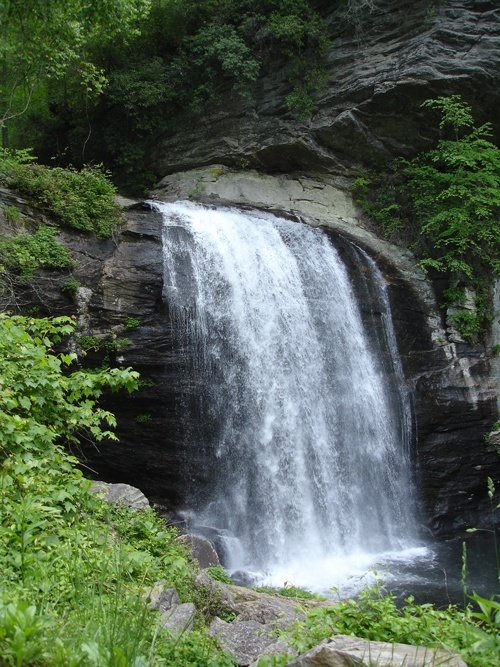 Haywood County is home to nearly 200 summits and mountain peaks, so no matter how many times you come here there will always be a new challenge awaiting you here. Don't worry though, if your idea of a hike is something on a well groomed path there are many options for you here too, including Graveyard Fields. If your taste is for something more adrenaline inducing you can find that in Haywood County too!
Driving on the Mountain Roads
Each year, thousands of bikers are attracted to the area because of the fantastic mountain roads. The Blue Ridge Parkway provides awesome twists and turns with new views around every bend. Even if you aren't a biker, the roads are a load of fun in a sports car or an SUV. You will however want something with a little power under the hood as there are many steep grades that stressed my fun but more city friendly PT Cruiser.
If you are truly a lover of twisty mountain roads then you will also be excited to know that Haywood County is right next to two of the best sports car and bike enthusiast roads in the country, The Tail of the Dragon (Rt 129) and Moonshiner Rt 28. Watch out though, I am told that the cops know about these roads and just LOVE to give tickets to out of state visitors.
Gemstone Mining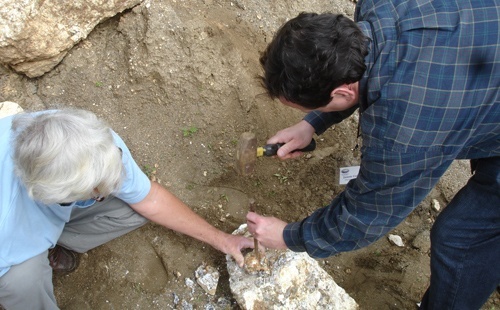 After eating an amazing breakfast at Andon-Reid (seriously, one of the best breakfasts I have had anywhere!) it's time to head off to the Old Pressley Spphire Mine and go gemstone mining. There are many other places around Haywood County that offer opportunities to go gemstone mining, but Old Pressley Mine is the real thing. While some other places truck in manufactured "rainbow buckets" with a certain percentage of precious stones guaranteed to be in each bucket, Old Pressley is a real mine.
That being said, your experience will primarily involve sifting through buckets of dirt that are already dug up while searching for rocks containing sapphires. We had good luck finding some wonderful pieces - even though they don't look like much without processing them (cleaning, cutting, etc.)
While it is fun just picking up a shovel and hammer and bashing some rocks apart, this is also a great opportunity to bring something back for the woman in your life too!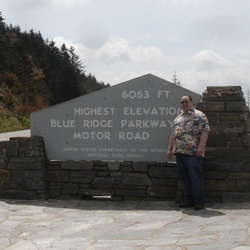 Haywood County has tons of great stuff for guys to do on a mancation, but one of the things that makes it special is that it is SUPER easy to get to from almost anywhere on the Southeast East Coast. It is only a few hours from Charlotte, Raliegh, Atlanta, Charleston, and Nashville.
Even from Chicago, it was a nice and easy 12 hour drive now that Route 40 is back open. So when you combine easy to get to, with budget-friendly fun stuff to do, and great people you can't help but have a fantastic mancation experience in Haywood County North Carolina.
Man Tripping was a guest of the Haywood County Tourism Development Authority.