We had a chance to tour The Park and T-Mobile Arena, and there's a lot to love about it. If you are looking for a place to escape the summer heat, this is one of the few places on the Strip ready for you to bring the party outside. With a row of eclectic eateries, art installations, and pageantry to celebrate sporting events, concerts and other activities at the T-Mobile Arena and Park Theater this is our go to spot on the central Strip. Here's our picks for five ways that you can cool off or heat up the night when you hang out at The Park: Las Vegas!
The Park has Trees, Benches and Rangers
This little strip off of The Strip is designed to change your tempo and it does a great job doing that. The Park offers a unique ambiance and a little getaway just steps from the Strip and T-Mobile Arena, the home of the Las Vegas Golden Knights and the UFC. However, what's interesting is that it features more than 250 real trees, park benches to relax on, and even the security guards here are dressed like "Park Rangers".
Marvel at Bliss Dance
As you walk down the path from the Las Vegas Strip to the T-Mobile arena, you'll pass by several different sculptures. The largest of this the forty-foot statue Bliss Dance by sculptor Marco Cochrane.
The Park's leading lady, Bliss Dance was originally featured at Burning Man in 2010, before spending five years on the The Great Lawn on Treasure Island in San Francisco. In 2017, she found her permanent home in The Park. 7500 pounds of steel structure, mesh, and LED lighting, Bliss Dance towers over the west end of the park, radiating her message of joy and feminine energy. Refurbished for permanent display, she now features programmable lighting and protective powder coating.
She now sits in a nice wide open space often used for music and arts displays, or as we were lucky enough to be there for, a Food Truck Battle featuring several hot industry chefs. But more on that later.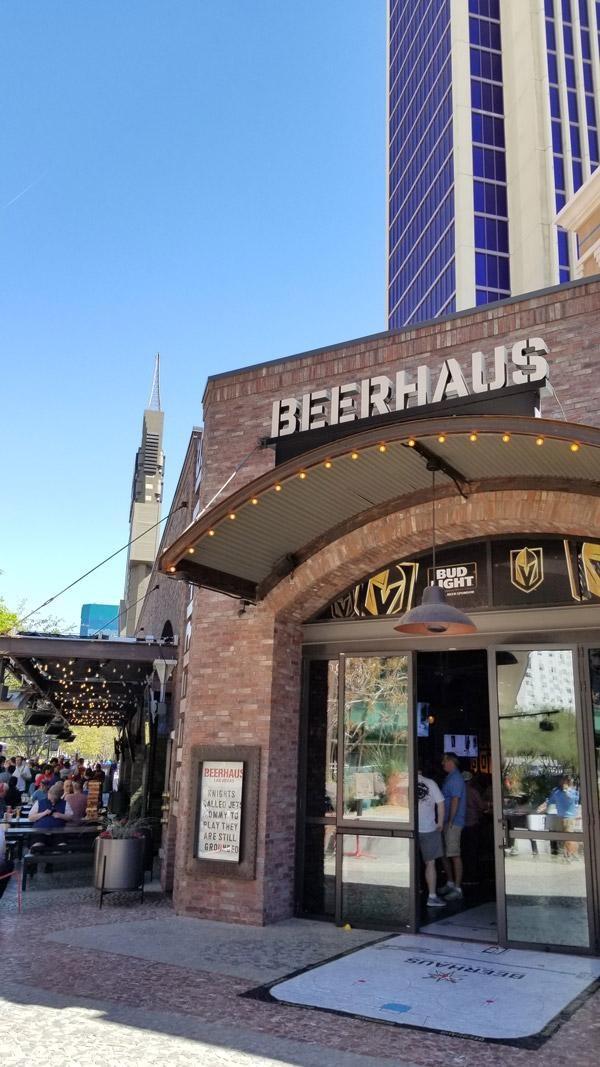 Brews and Games at Beerhaus
Our first stop in The Park was Beerhaus. Aiming to be a modern twist on the traditional pub, they serve a fun array of classics alongside artfully curated selection of sides. Beer connoisseurs and casual drinkers/diners alike will find something to love. Plus, they're both vegan and vegetarian friendly. I didn't get to try the Vegan Chipotle Hot Dog, but I was sorely tempted.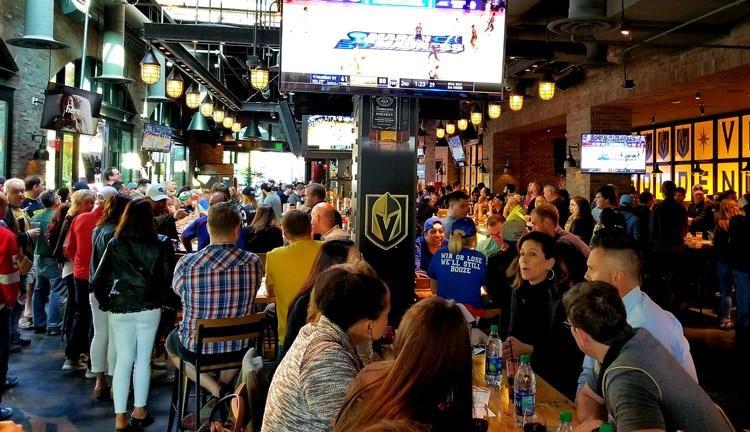 The rotisserie style Free Range Chicken was a hit, and the pepper jack Mac & Cheese Bites are amazing. I hate to sound like I'm exaggerating, but they might be one of the best "bar appetizers" I've ever had. We went through three plates of them in two visits.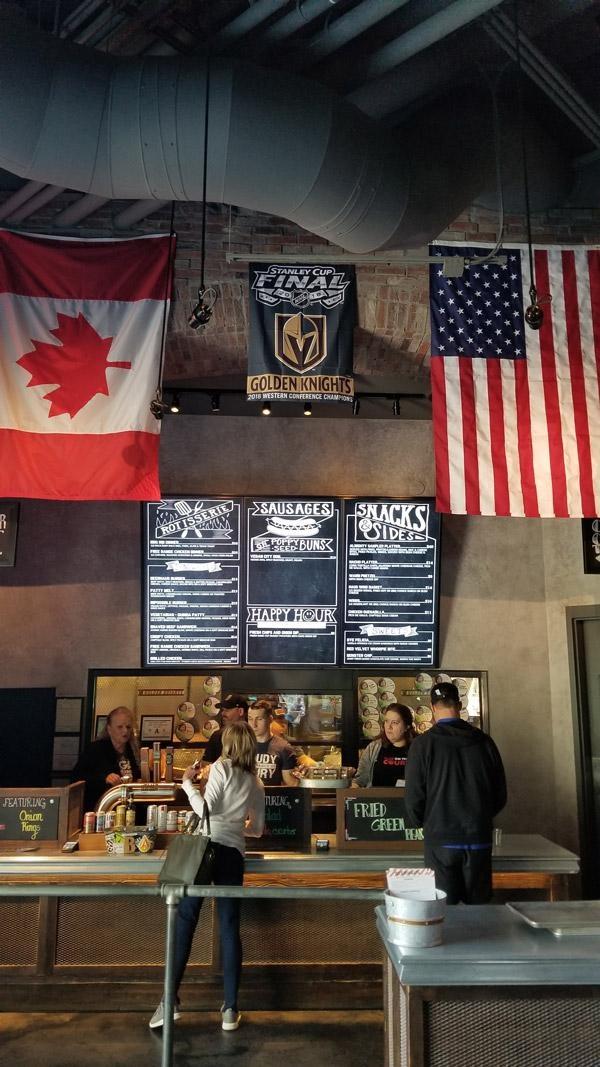 But it's not just food. Beerhaus was packed for the opening rounds of March Madness, with a wealth of TVs to watch the action on. No matter what your sport is, this will be a good place to watch it. And it takes good advantage of The Park's outdoor arrangement, featuring picnic tables and bar games including cornhole, and oversized Connect Four boards.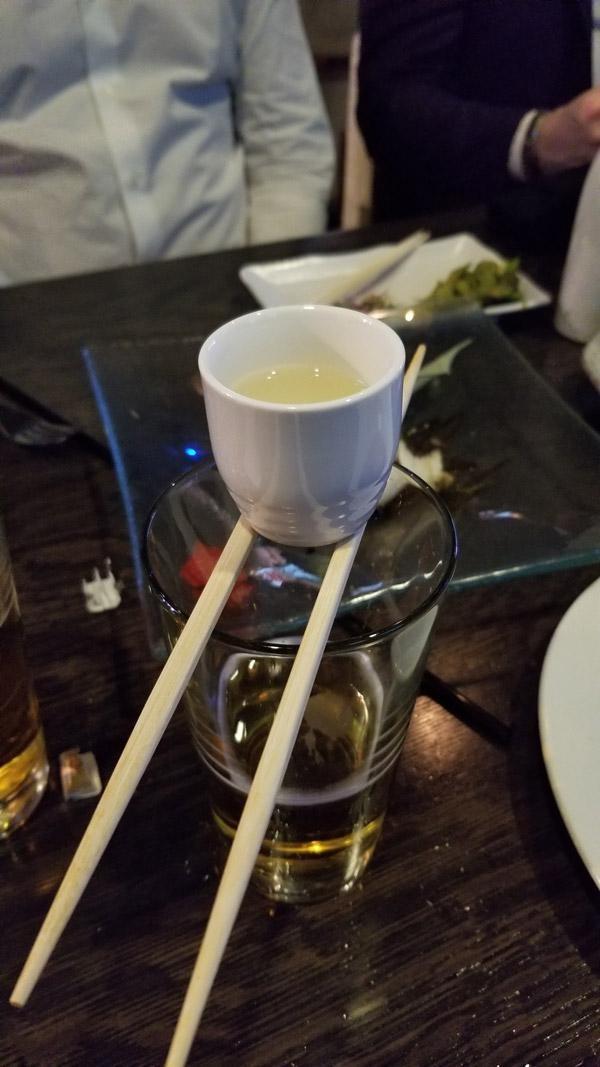 Sake Bombs at Sushi at Sake Rok!
The most exciting and eclectic restaurant in The Park has to be our first dinner destination Sake Rok. Every been to a sushi restaurant that allows sake bombs? Well, Sake Rok encourages them, and if you're lucky, one of the hosts might just do one with you. Part food, part spectacle, Sake Rok Las Vegas is serves a wide variety of upscale Japanese fare and hand-crafted sushi amidst dance numbers, impromptu rap and lip-sync battles, and the occasional serenade.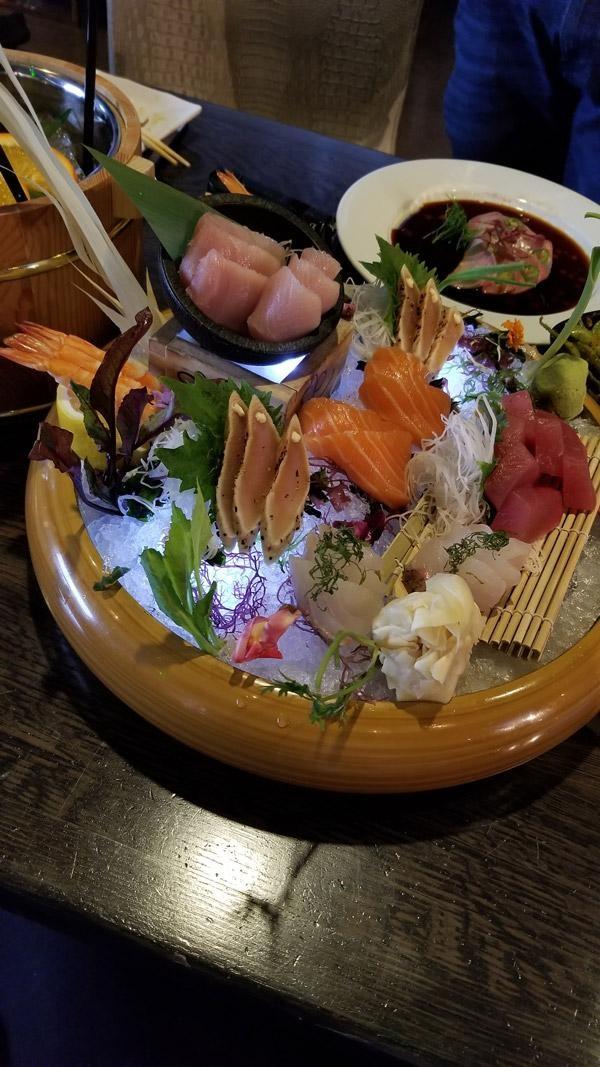 The atmosphere of Sake Rok was tremendous fun. The servers double as dancers, and the evenings feature an outlandish MC to keep the fun headed on into the late hours. It's a little bit refined Japanese dining, with more than a little bit Japanese pop culture, and a good dose of Las Vegas. Be warned though: if you go to Sake Rok, be prepared to be a part of the fun. Our meal there was lively and unexpected. Possible some of it was me. We certainly startled the table next to us with our first sake bomb. Our meal finished with a Battle of the Boy Bands mashup, though Sake Rok wasn't anywhere close to done. Their upstairs lounge The Terrace stays open until 1AM nightly and overlooks The Park and Bliss Dance.
If sake bombs and dance numbers are too much for you, California Pizza Kitchen sits next door, with its SoCal vibe and signature hand-tossed pizzas. Being from San Diego, I'm well acquainted with CPK, and they've got a pizza for everyone, as well as a wide selection of pastas and entrees. CPK in The Park also offers premium wines, craft beers, and hand-crafted cocktails. Featuring an outdoor patio and a rustic-modern atmosphere, this is probably the perfect place for lunch or dinner with the family, or an easy meal with friends prior to going out.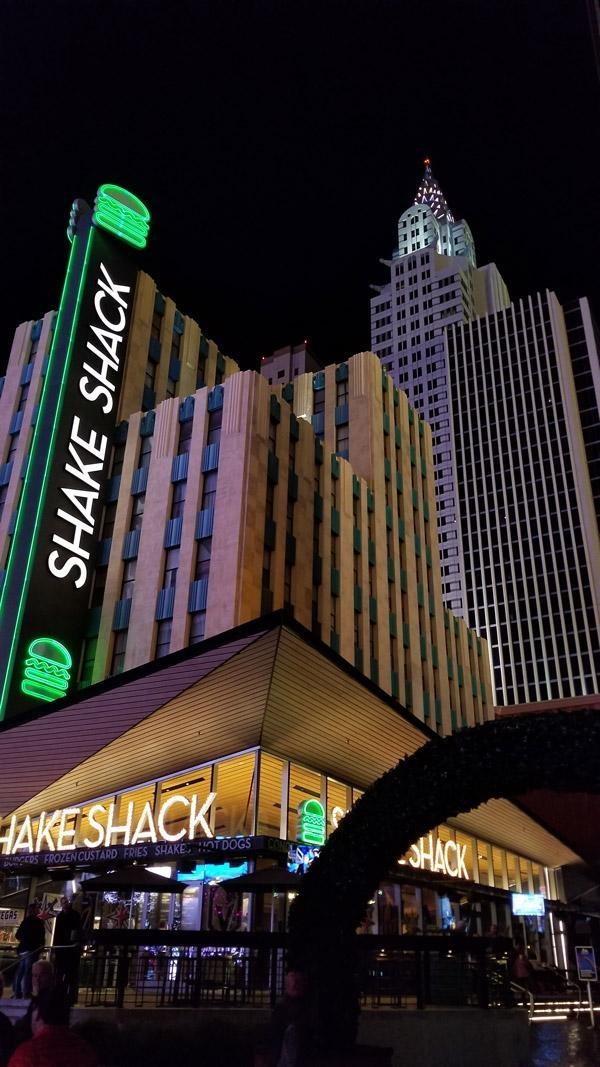 Quick Bites at Shake Shack and Bruxie
If quicker food on the go is what you need, The Park features two fantastic spots - the world famous Shake Shack and Bruxie Waffles.
Ironically since their name promotes their shakes, I feel like burgers are the reason to go to Shake Shake. Their critically acclaimed "roadside" burgers and of course, hand-spun shakes and fries are a destination for many visitors in Vegas. While the chain has continued to rapidly expand that novelty has waned somewhat but it still draws people searching for their first taste.
While I was kinda partial to the SmokeShack burger with its Applewood smoked bacon and chopped cherry peppers, I grabbed a bite of the Chick'n Shack too and it was pretty stellar too. ManTripping's James is a devote of the Shack Stack - a double cheeseburger with a cheese-stuffed fried 'shroom burger stuck in between!
Hot dogs and a selection of frozen custards round out the menu.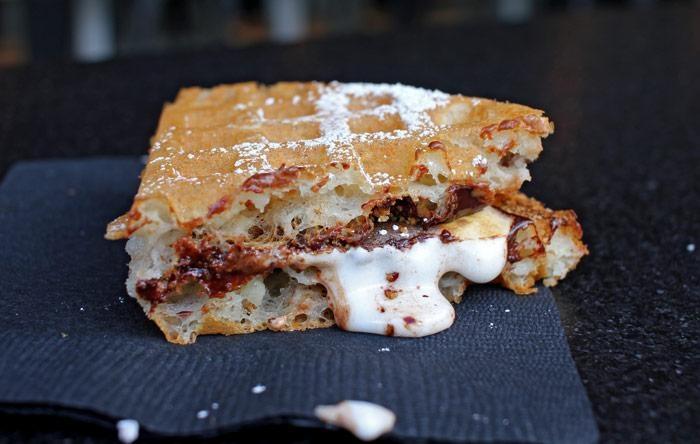 Just past Shake Shack is Bruxie, a sandwich shop founded by two chefs who love… waffles!
While they have a variety of sandwiches including a waffle burger, and a waffle turkey club, obviously the main attraction here is the fried chicken & waffles sandwich, with yes, a waffle instead of bread.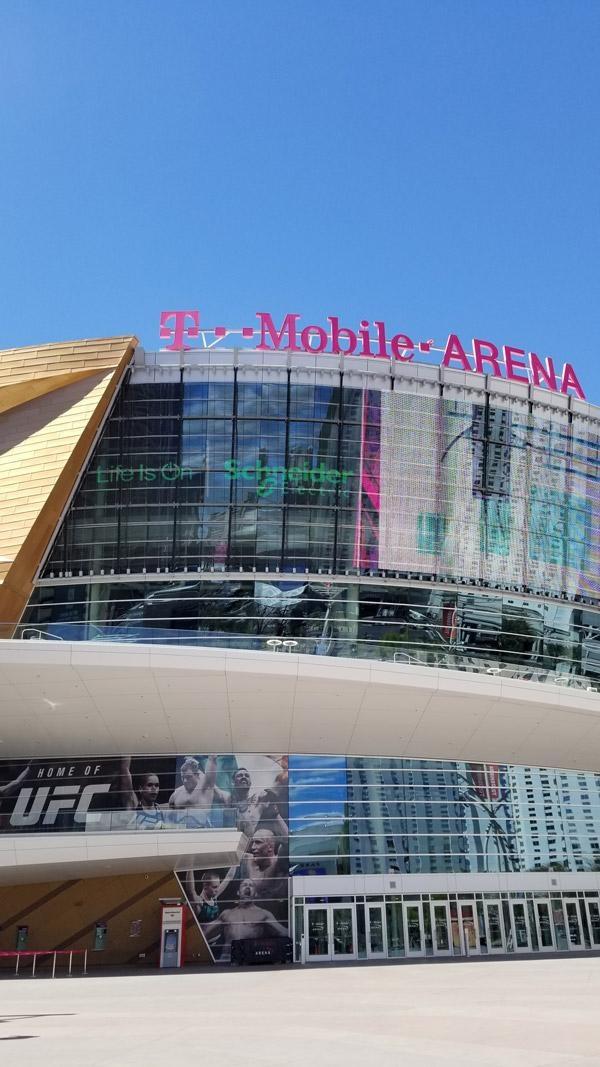 T-Mobile Arena: Home Of Vegas Golden Nights and Year Round Entertainment
Las Vegas' newest arena, and its largest venue: T-Mobile Arena, home to both the Vegas Golden Knights, one of the hottest teams in the NHL fresh off a 2018 appearance in the Stanley Cup, and Ultimate Fighting Championship (UFC), the world's premiere combat sports league.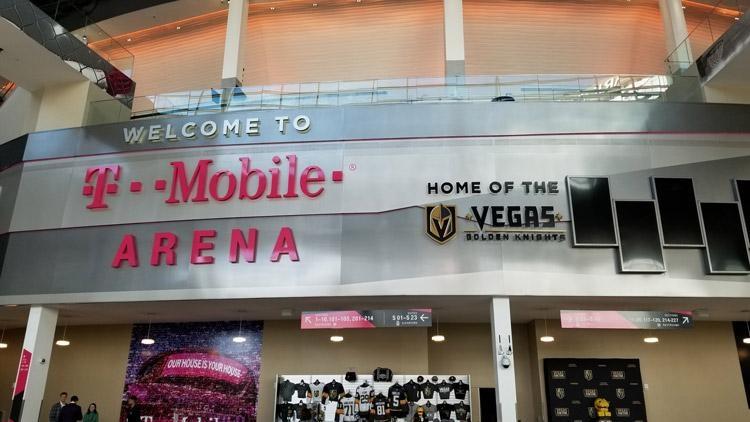 That's not all, because they have an innovative changeover system in place, it can be ready for concerts, or basketball in a pinch. We got a chance to tour the facility, and it doesn't fail to impress.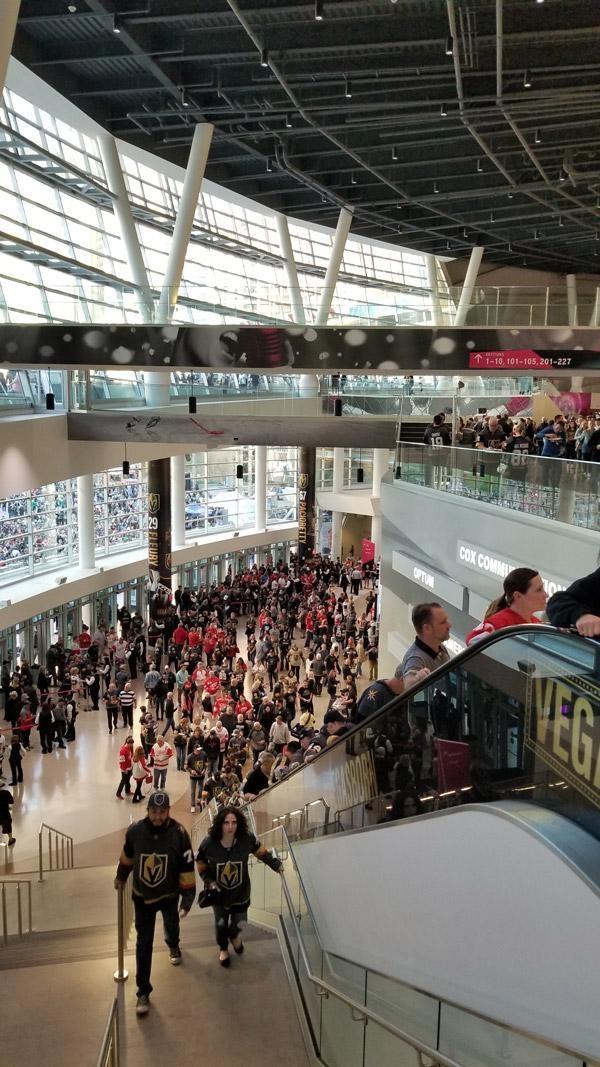 From the highest seats in the dome to the rink side VIP "bunker suites," this is an elite sports entertainment facility, with bars on every level, a variety of high quality food (just in case you missed Shake Shack on the way in, they've got it inside the arena, too), and no bad seats. The building is literally ringed with entrances, and they boast the ability to move thousands of guests per minute, ensuring you spend your evening in the arena, not waiting outside of it.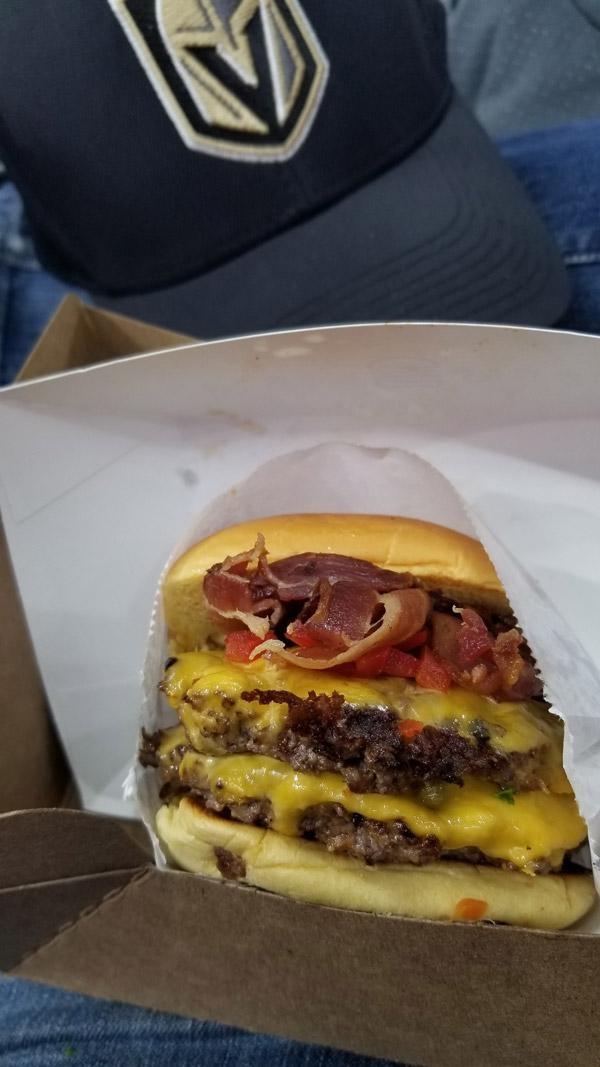 T-Mobile Arena features a state of the art production studio, and tons of high tech toys to help enhance the show, including a blimp drone for "Crowd Cam" shots.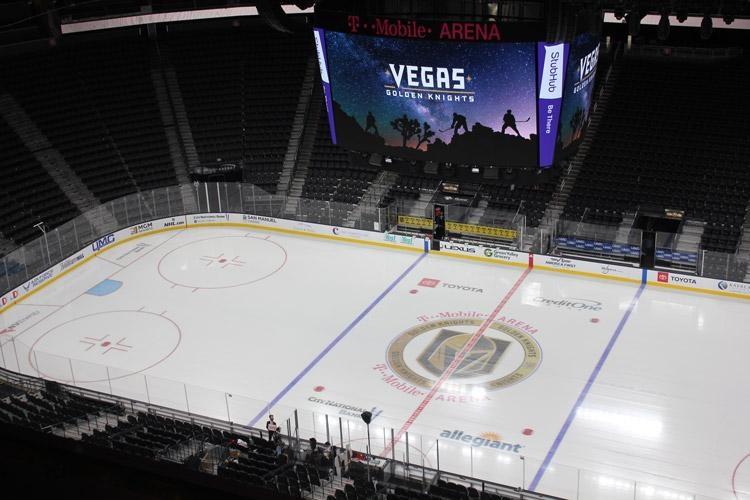 This is definitely a sports experience worthy of Las Vegas.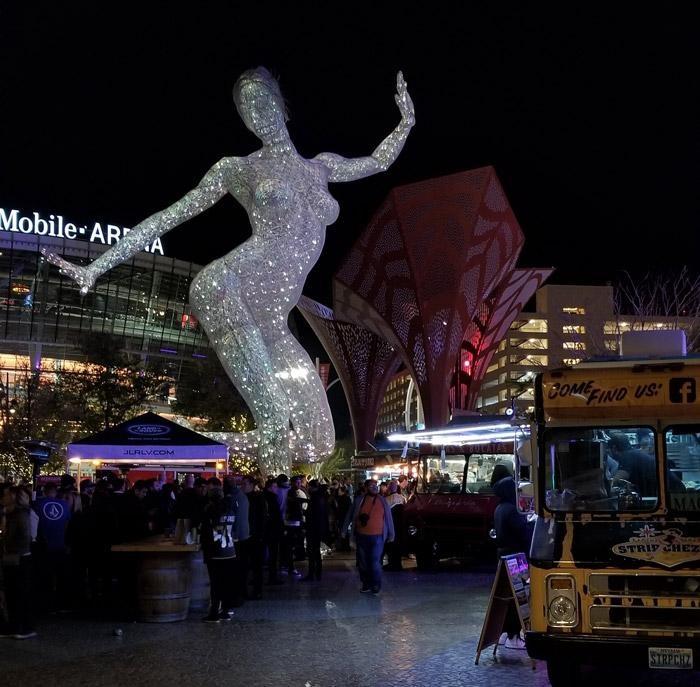 Back of House Brawl Features Vegas's Top Food Trucks
But wait, I didn't forget the food truck battle. Back of House Brawl is a local industry event featuring some of the top local chefs and the hottest food trucks. Designed as an after hours event for chefs, servers and bartenders at the local Las Vegas restaurants, BOH Brawl runs monthly and is open to the public. Their schedule can be found on their website https://bohbrawl.com/, or on Facebook.
All in all, The Park has a lot to offer, with its fantastic location and fun aesthetic and atmosphere. There are options for every kind of taste or occasion.
Grabbing a bite before hitting the clubs or a show? The Park has you covered. Want to make The Park part of your entertainment plans? They've got you covered. Bringing the family? The Park has you covered. Just want to sit down and relax for a bit with a bite to eat and a drink? The Park has you covered. This should be your go-to spot for pregaming the Golden Knights or the fights at T-Mobile, a lead-in to Wet Republic or the Lazy River at the MGM Grand, or an evening at the Park Theater.