The Hawaiian Islands are best known for stunning landscapes, sun-soaked beaches, and some of the best surfing spots in the world. However, both it's ancient and colonial history are closely tied to the islands as a source of agricultural bounty and the more I sampled this, the more excited I got to learn more. From pineapples and sugarcane to craft beer, spirits, and even ranches raising some of the world's best beef - this is an area you won't want to miss exploring during your next visit.
On my first visit to "The Big Island", my attention was piqued when I learned that it was host to one of the largest and oldest cattle ranches in the country, Parker Ranch. But when my attention turned to classic Hawaiian crops like sugarcane and pineapples I was told I'd have to visit other islands. As someone who had just spent thousands of dollars to "Visit Hawaii" this was a bit of a disappointment. Unlike with other states, you can't just drive from Hawaii to Maui and then on to Kauai. That would take hundreds of dollars and hours lost at the airport just to go to an adjacent island. Visiting Hawaii is NOTHING like touring states like Texas, Florida, or California.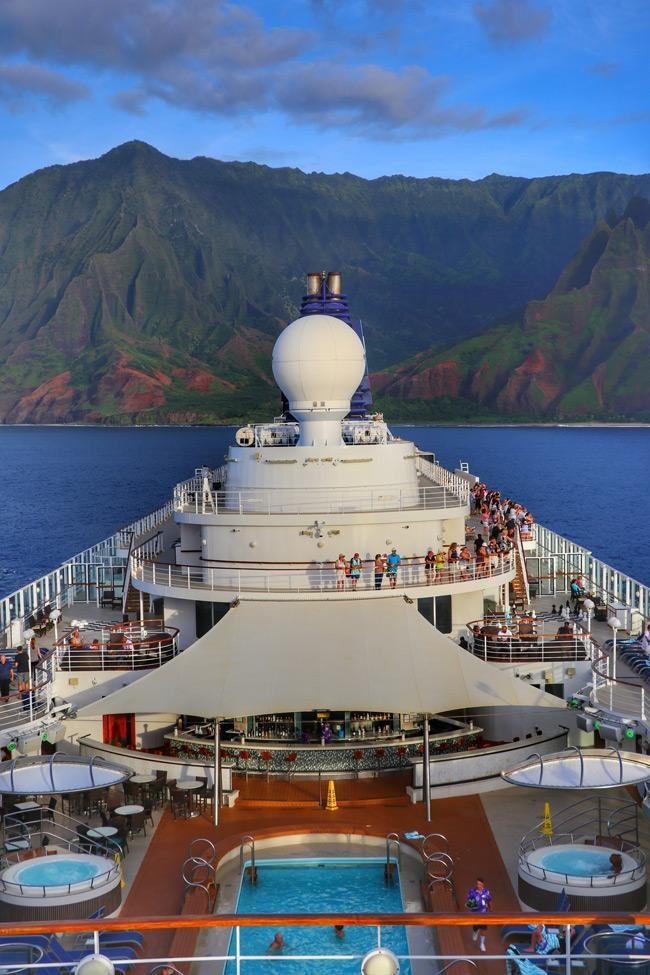 For most visitors, this is where the story would end and frankly, there are fates worse than being "stuck" on any of the Hawaiian Islands. However, as luck would have it, the amazing folks at Norwegian Cruise Line invited me to spend a week touring with them aboard Pride Of America. This seven day tour of the Hawaiian Islands was an experience of a lifetime and I was able to explore all of the sites that I had read about. Pride of America is the ONLY US-flagged cruise ship to sail in Hawaii and because there are no sea days, you get more than 100 hours of port time. This includes overnight visits on Kauai and Maui so there's plenty of time to explore without worrying about getting back to the ship on time.
During our tours, I got my wish to explore the bounty that these islands offer. Luckily for people like myself that LOVE agriculture and artisanal crafts, this is a great time to visit Hawaii. Just a few years ago it would have been a challenge to find craft distilleries, authentic pineapple farms, and native grown sugarcane fields to tour. Today though that industry is booming and there are plenty of options to explore! We'll be taking a look at distilleries and breweries in Hawaii later. For now though, let's take a look at the amazing diversity of ranches, farms, and plantations that are available to visit here.!
The earliest European visitors provided the Hawaiian people with gifts of livestock including pigs, goats, and cattle and today Hawaii hosts some of the largest ranches anywhere in the country.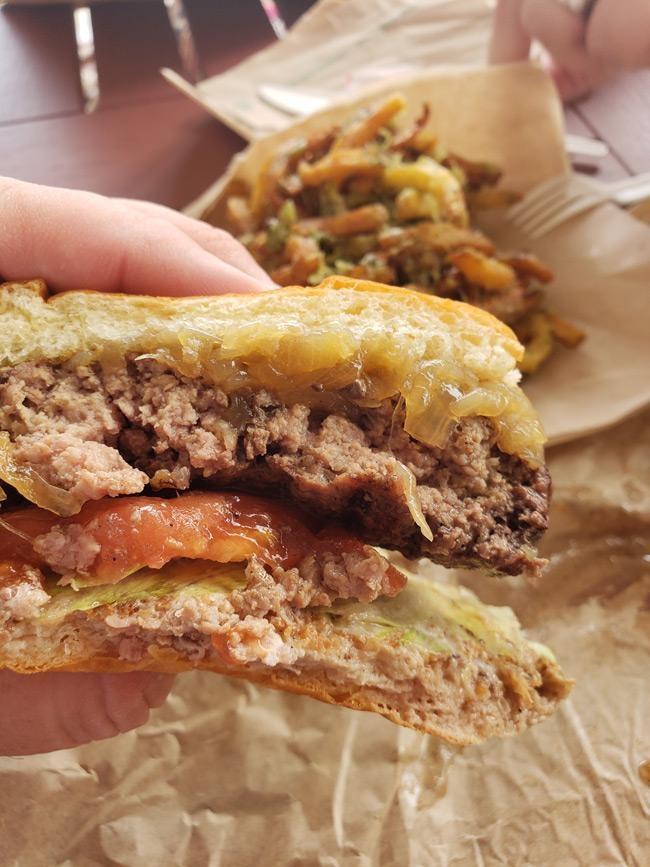 Beef!
For instance, the massive Parker Ranch on The Big Island has 250,000 acres and was founded in 1847. While there are Parker Ranch Tours, it focuses mostly on the home and garden and less on the beef. Don't worry though - they also offer hunting tours and you can buy the beef at several spots throughout the island as well as right there in Waimea. We stopped by Village Burger in Waimea's Parker Ranch Center and it was one of the best burgers I've had anywhere in the world. There's something special about eating beef just a few miles from where it was raised instead of sourced from a farm thousands of miles away.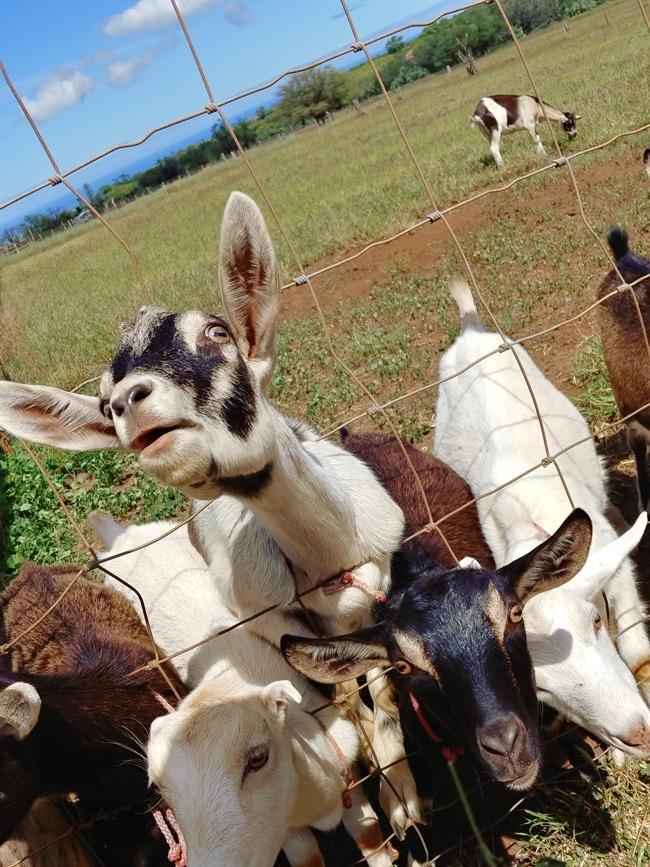 Goats!
If you are looking for something a little different though, on Maui you can visit the Surfing Goat Dairy where they are producing some incredible cheese here. However, the highlight of this tour is clearly saying hi to the goats!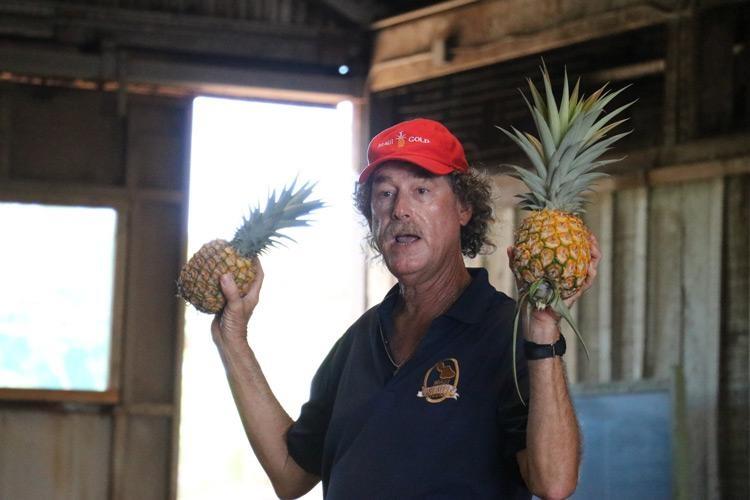 Pineapples!
Despite the pineapple being synonymous with Hawaii they are in fact not actually from here. Like almost everything else on this list it was brought in by outsiders who recognized how great Hawaii was for growing stuff. They were first brought to Hawaii in 1813 but the industry exploded when James Dole planted his first pineapples near Wahiawa in 1901 and founded the Hawaiian Pineapple Company. Over the past several decades though, as costs in Hawaii rose compared to other destinations, the industry suffered.
Today, large scale commercial pineapple farming and canning is a thing of the past. Thankfully, companies like Maui Gold have opened tours that show you not just how the product is grown but why not all pineapples are the same.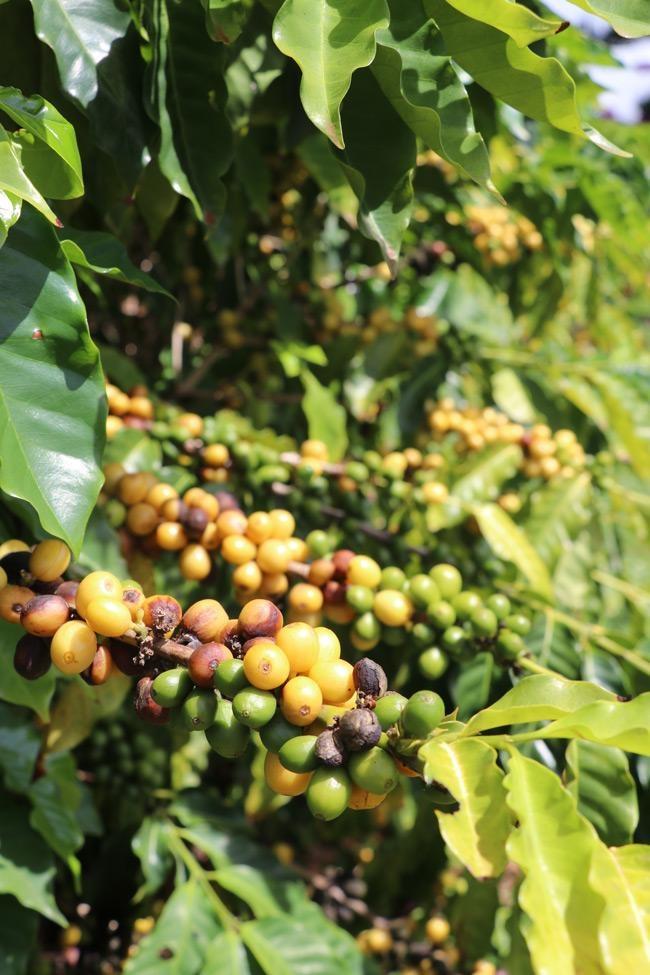 Coffee!
Until this visit I had assumed that Kona Coffee was the only variety available in Hawaii but apparently I was wrong! While Kona is by far the most popular (and more expensive), coffee plantations can also be found on the island of Kauai. The aptly named Kauai Coffee Plantation offers self guided tours as well as an extensive tasting area featuring their estate-grown brews.
On Kona though there are many other options. We stopped by Hula Daddy Kona Coffee where you can stop by for coffee tasting daily but they also offer coffee orchard tours with reservation only. We also recommend checking out the Kona Coffee Living History Farm for an authentic look into the industry vs a commercial experience like you'll find at most other coffee estate experiences. Our friends at Love Big Island have an awesome roundup that goes in depth on everything you need to know before doing a Kona Coffee Tour.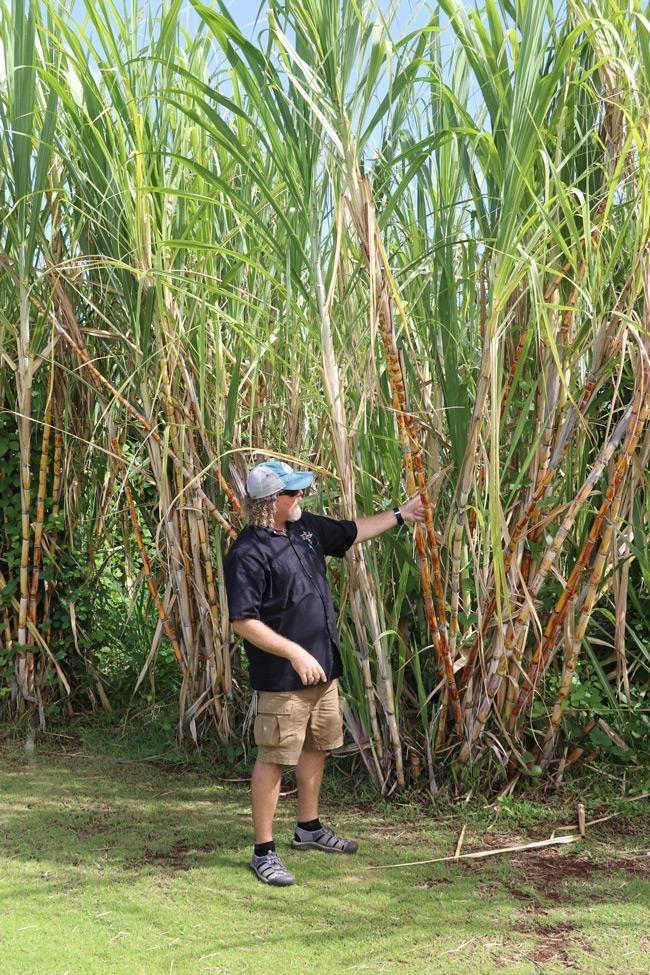 Sugarcane!
Hawaii - especially the islands of Maui and Kauai are littered with relics of the sugar industry that once dominated these islands. Like pineapples, the days of sugar barons are long gone and so are any large scale production facilities. However, there is a new generation of people who are working to preserve the history and traditions. This includes Ocean Vodka, producers of a sugar cane vodka using sugar can sourced from their 80-acre farm on Maui. Other experiences where they are growing sugar cane for educational and entertainment purposes include Grove Farm Sugar Plantation Museum and Kilohana Plantation. Both are located on Kauai and offer train tours through the plantation where you can see sugarcane and other crops that once dominated the landscape here.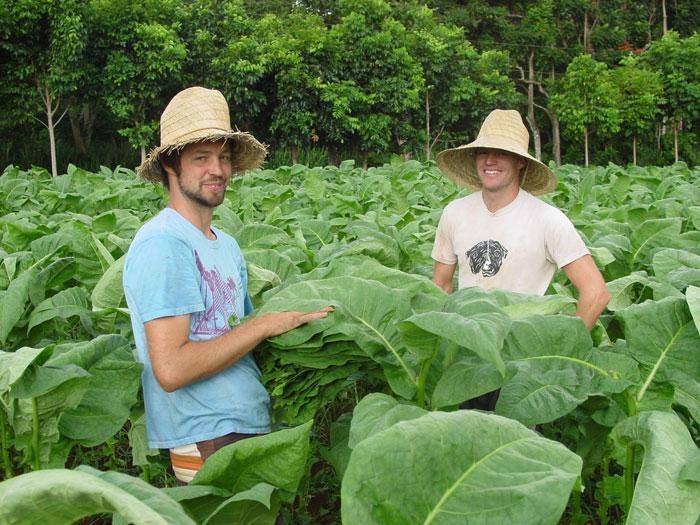 Tobacco!
Blair Estate, home of Kauai Cigar Company offers both coffee and tobacco tours. Here, you can explore the growing of tobacco as well as the process of drying the leaves and ultimately rolling it into cigars.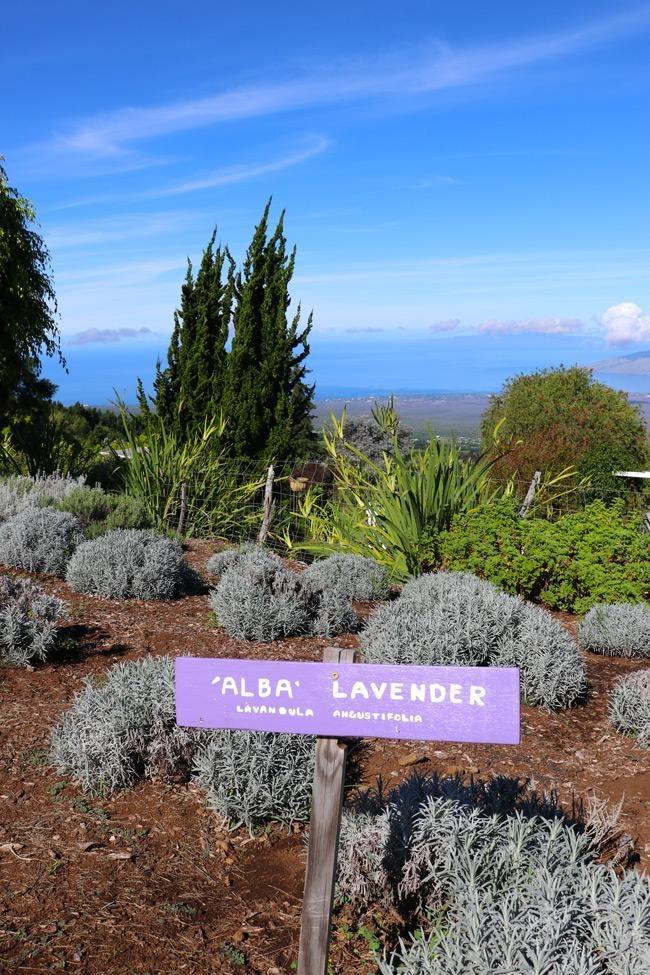 Lavender!
While not the manliest of agricultural products, I do admit to loving the smell of fresh lavender and it tastes great in cocktails too. The Ali'i Lula Lavender Farm on Muai is a great way to see where lavender comes from, while taking in some amazing views!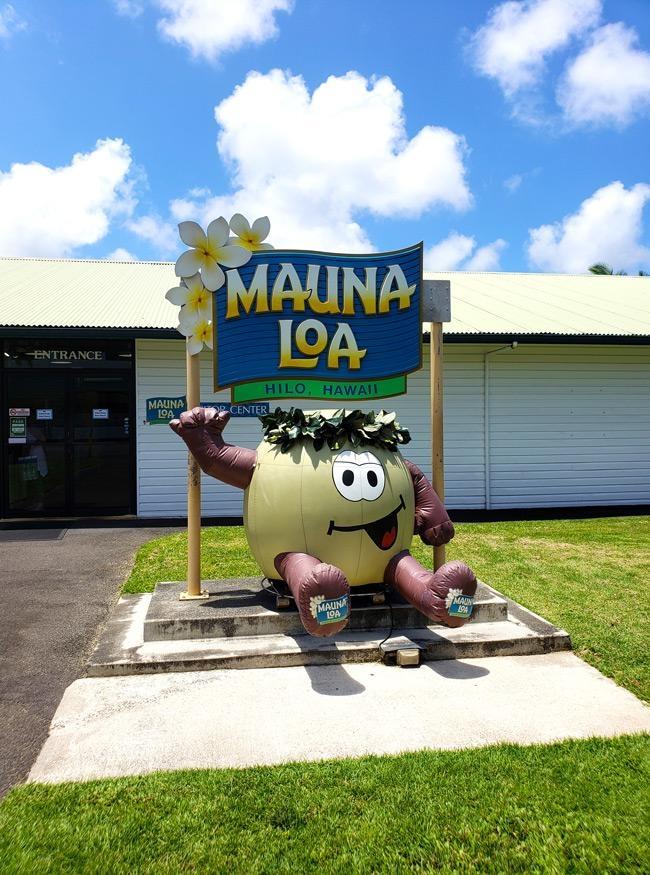 Macadamia Nuts!
I can't possibly end this article without mentioning the famous macadamia nut! I think it is almost a requirement that every tourist to Hawaii must purchase ... or at least sample a macadamia nut before they depart.
Luckily the tours at Mauna Loa are free and easy. Plus, they have plenty of samples available too. While they don't have an organized macadamia nut orchard tour here, you drive right through the orchard on the way to their visitor center and gift shop near Hilo. It's not typically a busy road so it's easy to stop and take a close up look at the trees if you want.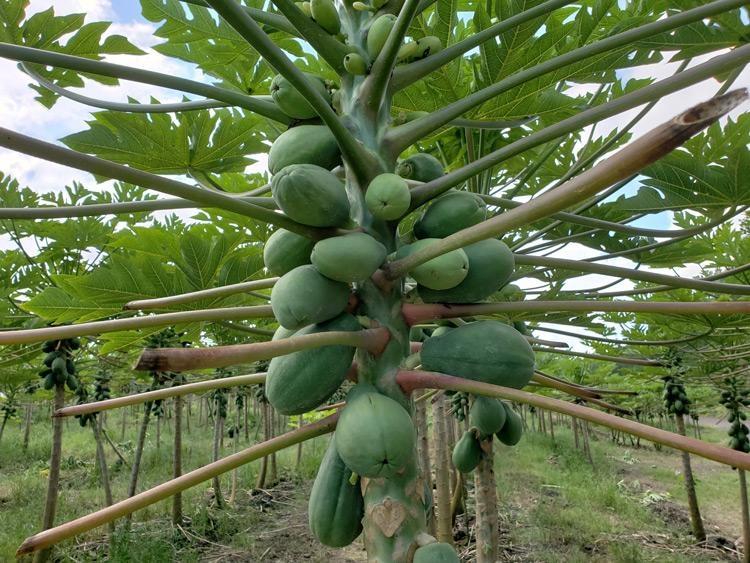 Even More Hawaii Farm Tours ...
There are of course many many more delicious plants and animals that you can get up close and personal with. Some others that you might want to check out include:
Chocolate - Maui Chocolate Tour and Original Hawaiian Chocolate Factory
Papaya - unfortunately, nearly 80% of the papaya grown in Hawaii was located in an area now covered by lava from the 2018 eruption. More than 2,000 acres of land has now been destroyed, leaving just 300 acres of Papaya on The Big Island.
Dragonfruit - Maui Dragonfruit Tours
Banana - Kahuku Farms
Did we miss something? Let us know as a comment below and we might add it to this article!